| | | |
| --- | --- | --- |
| | | |
~ San Simeon Run - 10,...,13JUN10 ~
back to event picture gallery . . .
Place cursor over picture, click to enlarge,
then click-and-drag to move, use arrow keys for previous/next
---
DAY 3: 12JUN10: the Solvang loop
the route plotted with Mapquest.com: long_mapquest_url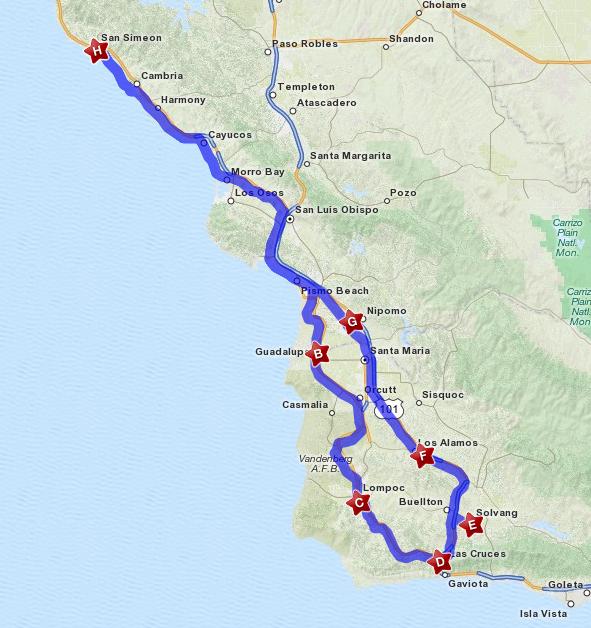 Chilly morning, dew on windshields, built fire...






Saw bachi ball here in Cambria 40 years ago...
same ol' folks still playing here...







Stop in Morro Bay...

...for BBQ oysters...




















and now... drum roll please...
for THE MAIN ATTRACTION...
Solvang Vintage Motorcycle Museum
museum website: here















































































































Gas & pit stop in Santa Maria...
and spied this limey sthmorthner with a side hack...
on the wrong side...






Dinner at the Main Street Grill, Cambria...




Beer at camp...




Day 1: 4 riders on 3 motors for 226.3 miles, 905.2 total miles
Day 2: 4 riders on 3 motors for 183.7 miles, 734.8 total miles
Day 3: 4 riders on 3 motors for 230.6 miles, 922.4 total miles



            $      miles  gallon mpg     TOT$   TOT mi TOT gal TOT mpg
            ------ ------ ------ ------- ------ ------ ------- -------
Cambria     $ 9.46  87.3m 2.491g 35.0mpg $40.83 413.9m 11.404g 36.3mpg
Buellton    $ 9.33 115.7m 2.828g 40.9mpg $50.16 529.6m 14.232g 37.2mpg
Santa Maria $ 3.29  38.5m 0.963g 40.0mpg $53.45 568.1m 15.195g 37.4mpg
San Simeon         230.6m                       640.7m                


Day 3 personal expenses for Rusl & Sharon:
$020 - Tognazzini's Dockside Restaurant
$035 - Main Street Grill (BBQ)
$008 - Fire wood
$022 - Gas
--------------
$085 - Total