The Raz Report: 100th Anniversary Party
Dudley Perkins Company
Harley-Davidson®
Saturday, September 13th
Prepared for publication in the November 2014 issue of
Thunder Roads Magazine NorCal






Saturday, September 13th, was a day of celebration at Dudley Perkins Company Harley-Davidson®. In fact, there were two celebrations for 100 years of Dudley Perkins Company and Harley-Davidson® motorcycle history: 1) the Corey Way Street Faire, and, 2) the New (Model) Year's & 100th Anniversary Party.






Saturday morning we, Stan Hill (TRM NorCal publisher/owner), with Chuck and Gene, and Sharon (a.k.a. "Princess") and me, met at the I80/Enterprise Chevron station in West Sacramento at 8am. All tanks filled we rode under predominantly blue skies across the causeway going west on I80 to the Vallejo Rest area where we stopped to check fluid levels, then, continued west on I80 across the Carquines (toll) Bridge (the FREE direction - notice you can cross any toll bridge into Oakland for FREE, but you must pay to leave) and still continued west on I80 across the Emperor Norton (toll) Bridge (NOT the FREE direction).

I digress, begin digression. The "what" bridge? Joshua Abraham Norton, the self-proclaimed Imperial Majesty Emperor Norton I, was a celebrated citizen of San Francisco, California, who in 1859 proclaimed himself "Emperor of these United States" and subsequently "Protector of Mexico". Though some considered him insane, or eccentric, the citizens of San Francisco celebrated his regal presence and his proclamations, most particularly here, his Imperial Decree ordering the construction of three bridges: 1) a suspension bridge connecting San Francisco to Sausalito (done - the Golden Gate Bridge), 2) a bridge from San Francisco to Oakland via Goat Island (a.k.a. Treasure Island) (done - a.k.a. the Oakland Bay Bridge), and 3) a bridge from San Francisco to the Farallone Islands, 28 miles of the coast (incomplete).





05 JUNE 2010: Emperor Norton arrives at the Golden Gate Bridge for
the dedication of a plaque commemorating the bridge's construction.

\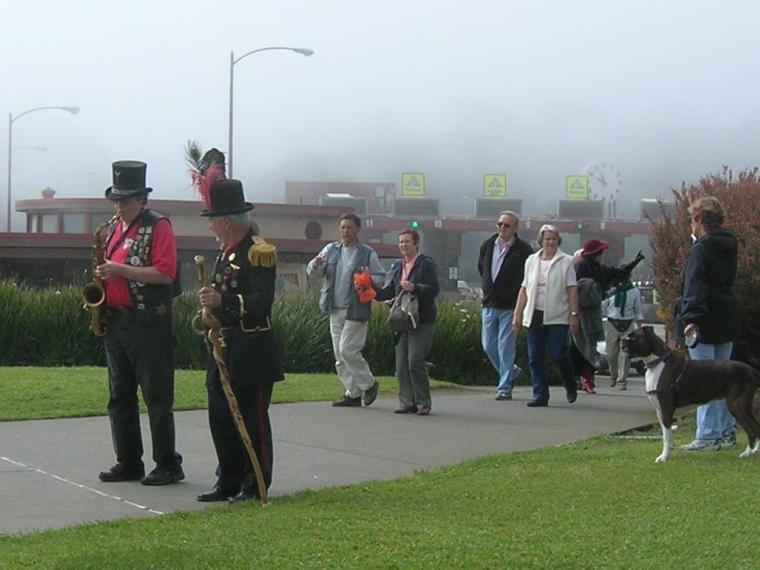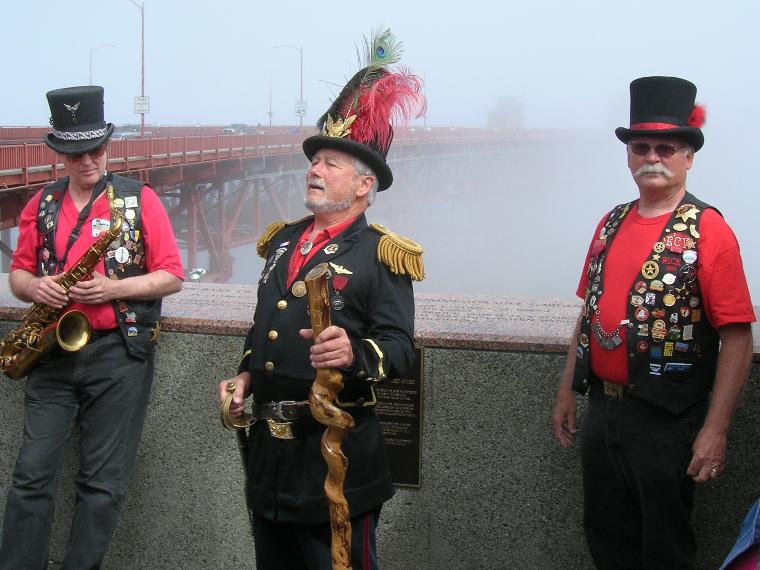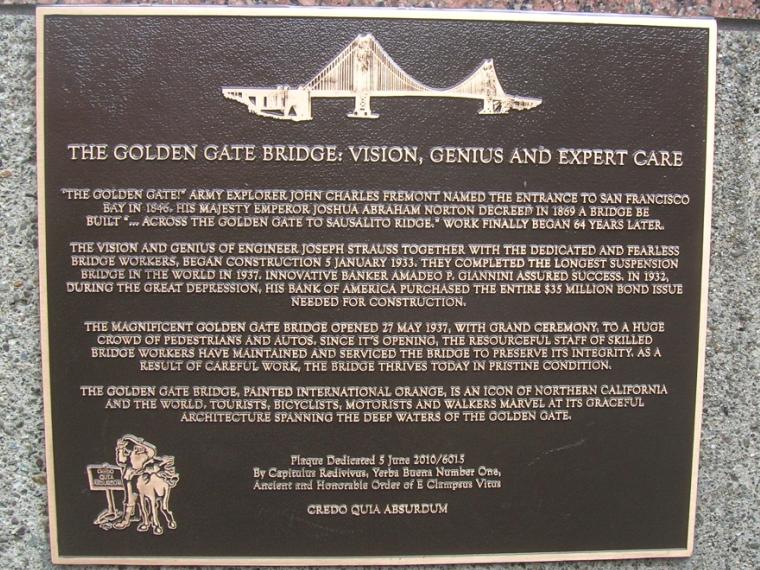 End of digression. Next we took 101 south to Exit 424, not 425C or 425B or 425A, and not 423B or 423A... 424! Then under the freeway, right turn on South Airport Boulevard, left on Utah, right on Corey Way and... just before 10am... WHOA! Almost made it to Dudley Perkins at 333 Corey Way, however, Corey Way was full all the way to Utah, so, squeezed in to park about 305 Corey Way.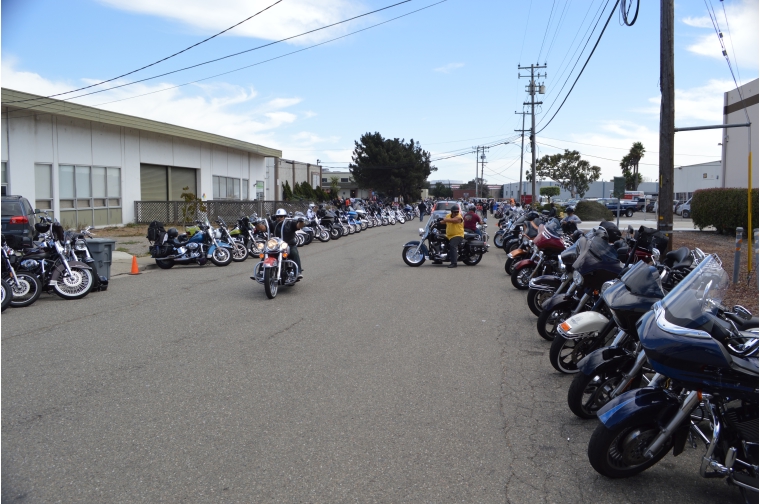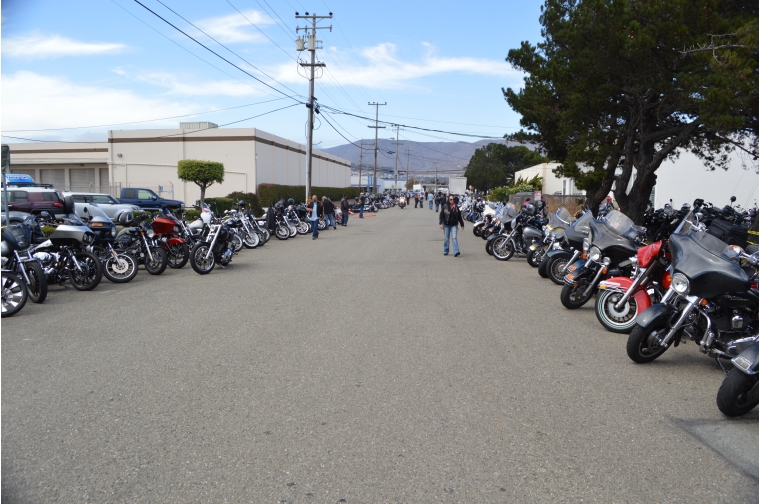 The day's activities in South San Francisco began at 8am at the nearby Best Western on Airport Boulevard, three rides that were two to three hour long rides, one of which was a Rolling 5 Card Draw Poker Run, and if you didn't like the card you drew, then you could draw again... for a price. These rides left at 8am - missed that. I reckon a lot of folks were on those rides because although there were a lot of motorcycles there at 10am, the extensive grounds at DPC H-D were not all that crowded... yet. Not that there wasn't a lot going on already. Tom Perkins, handi-talkie in hand, was busier than a long tailed cat in a room full of rocking chairs - he was pretty much a blur all day long.
Most of the vendors were already set up and it seemed as though we had just started visiting the booths and it was already 11am - riders were pouring in and good music by the Circuit Breakers began.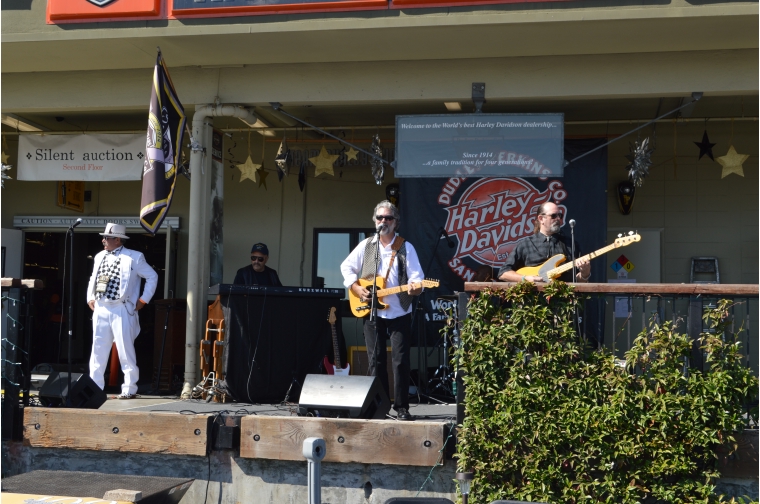 The street faire had the widest variety of vendors ever assembled in one spot; they had something for everyone; take a look at who all was there: Awaken Wellness, American Legion, San Franpsycho, Tango De Cristo (Musician), Lesley's Jewels, San Francisco Motorcycle Club est 1904, Bayhill Gym, Drag Specialties, Vance & Hines, Biltwell Inc, Yerba Buena Antique Motorcycle Club of America, Golden Gate HOG Chapter, California State HOG Rally, Jerk N Pickle, Mike Gorrono, UGLY MC, Schaprio & Leventhal - the motorcycle attorneys, Beverly' Marynak's Handmade Jewelry, Ultra Cool Oil Cooling, SDI insulation (and solar power installation), Classic Jay's Art & Signs, Paws for Purple Hearts, The 411, Kids Corner, Dunlop Tires, Redwood General Tire, Monkey Moto School, Four Star Automotive Inc & Truck Repair, KOFY TV20 CABLE13, Traveling Joe's Expresso, Motorcycle Insurance Specialists, C.B.Hannegans, Roko's Ice Cream Tacos.

There were various cool bikes and street rods throughout the vendors - 66 Bonneville TT Special, Knuckleheads, Panheads, Vincent with side car, 32 high boy, 34 high boy to name a few.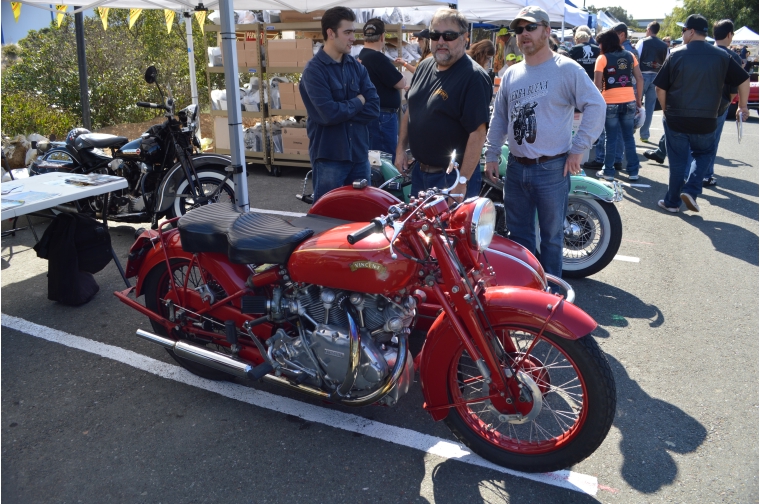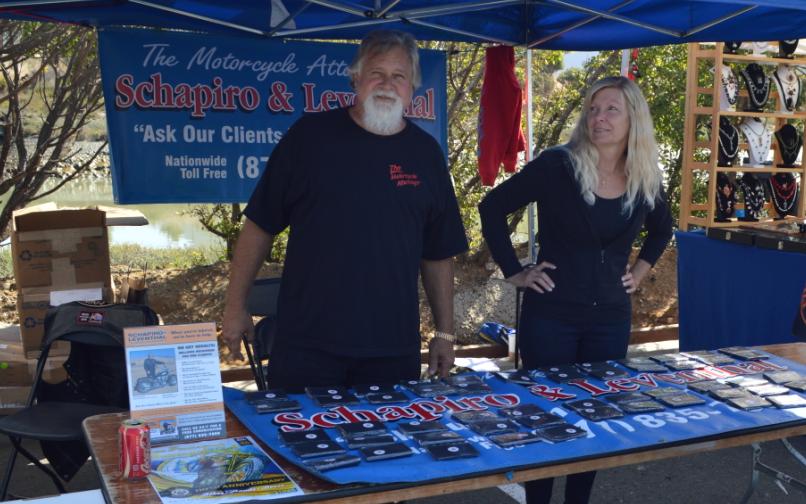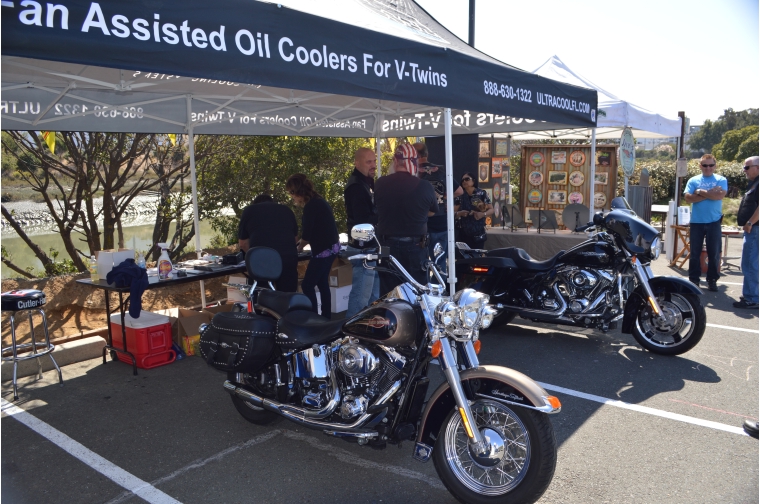 Sign-in for the party was at the HOG Rally booth where you got your orange wrist band (allows you to be present between 4pm and 8pm), meal ticket (wooden "anniversary" nickle), and a bag of party favors: party hat for the men or party tiera for the women, party horn, DPC 100th anniversary commemorative pin, DPC 100th anniversary commemorative sticker, Ride Guide - the best Bay Area rides, and a 2015 model catalog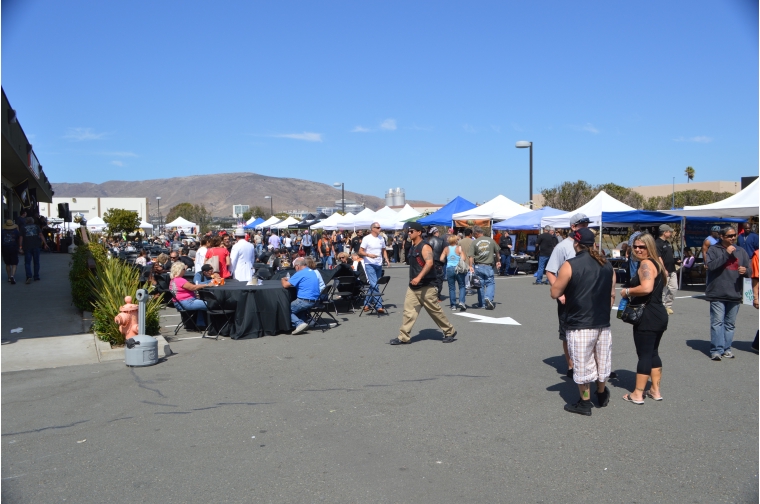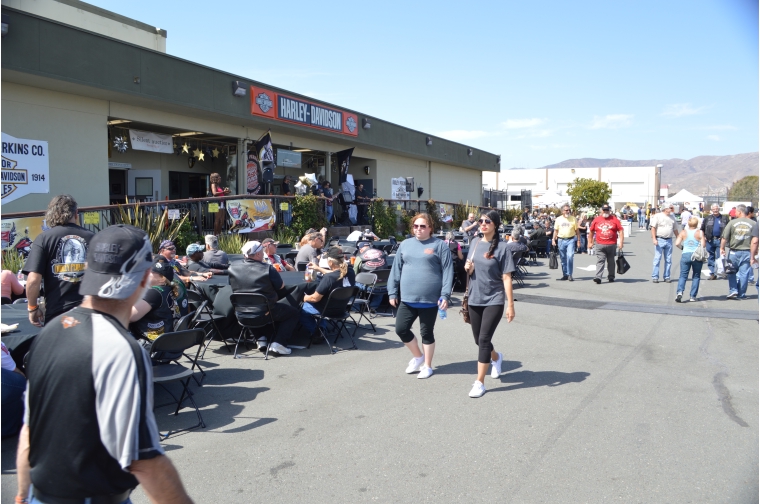 Having spent the rest of the morning going through the street faire, we wandered in to the staging area for the custom motorcycle show. It was about now that Stan, Chuck and Gene had to leave to go back to Dixon to help Terry (TRM NorCal publisher/owner) with the TRM NorCal booth at the Renegade Rendezvous - dig it Stan... 104 degrees in Dixon, 78 degrees here. Well, I took pictures of ALL the bikes in the show, some that I liked I took more than one of and somewhere along the line, Princess caught me working. Although every make and model were parked out on the street, this show was all Harley. There were bikes with side cars, stock baggers, custom baggers, FXRs, Dynas, Electra-Glides, Road Kings, Softails, rigids, choppers, radical choppers, rat bikes. There were solid colors, metal flake, flames, CAMO FLAMES, knuckleheads, panheads, shovelheads, EVOs, Twin-Cams, hummers, Aramachi SS and SX, and those wicked Buels - hmmmmm... didn't see and V-rods.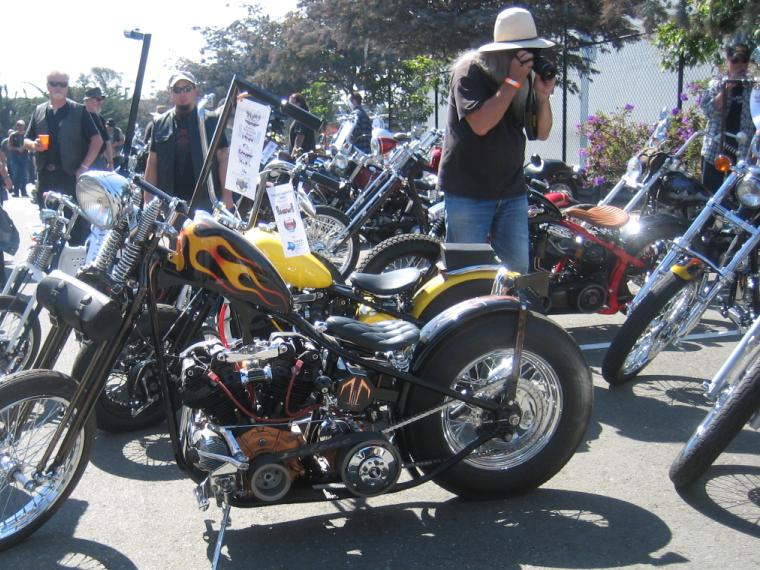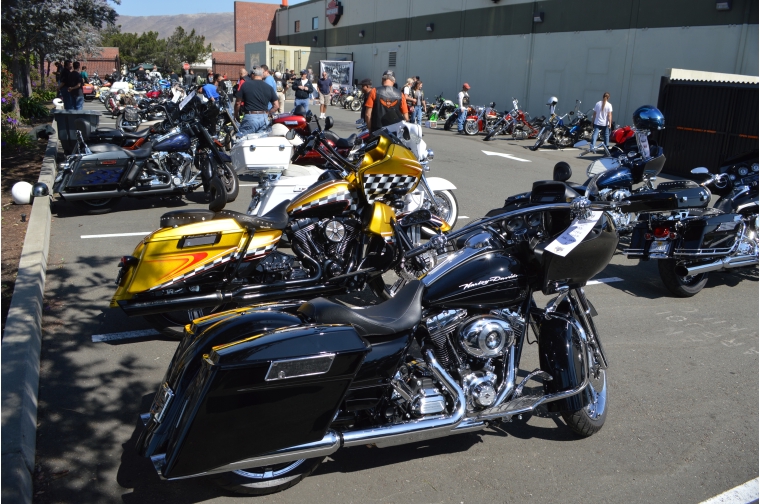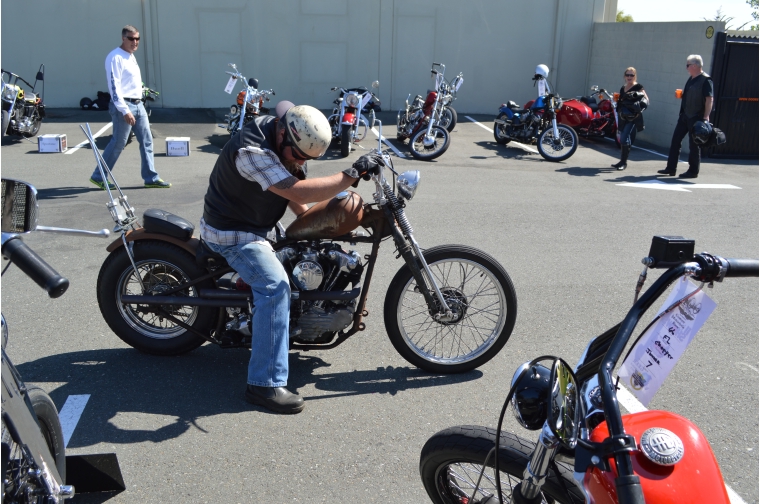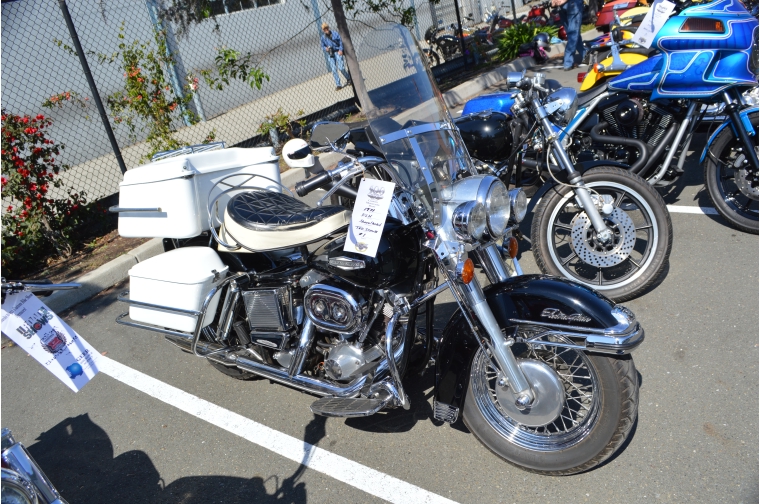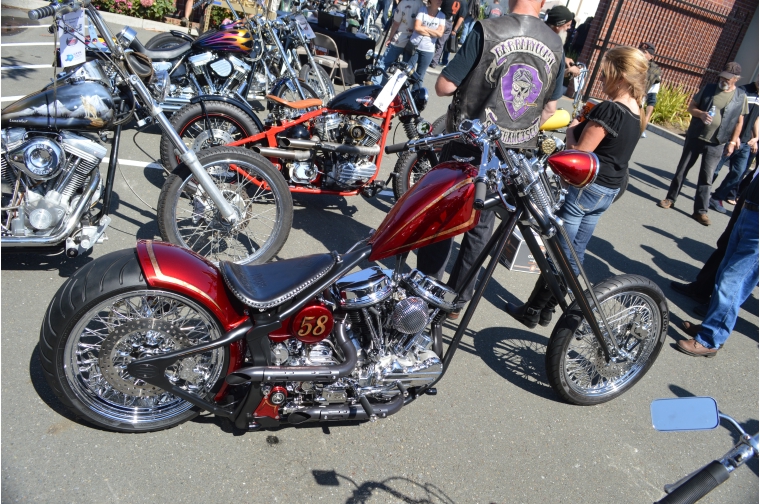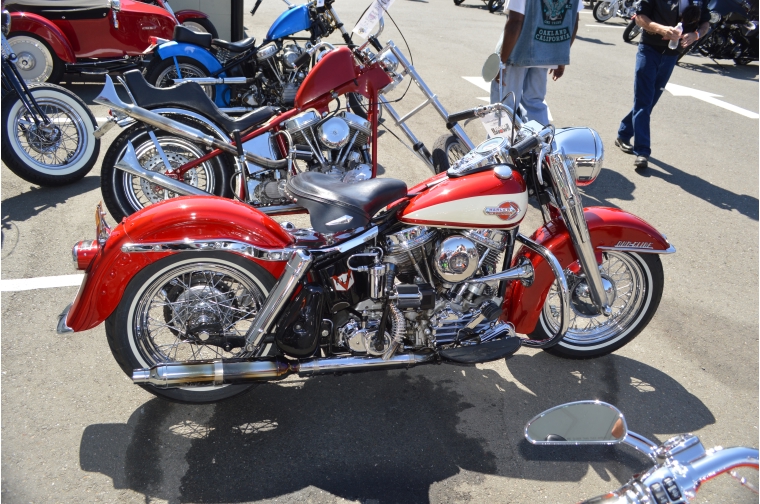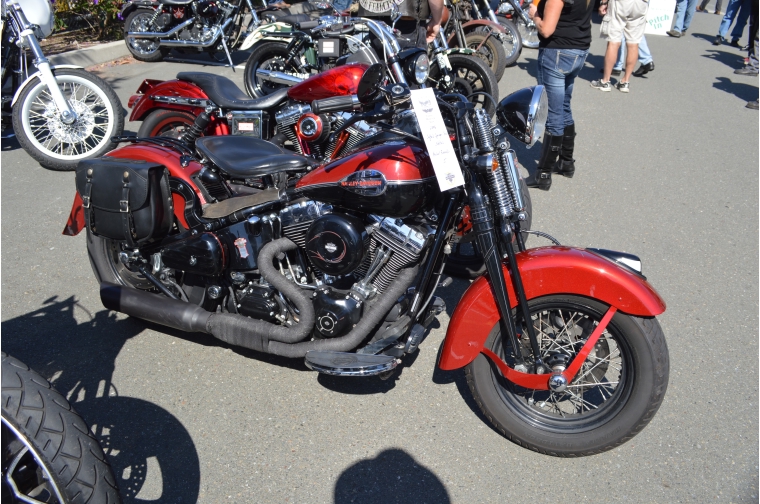 The trophies were waaaay cool, made with a flywheel base and various toppers, e.g., con-rod, painted gold, and... heavy. Yeah, tie that really well to your handle bars for the ride home. Miss Street Vibrations helped in handing out the trophies, winners liked that, and Brett Hat of Hatt's in Forest Knolls was happy - he received trophies for 2 of the Knucks he brought.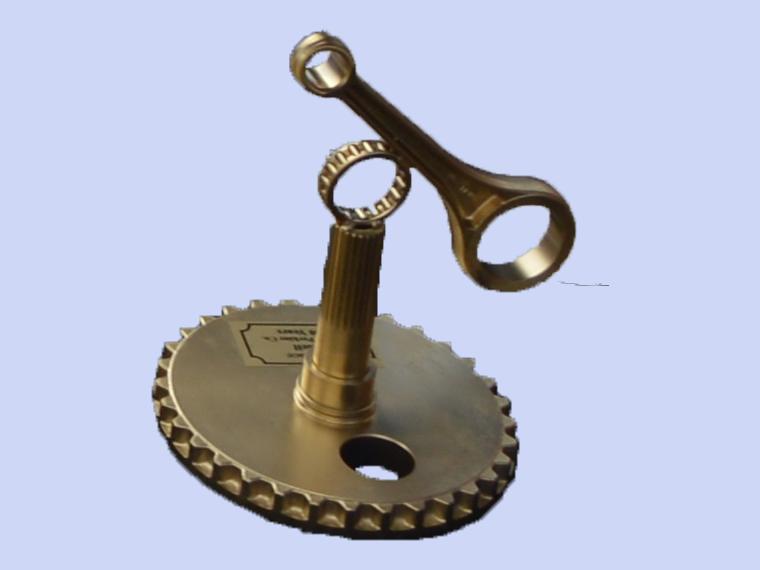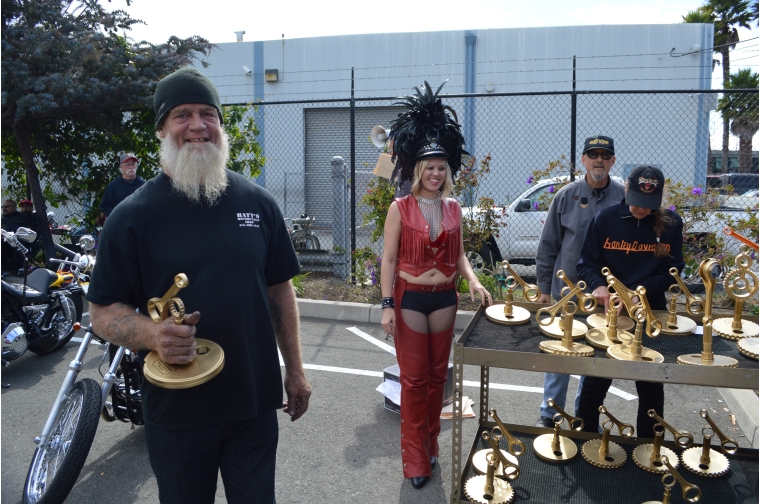 Now, what's the recipe for a good party? Good food, beer, and wine (soft drinks and water if you prefer) has got to be number one on the list, and there was plenty of that! Lunch was catered by C.B.Hannegans of Los Gatos and included assorted BBQ sandwiches such as chicken with jerk sauce and BBQ pork, cheeseburgers, all beef hot dogs and portabella mushrooms with chips, potato salad, watermelon, ice cream and cookies. By now Princess will not go any further unless it is to the food court for lunch, so, she with her chicken sammy and me with my a hotdog walked across (this was cool) a bridge across the (dry) creek to an area by the river with decorations, tables (with black cloths and umbrellas), chairs, bocce ball, horse shoes, ping pong, etc. - even the trees were decorated. We parked it in the shade; it was good to get off of our feet for a little while, and, there was a nice breeze there too.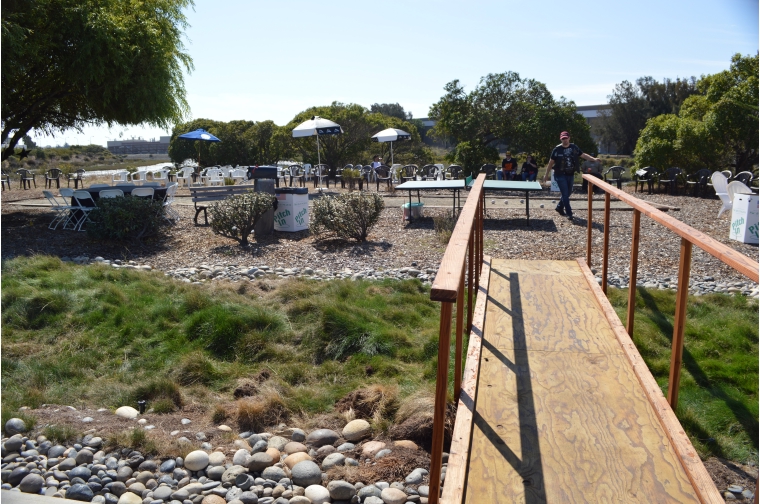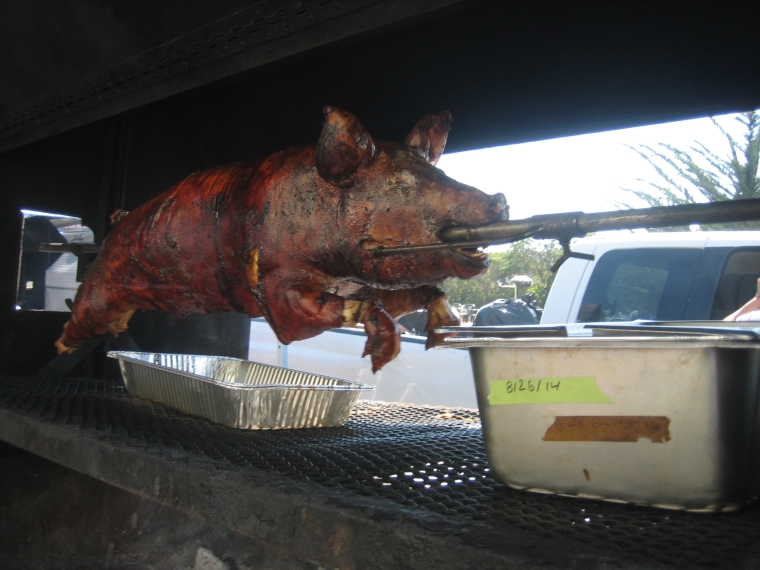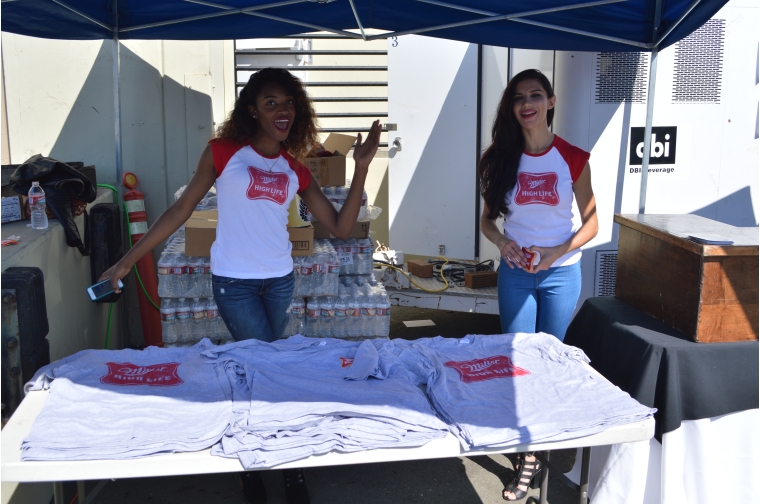 Back on the prowl, we went into the dealership and checked out the silent benefit auction upstairs; it included all kinds of goodies, accessories, even wine and liquor.
Outside again, GREAT music by Savannah Blue was on. Don't know Savanna Blue? They've played at the Redwood Run many times, have a very full schedule, don't know how DPC booked them, but they did. Watched some of the girls dance and revisited some of the vendors again while they played, ...
... then took another lap around the building and... and... guess who I ran into... none other than Willie G!!! COOL!!! He was signing folks' vests, jackets, boots... he graciously paused for me to take a photo and I thanked him for his insight and contribution to Harley way.
Here is Scott and Denise of Marina, Denise sporting a new signature! Monterey Bay HOG - this is a real "local" chapter - there were riders from Texas - that's a ways off, Florida - that's a long ways off, and New York - that's a really long ways off! What an interesting collection of riders who are all enthusiastic Harley riders. A very easy to talk to and enjoyable crowd to be among.
Outside still, EXCEPTIONAL music by San Francisco Bay Area blues legends the Delta Wires. They were inducted into the California Blues Hall of Fame in 2012, and, If you like blues, and I do, it just doesn't get much better than this! Way to go DPC!
By 4pm the California State HOG Rally closing ceremonies were over and the vendors are clearing out to make room for MORE tables that were set up for the 972 dinner guests at 5pm. The three course dinner was catered by, you guessed it, C.B.Hannegans, which included mouth watering marinated tri-tip with mushroom demi-glace (or vegetarian lasagna if you'd rather), green beans, roasted red potatoes with garlic bread and Genuine Harley-Davidson chocolate cupcakes with frosting, and, it was all delicious!
After dinner a red carpet was rolled out for the 100 Years Parade of Motorcycles - one from each decade, and the viewing of the 2015 models rounded out a long fun filled day. Tom Perkins and family are surely carrying on in the true "gentleman biker" tradition of his grandfather. What a FIRST CLASS operation! But, if you are reading this and wishing you had gone to this event, don't despair, mark your calendar now for the 200th Anniversary Party in 2114.
Would you like to see more? like hundreds more pictures? go to the photos page at www.russellrazholder.com for about 400 photos of this event, who knows, you might even be in one of the pictures.

Article and photos contributed by Russell "Raz" Holder
KNUCKLEHEADS FOREVER!