Place cursor over picture, click to enlarge,
then click-and-drag to move, use arrow keys for previous/next


April 14: The weather during the week preceding the Mid-Cal Cycle's Open House had been rainy with a prediction of a sunny Saturday. At 7am that Saturday morning, the streets were still wet from rain the night before; but, the sky was clear and blue. Owners, Bruce and Robert were already at the shop, doors up, coffee made.

The shop this year differed from 2011 by virtue of the shop expansion into the adjacent building unit - an additional 12,500 sf (total 20,000 sf now!) and, looking at the amount of bikes, etc. in the shop you have to wonder how did they ever manage to fit all that stuff into the old 7,500 sq ft shop along with their D.Y.L. trailer repair business! Bruce and Robert are really easy going and part of their attitude was molded by Robert's experience when he had pulled into an out of state shop once with a clutch going out and they would not work on it because it wasn't 'stock,' but, at another shop they did not care, just fix what's wrong, and, those kind of experiences have affected how they do business - have trouble with your ride - whatever kind it is - they will fix it.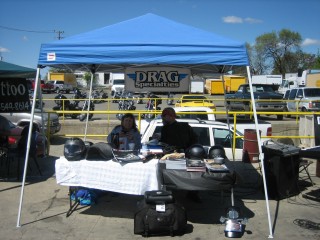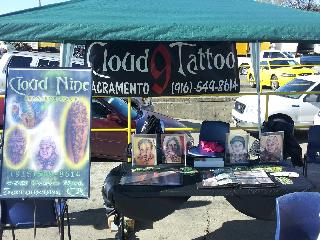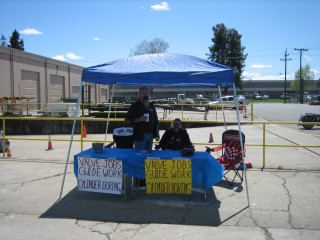 At 9:15, I left with some fellow members of the River City Harley Riders on their 1st Annual Poker Run - 1st card drawn at Mid-Cal Cycle, then across the causeway and back roads to Buds Bar & Grill in Dixon to draw card #2, then more back roads westward toward Vacaville, into Vacaville, and across I-80 through Pleasant Hills to DeeDee's Bar & Grill in Winters to draw card #3, then more back roads east toward Woodland to Plainfield Station to draw card #4, and then the river road back to Mid- Cal Cycle to draw card #5 by 1'ish. The Spring Open House was now well under way. Motorcycle parking only on the grounds, and there were a lot of bikes to check out, a show in it self just walking the rows of parked bikes.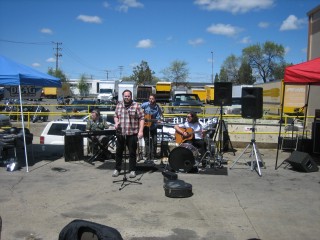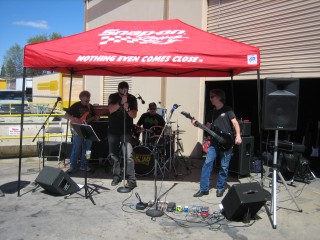 Folks rolled in and out throughout the day. Vendors on hand were Sharon Murphy of Drag Specialties, Ricky Twist of West Coast Leathers, Anthony Loya of Screen Printers Ink Printed Apparel and Designs, Mike Weidt of Cloud 9 Tattoo And Piercing, Rick George and Scott Vic's Harbor Machine and Officer Jack Hatton from West Sacramento Police Department. The bands - they both rocked! 'Bonnie and the Bang Bang,' was the opening band, and, although not 'my kind of music,' they were easy and good to listen to, a well seasoned smooth playing band with very talented musicians, one of which at one point was playing a guitar and drums and tambourine all at the same time! Anyone want to hear some 'zombie music?' 'Rotten Dog,' with lead Scott was the second band, opening with a great rendition of Steppenwolf's 'Get your motor running,' then something else (forgot), then CCR's 'Suzie-Q' - one of my favorites, and, continuing to rock on with songs by the Stones, Lynyrd Skynyrd, Cream and other greats! The raffles - tickets were drawn on band breaks for Harley- Davidson t-shirts, oil change kits, battery tenders... there were plenty of really cool prizes.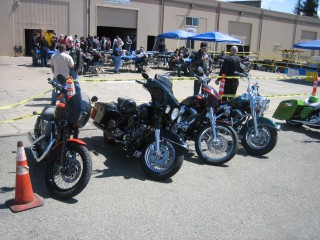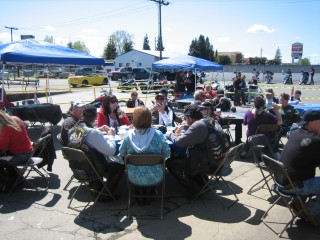 Mid afternoon entertainment included a skills demonstration by Walt Able, a retired motor officer from the West Sac PD, also a motorcycle riding trainer and trainer of motorcycle riding trainers. Walt rode his personal ride, a full dressed Ultra Classic, in and around 9 cones set up in an inclined truck loading pit, dragging floor boards on both sides as he rode in circles and figure-8's, and, then sliding to a stop - and - without putting his feet down - for a loooong pause... tic tic tic... then just crept around in a tight circle... an inch at a time! AND, Walt Able and Officer Hatton provided more rodeo entertainment with follow-the-leader, a slow drag, a figure-8 race, and, a catchme- if-you-can with lights and siren!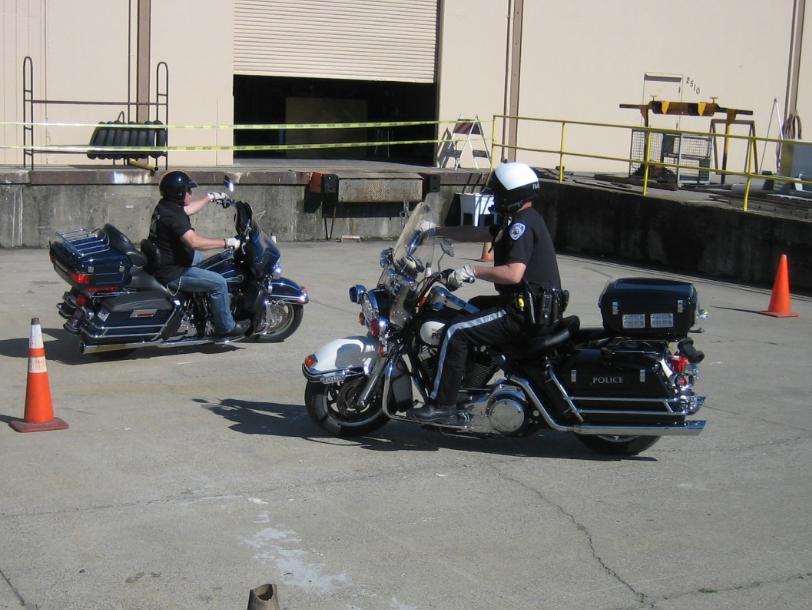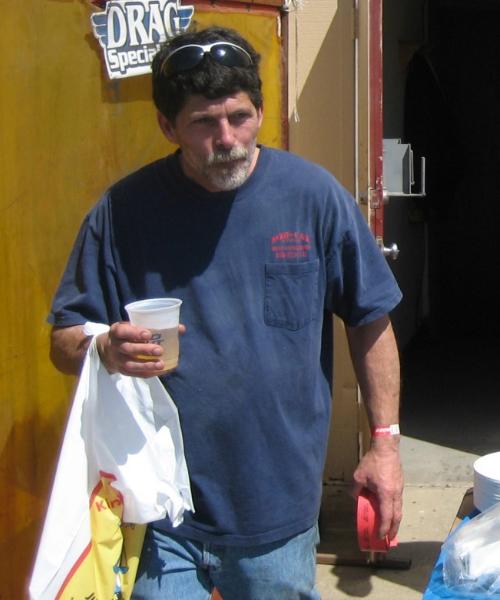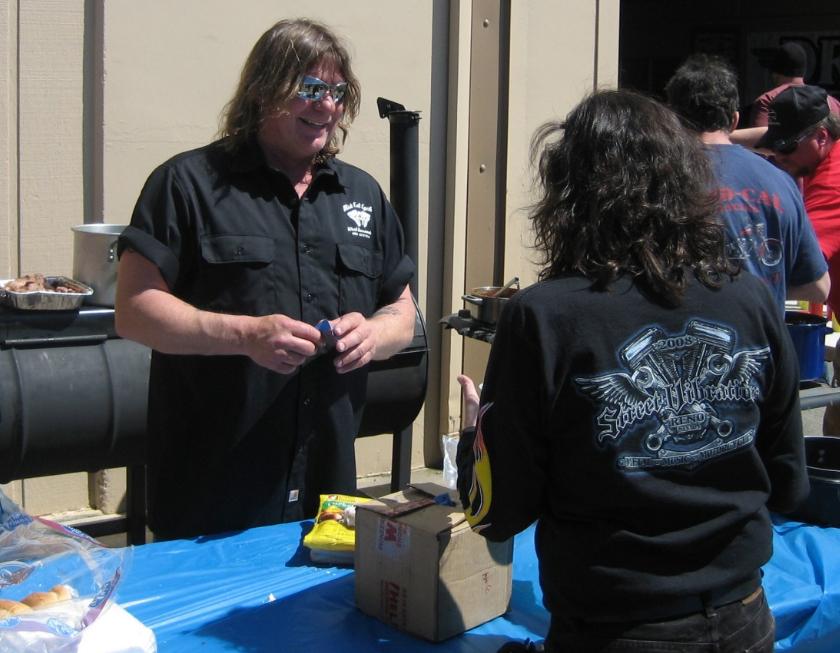 Well, now I can drag the floor boards on my Heritage Classic (yeah, I know, it sits lower than an Ultra or a police Harley), even so, I'm not ready to challenge either of these two to a slow speed skills contest; however, fly by Officer Hatton in West Sacramento when he is on duty for your own personal high speed skills demonstration.

If you were not part of the happy crowd at the Mid-Cal Cycles Spring Open House then you missed a great time and some good grub, but all is not lost, Bruce and Robert are already talking about next spring, so, you put it on your to-do list to look for it next spring. Check out the photo gallery page at Mid-Cal Cycle's website: mid-calcycle.com.

Article and photos contributed by Russell "Raz" Holder
KNUCKLEHEADS FOREVER!