<! Writer: > <! Web editor: PC >

Inventors float new idea in transportation


- CORRECTED -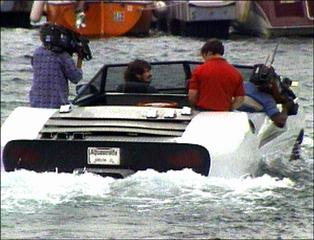 September 29, 1995
From Correspondent David George
CHICAGO, Illinois (CNN) -- It's a car. It's a boat. It's a car-boat, also known as the Aquastrada. (1.5M QuickTime movie)
The inventors of Aquastrada say their craft differs from all previous attempts at an amphibious vehicle for consumers.
"Every person that's attempted this in the past has started with a car or a truck and tried to make it into a boat. Well, we said, you know, that's the flaw. So we started with the idea of starting with a boat first," says chief engineer Jack Musetti.
The company says the craft is capable of speeds of more than 140 mph on land and better than 60 mph on water, although the prototype can't go that fast.
"This just barely planes because it is about a thousand pounds overweight because we overloaded the chopped fiberglass when we were doing the interior, but it proves the patented concepts that we have in this," Musetti says.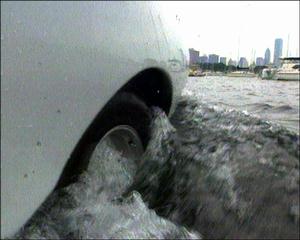 The patented concepts include front wheels that tuck into the hull.
"The front wheels will seal the hull so you don't get a lot of water in. And the rear wheels are in a pocket in the back that is sealed also as they retract," said Keith Heintzelman of Aquastrada International Corp.
The rear wheels locked on one run we witnessed, forcing Aquastrada's marketing team to re-float the craft the old fashioned way. Later, Aquastrada's overworked battery needed a boost from a nearby car before heading back to the water.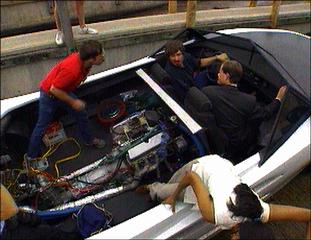 Aquastrada is powered by a converted truck engine burning unleaded gasoline. The driver/pilot uses the same controls on land and afloat.
"We designed it so that you don't have to move levers and things like that, so it's still just like you're driving a car," Heintzelman said.
The inventors are convinced there's a market for Aquastrada. They say prospective buyers include people who want a ski boat that doesn't have to dock at the same place they put in; people with motor homes who are tired of towing both a boat and a car behind them ; and yacht owners who want a landing craft.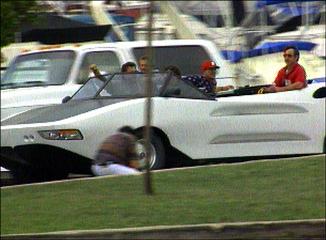 Aquastrada's backers say the craft needs to be brought into compliance with federal water and highway safety standards and pollution laws before it hits the market.
And the price? About $50,000.
"The question they always ask is, 'Will it fly?' The question you might ask about this idea is, 'Will it float?" Gere said. "Well, we know it floats. Now the question is, 'Will it sell?' We'll see."
---

---
Copyright © 1995 Cable News Network, Inc.
ALL RIGHTS RESERVED.
source: http://cgi.cnn.com/TECH/9509/car_boat/