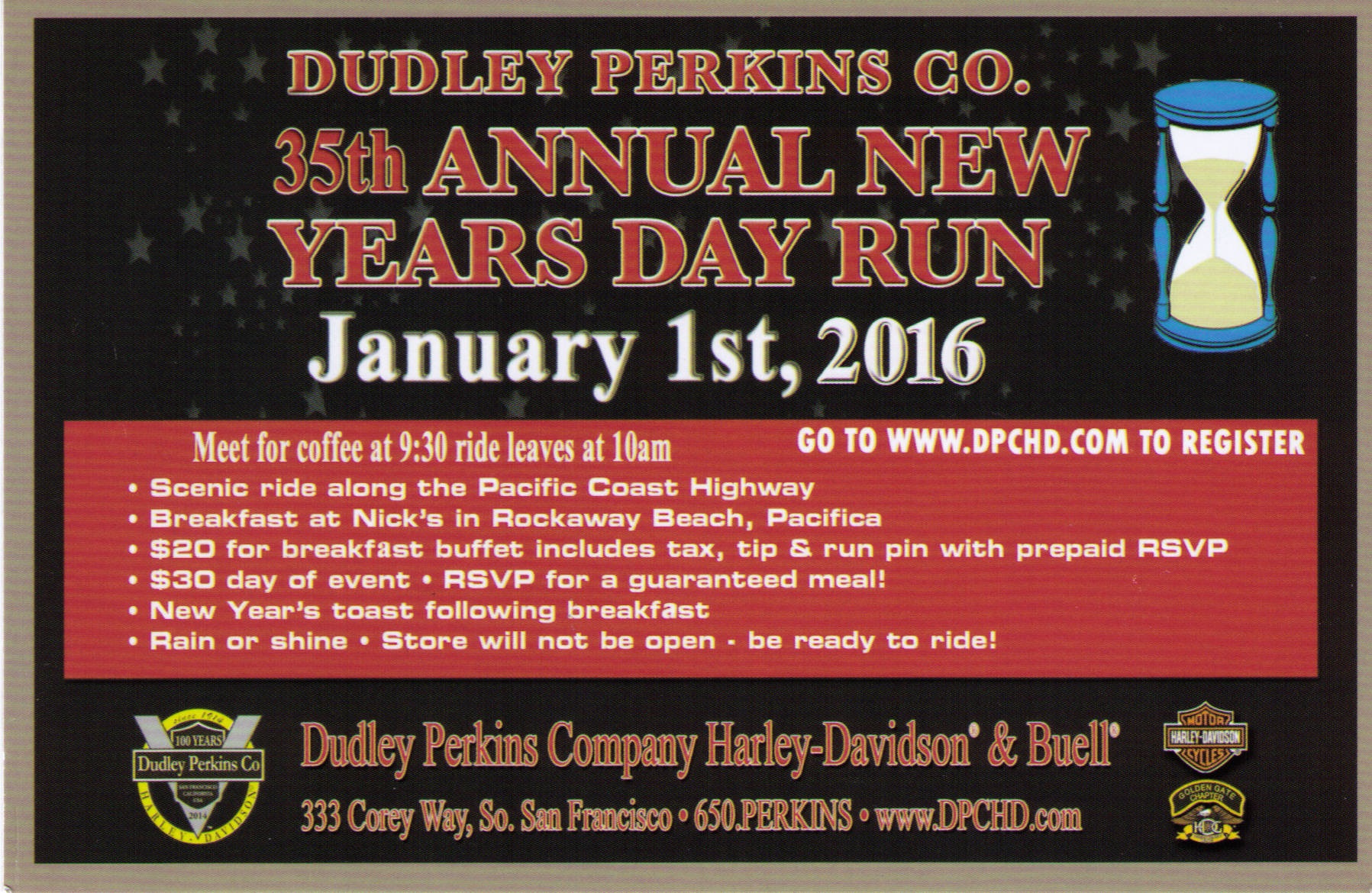 The 35th Annual New Years Day Run was a sombre occasion due to the passing of Tom Perkins, and yet, it was the most attended of any preceeding New Years Day Run as over 400 riders poured in fron near and far. See the memorial announcement below from the dealership news email broadcast of 18DEC15.





| | | |
| --- | --- | --- |
| December 18, 2015 | | |

Dudley Perkins Harley-Davidson/Buell
650-PERKINS (650-737-5467)
www.dpchd.com


Tom Perkins, better known as TP, was a proud husband, father, grandfather, friend and business owner. On December 15, TP lost his battle with pancreatic cancer, at the age of 58. A Bay Area native, Tom was born in San Francisco, moved to Atherton during childhood and attended Berllermine Preparatory High School, returning to San Francisco to attend USF and to work at the family Harley Dealership under the leadership of his father, Dudley Perkins Jr..

In 1996, Tom took over ownership of Dudley Perkins Co, where he continued the family tradition as the 3rd Perkins generation. He treated his employees like family members, customers as friends. Nothing made TP more proud than having the pleasure to work alongside his wife, Janet and son Christopher, whom TP began grooming to take the reins since age 5.

For those who know Tom, they know the story of how he lost his leg: eighteen years old, riding his motorcycle he was hit by a truck in downtown San Francisco. The doctors at SF General saved his life, and to show his respect and admiration for the incredible medical team at the hospital, Tom has donated countless hours and contributions over the years, even being recognized in 2014 as a San Francisco General Heroes & Hearts Award Recipient.

Tom cherished any opportunity to discuss history of all genres - the history of motorcycles, of San Francisco, our national history, but most importantly of our military & armed forces. TP had an incredible amount gratitude and appreciation for those who put their country before themselves, making donating both time and money to various Veteran charities, events and individuals a constant priority for both himself and his company.

Tom is survived by his high school sweetheart, now wife of 37 years, Janet; his children, son Christopher & his wife Rebecca, daughter Nicole; his grandchildren Wesley and Johnny. Tom is one of 5 children, with loving siblings James and wife Jane, brother Bill and wife Glee, and caring sisters Dana & Mary and mother Virginia Perkins. Tom's father, Dudley Perkins Jr. lost his own battle with pancreatic cancer in 1997. Members of his family have shown an abundance of support over the last year to TP, his wife and his children. Tom's extended family of dedicated employees, customers and friends have helped tremendously through this time.

A reception in his honor is scheduled for January 1st at Dudley Perkins Company, South San Francisco beginning at 12pm, immediately following Tom's traditional New Year's Day Ride. All are welcome to attend and celebrate TP's incredibly rich life. In lieu of flowers, contributions in Tom's name can be sent to SF General or Wounded Warrior Project.


Dealership:
333 Corey Way
South San Francisco, CA 94080
Open Seven Days a Week 9am-6pm
Sales 650-737-5500
Service 650-737-5510
Parts 650-737-5520

Gift Store/Motorclothes
2595 Taylor Street at North Point
San Francisco, CA 94133
Ph: (415)776-7779, Fax: (415)776-7893
Open 7 days a week, Call for store hours
6:30am... not even ready to roll... it's dark... it's 32o
7:30am... rolling out of West Sac... it's light... 33o & clear sky
9:00am... arrive at Dudley Perkins Company Harley-Davidson... sunny and clear blue sky; already there are as many riders at the dealership as is typical for the Annual New Years Run, but, the riders continued to arrive from near and far...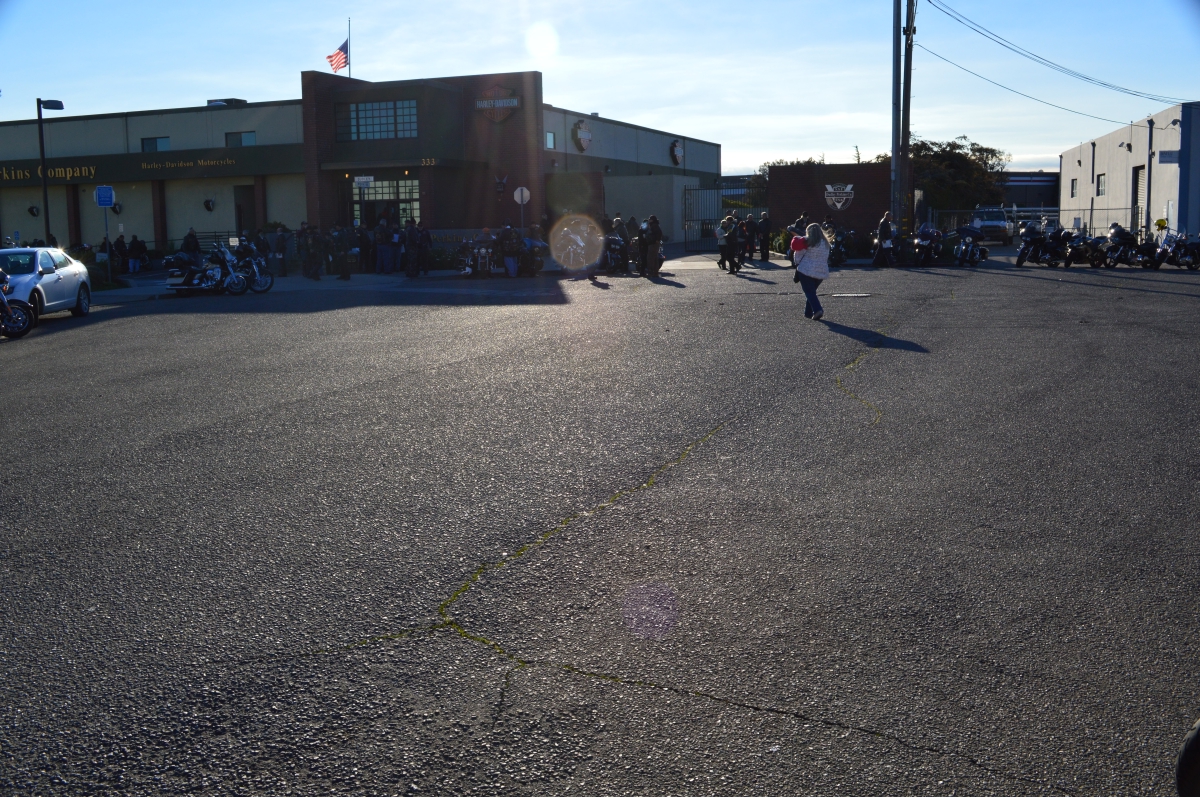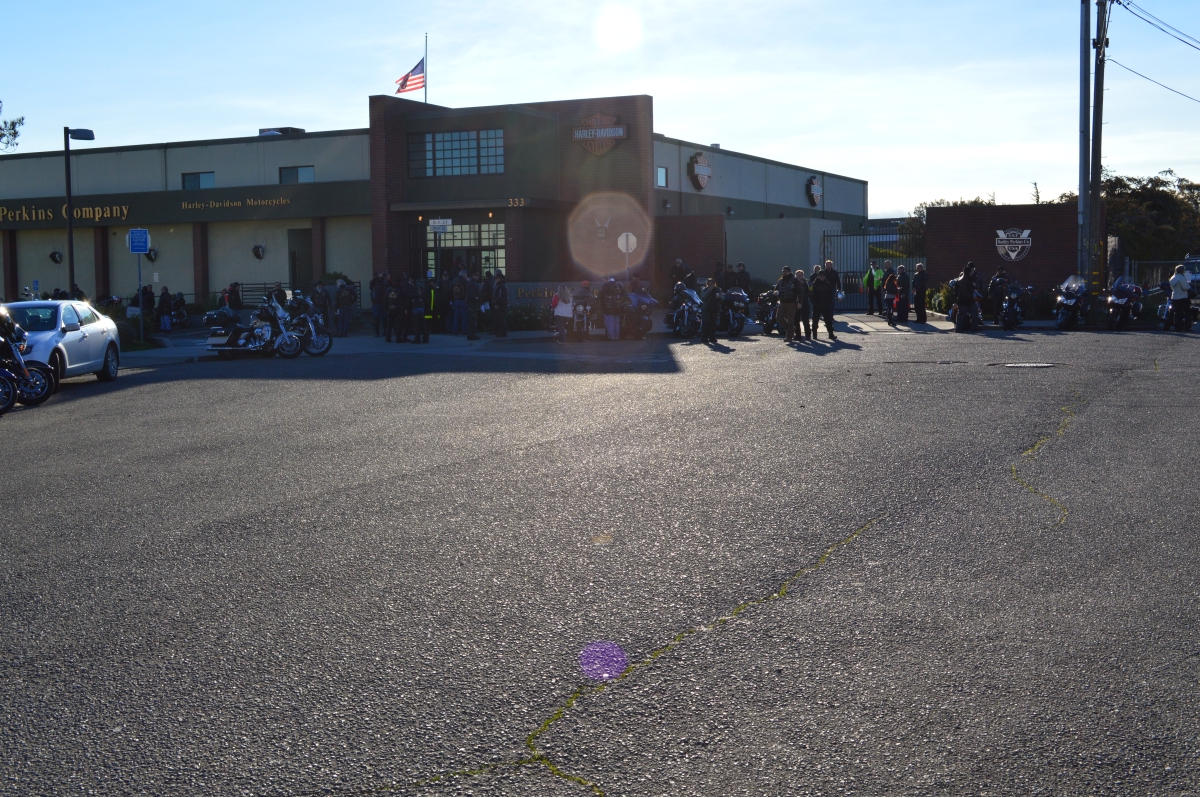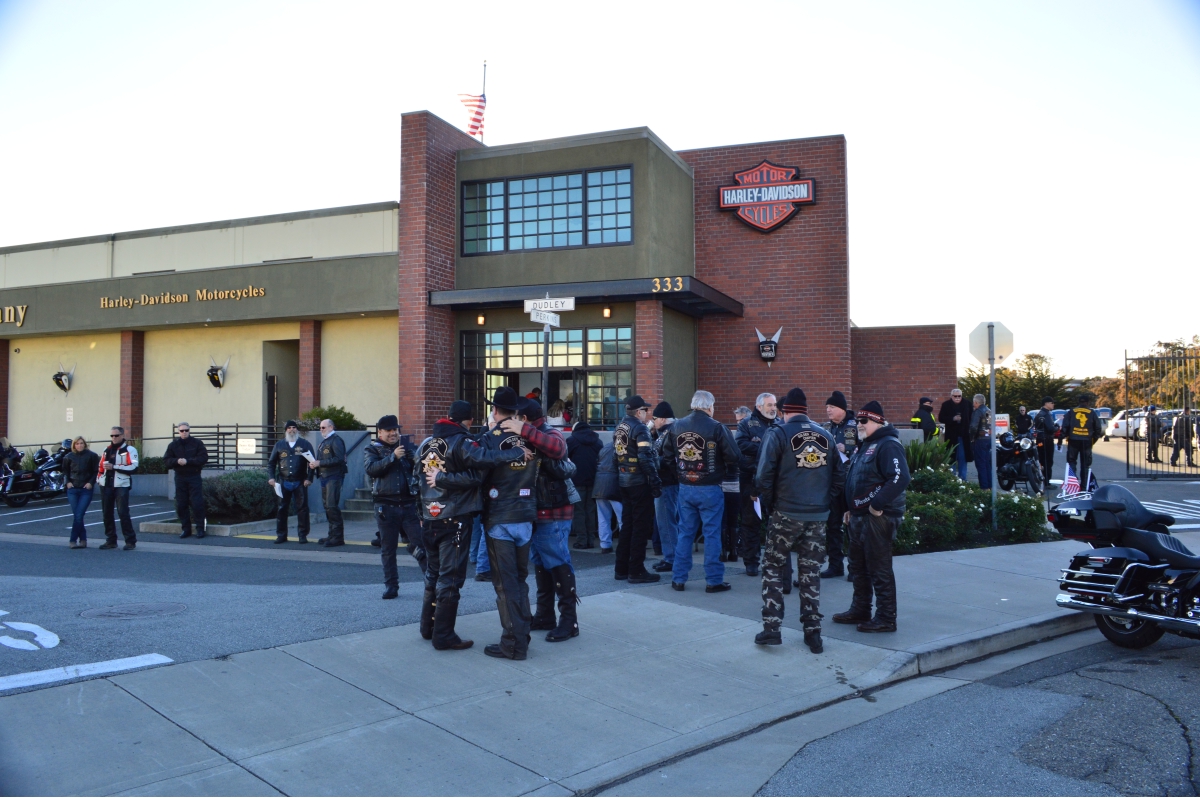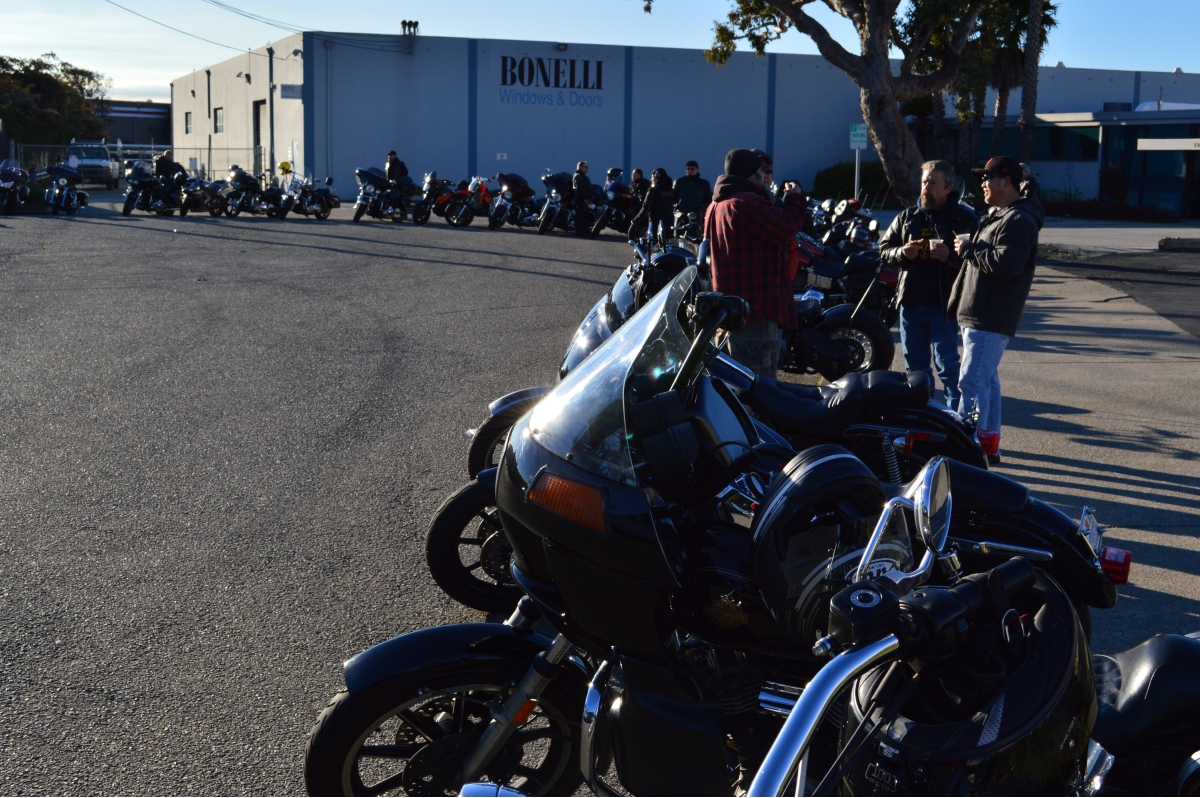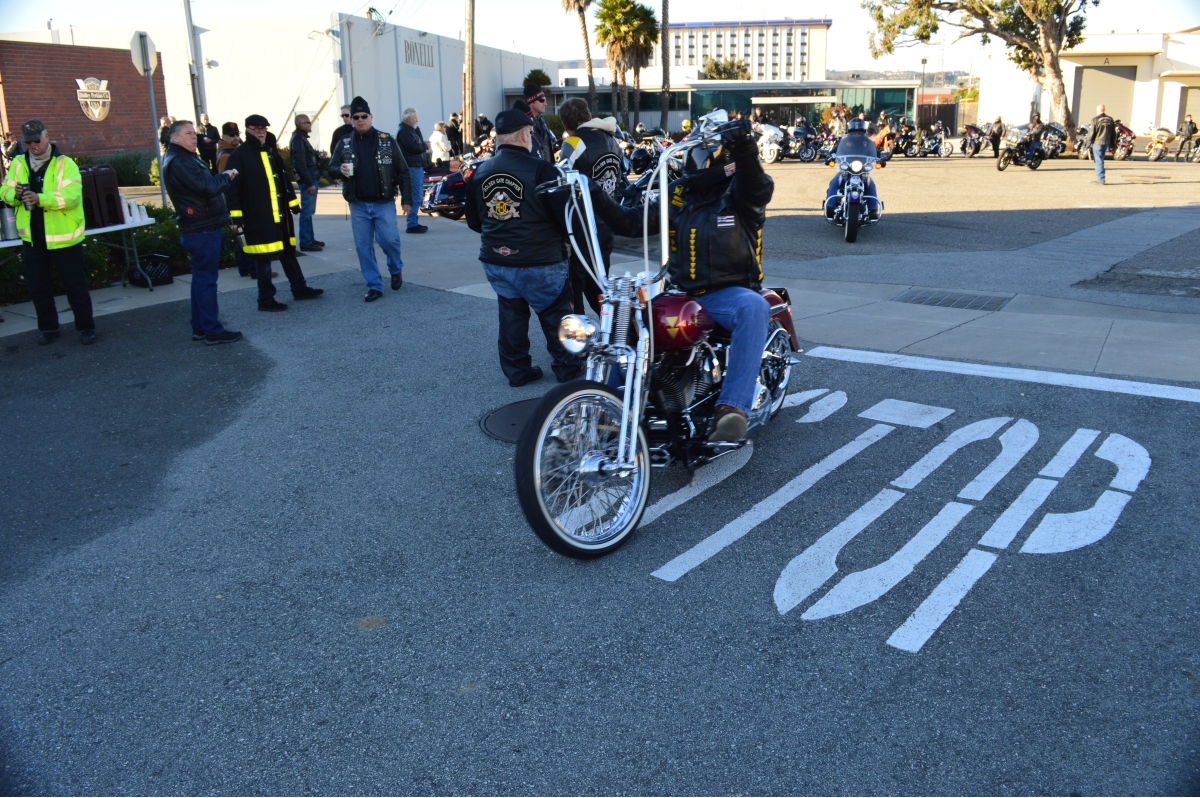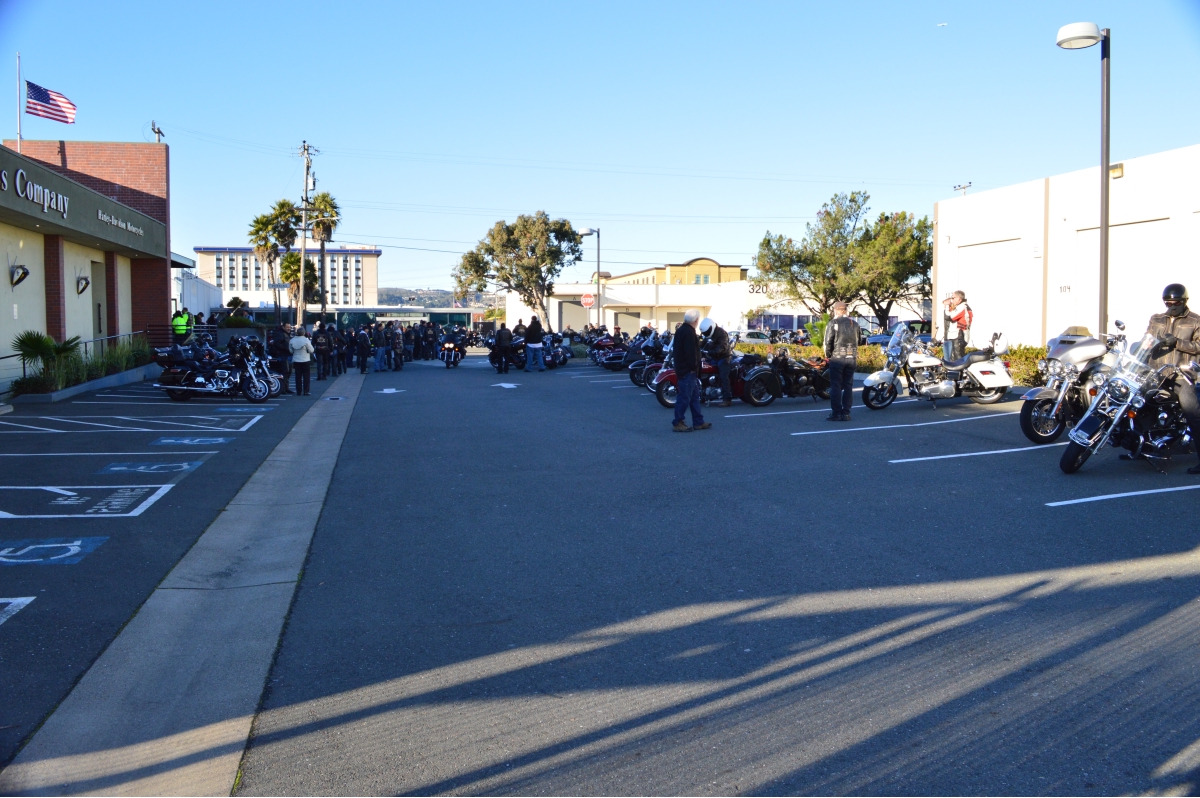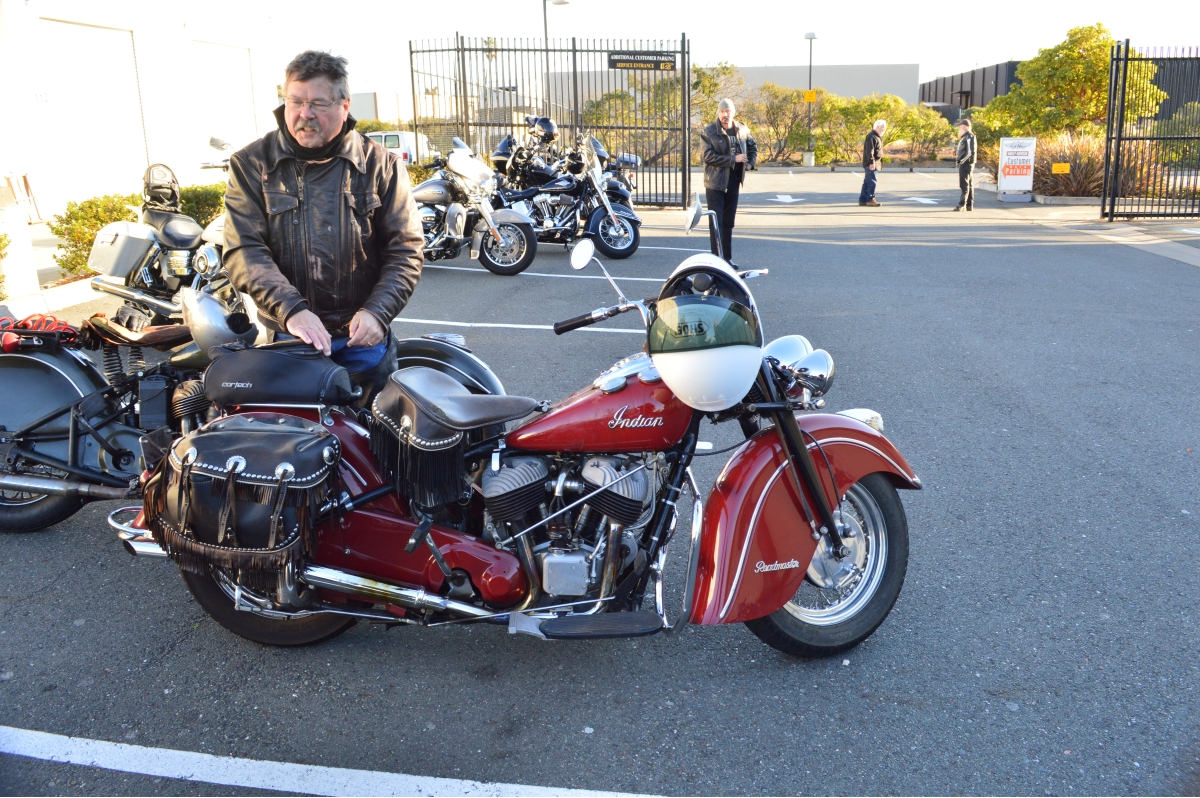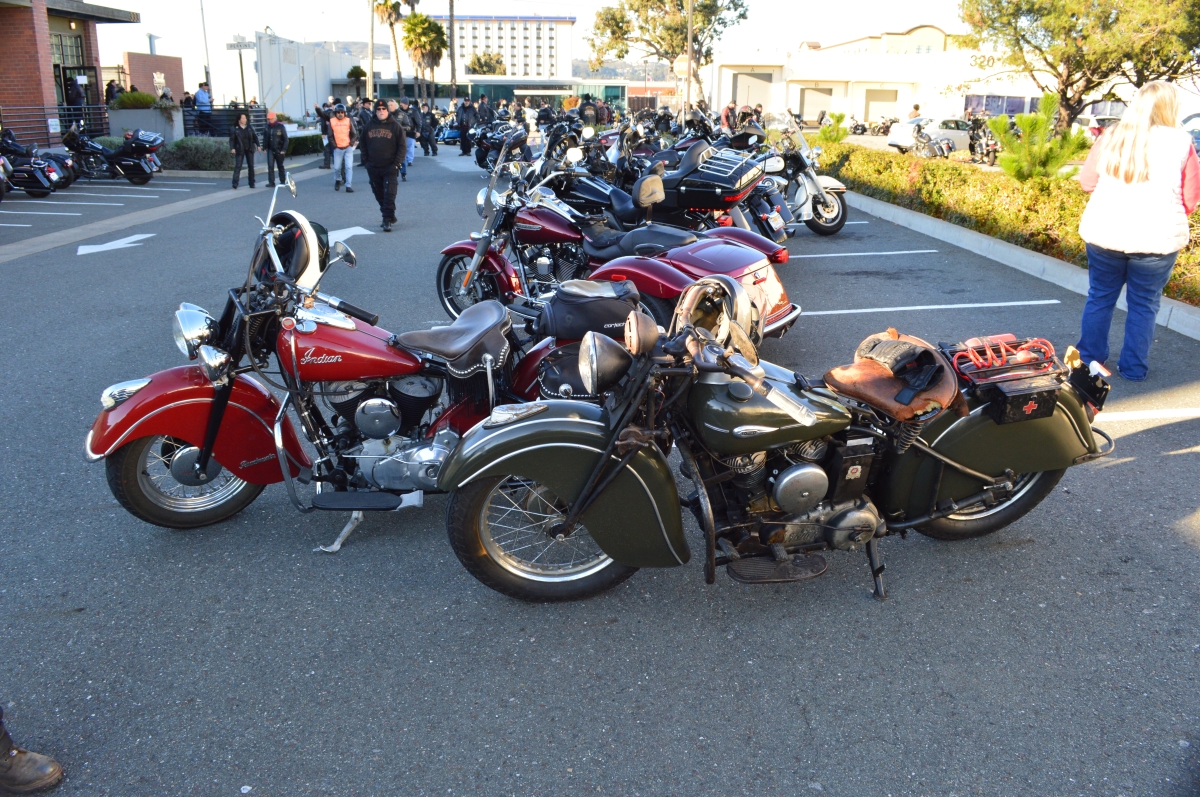 Plenty of coffee and donuts, i.e., did NOT run out! Thank you very much!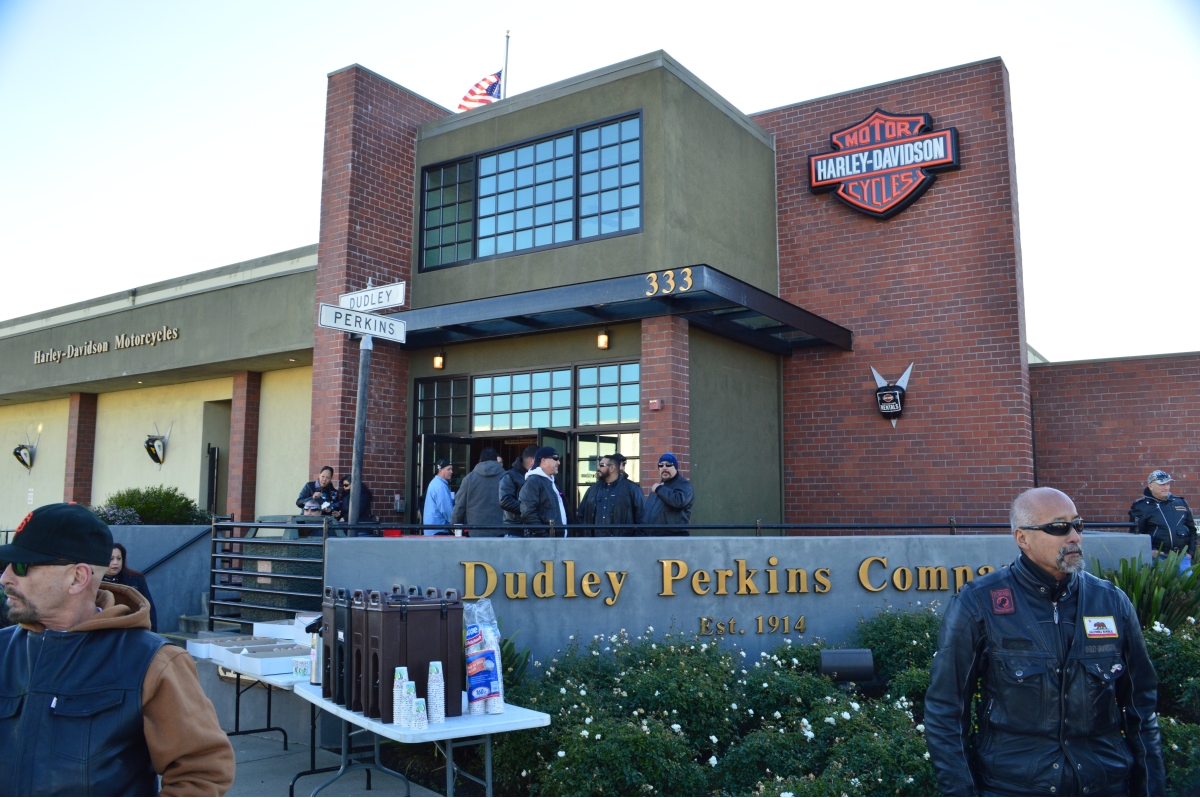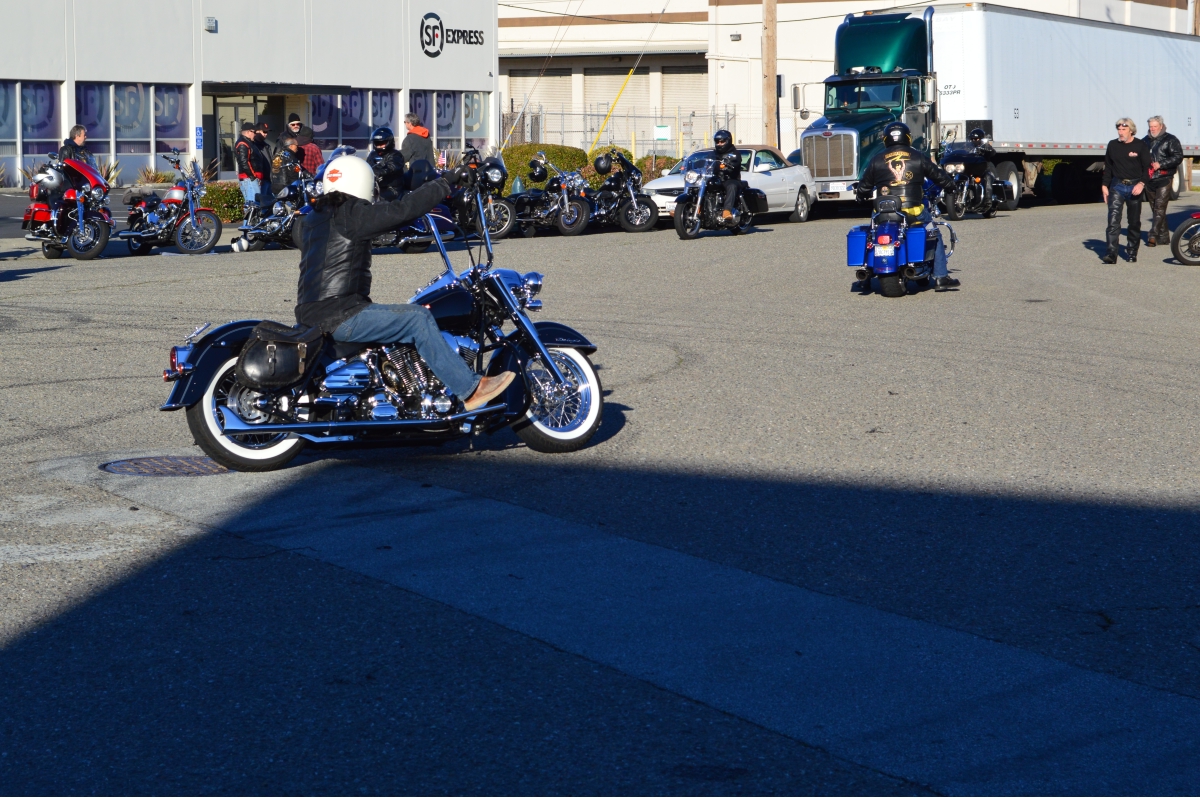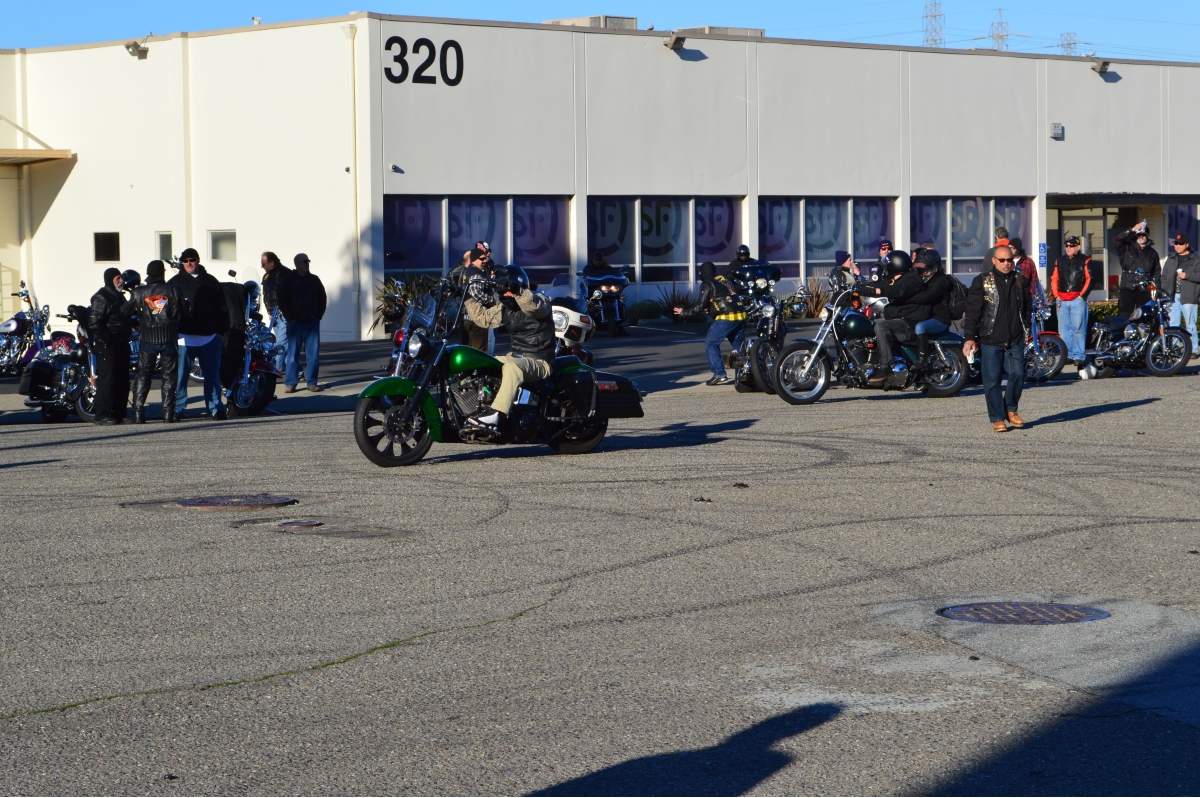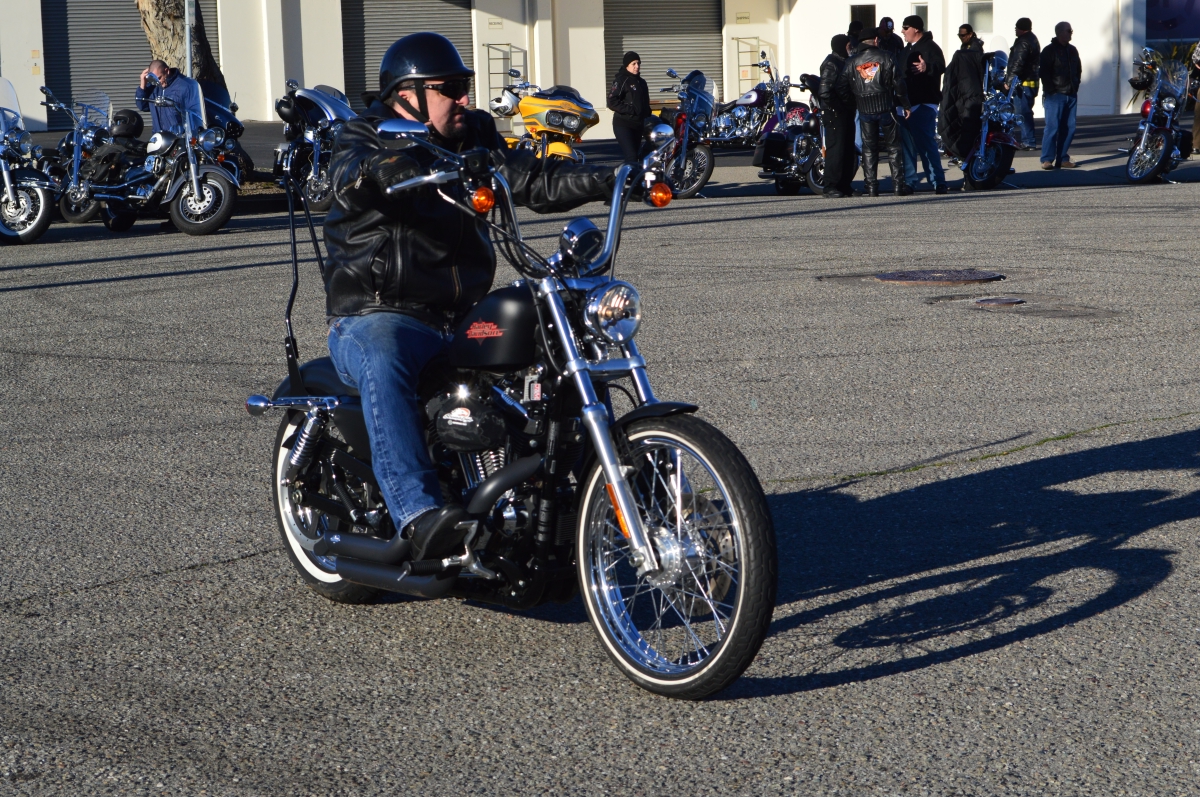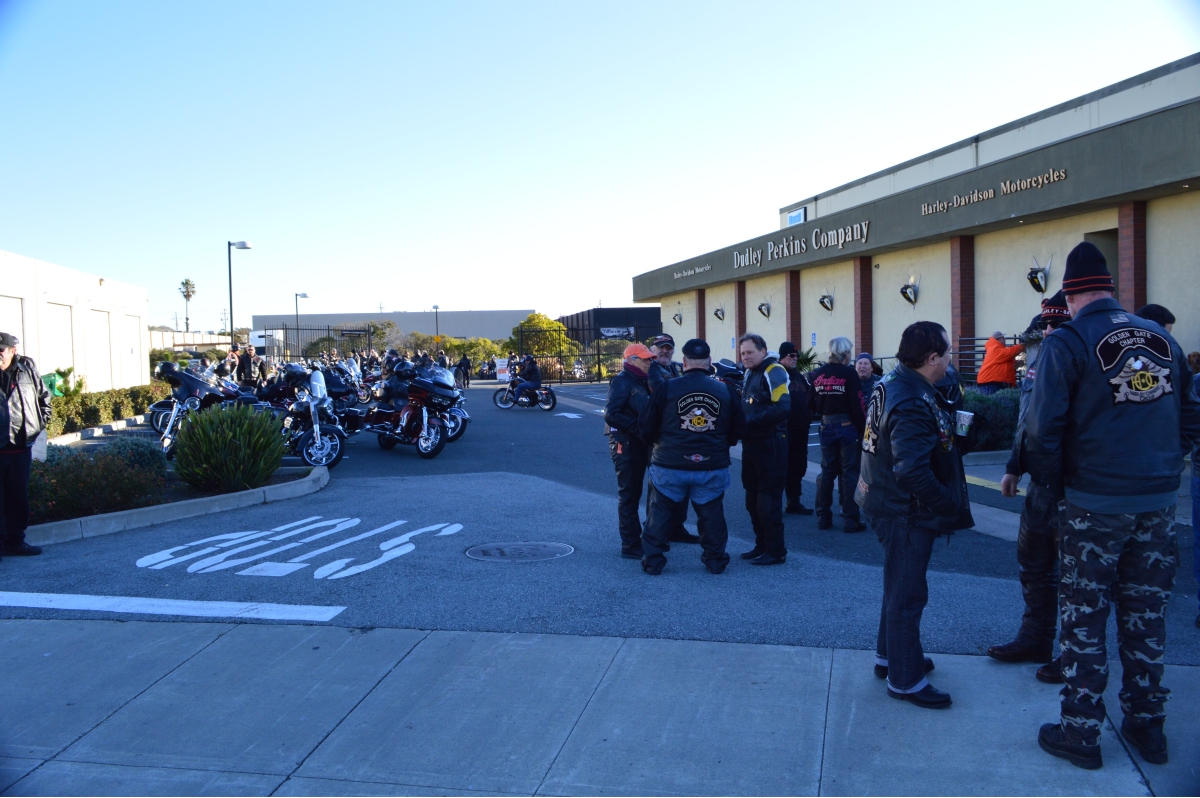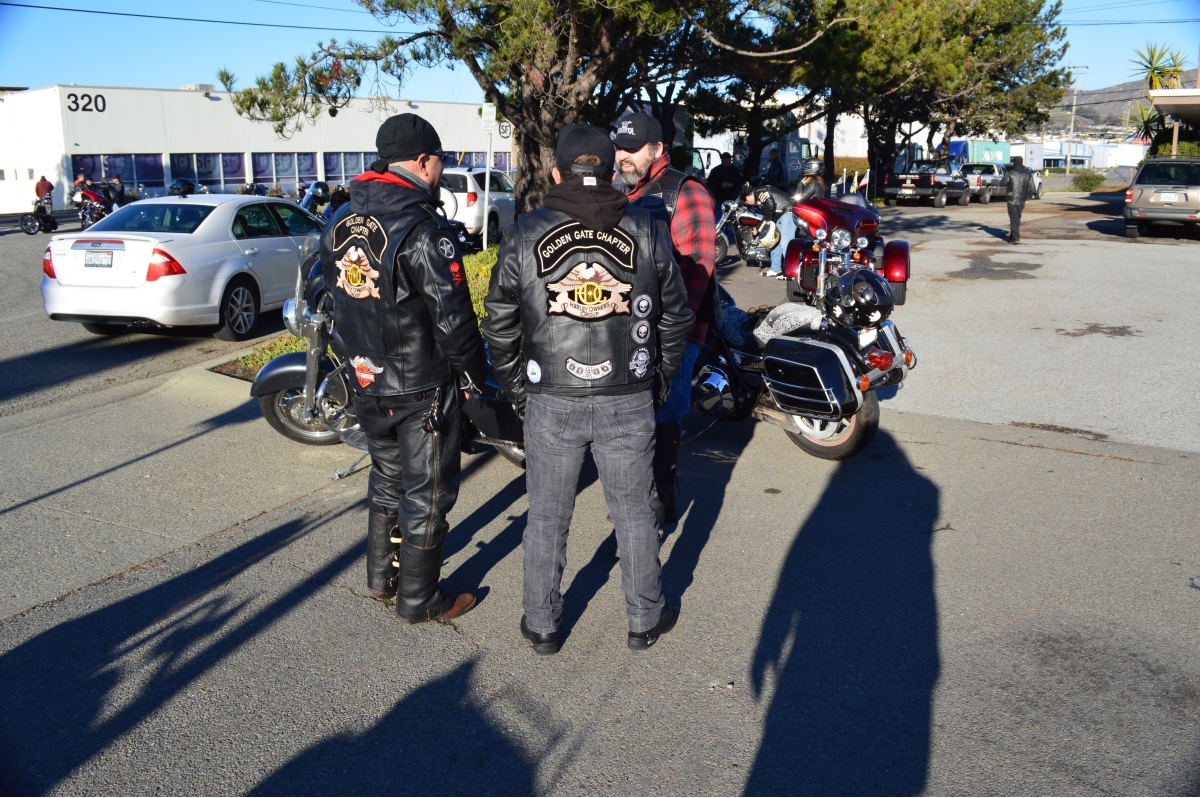 NICE flames... skid lids too...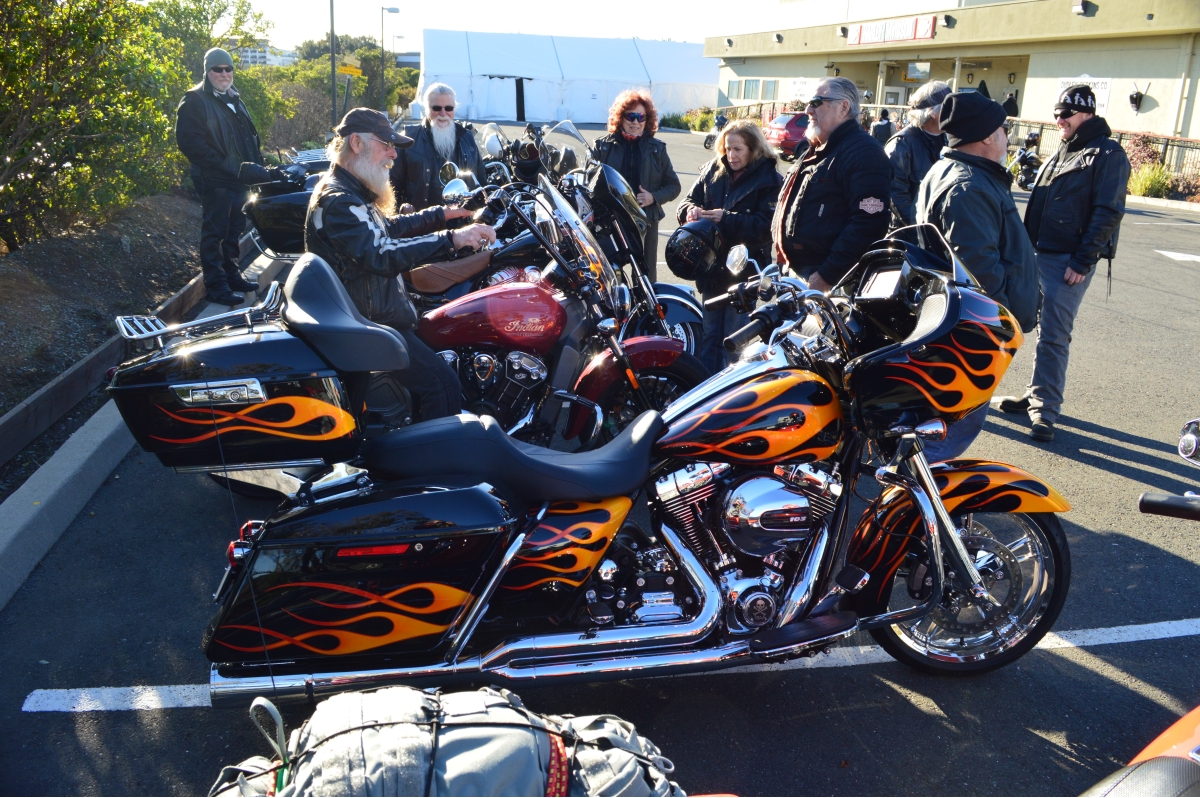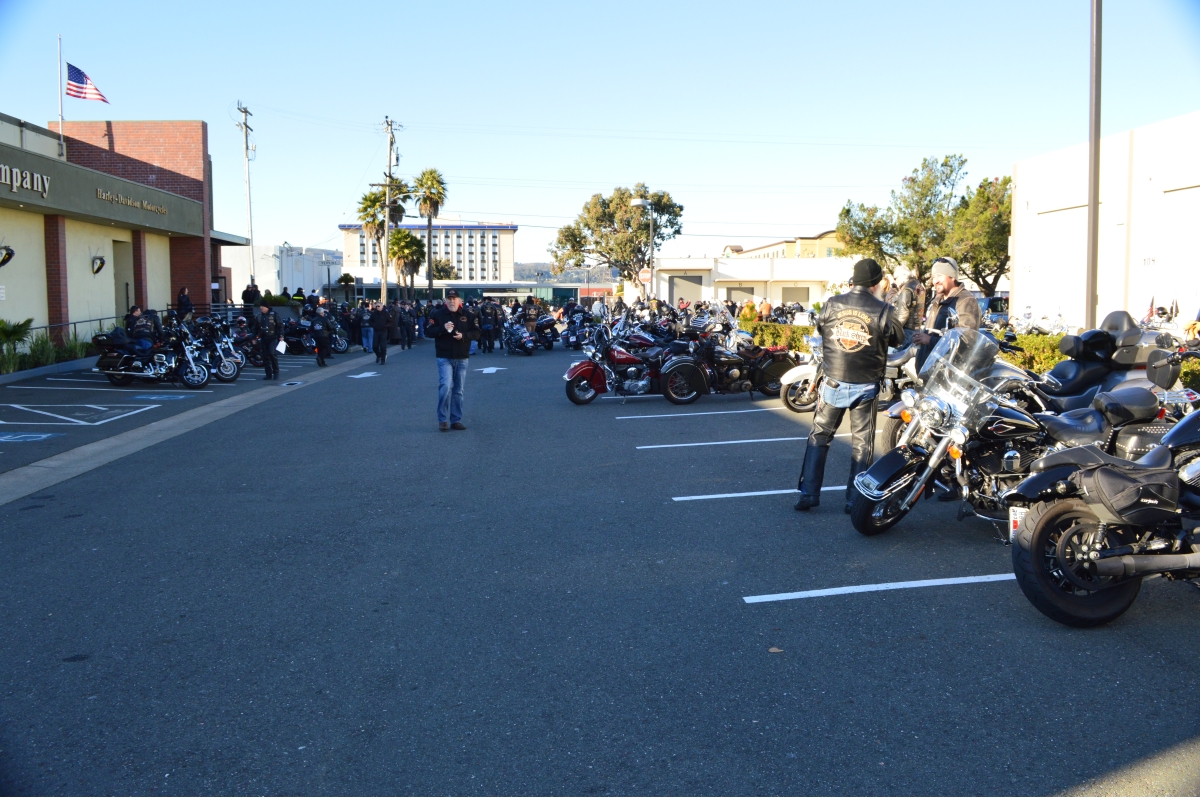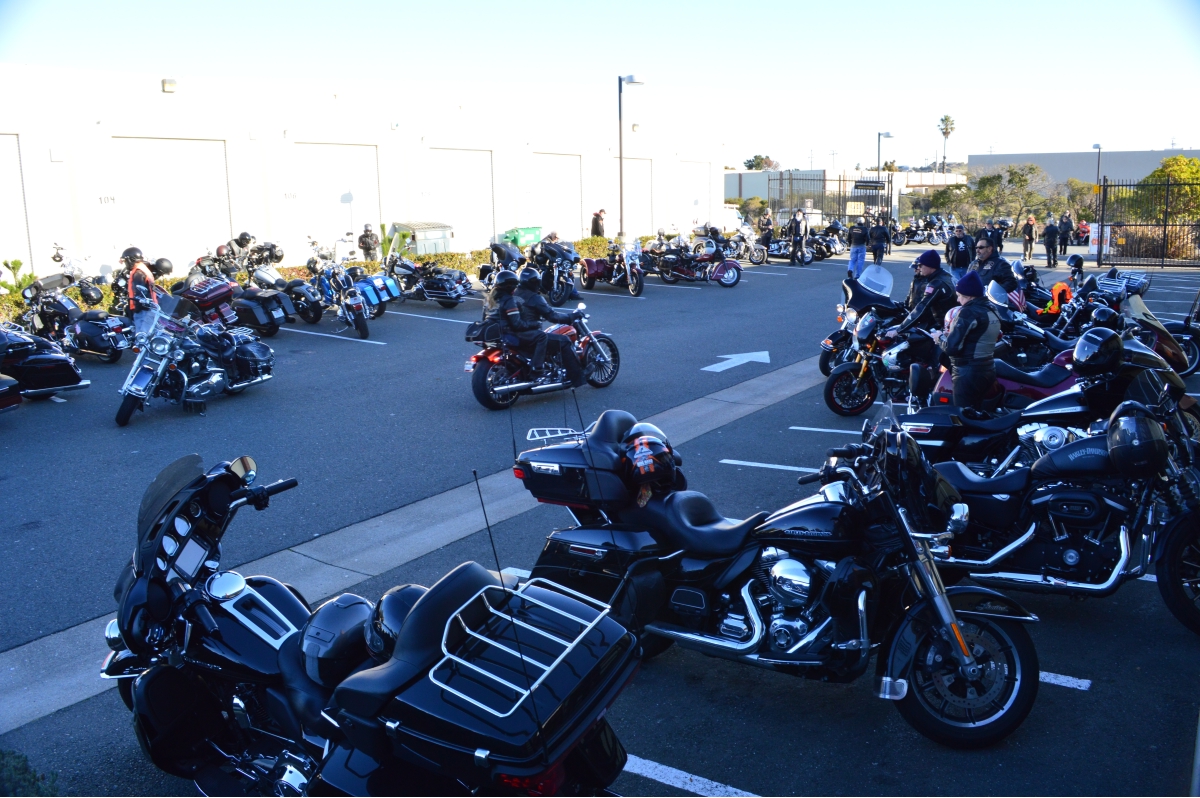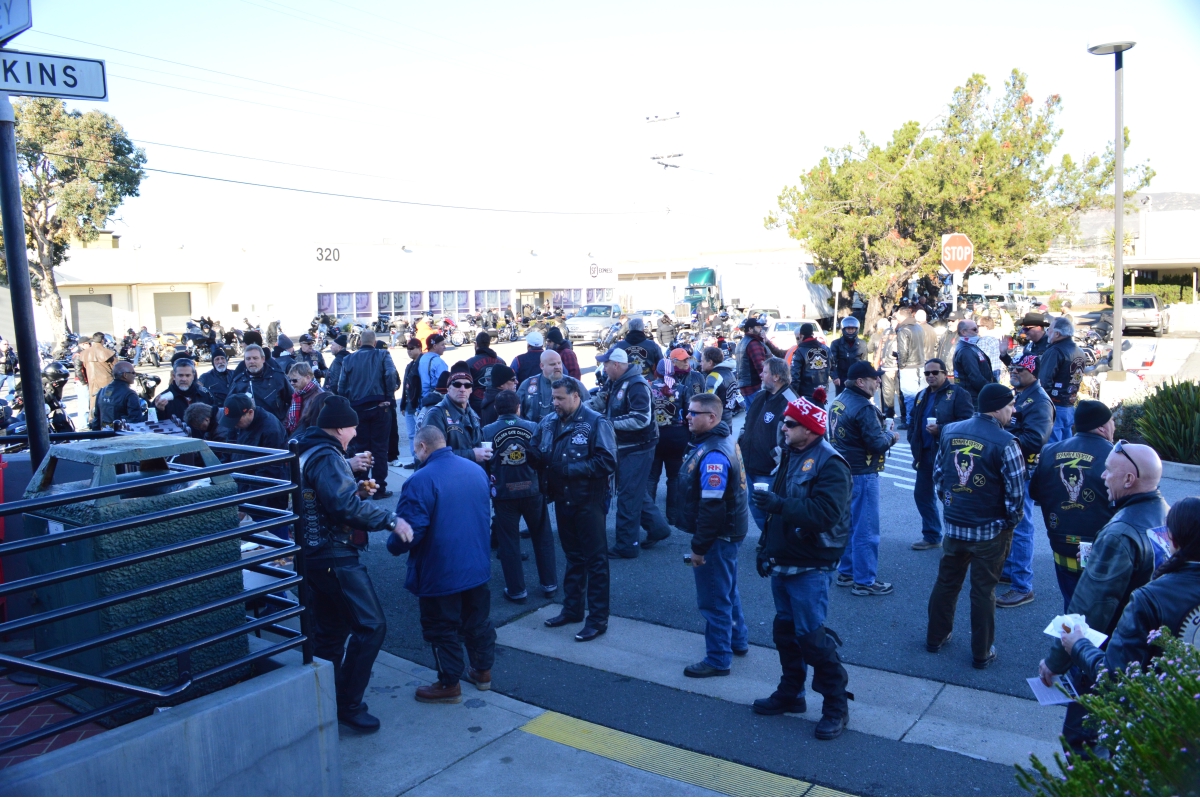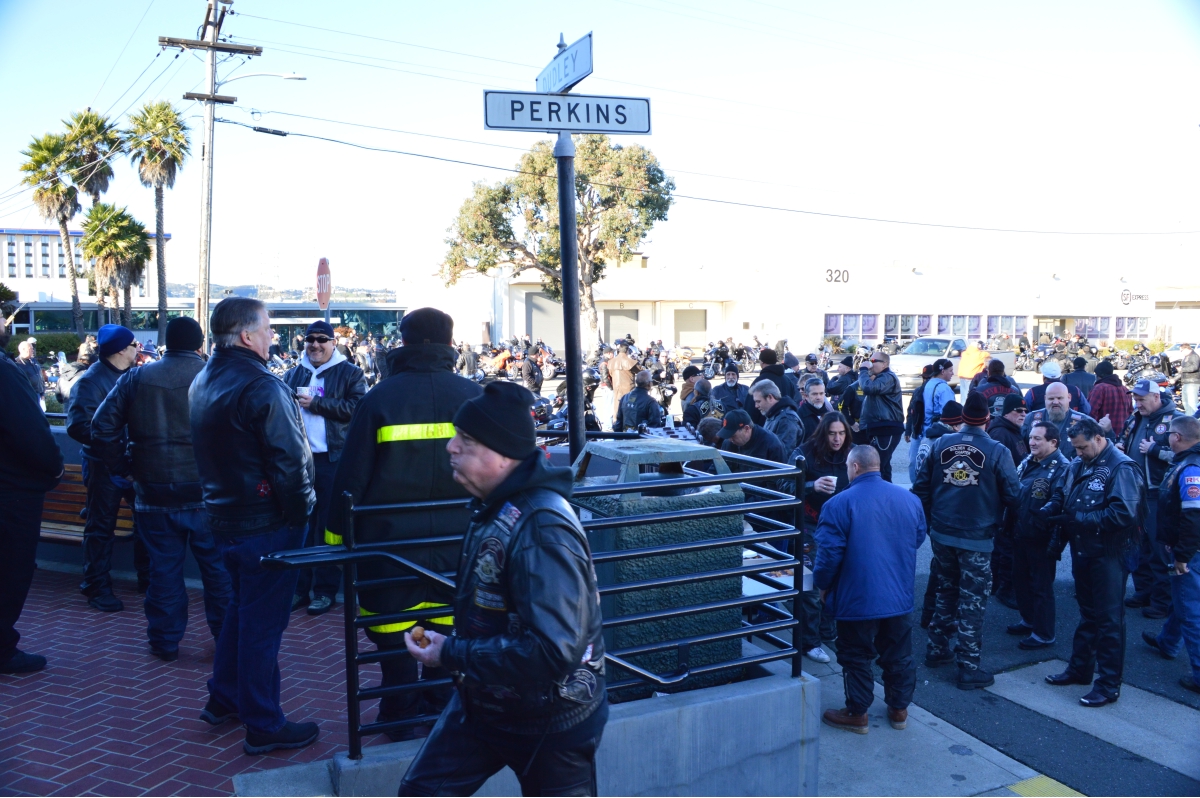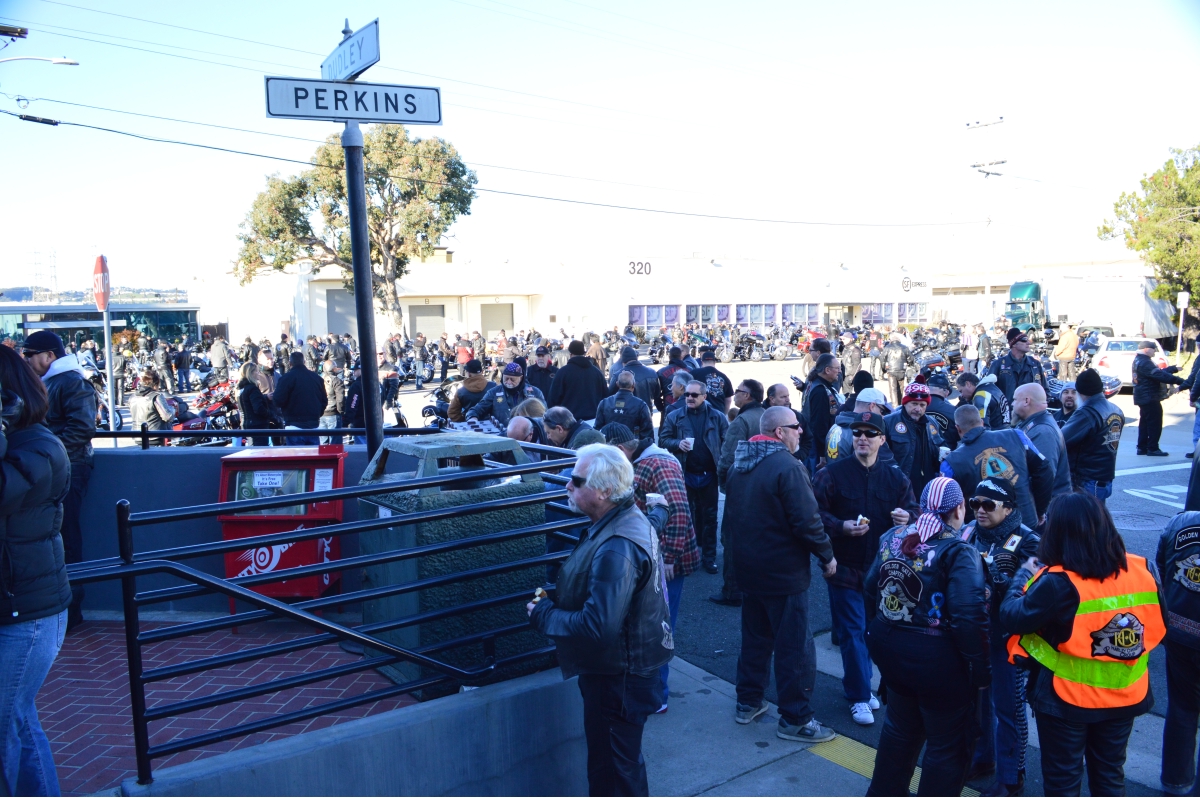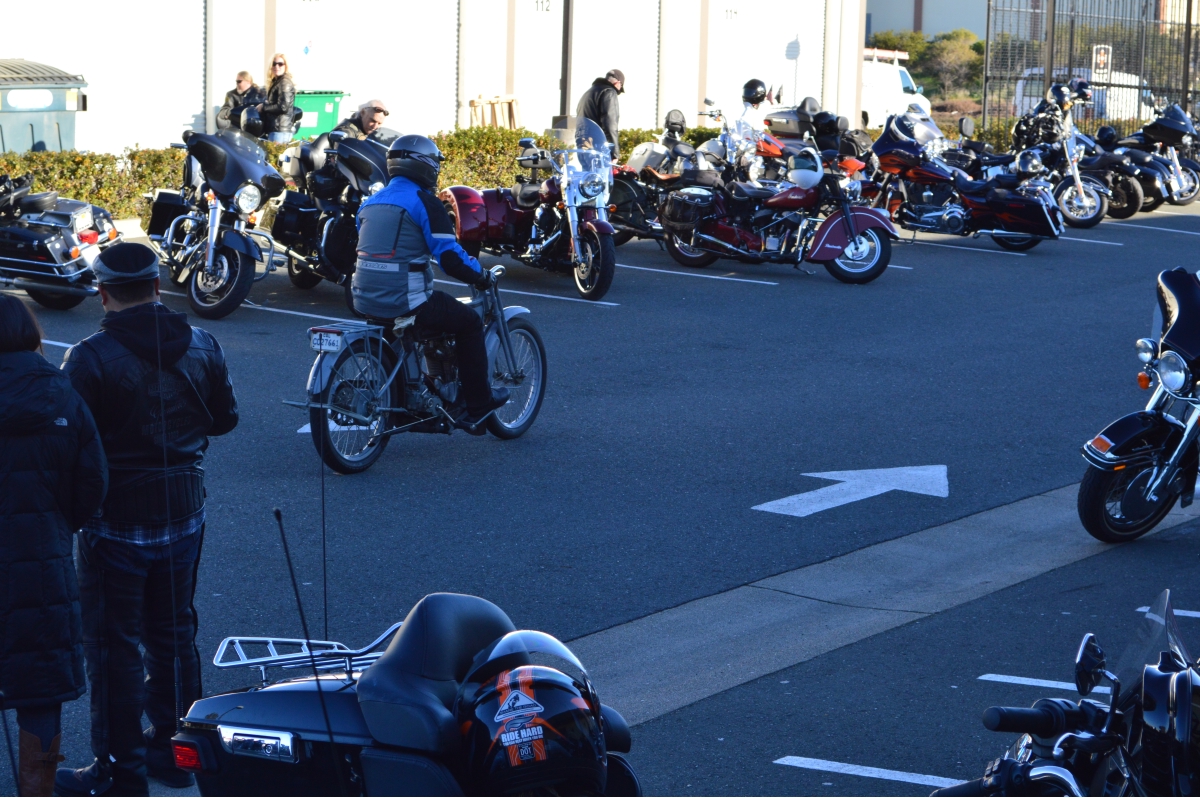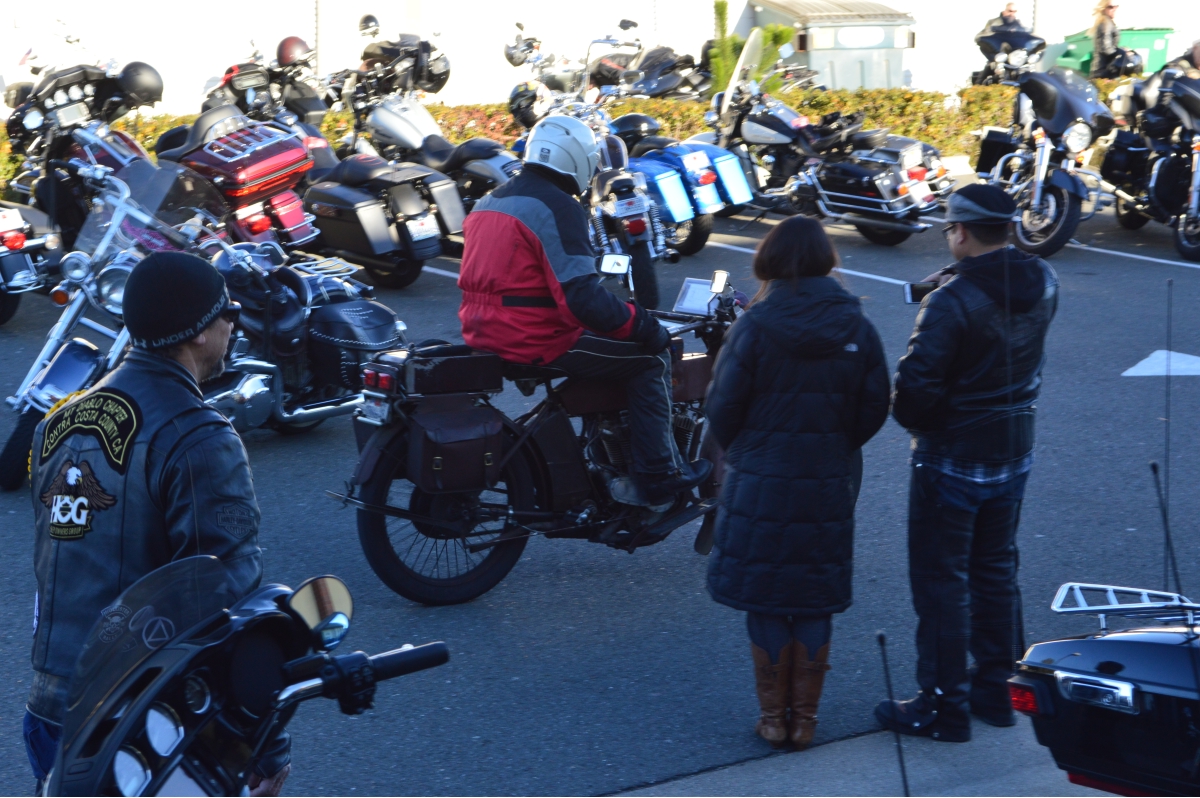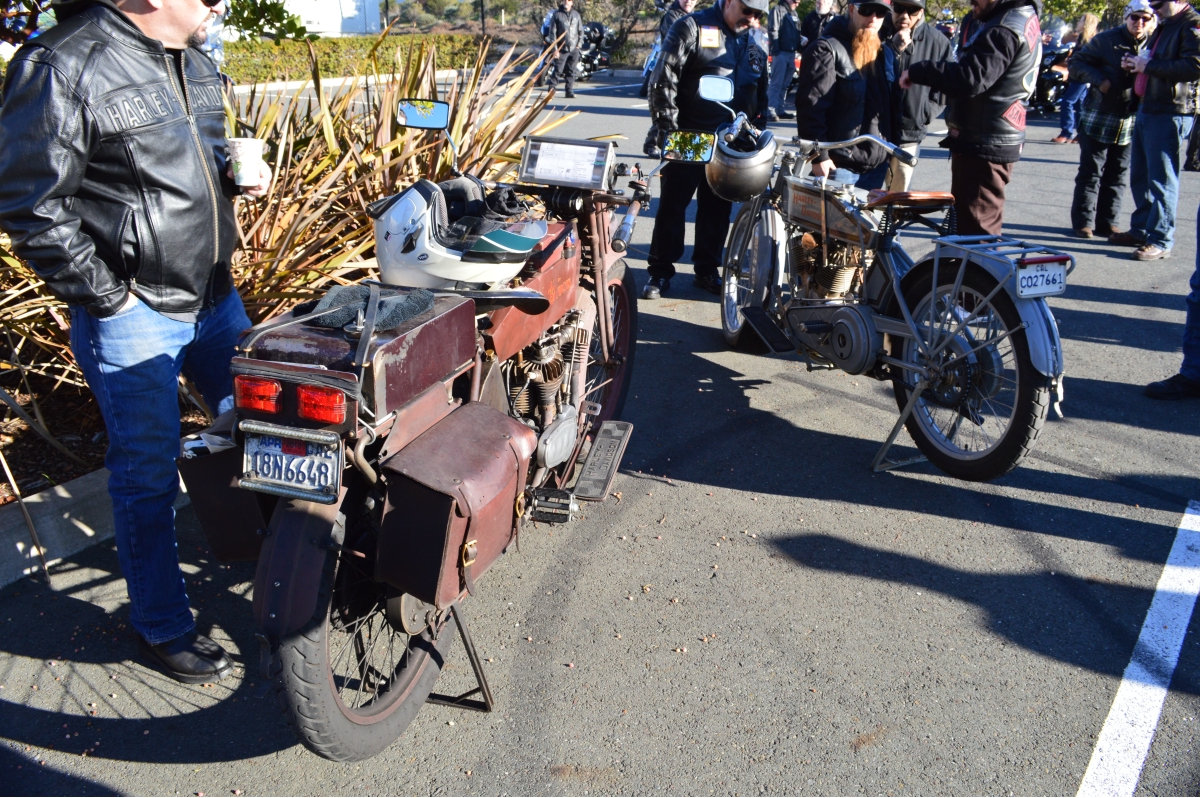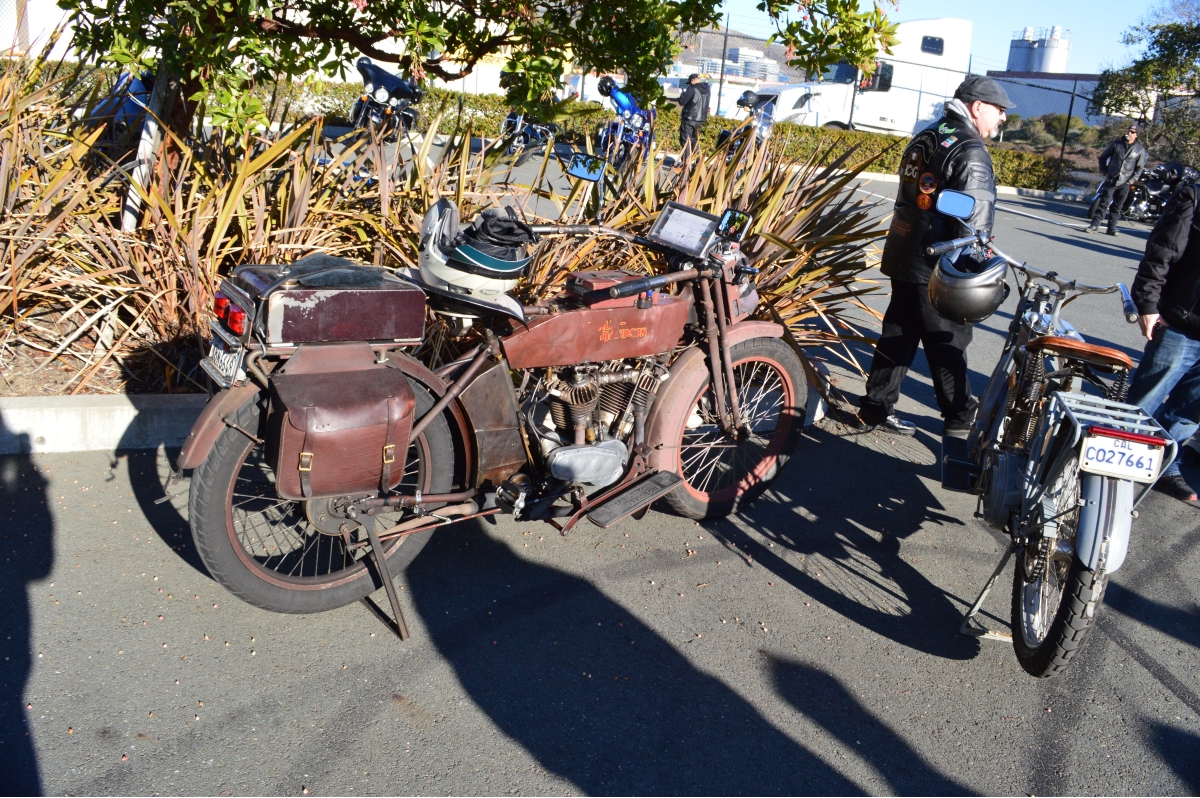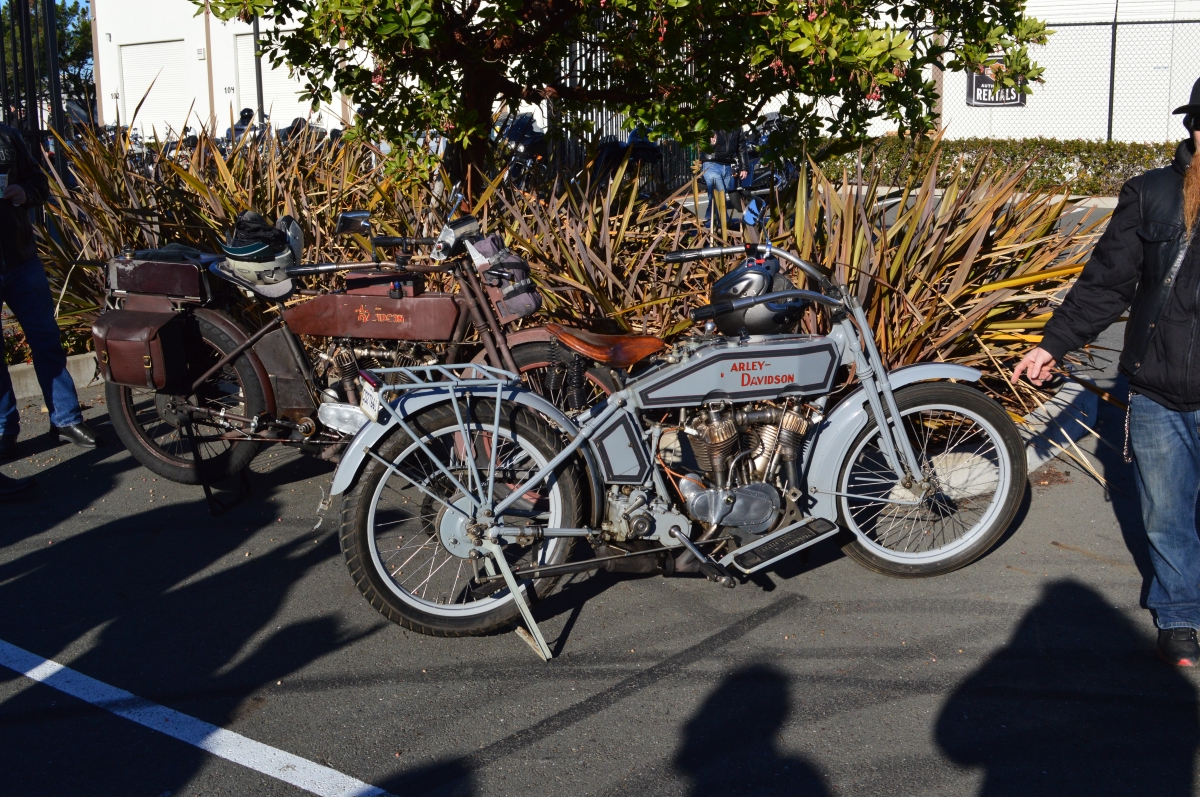 Soon this will be standing room only...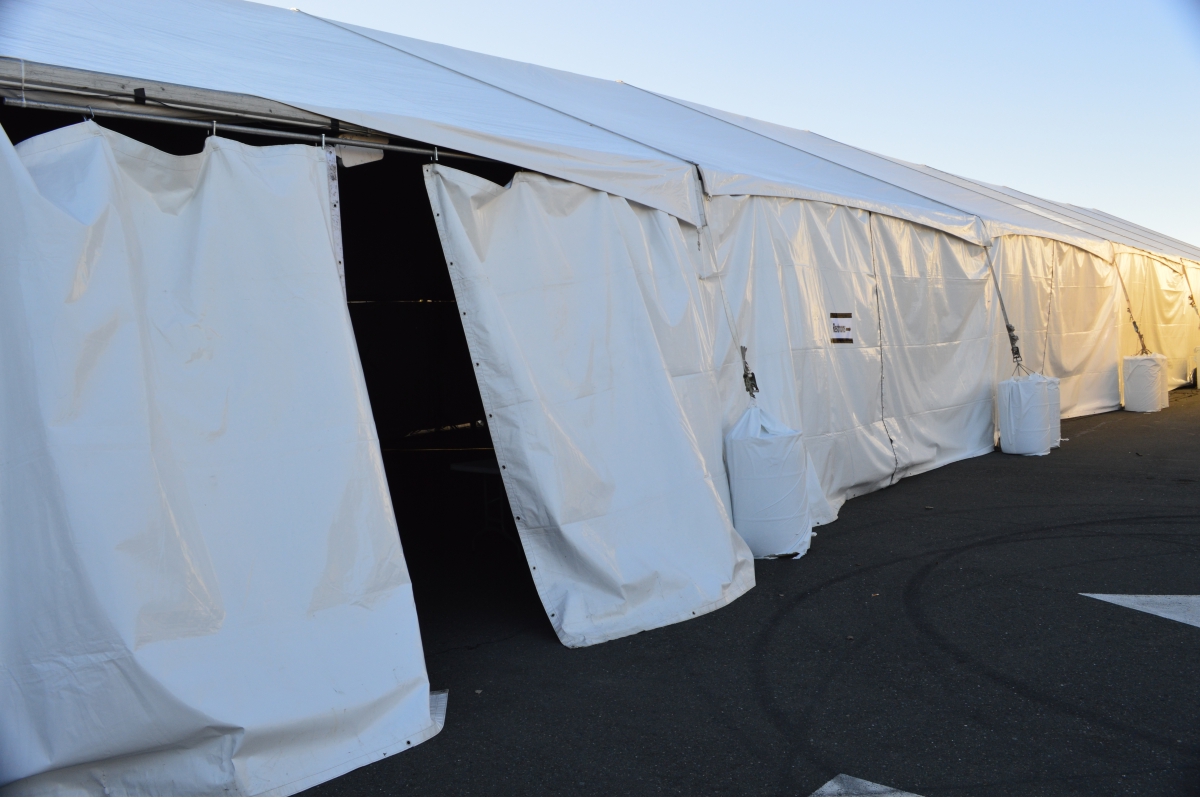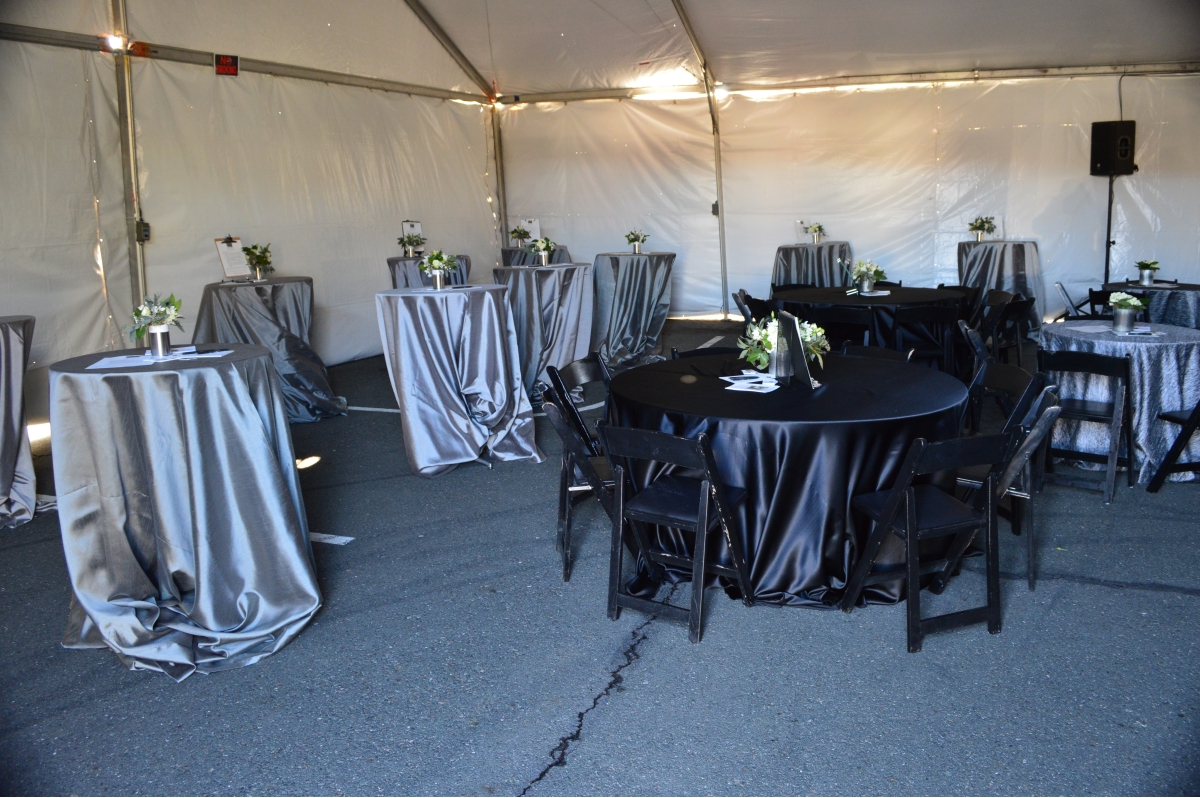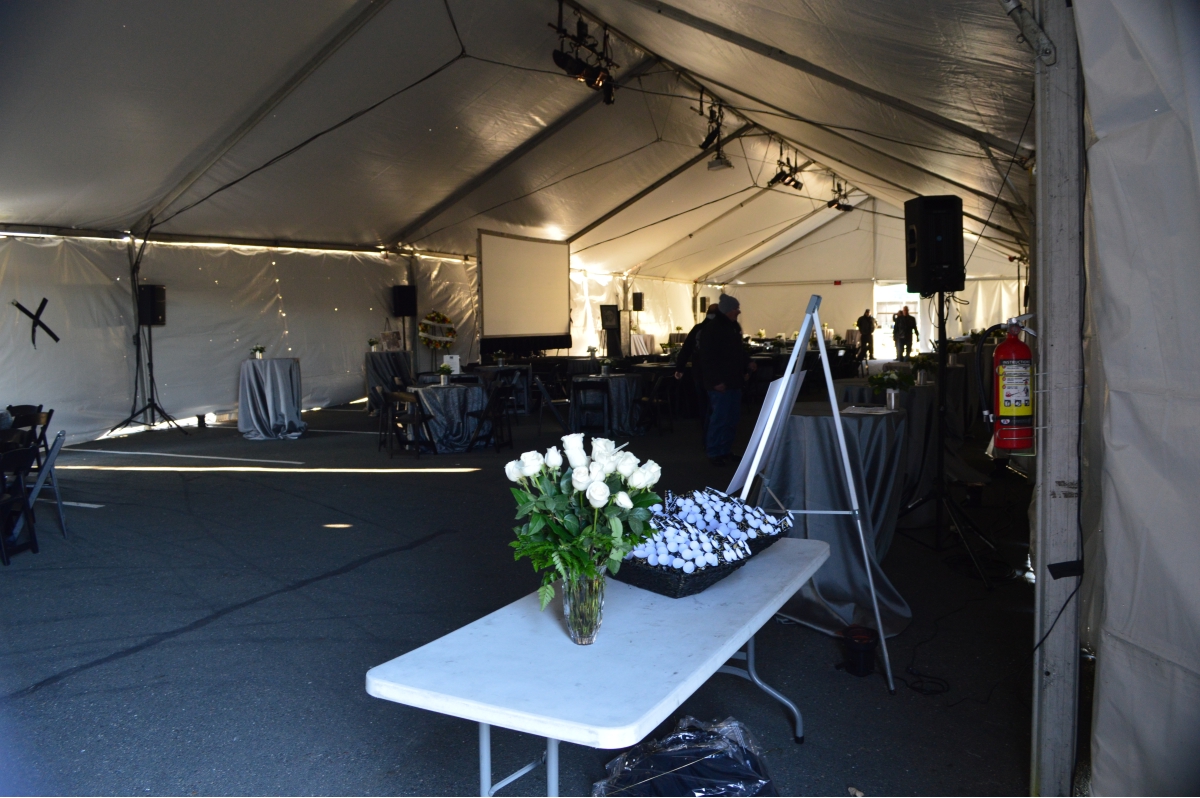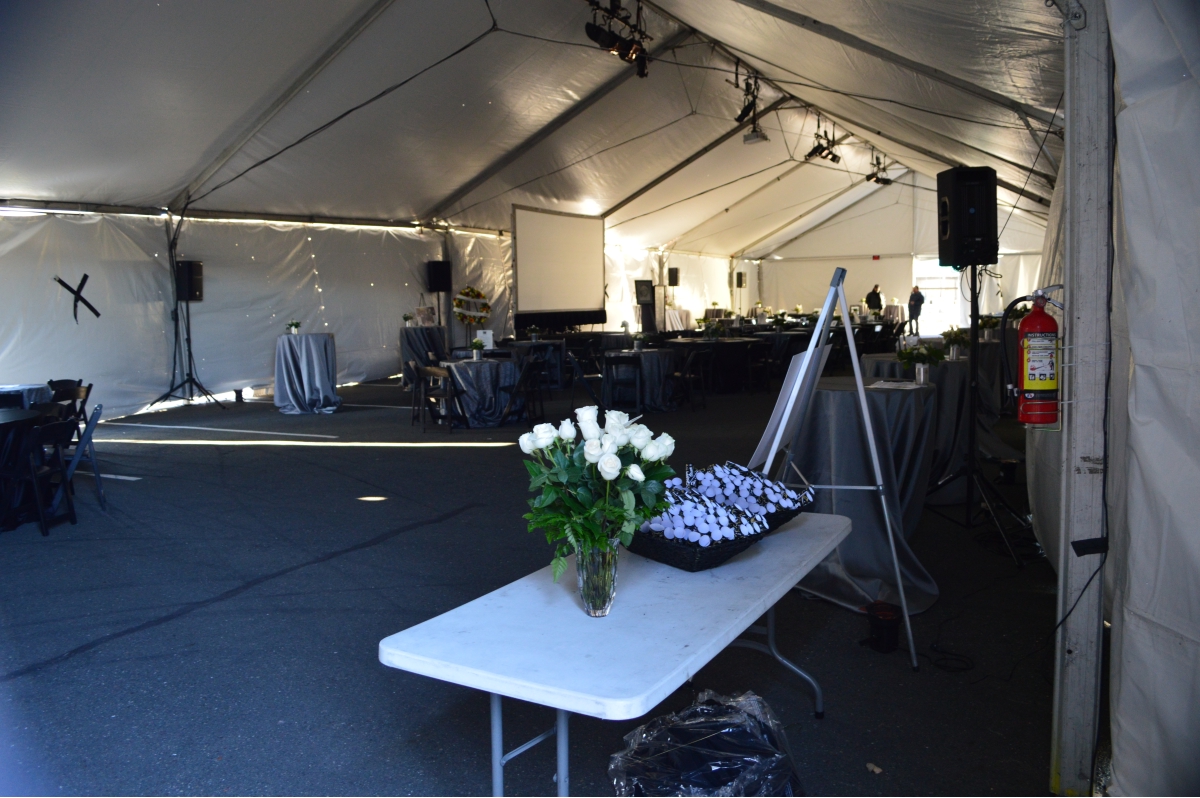 Riders have continued to roll in and the whole parking lot at the dealership and at the neighboring businesses are full of bikes, and the whole cul-de-sac is full and down the Correy Way towards Utah Ave.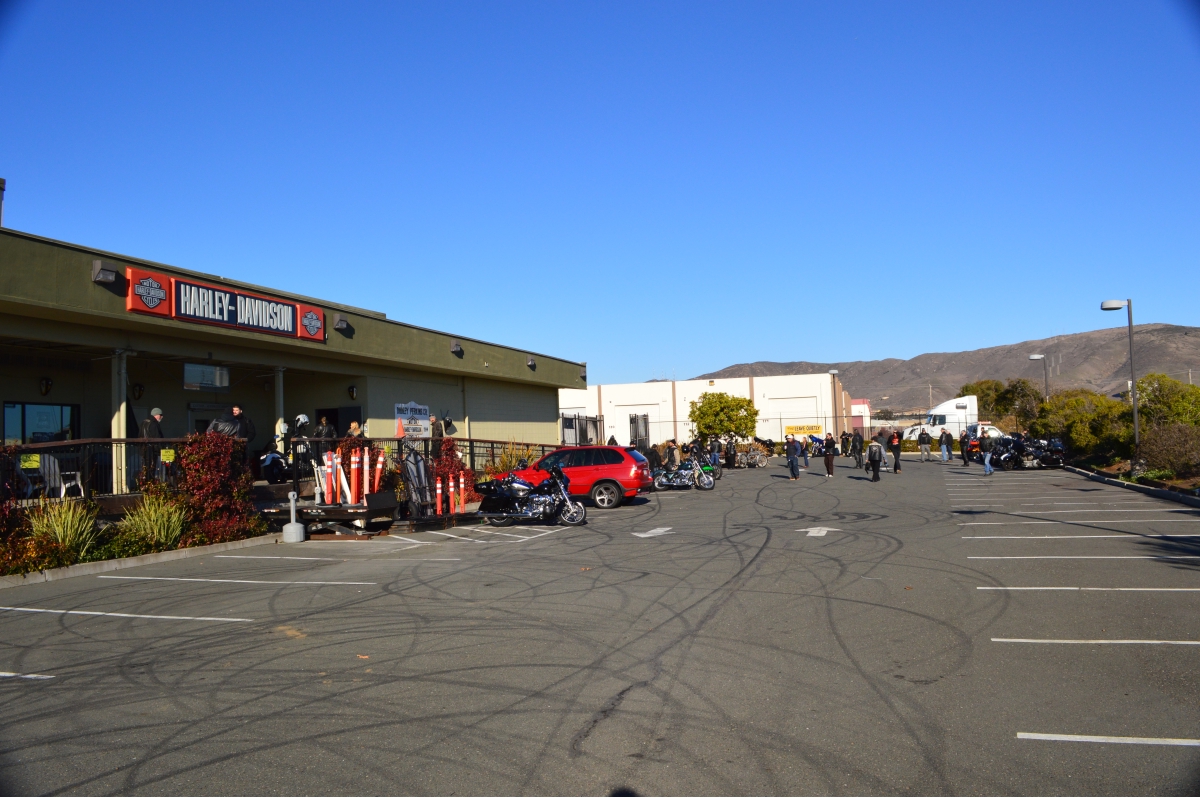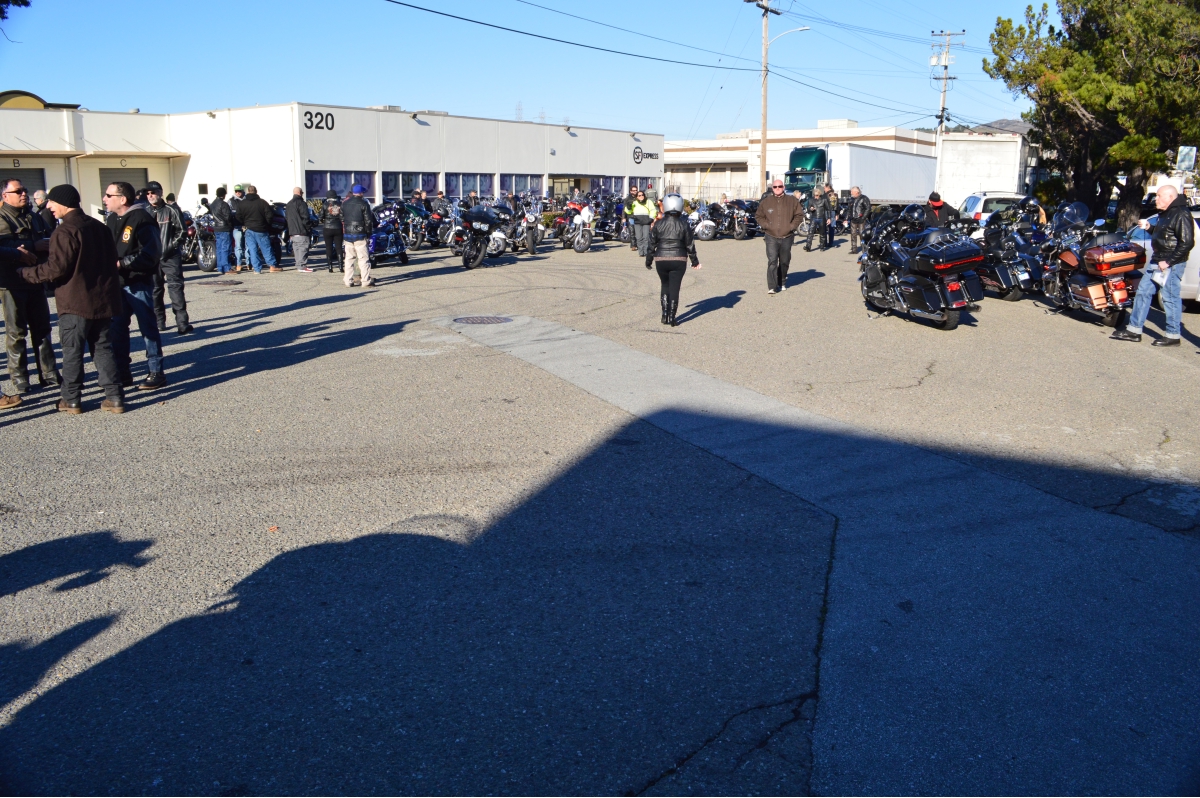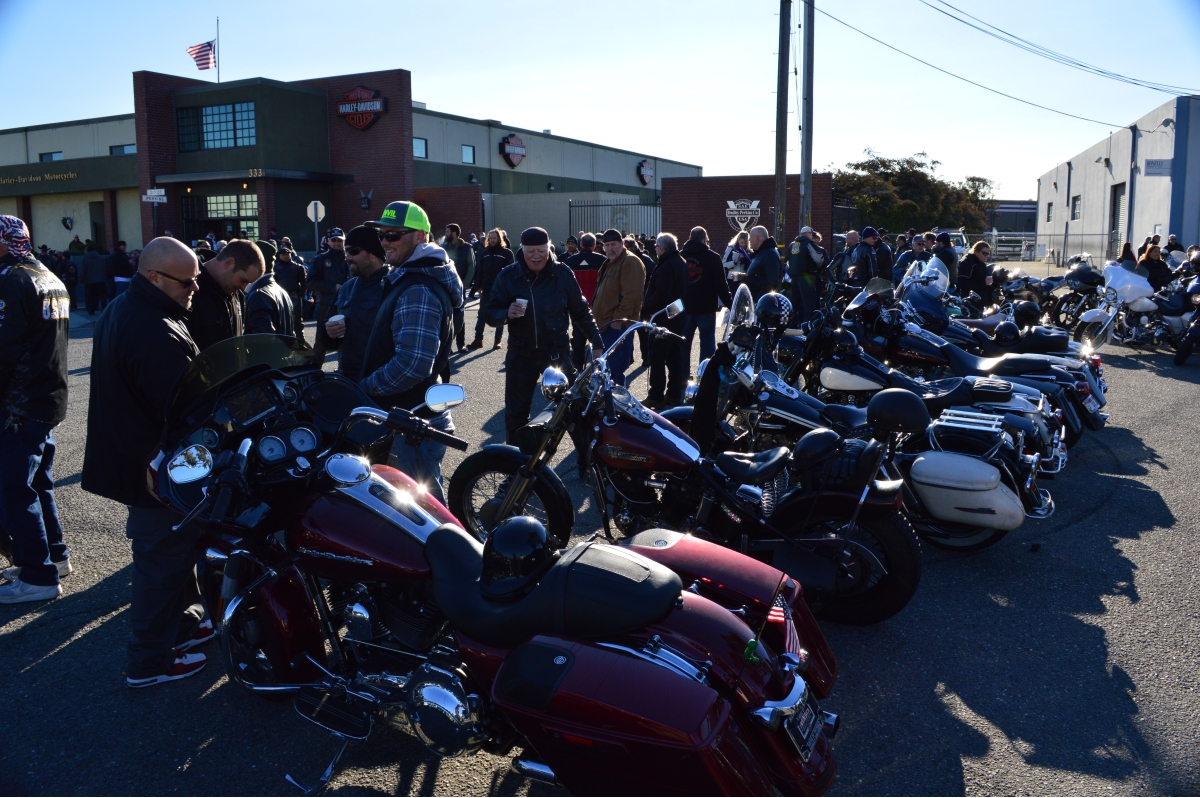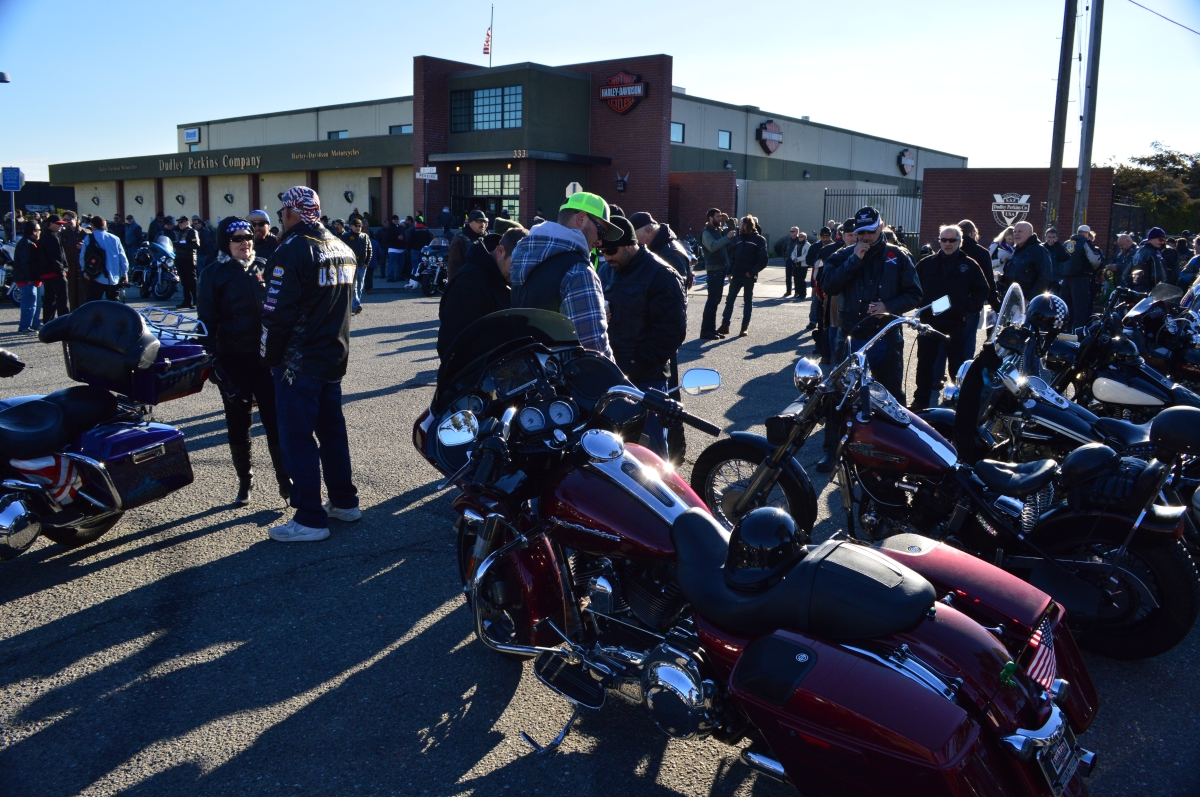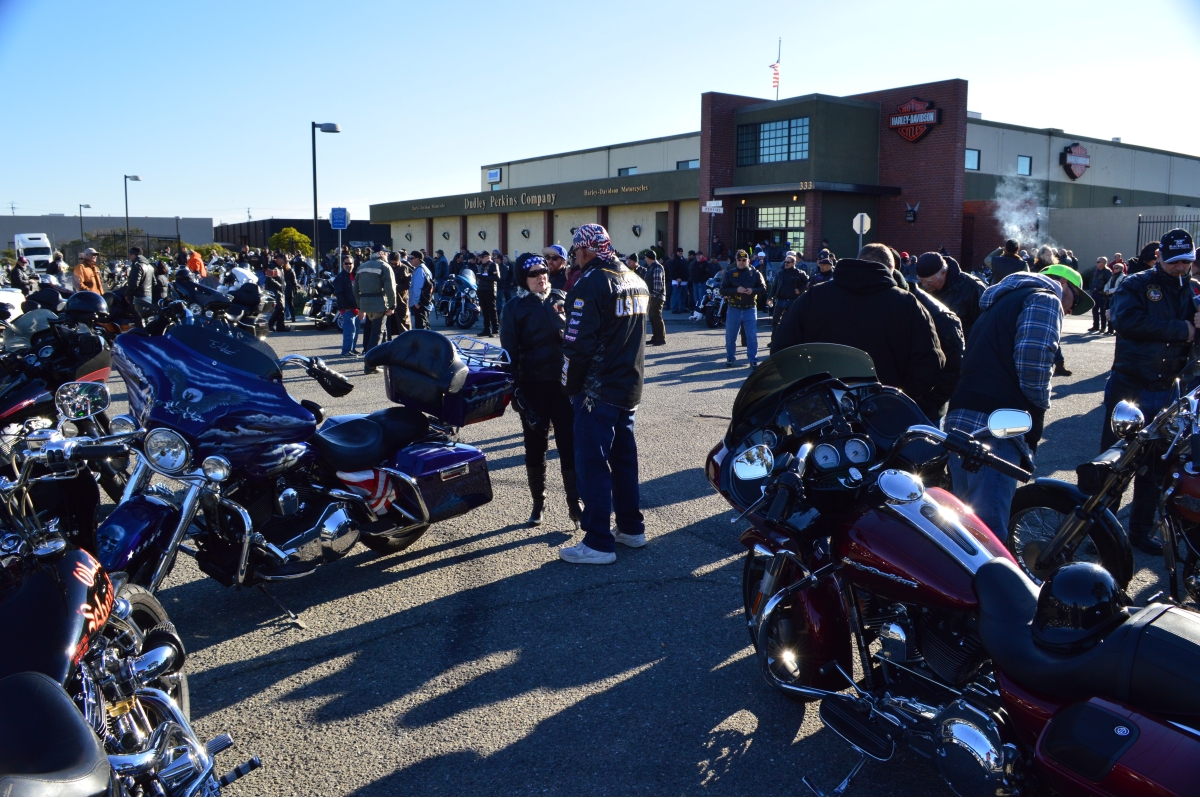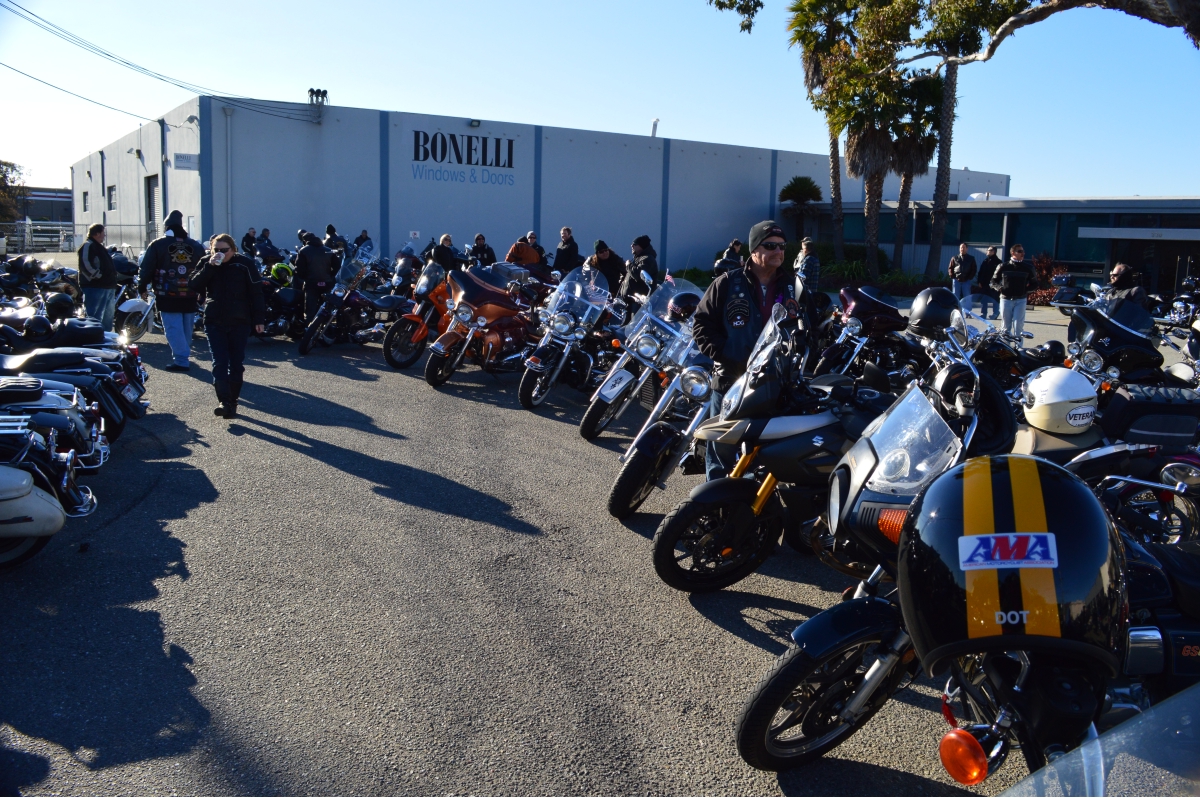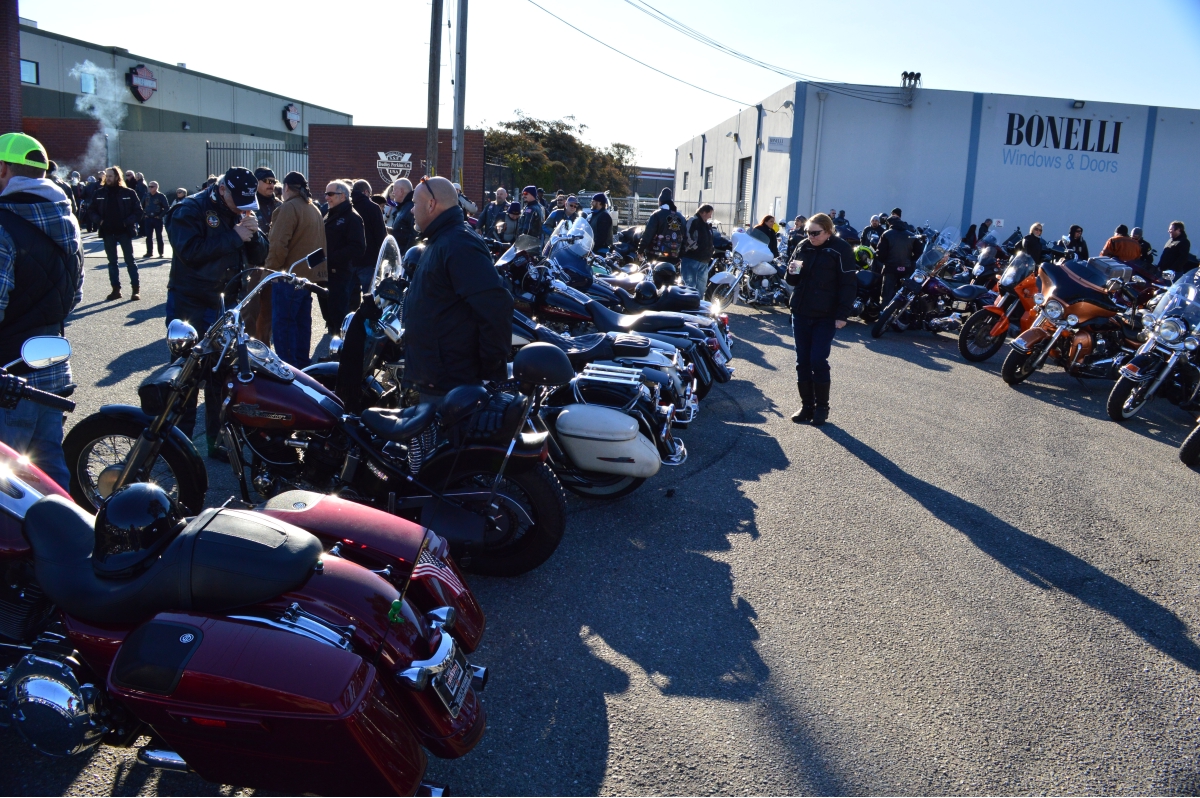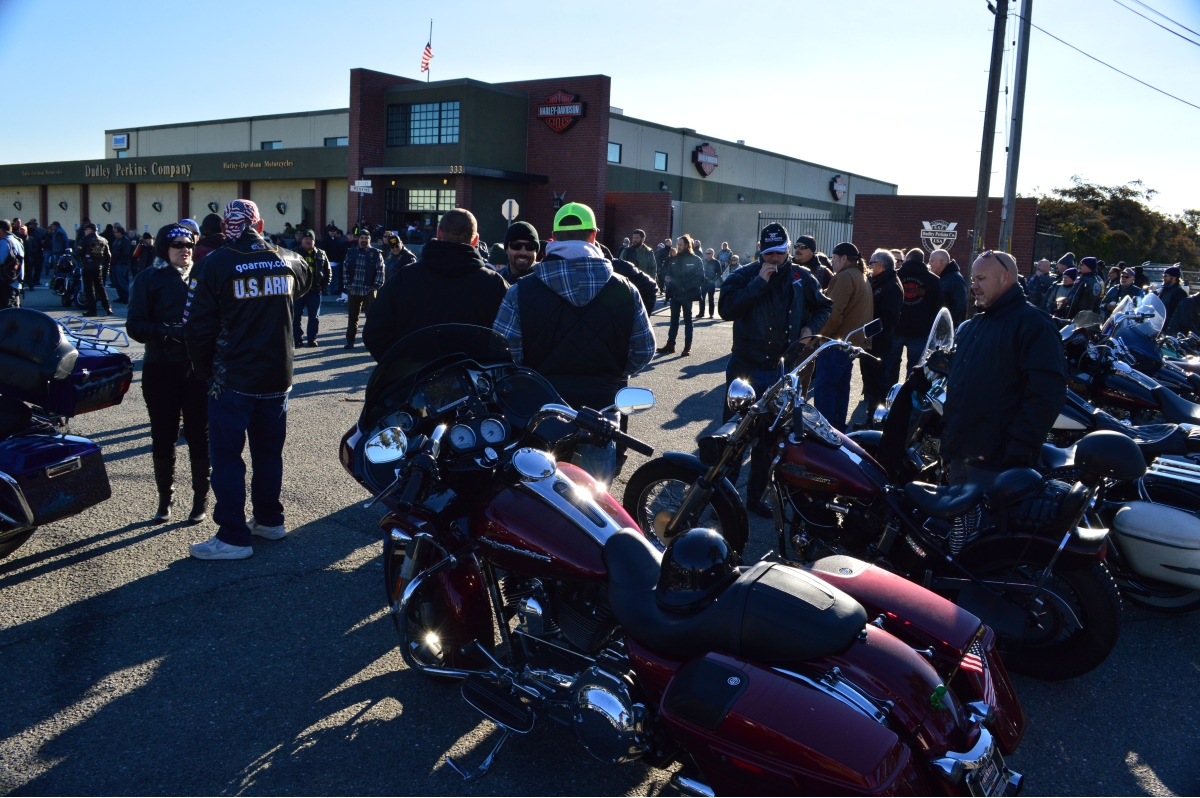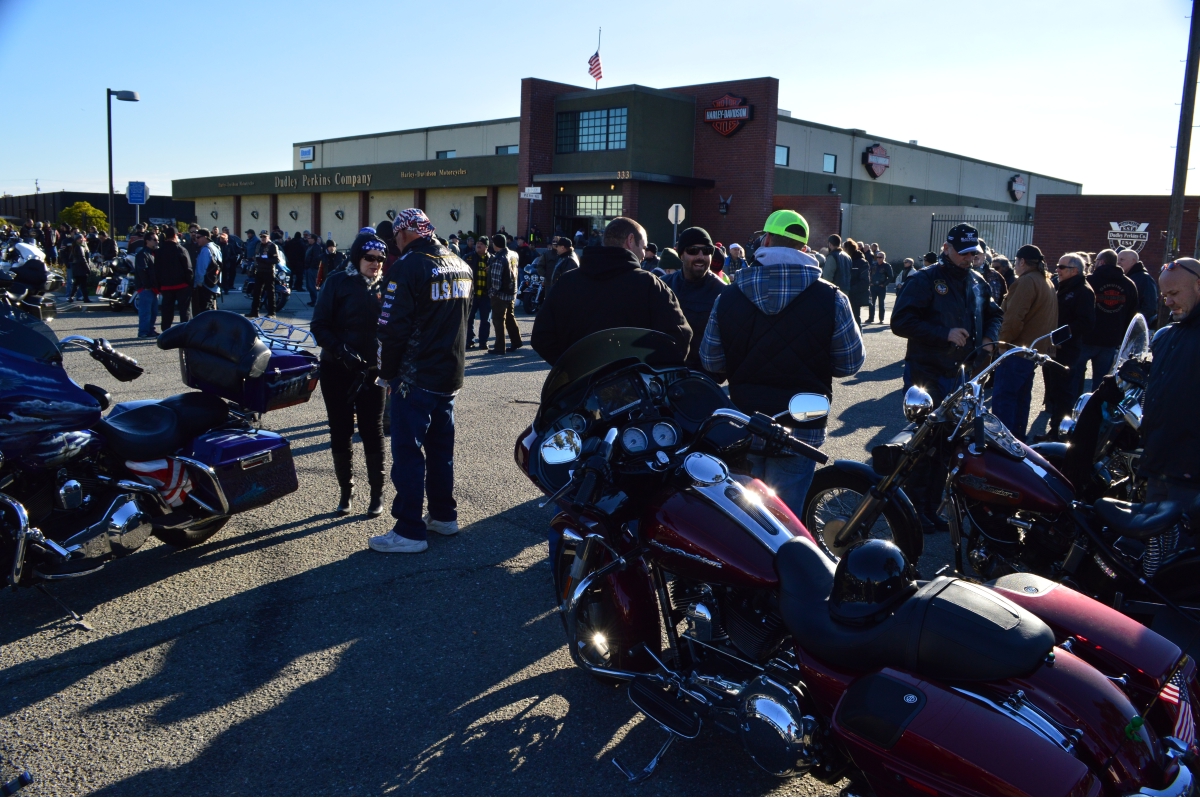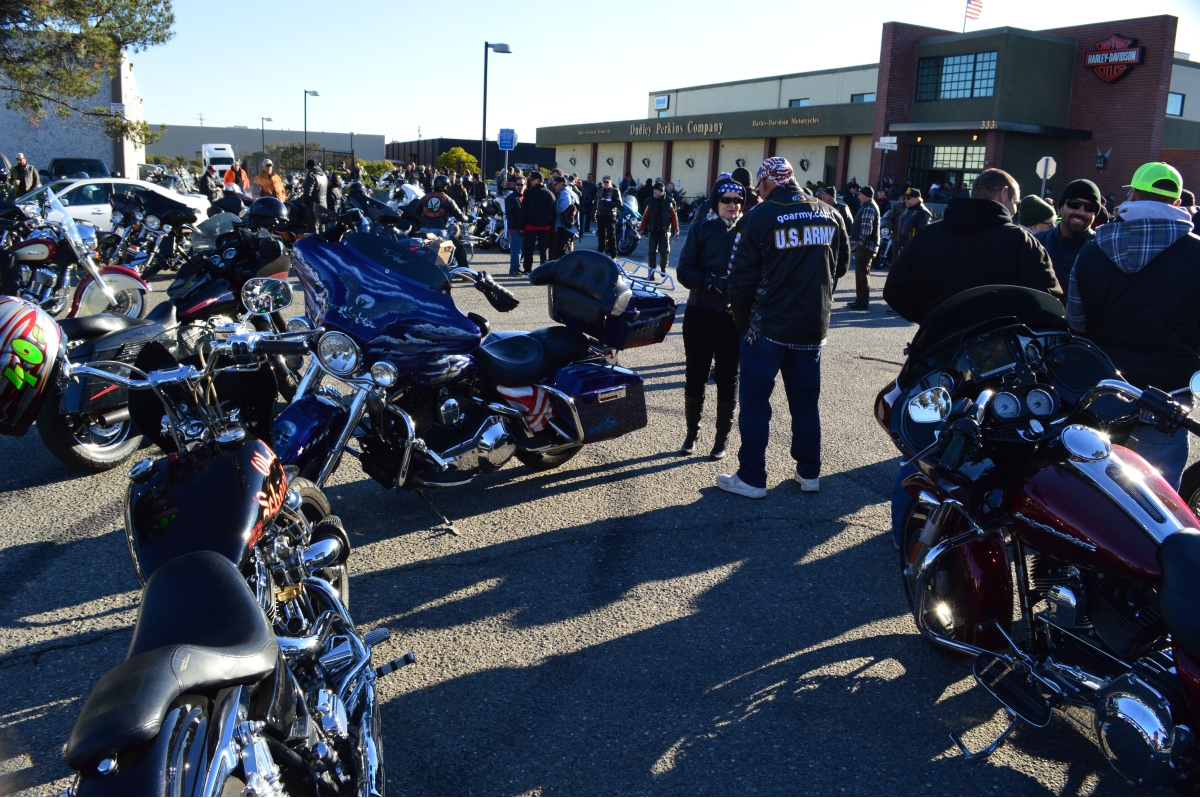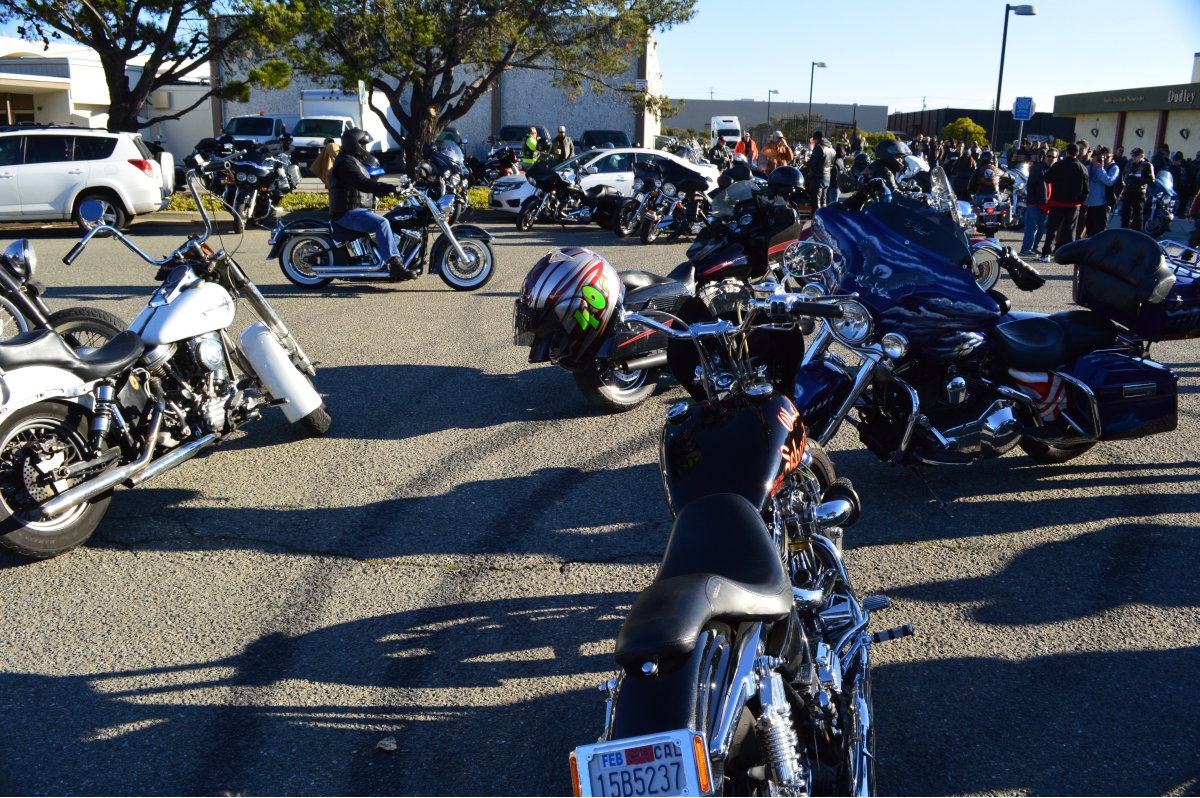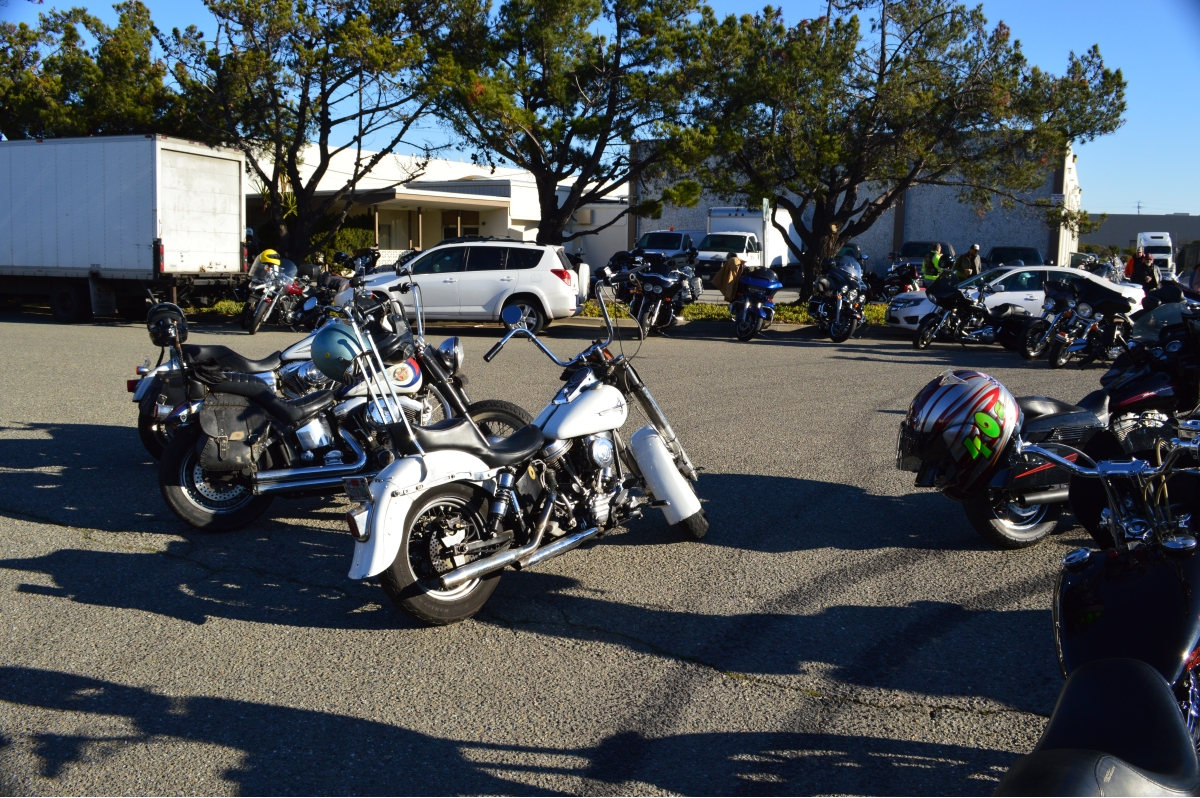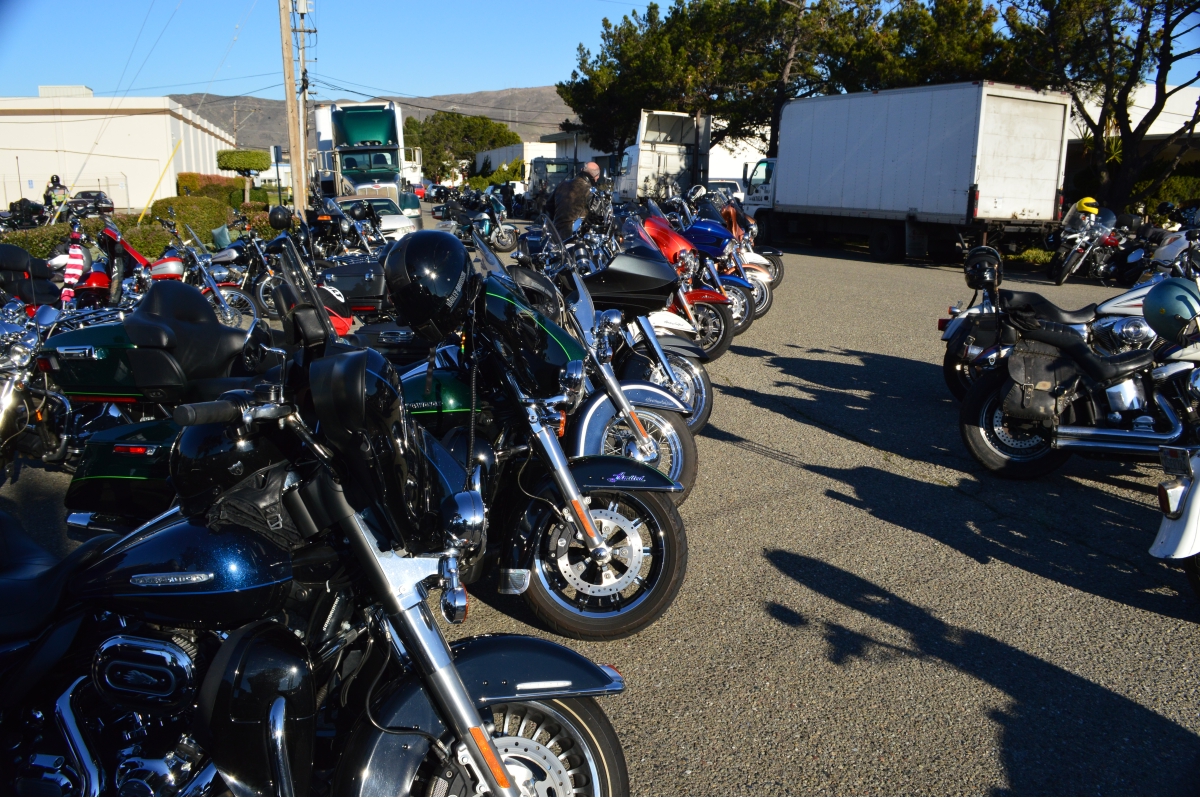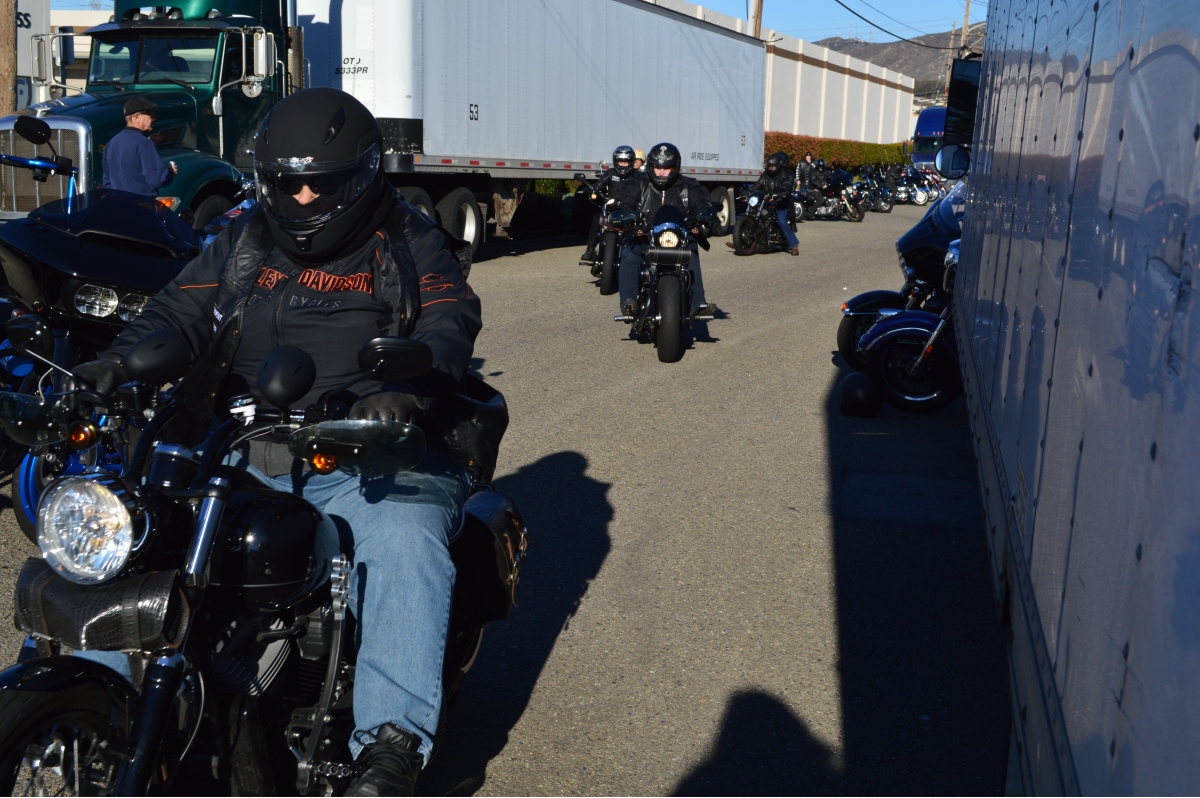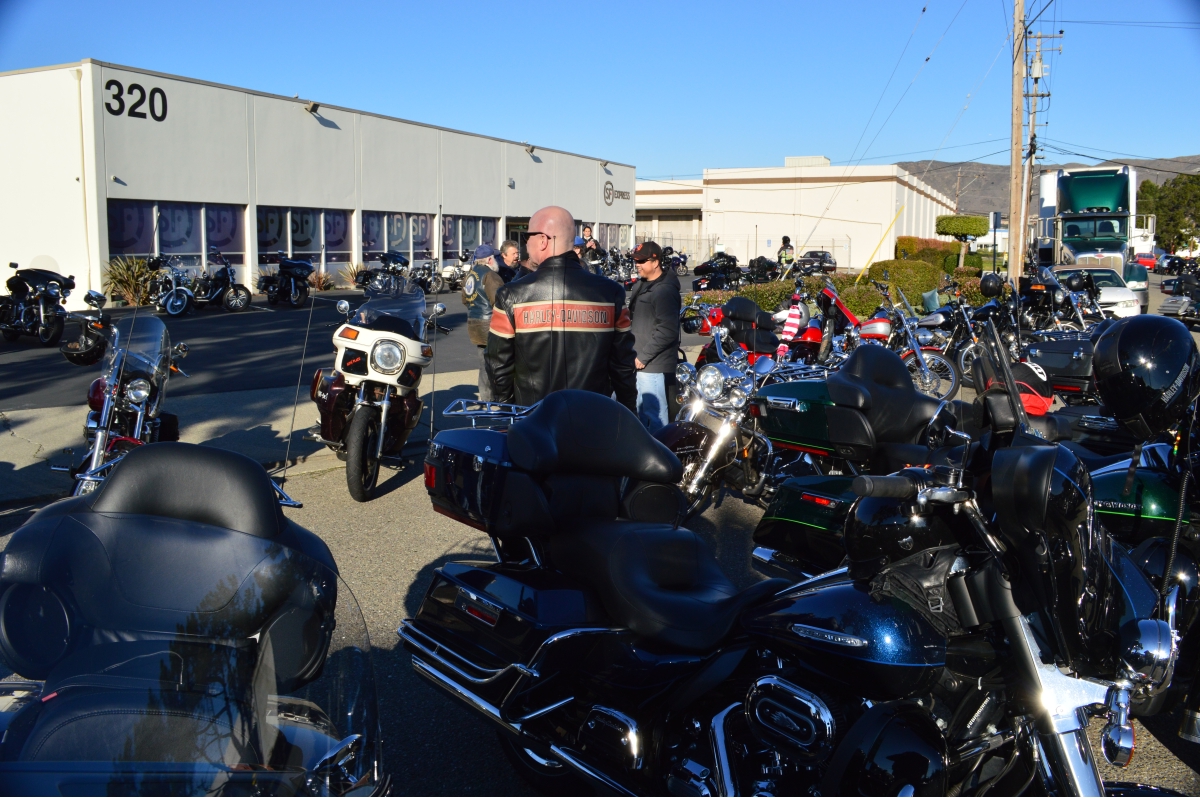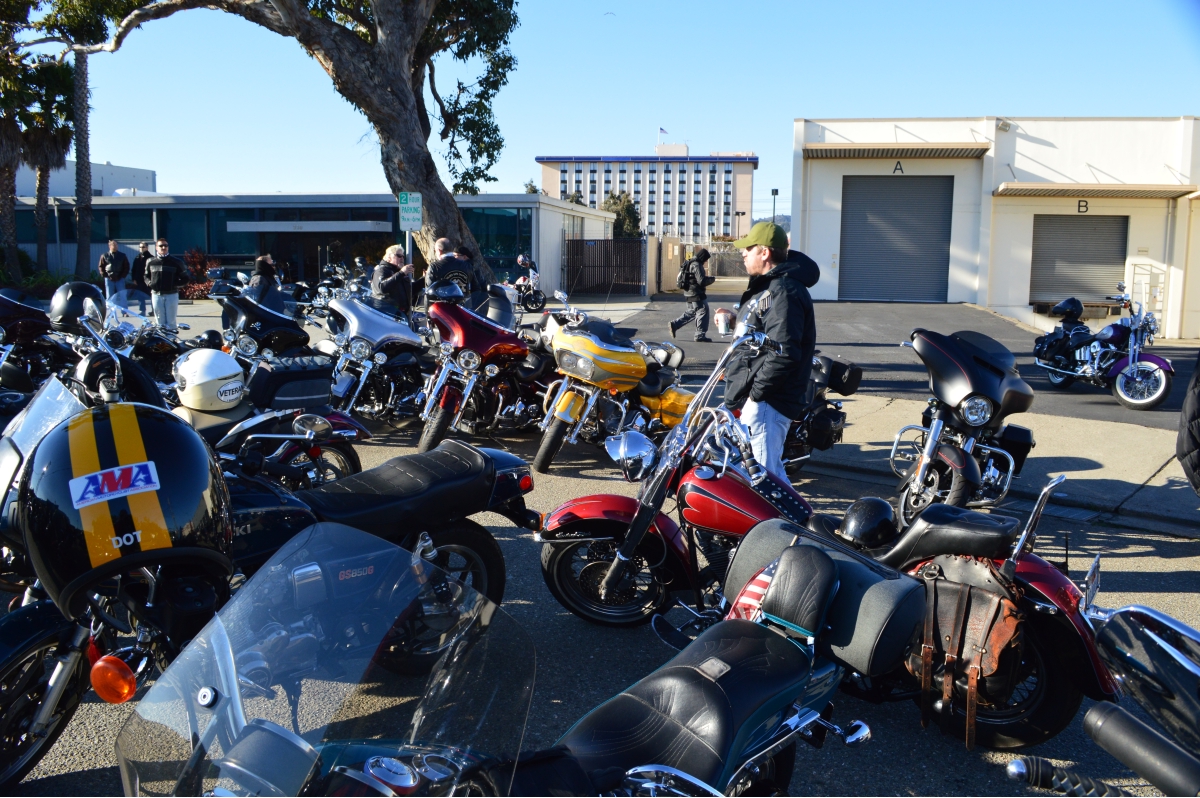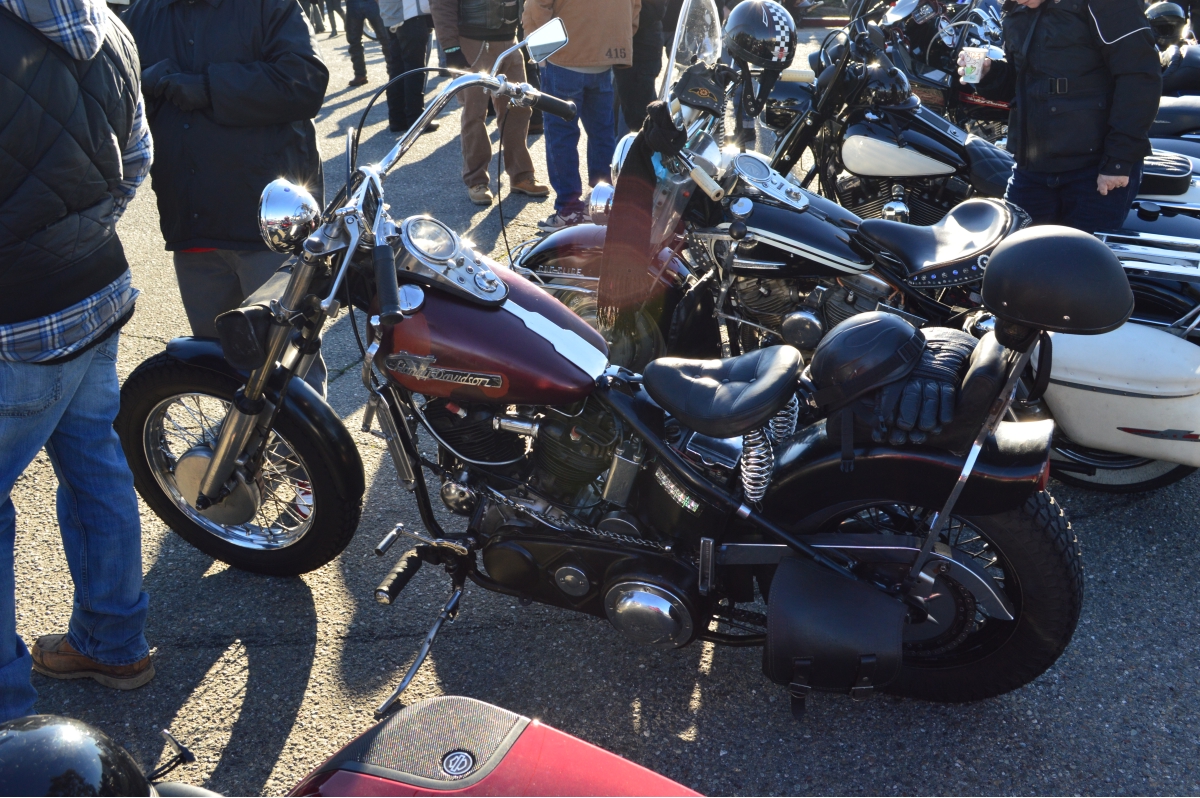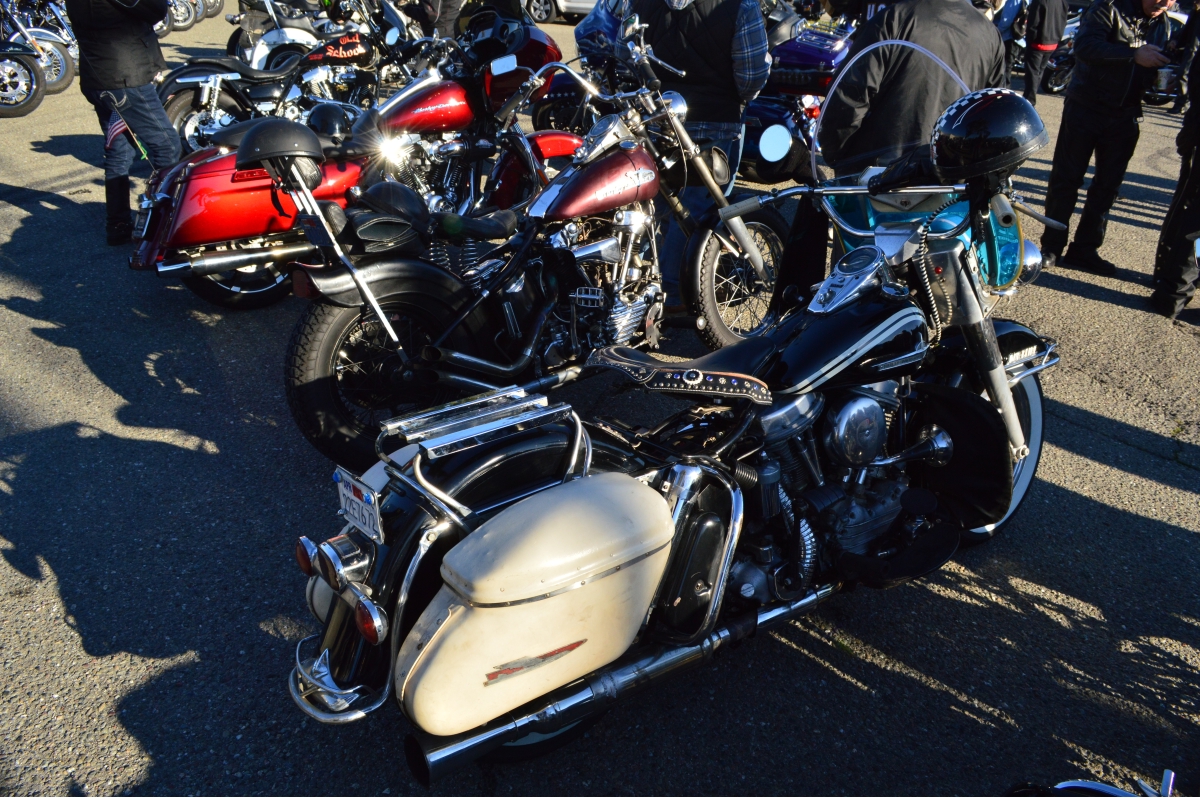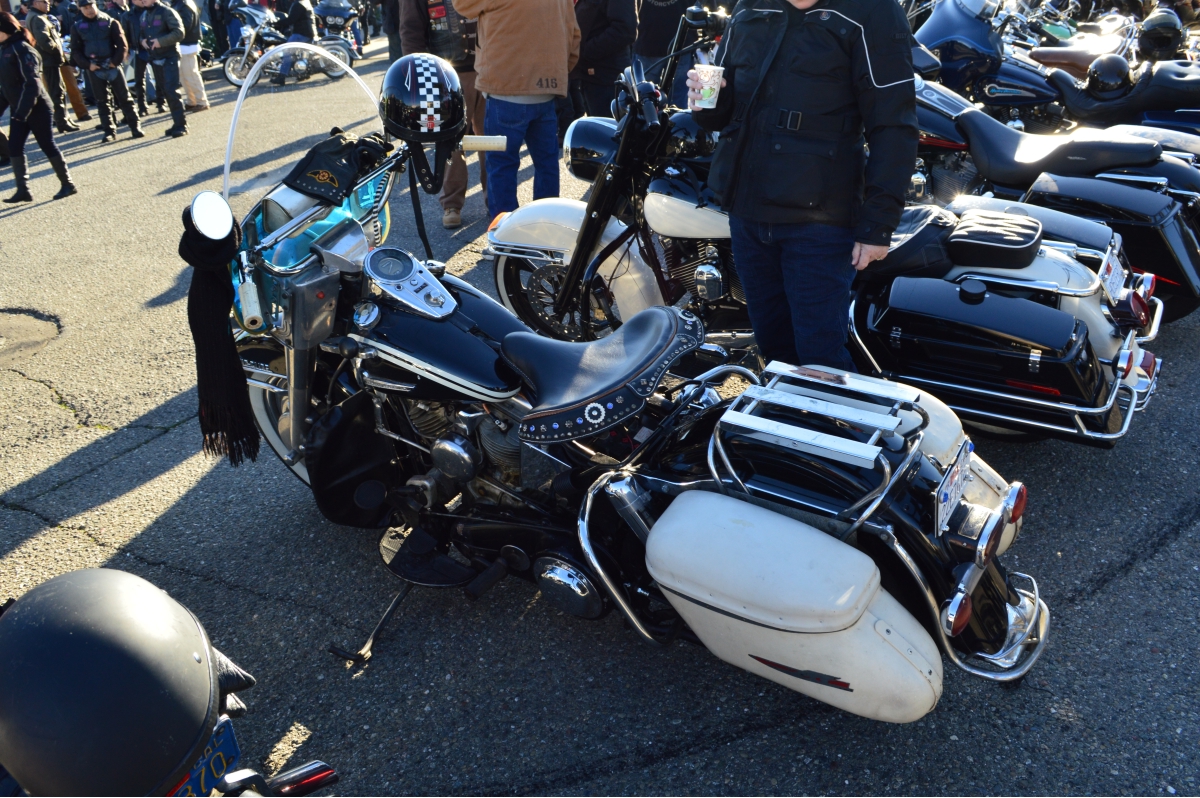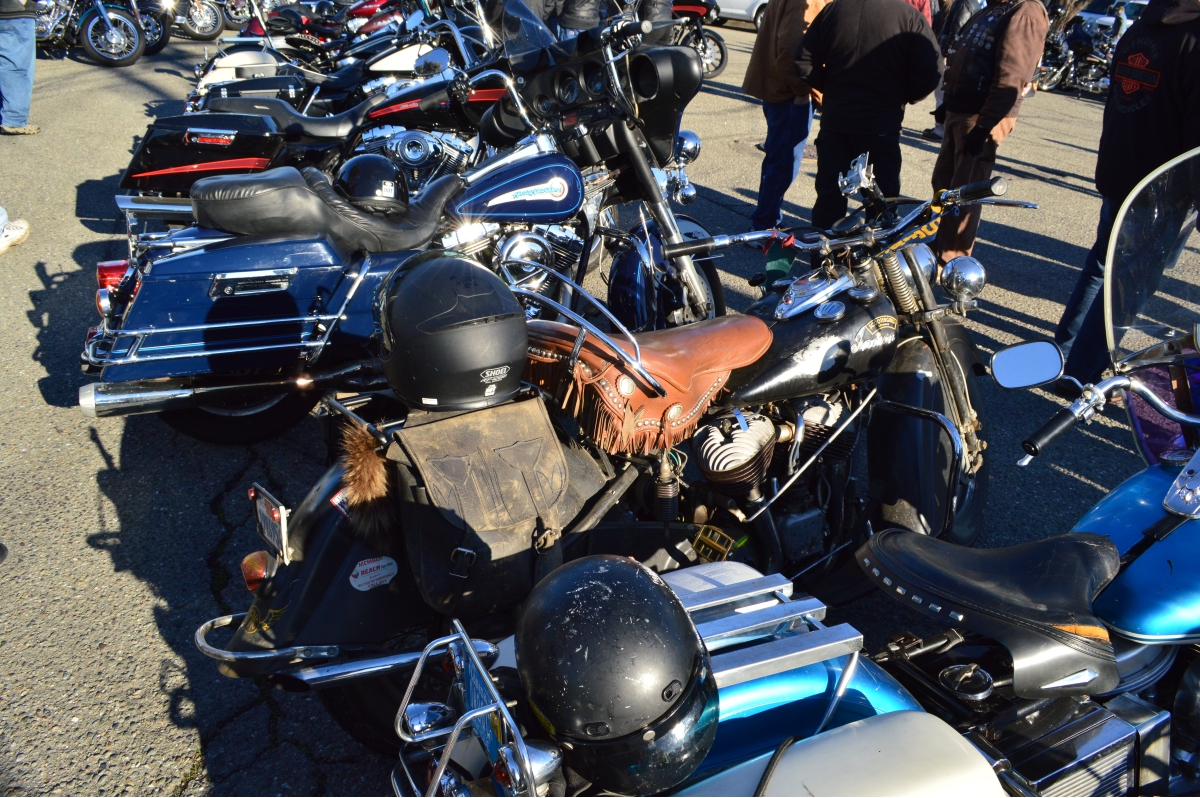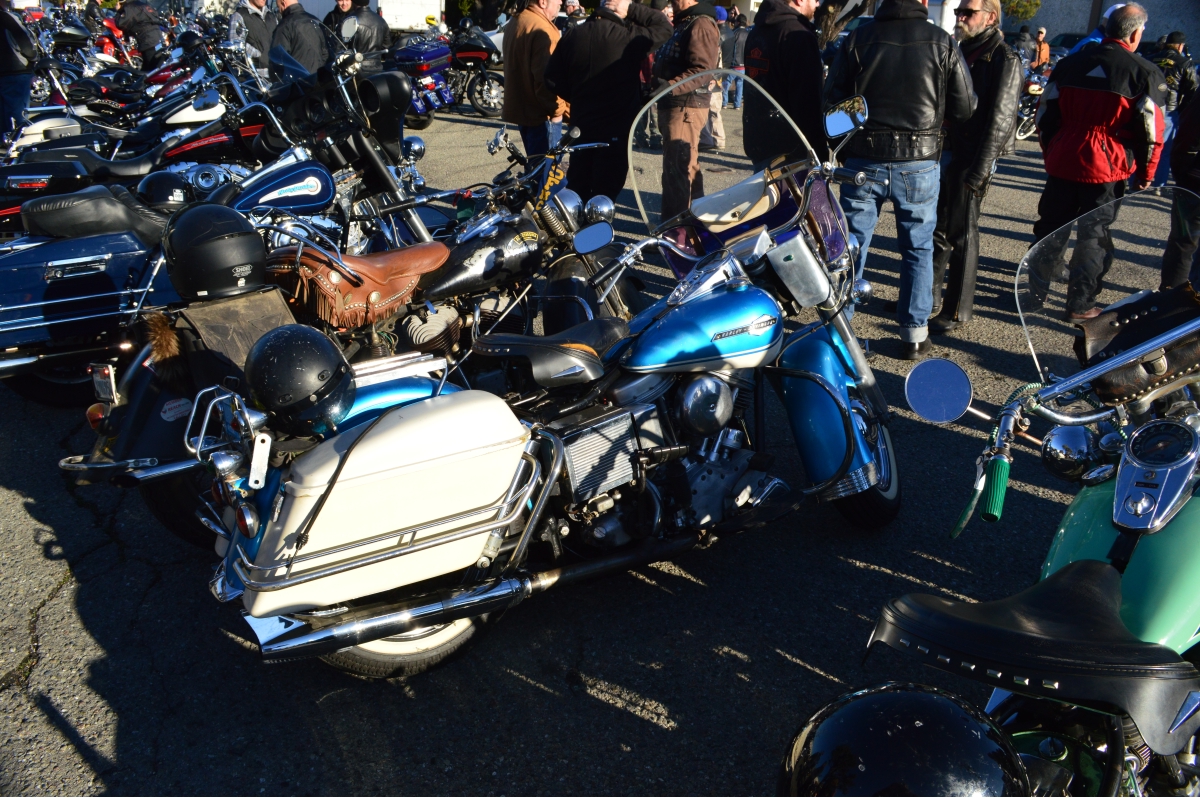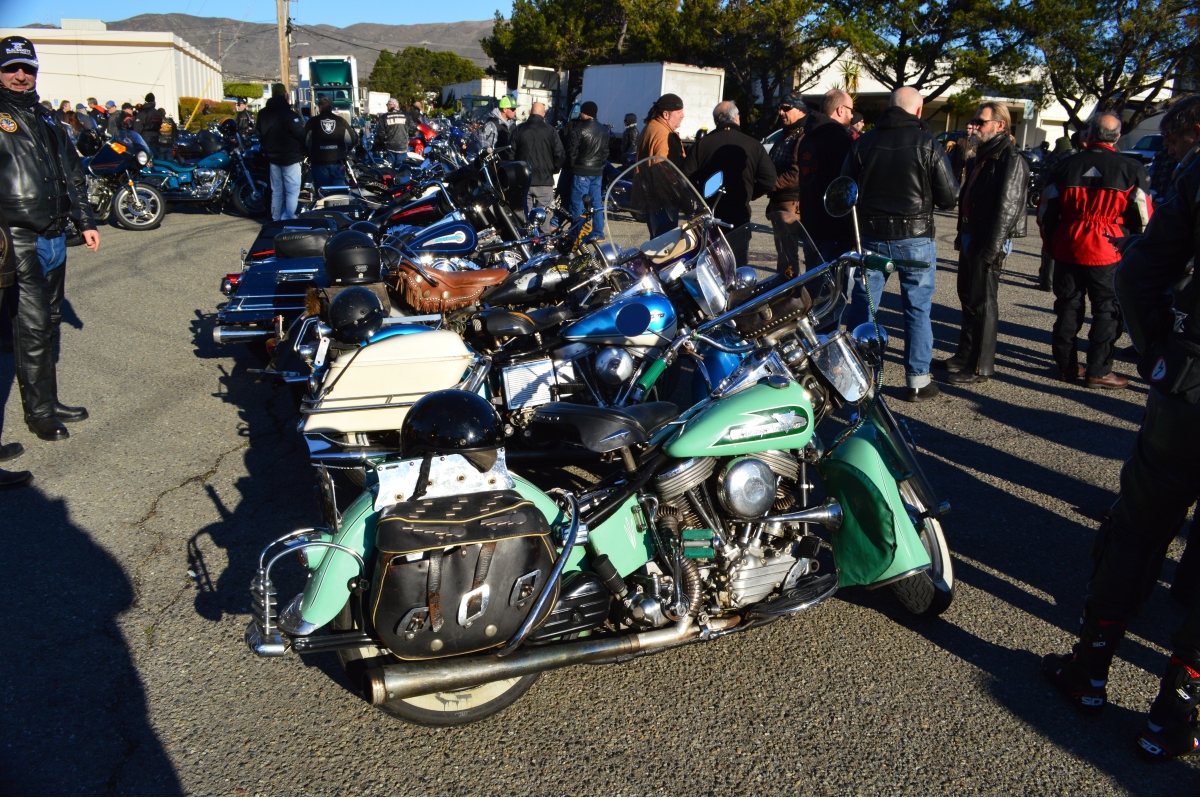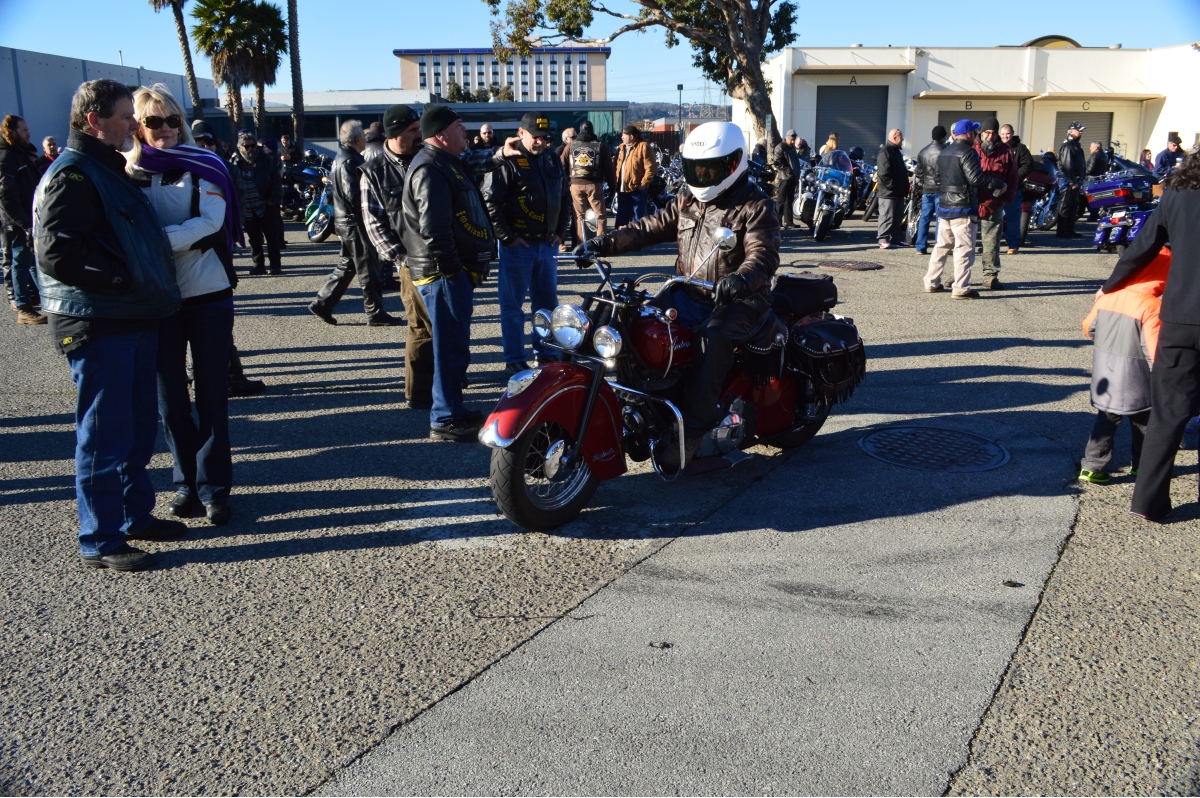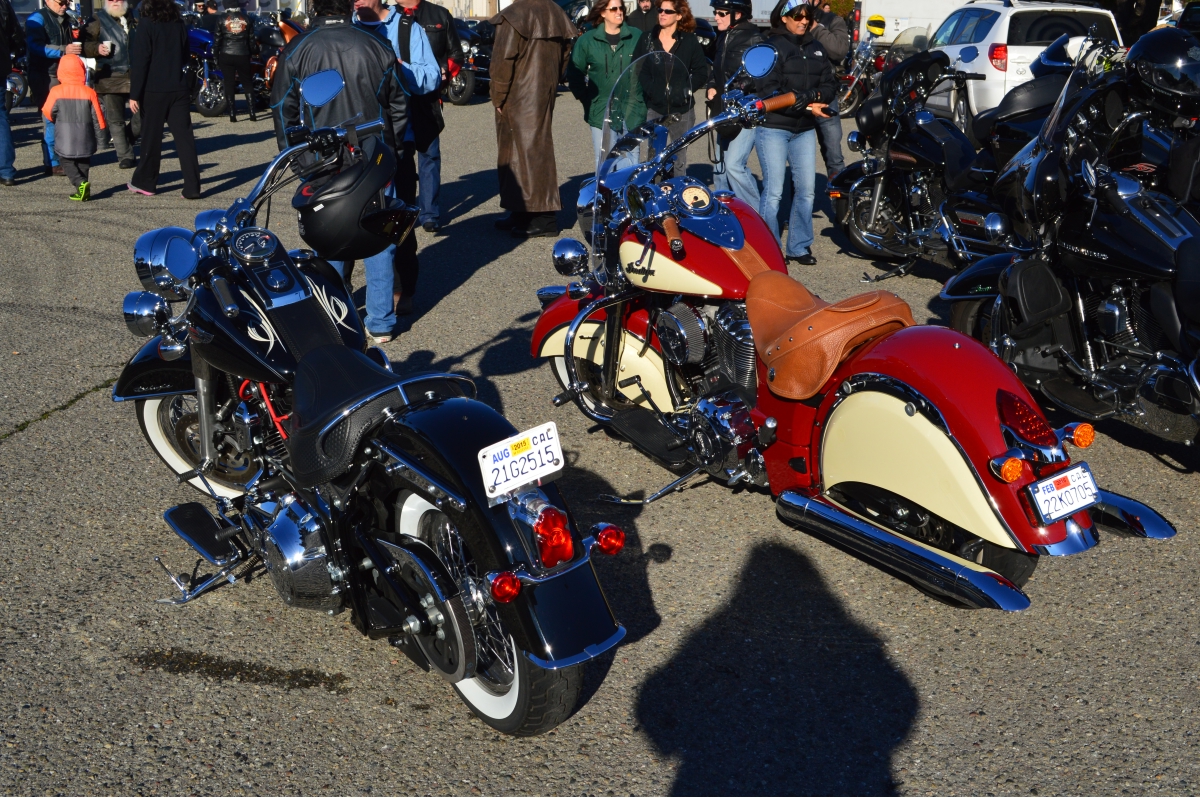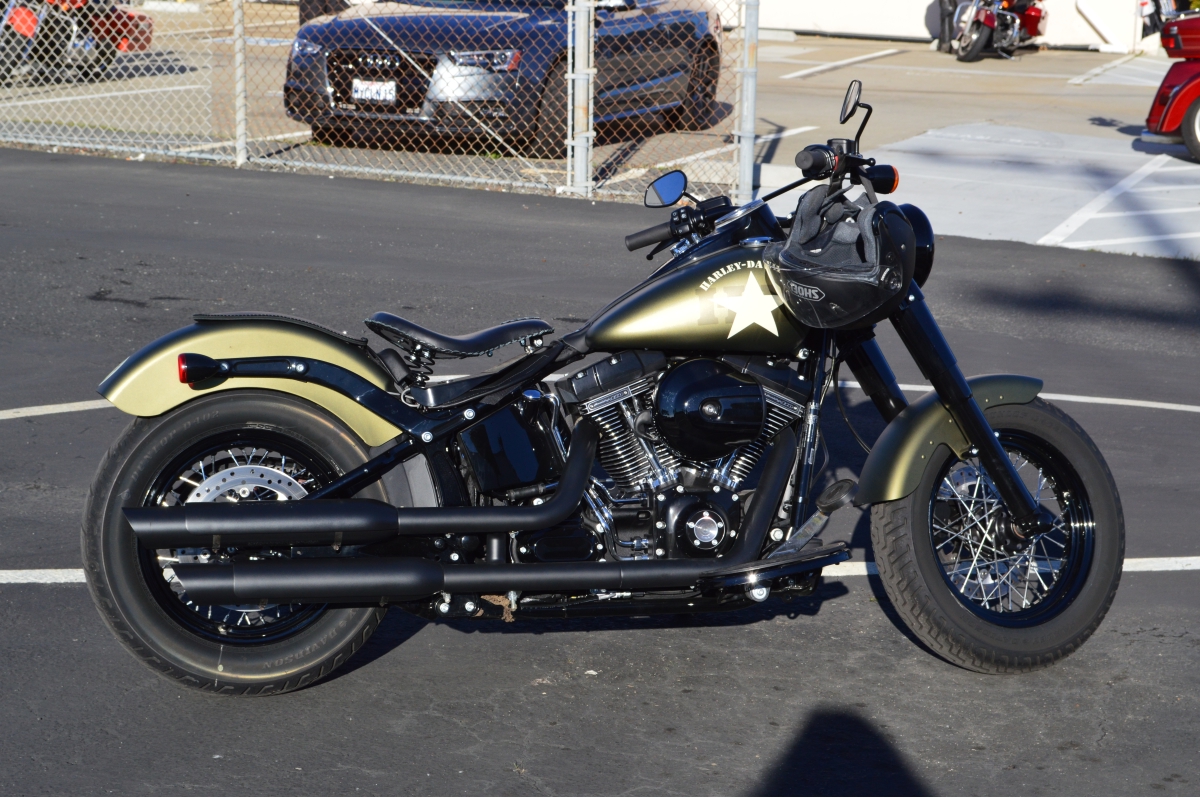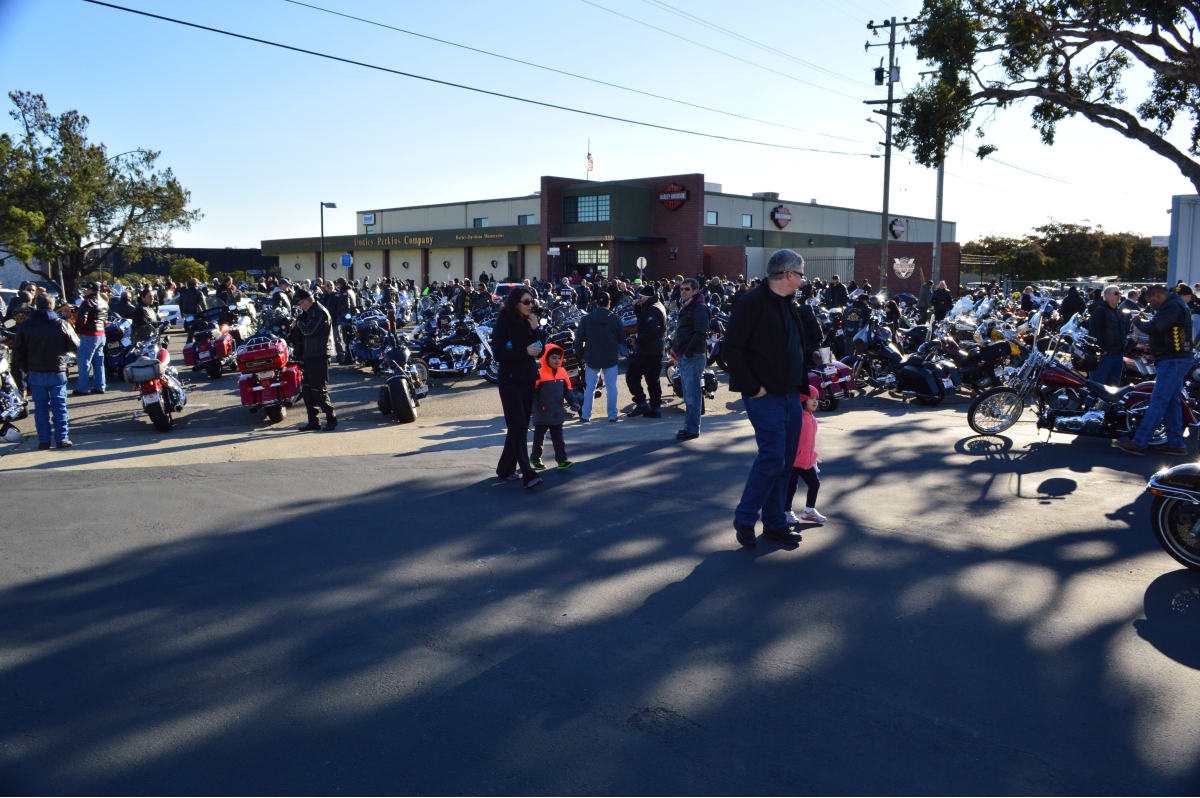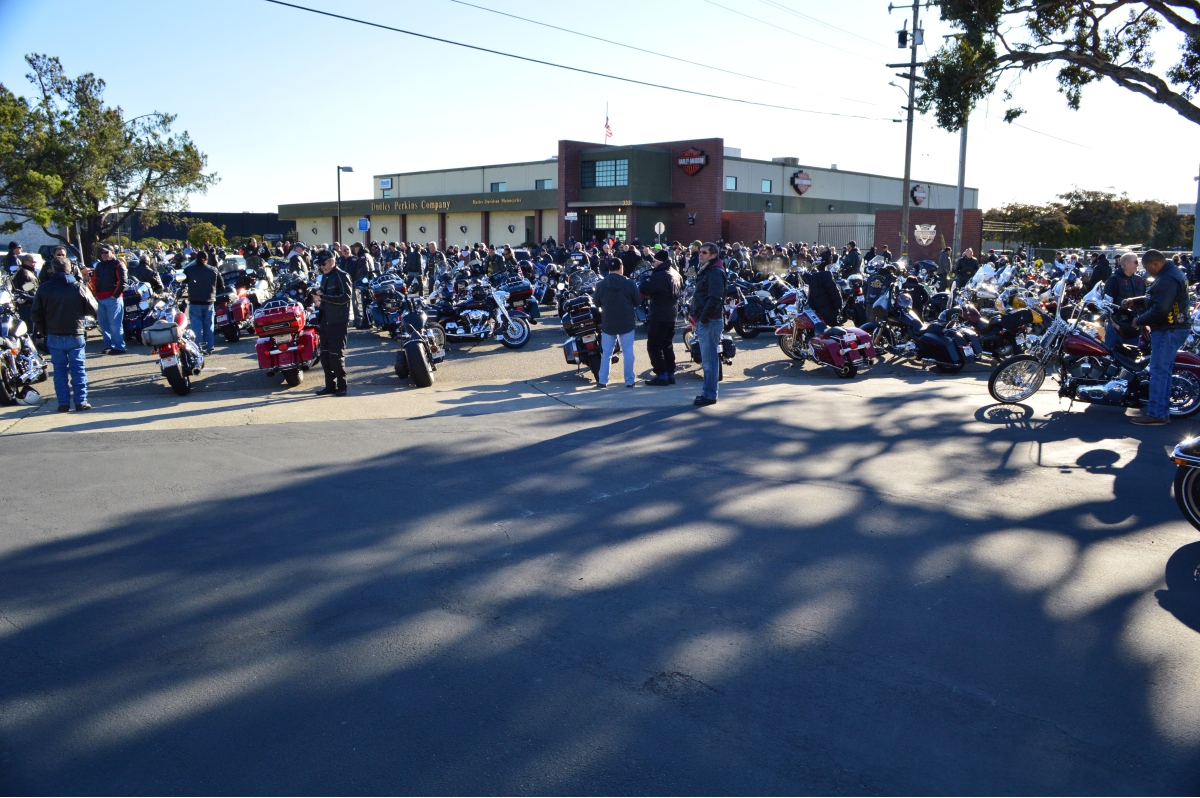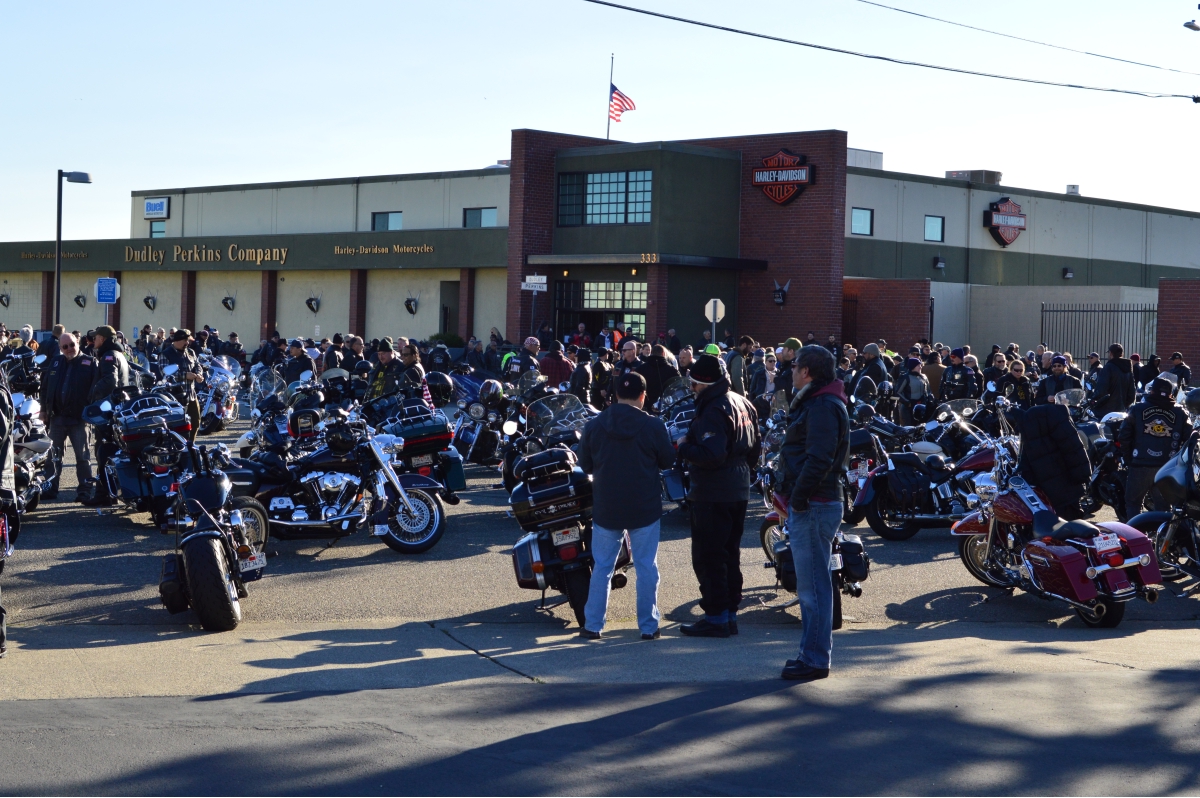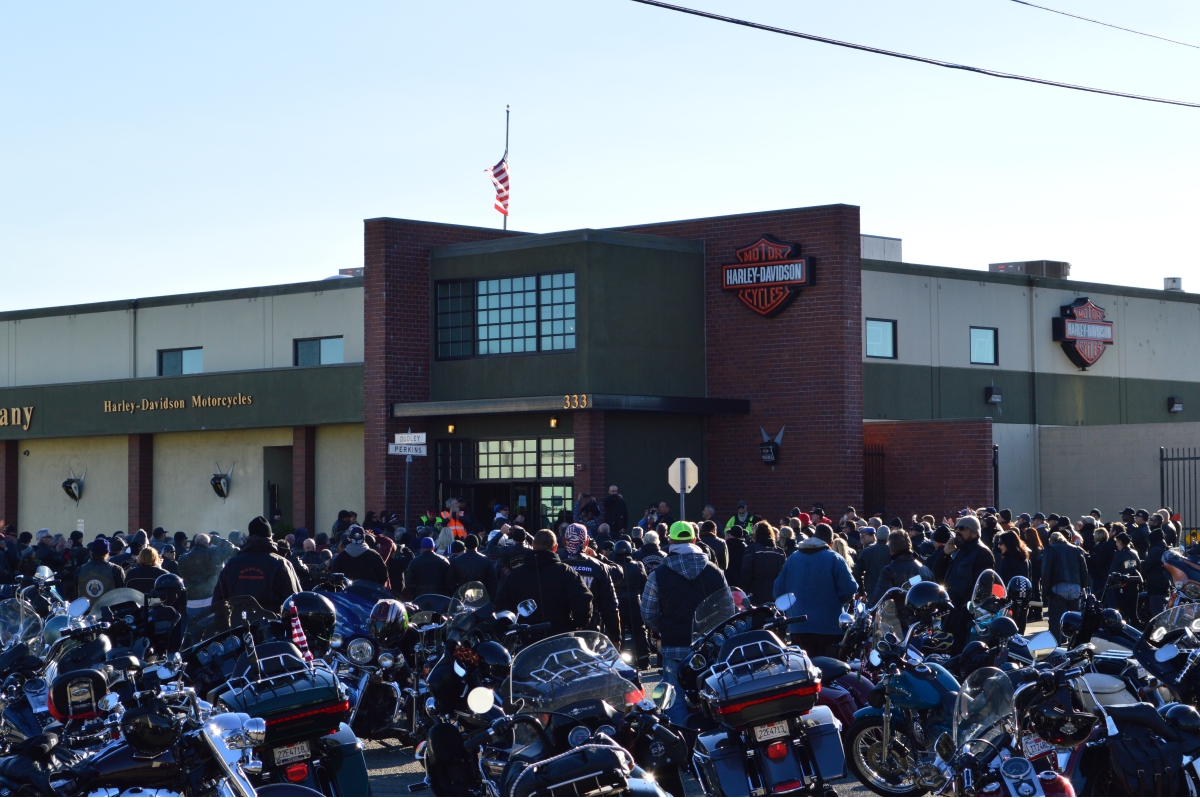 The rider's meeting... Christopher Perkins at the helm...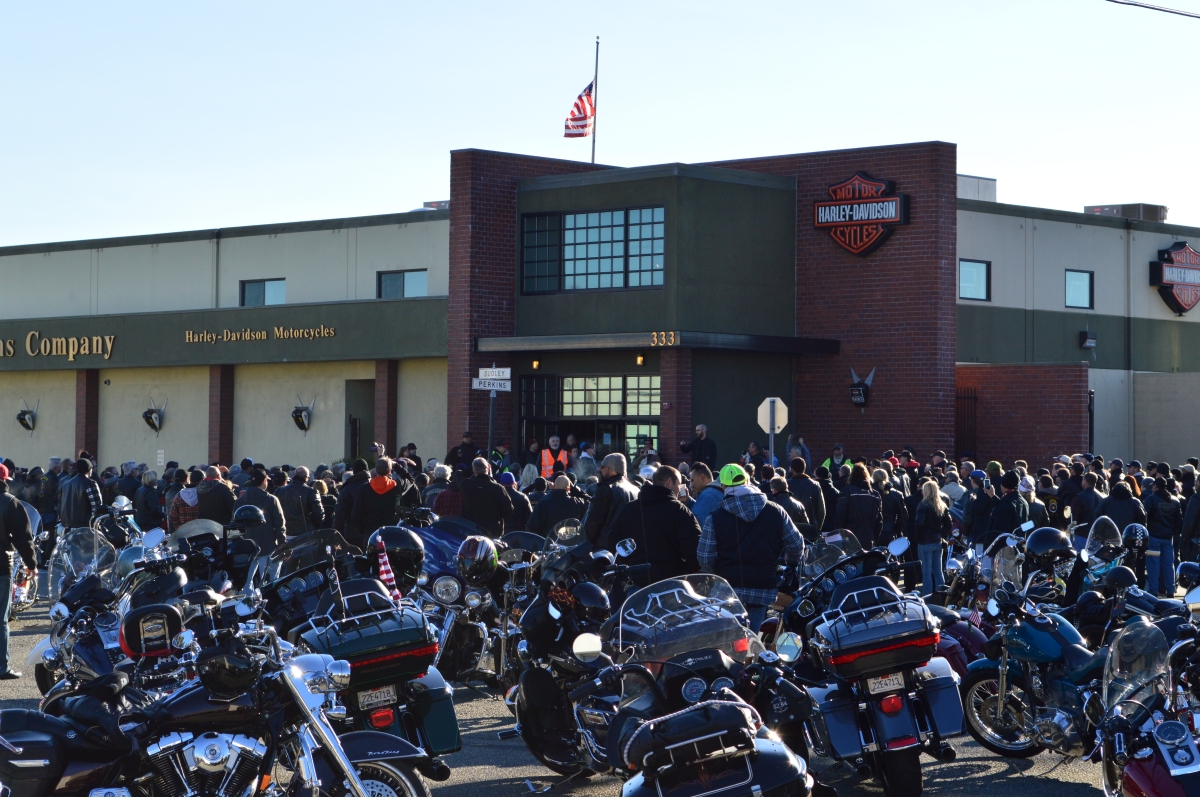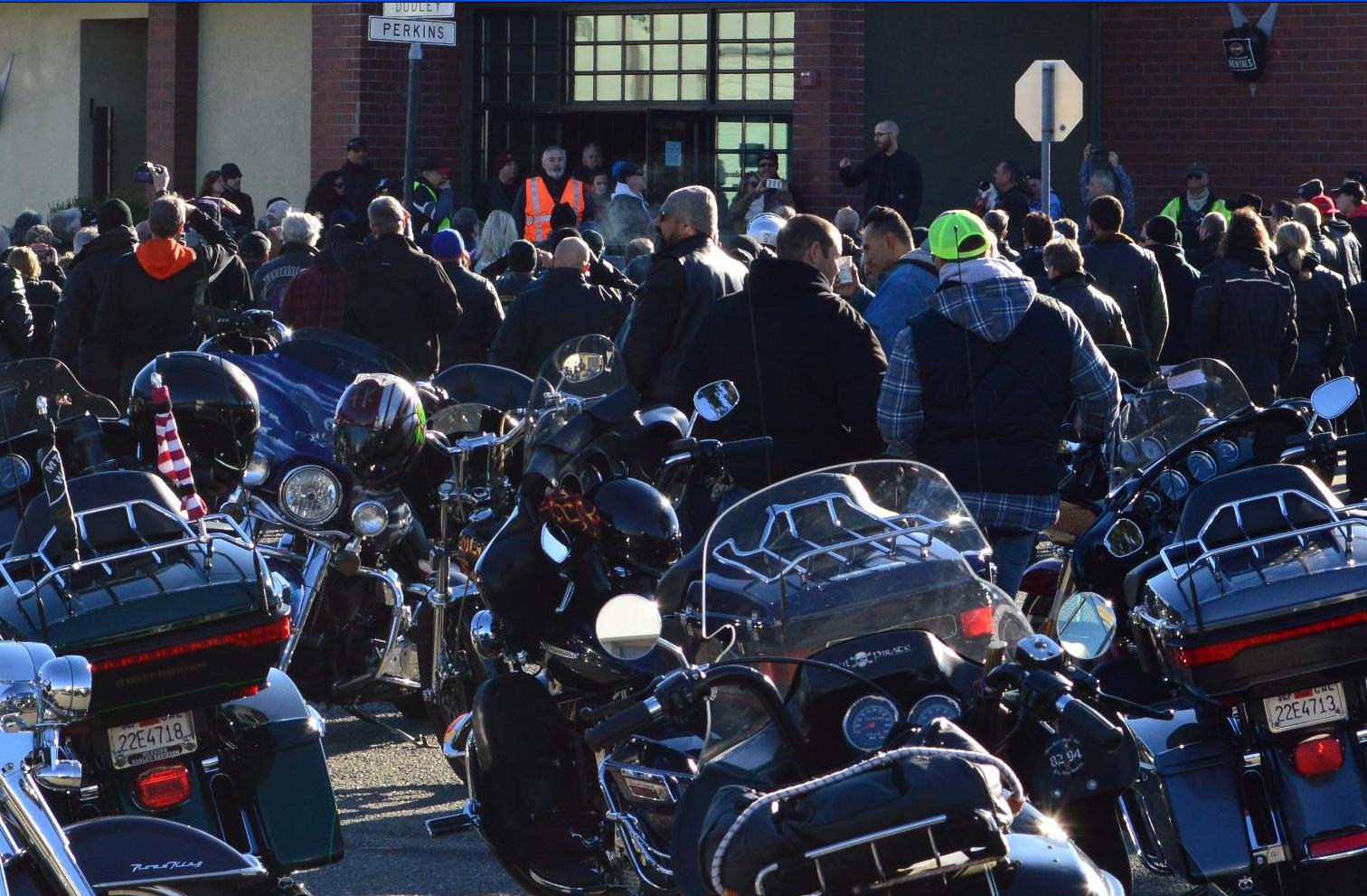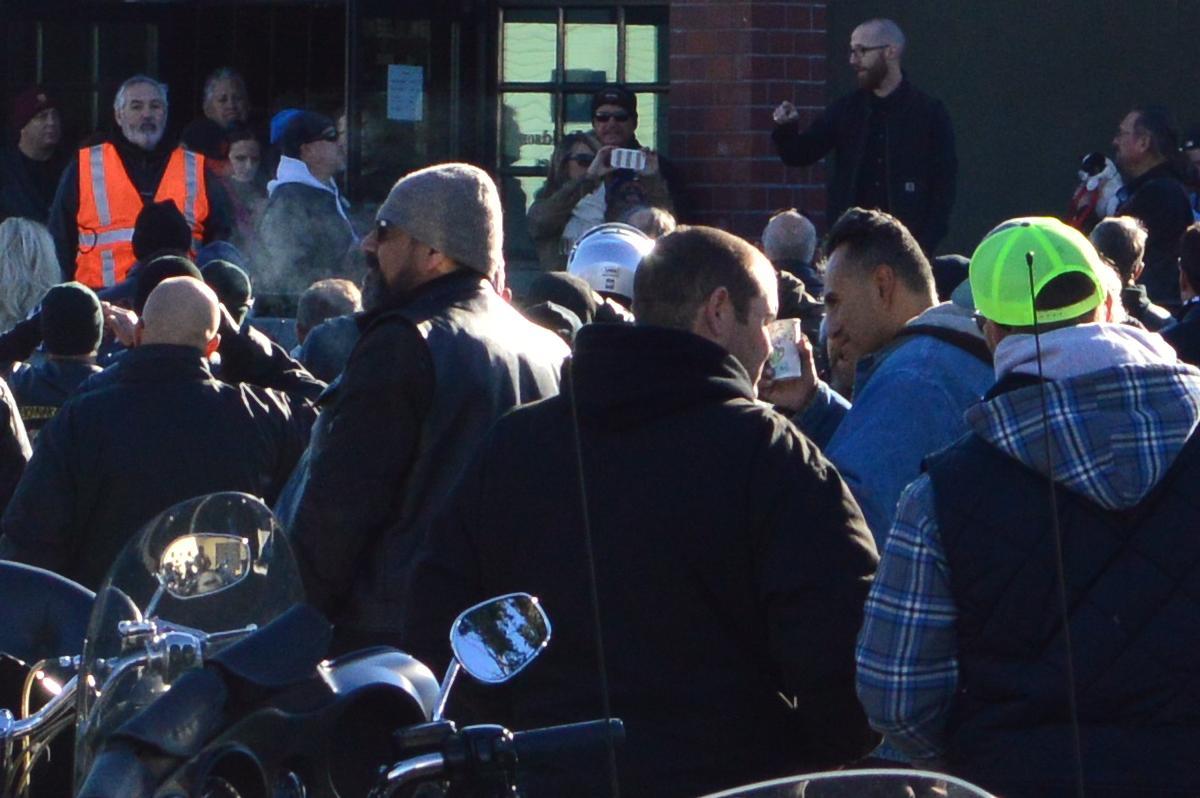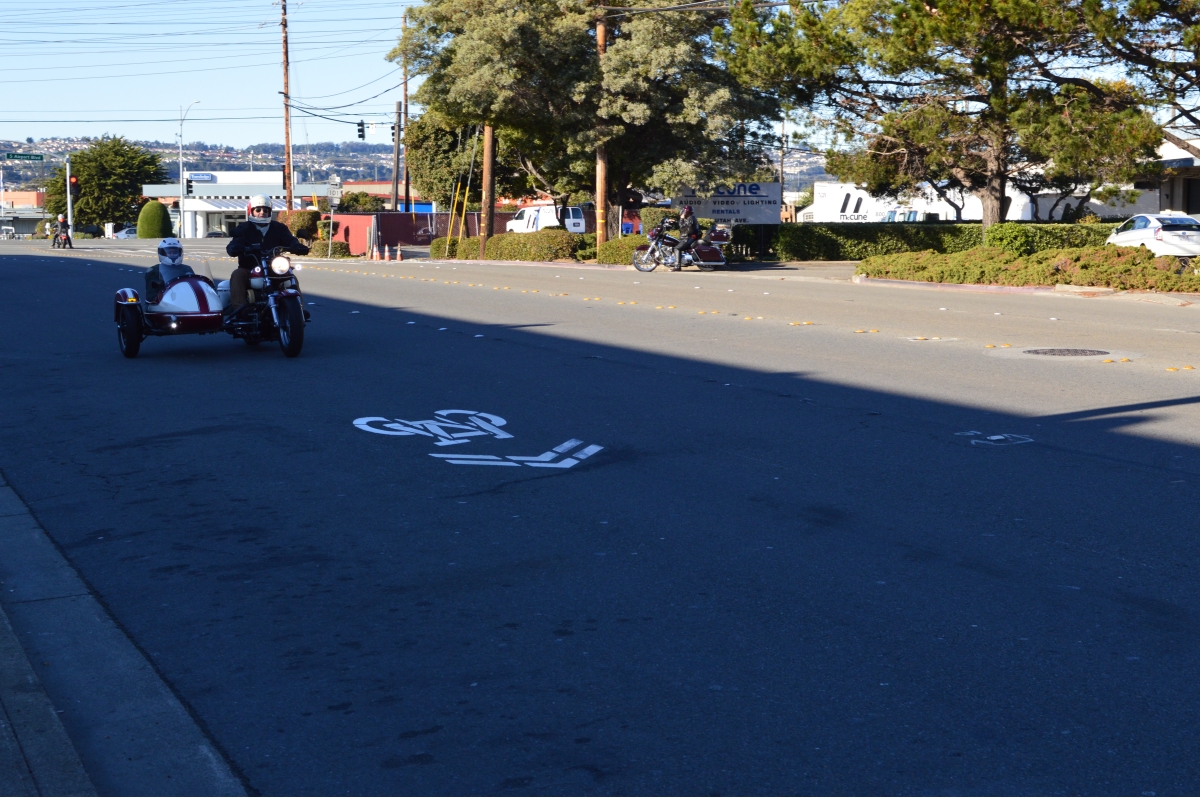 ... here we go...
... Road Captain front left will block the Utah Ave/South Airport Boulevard intersection...
... as riders line up with Christopher Perkins in the lead riding his dad's olive/orange shovelhead.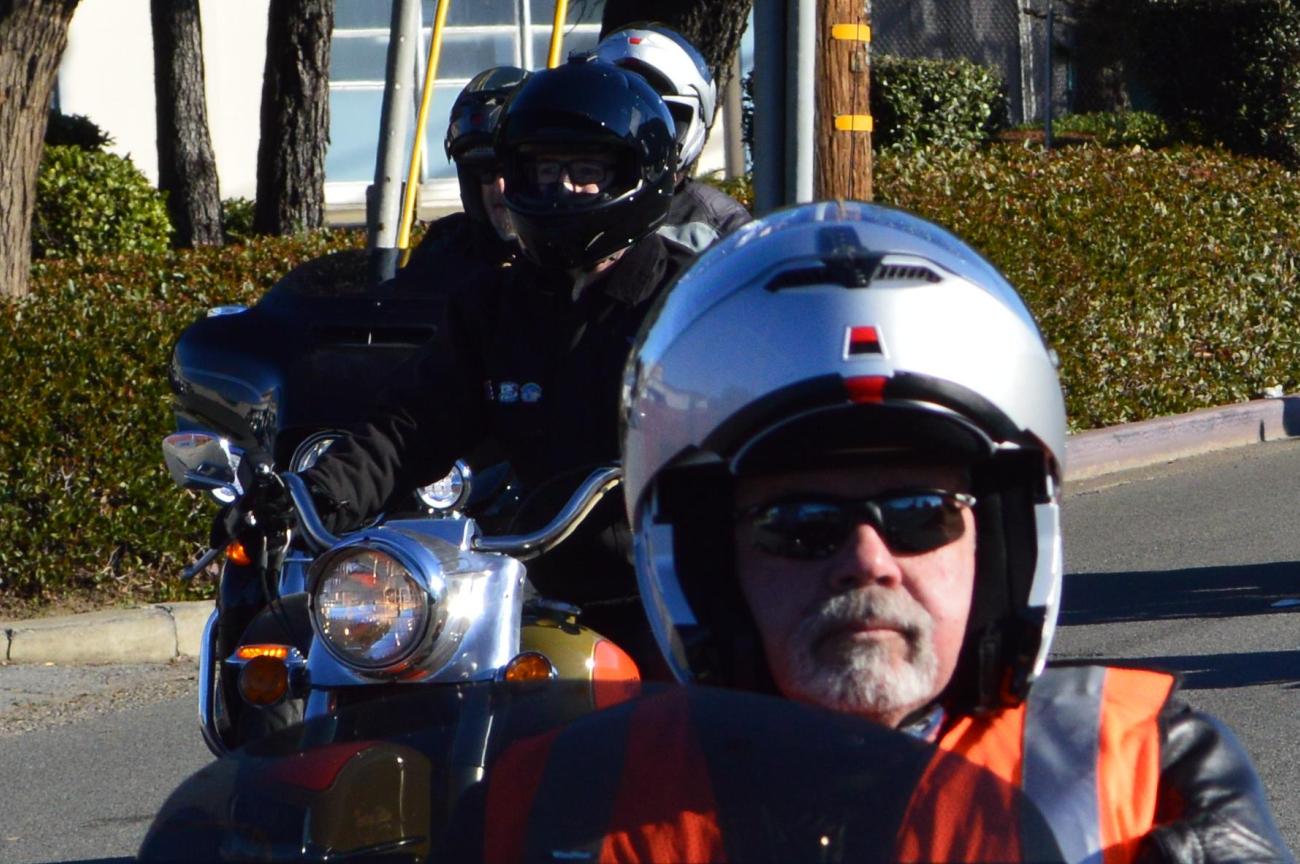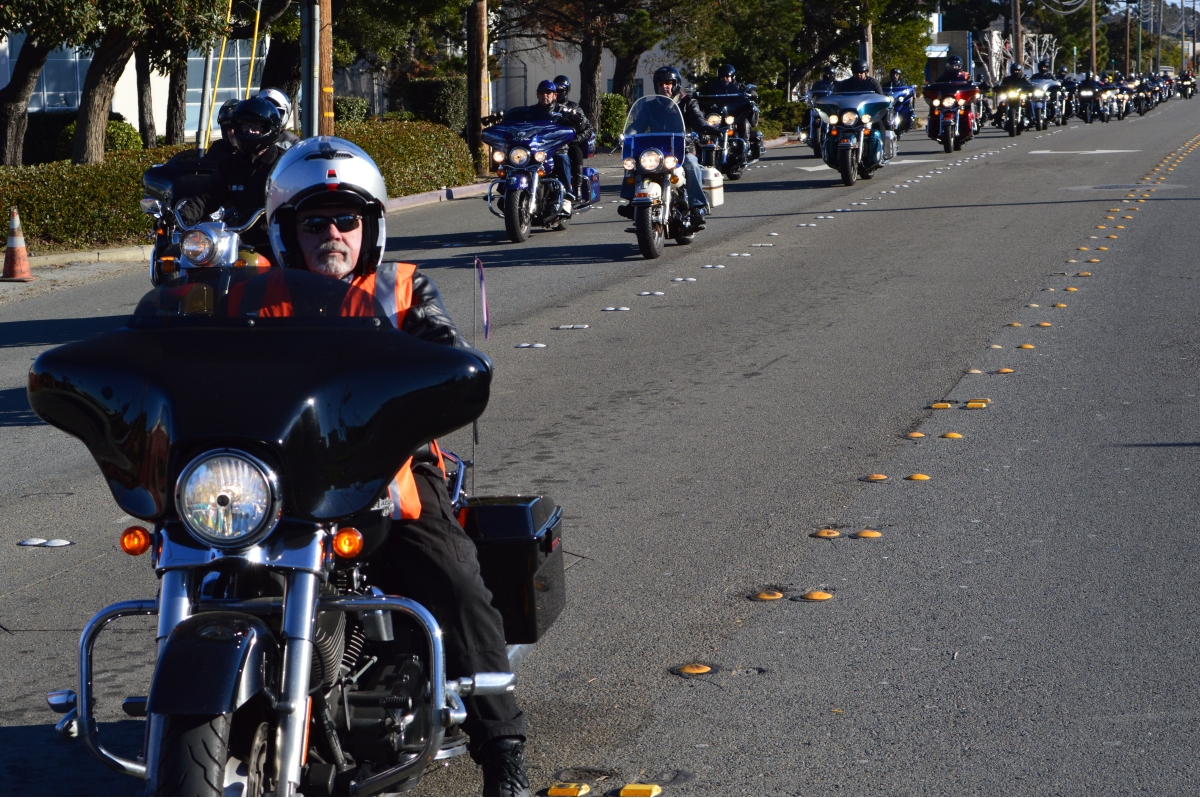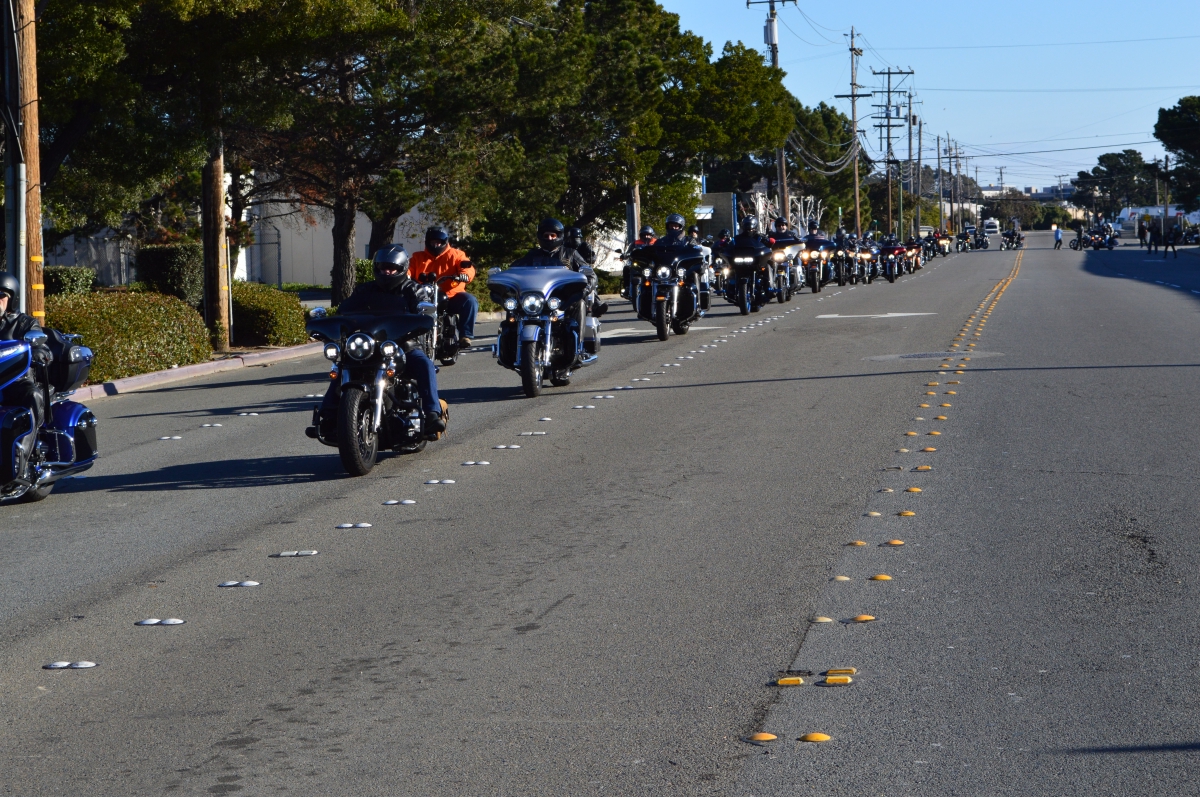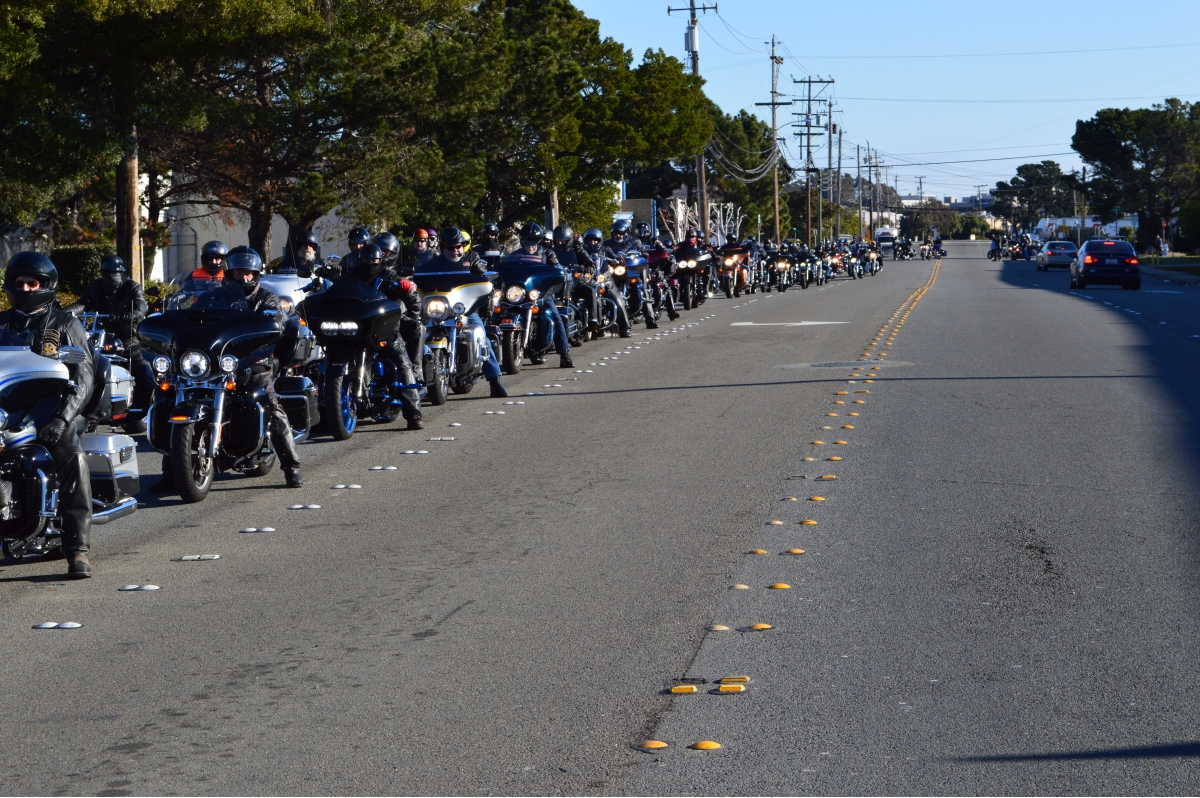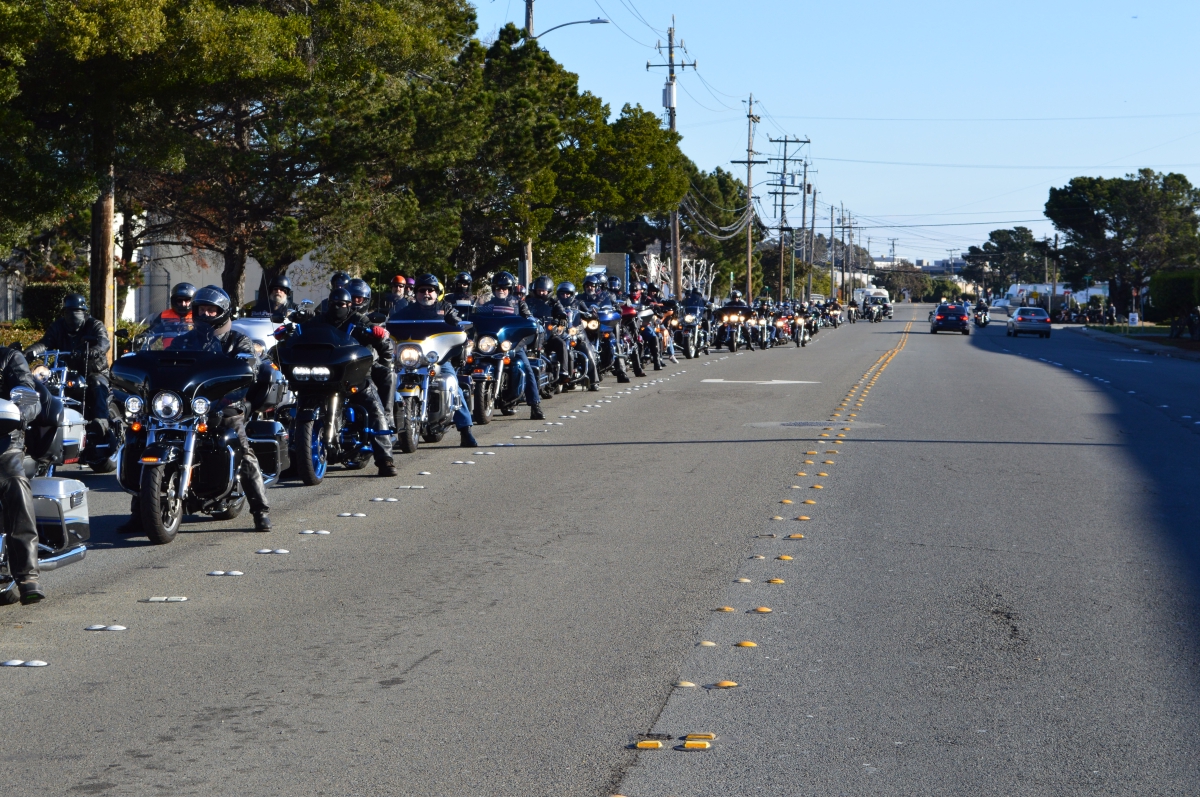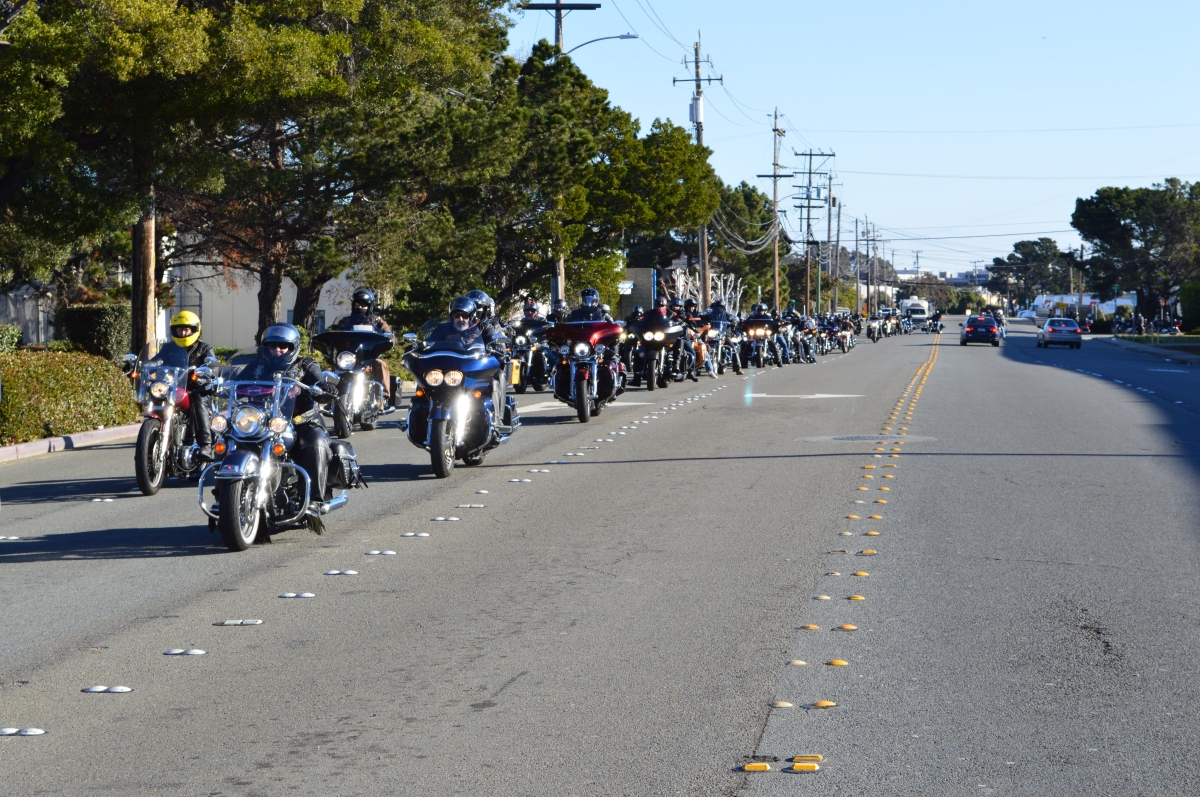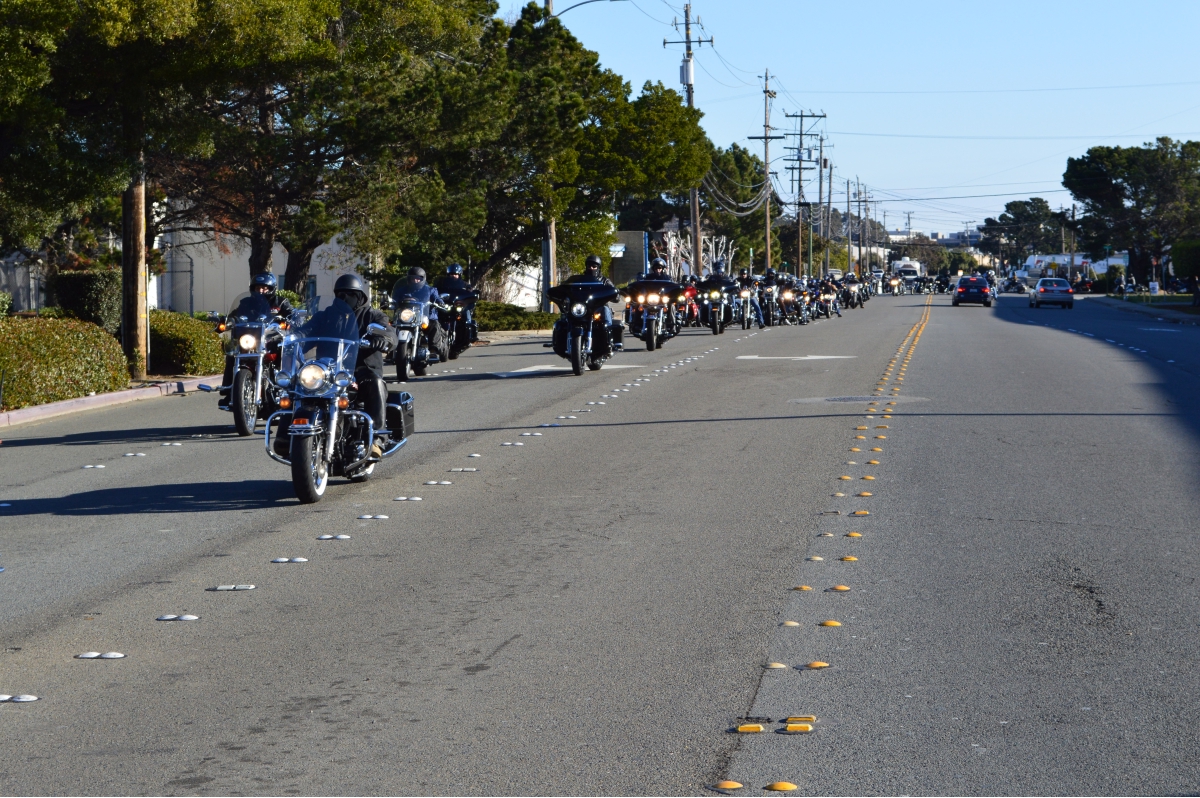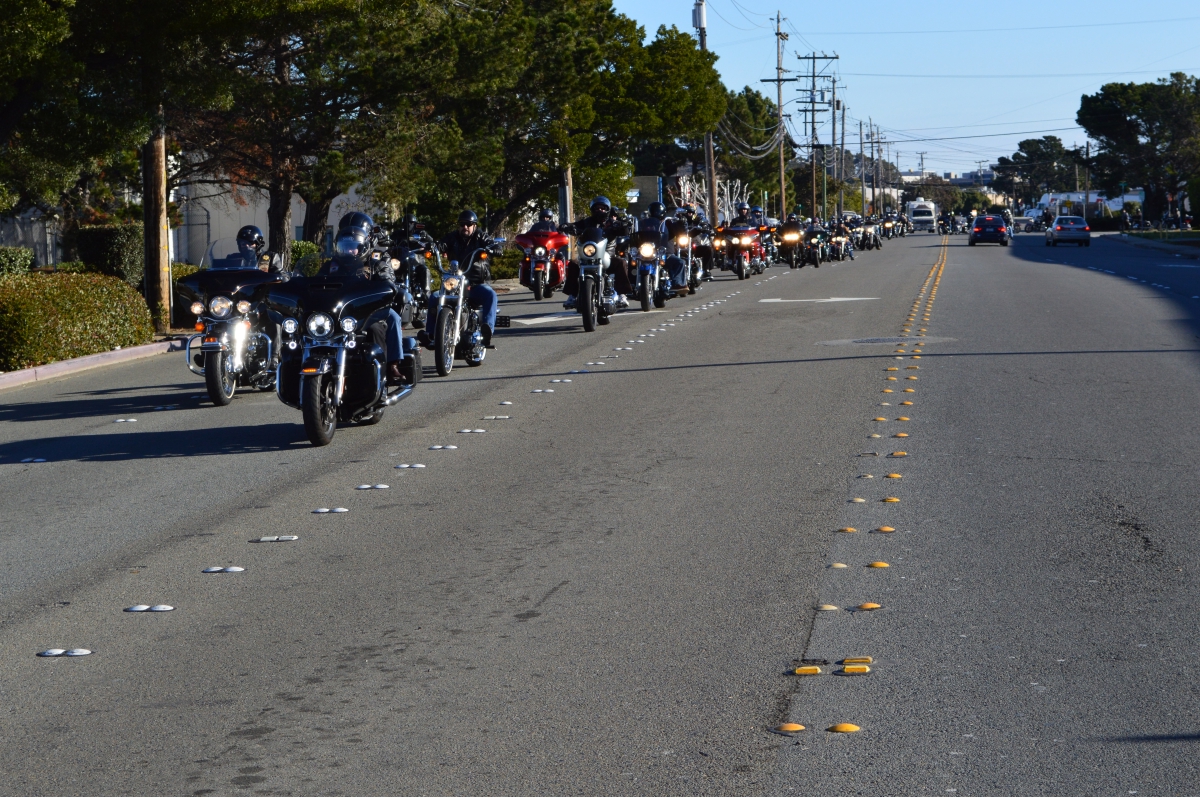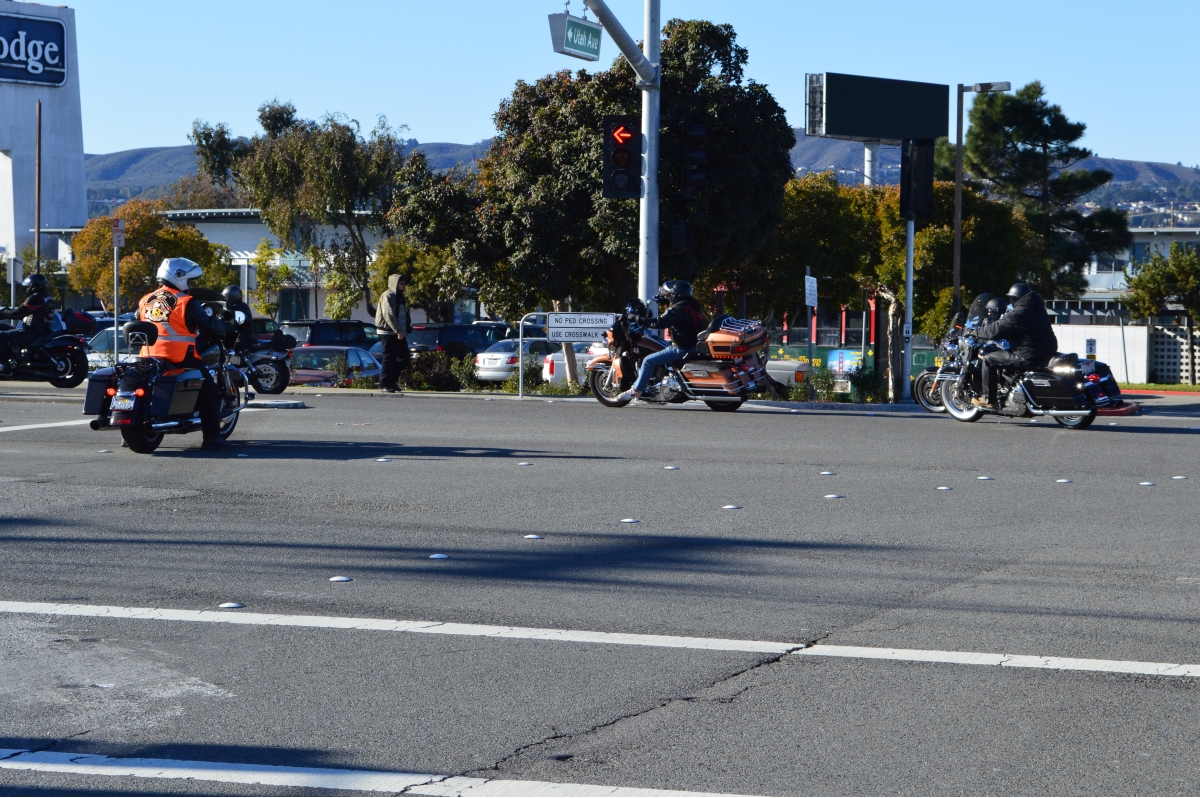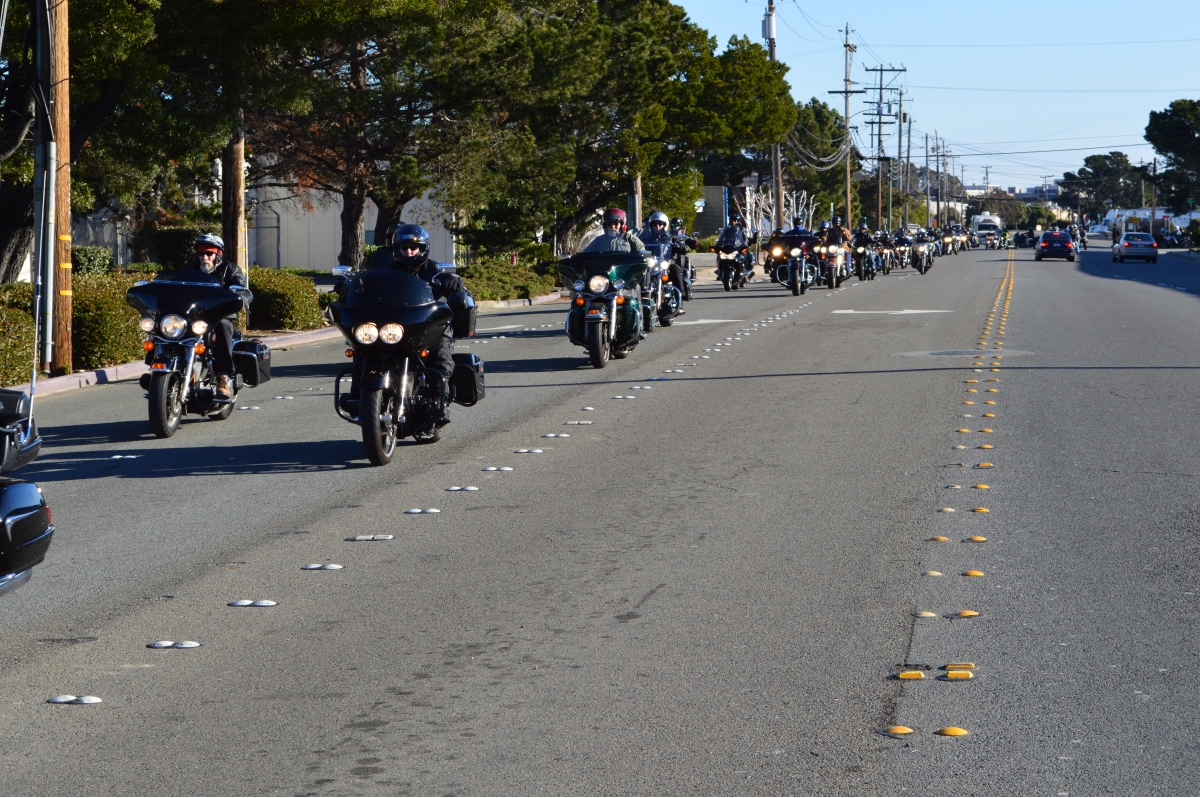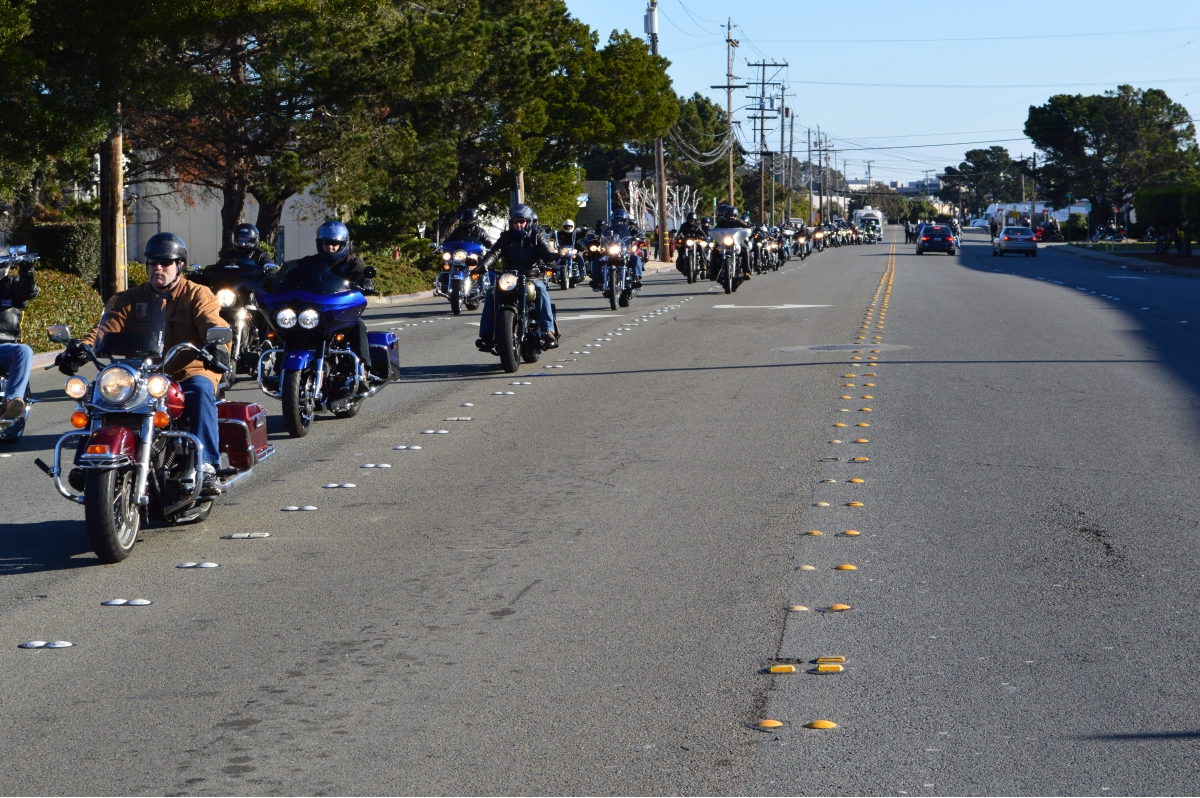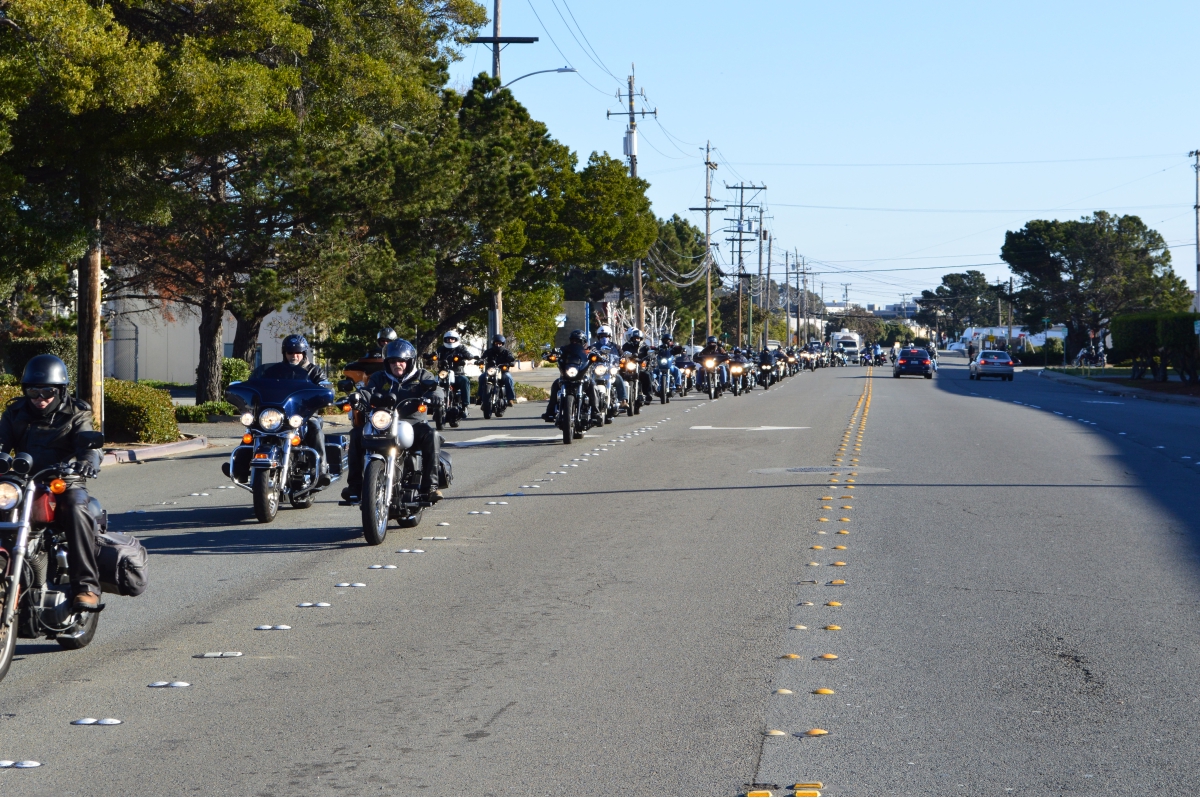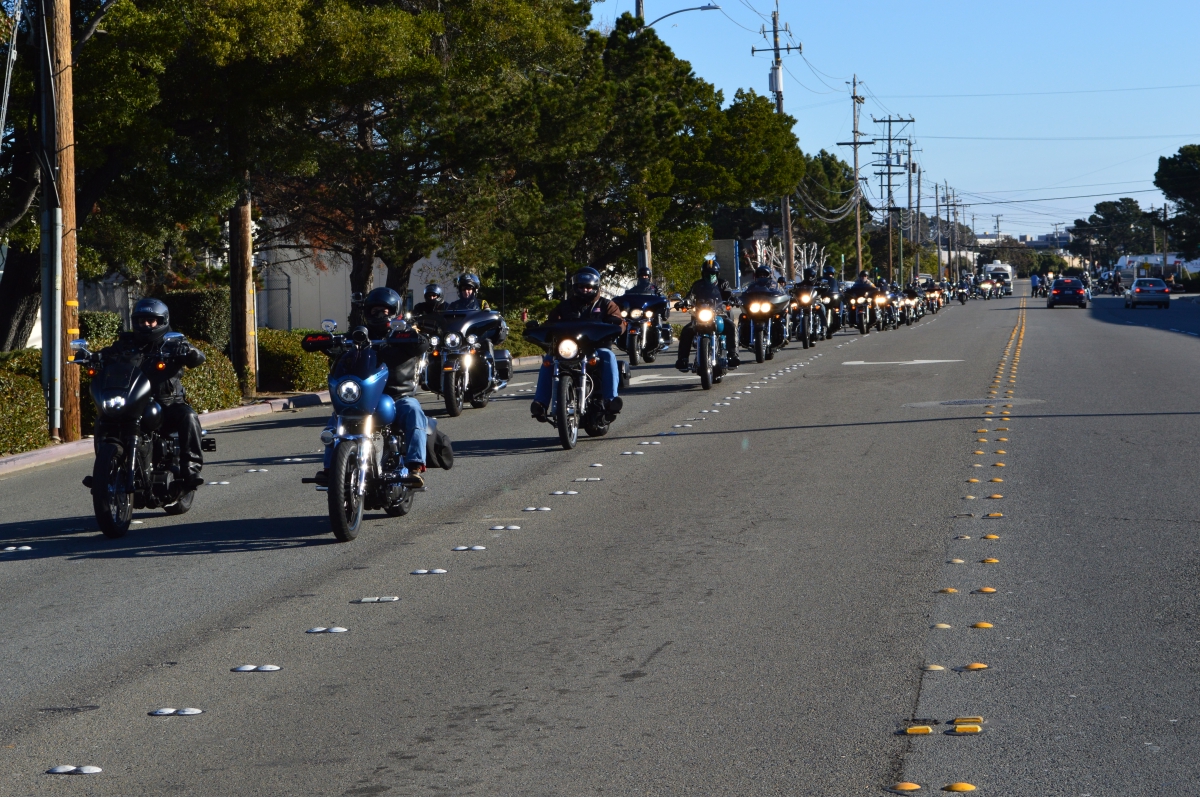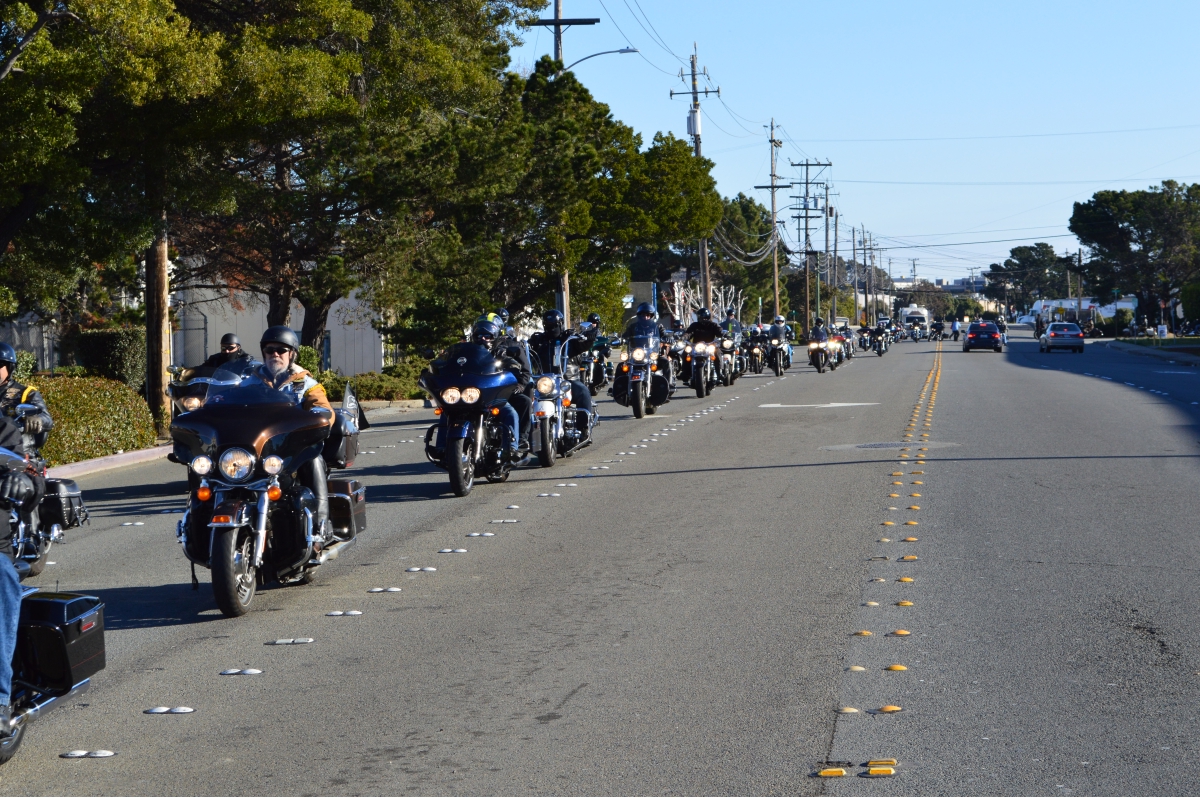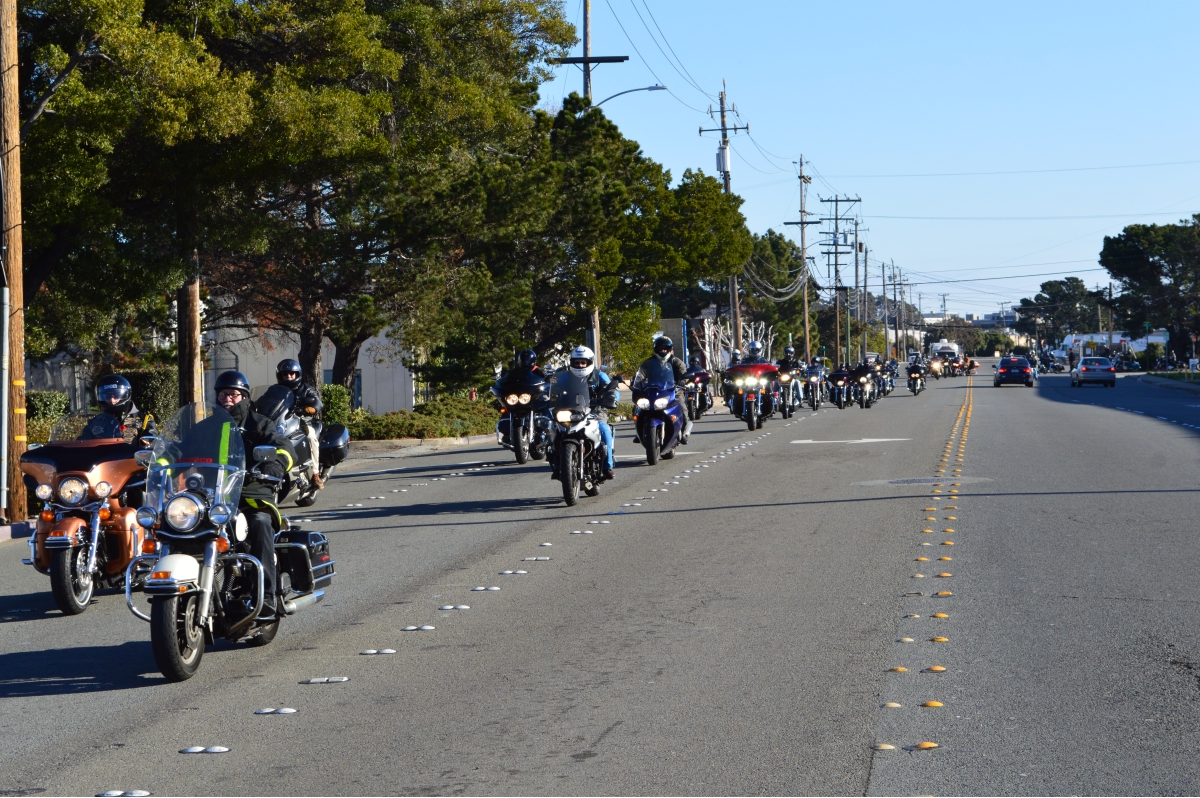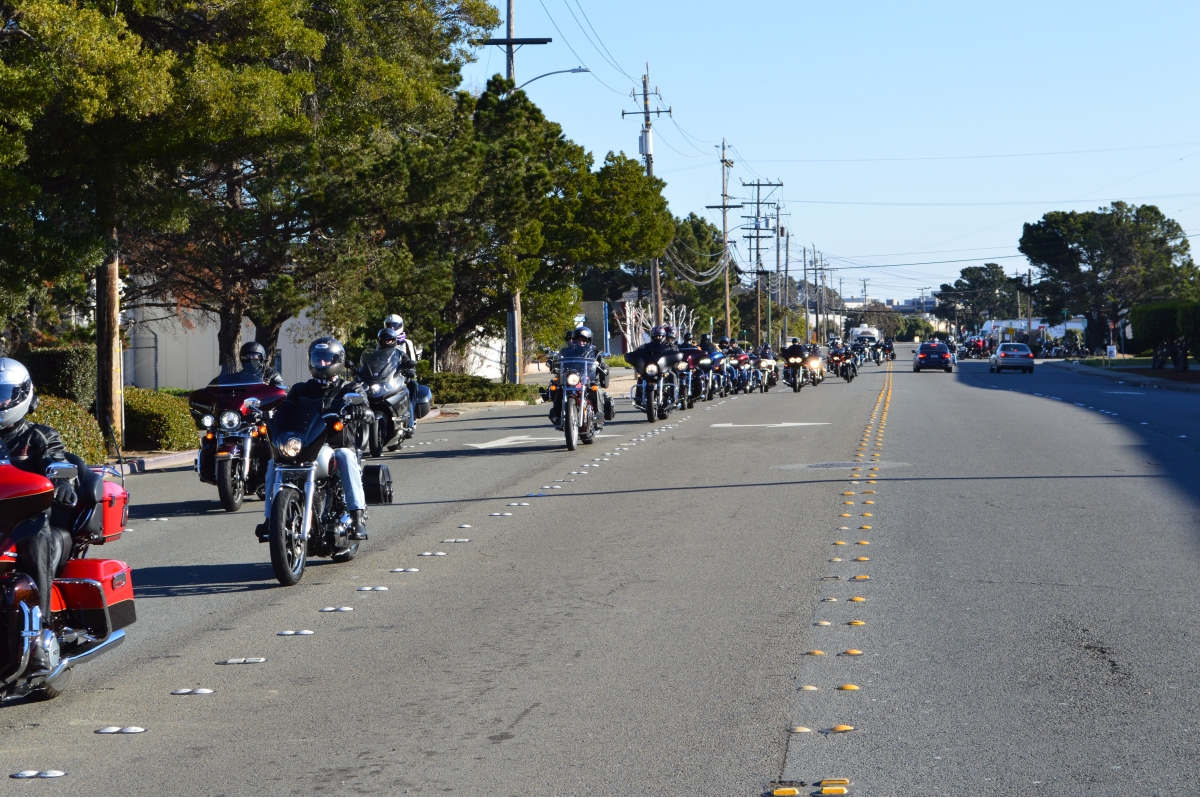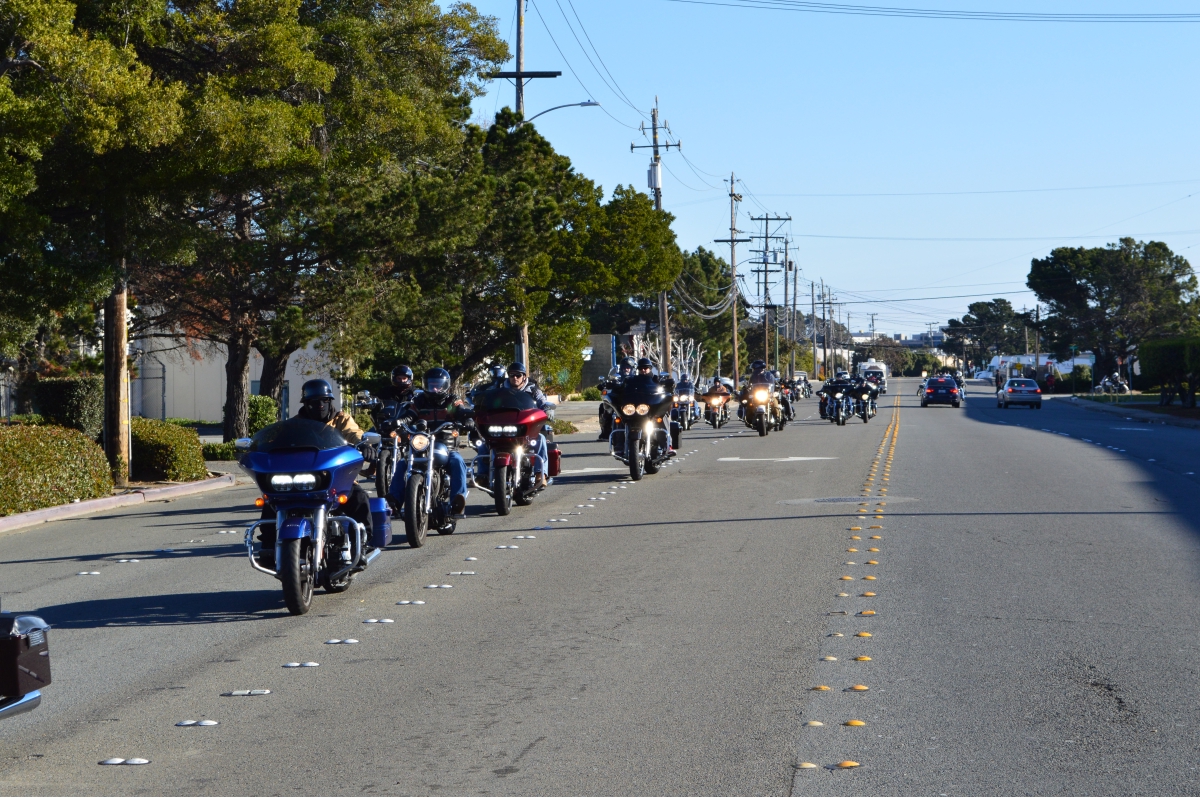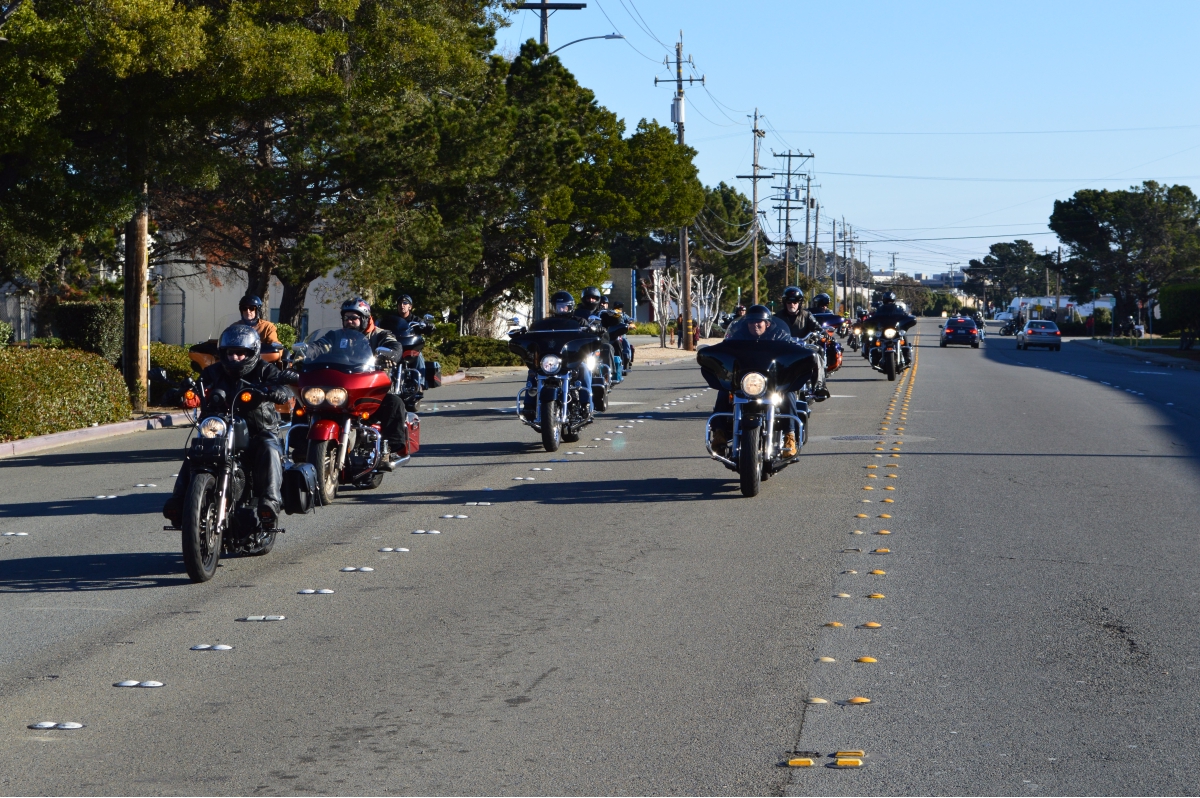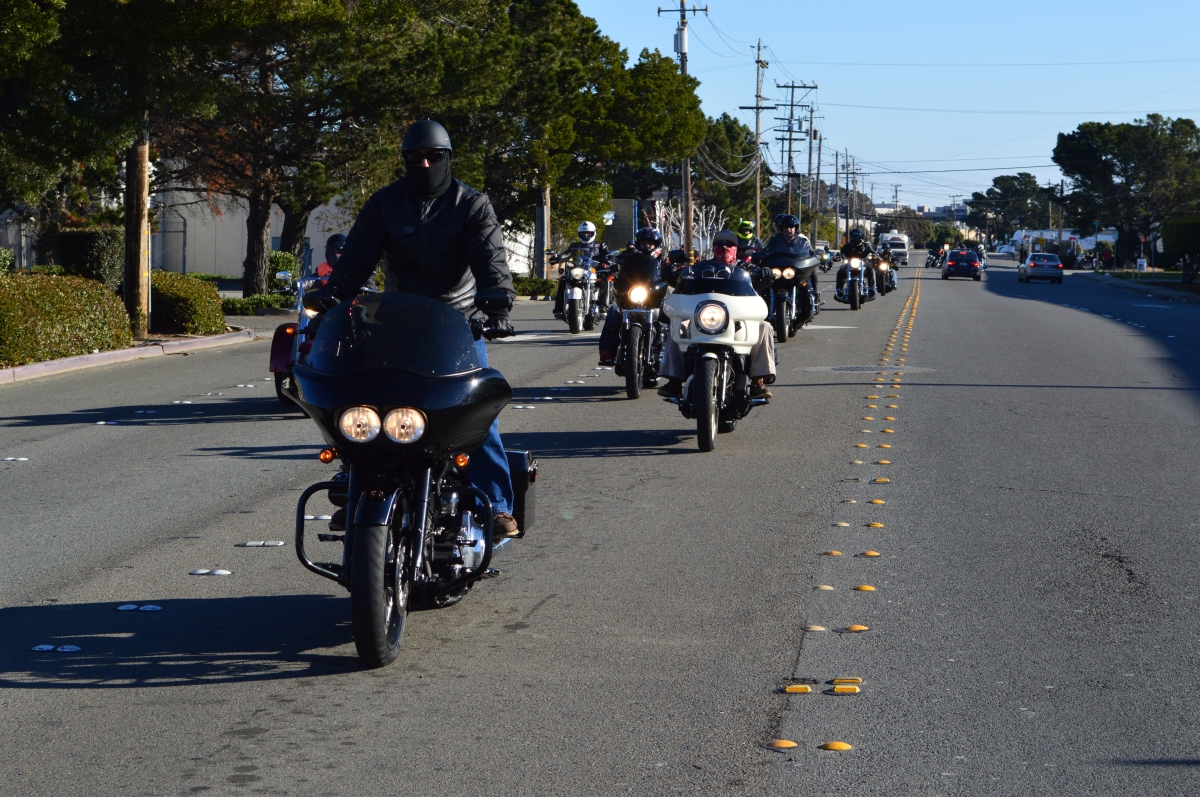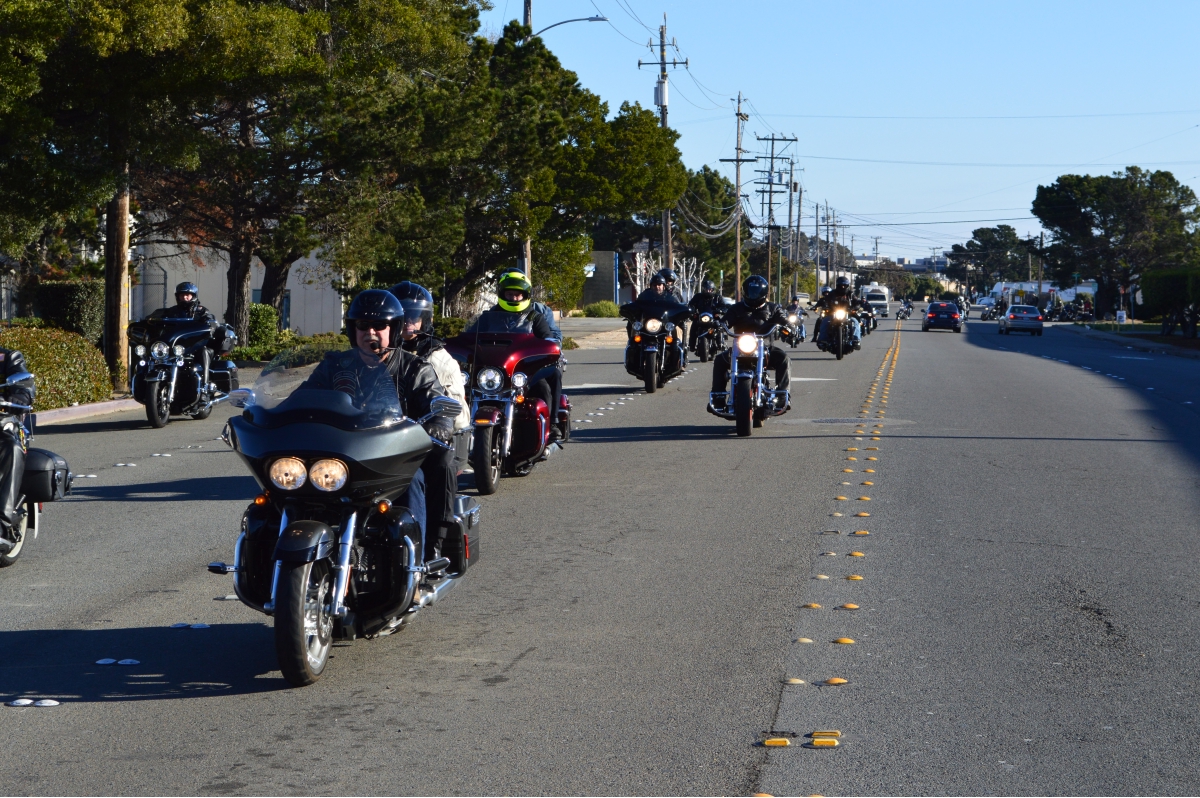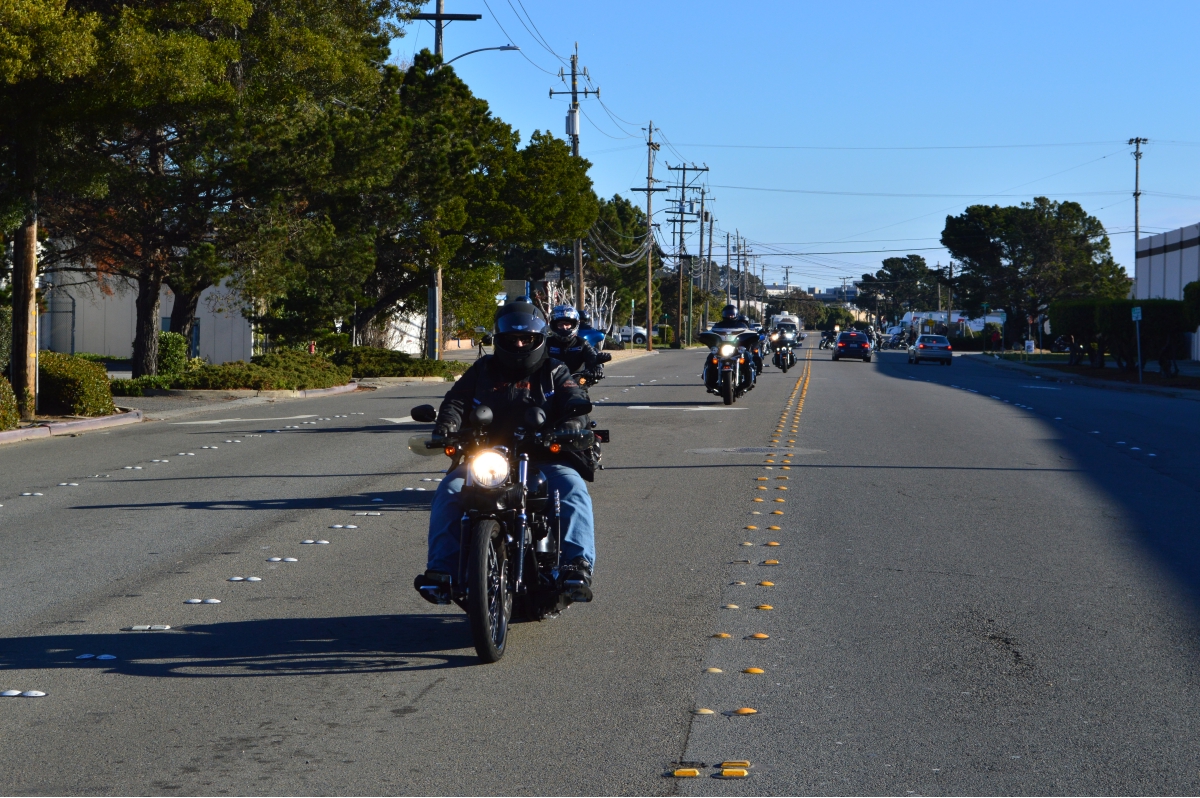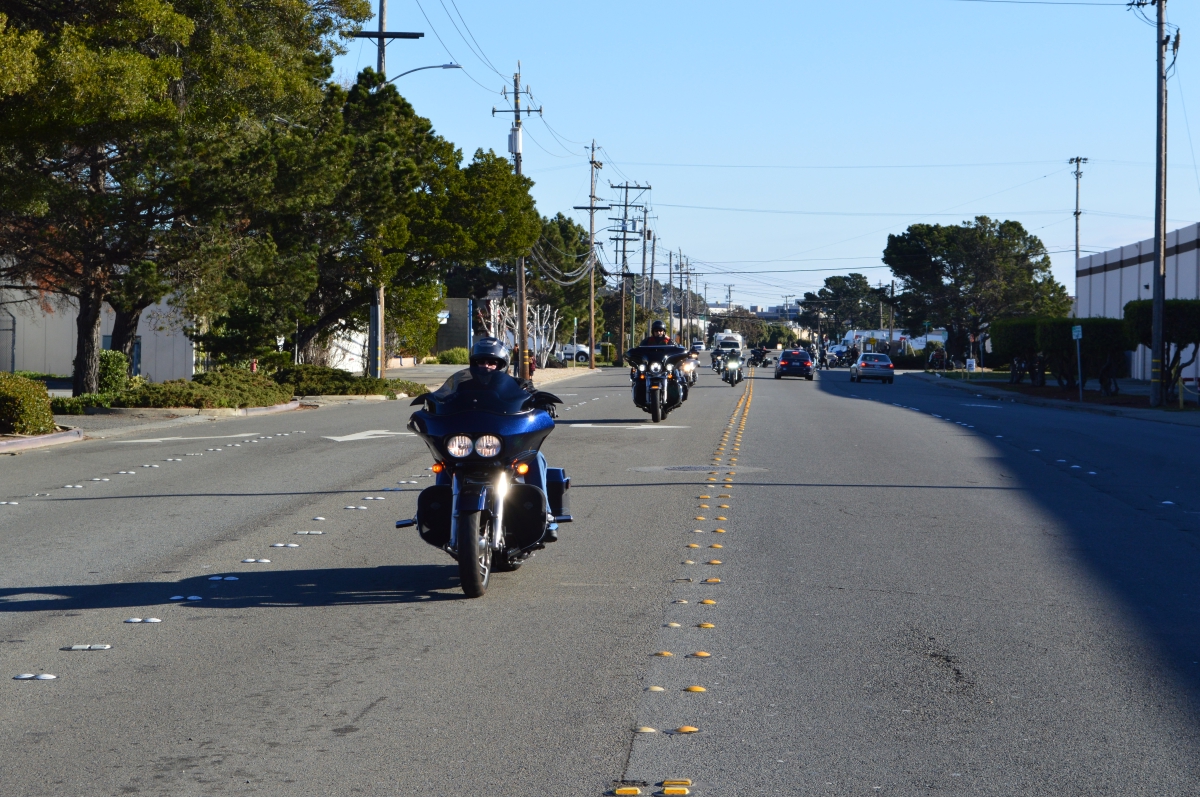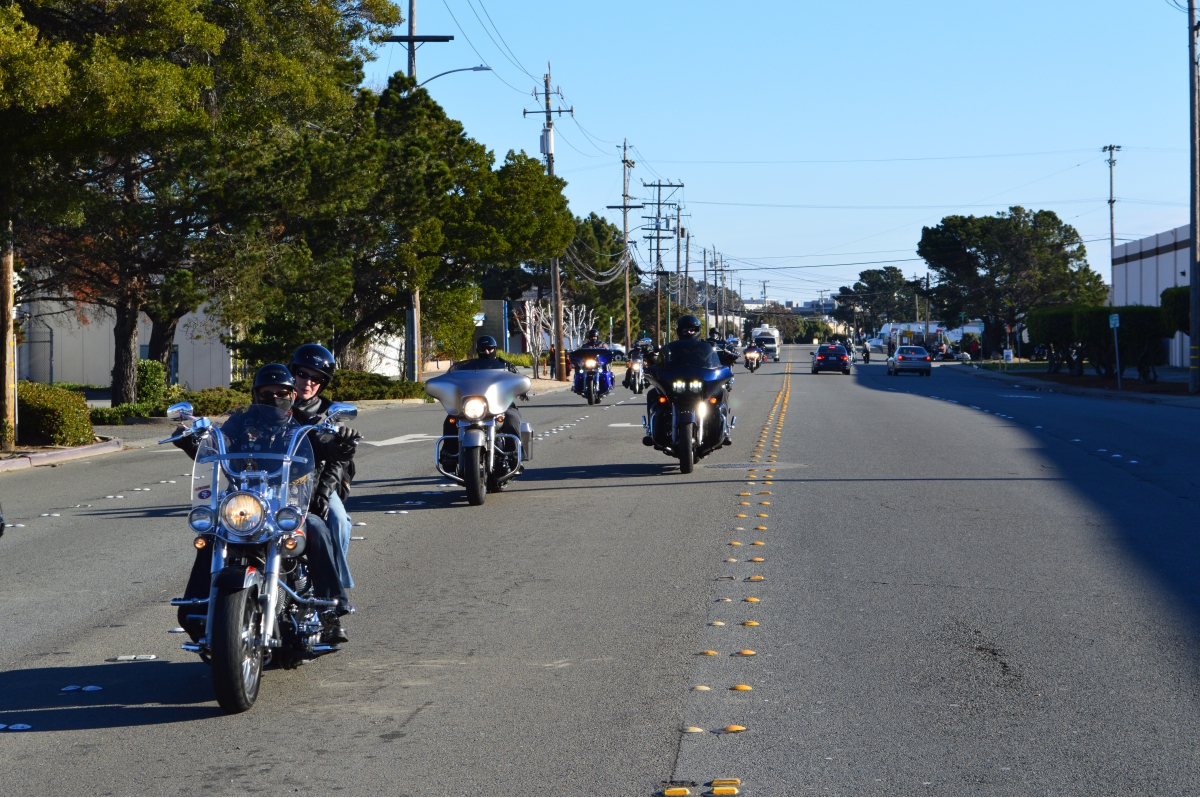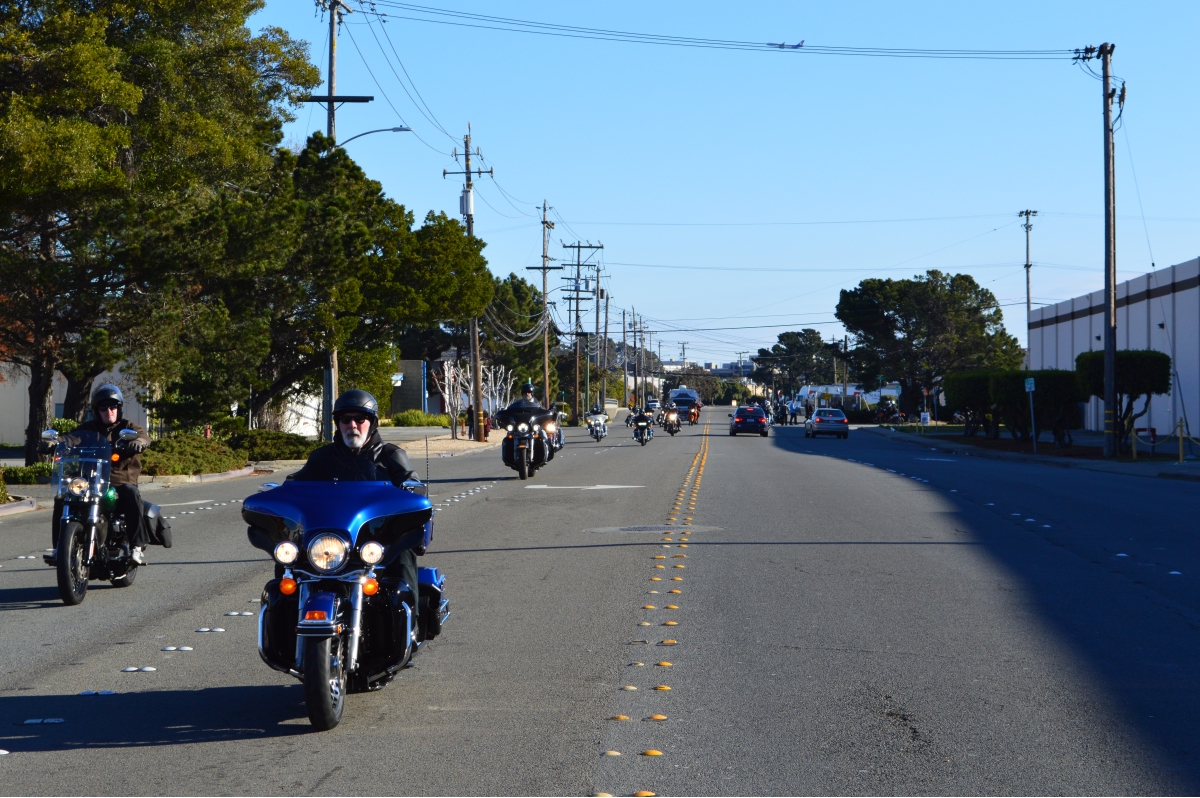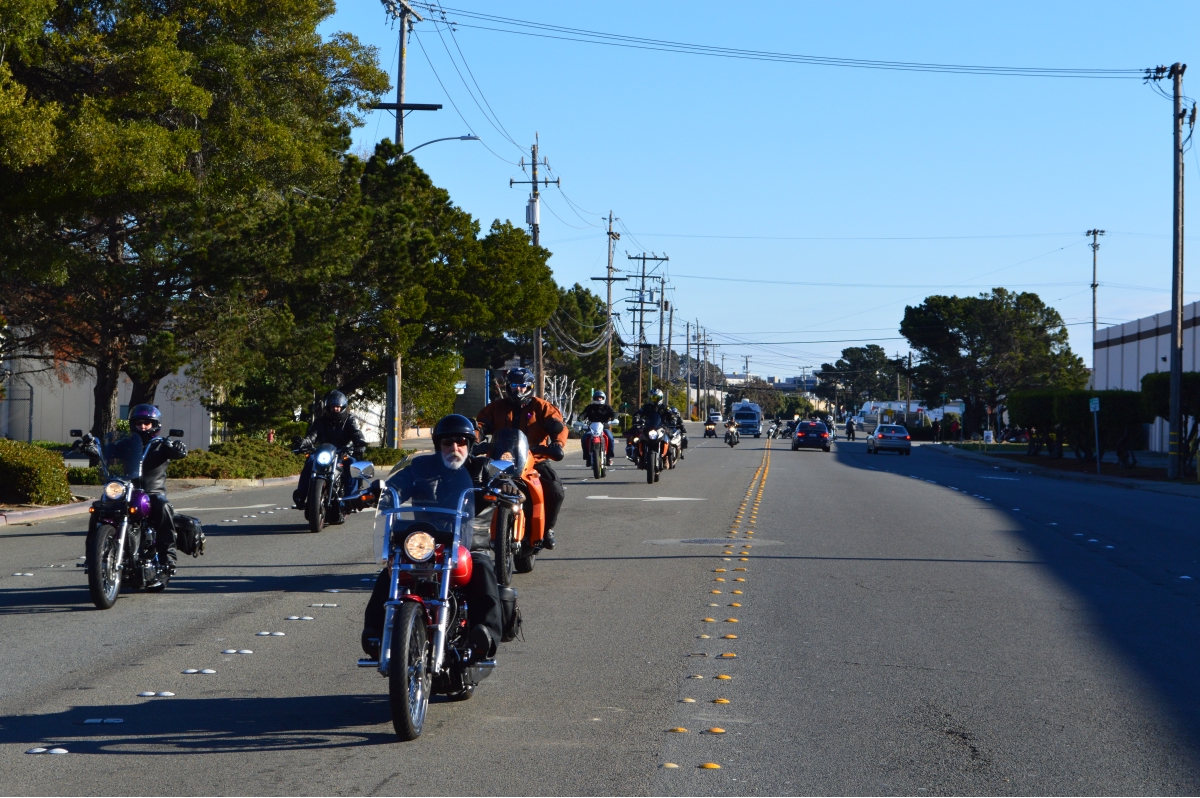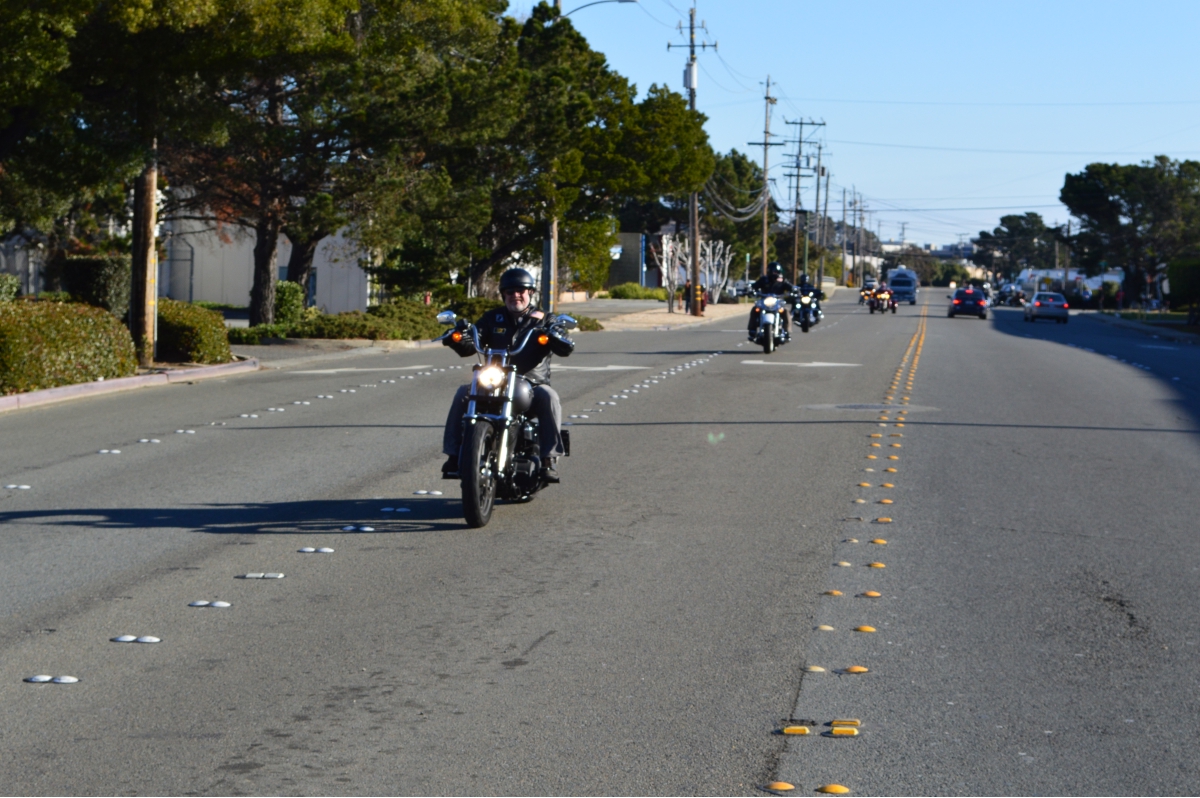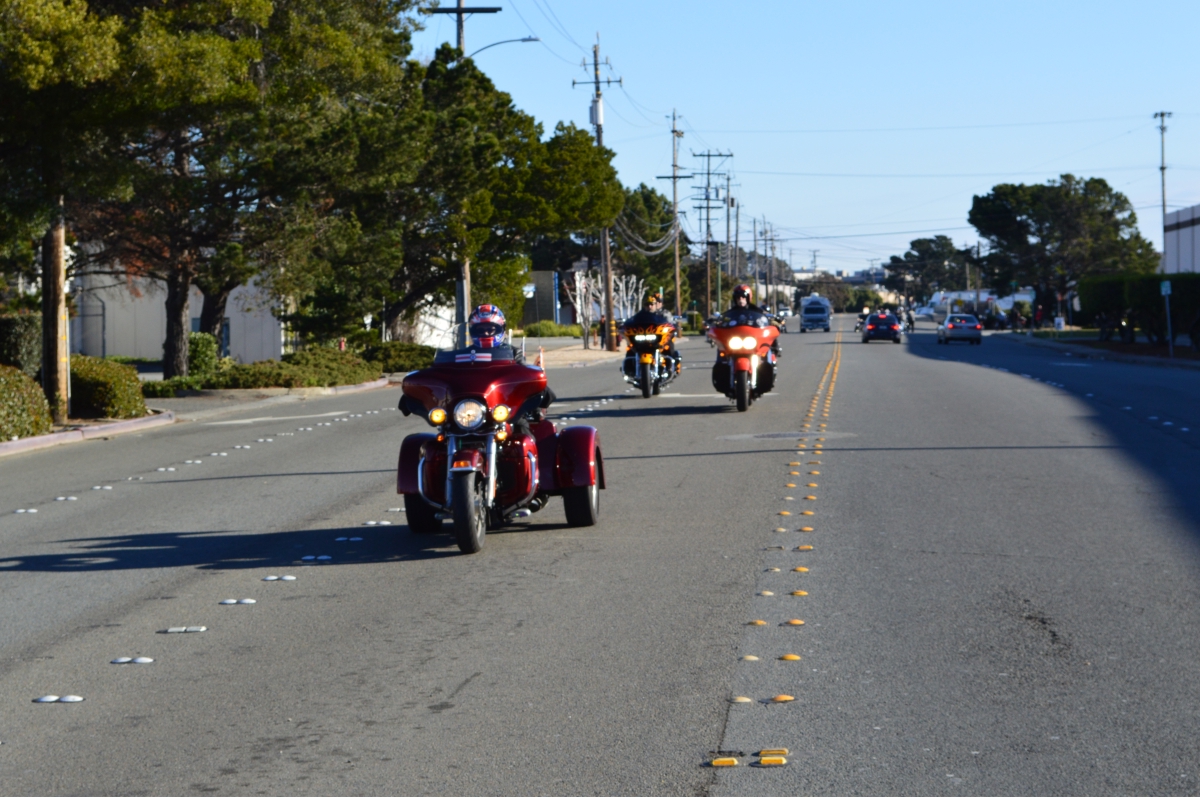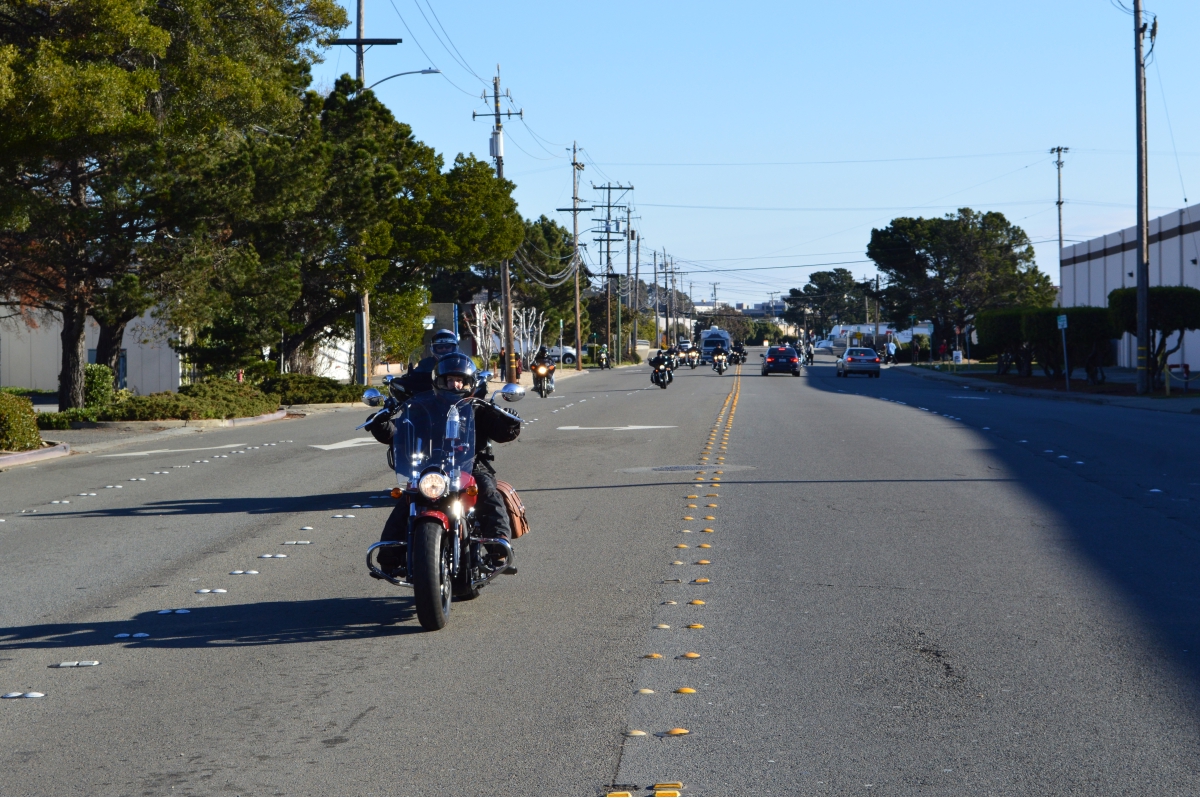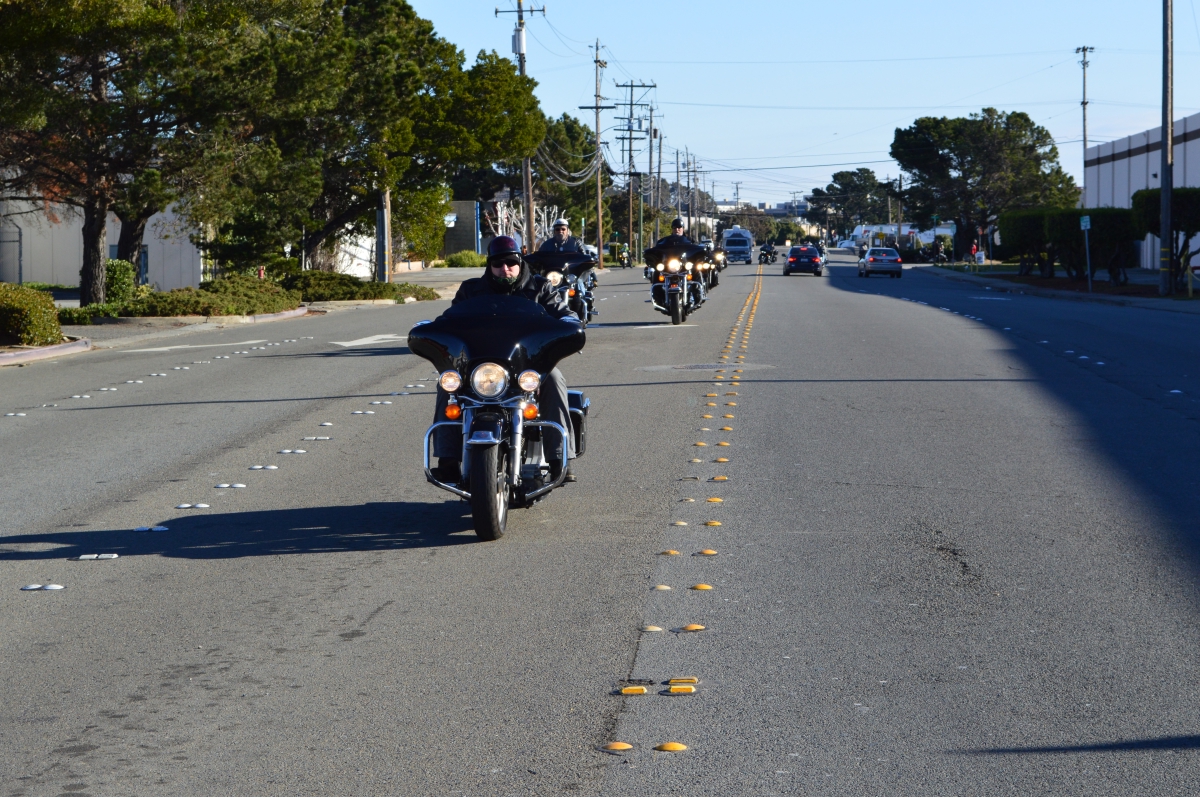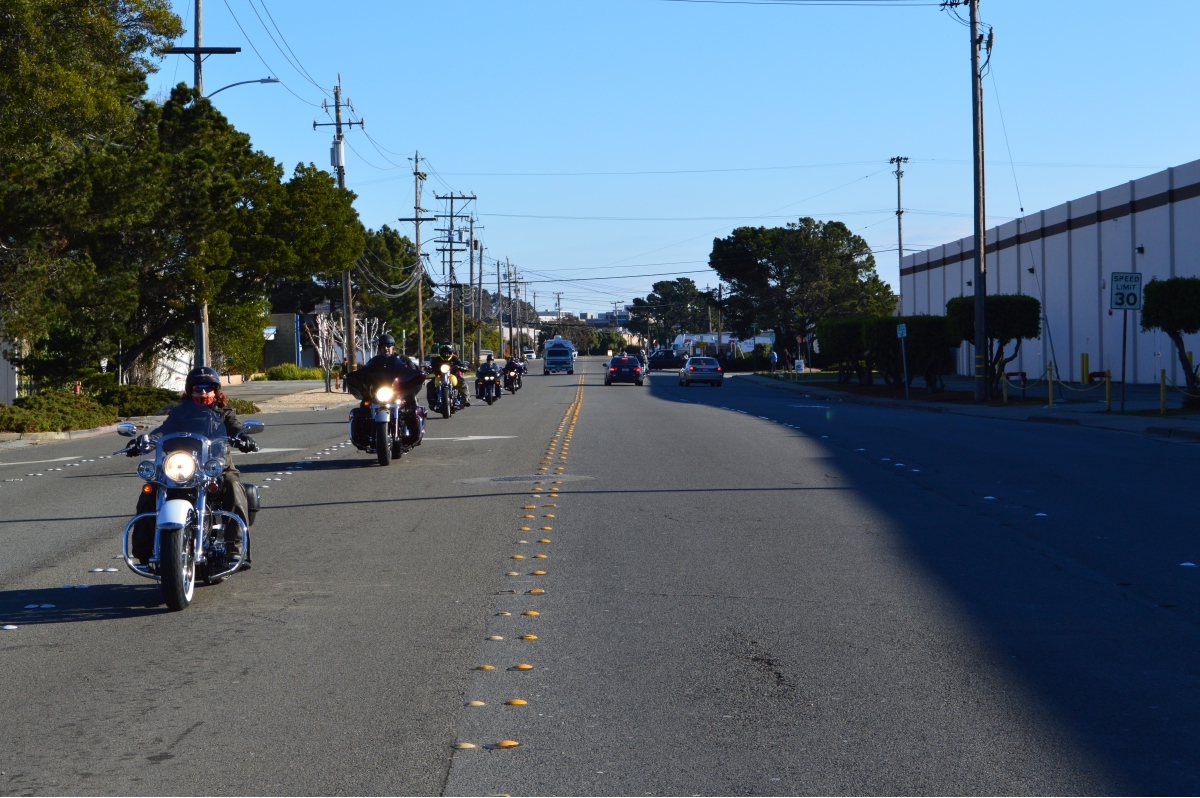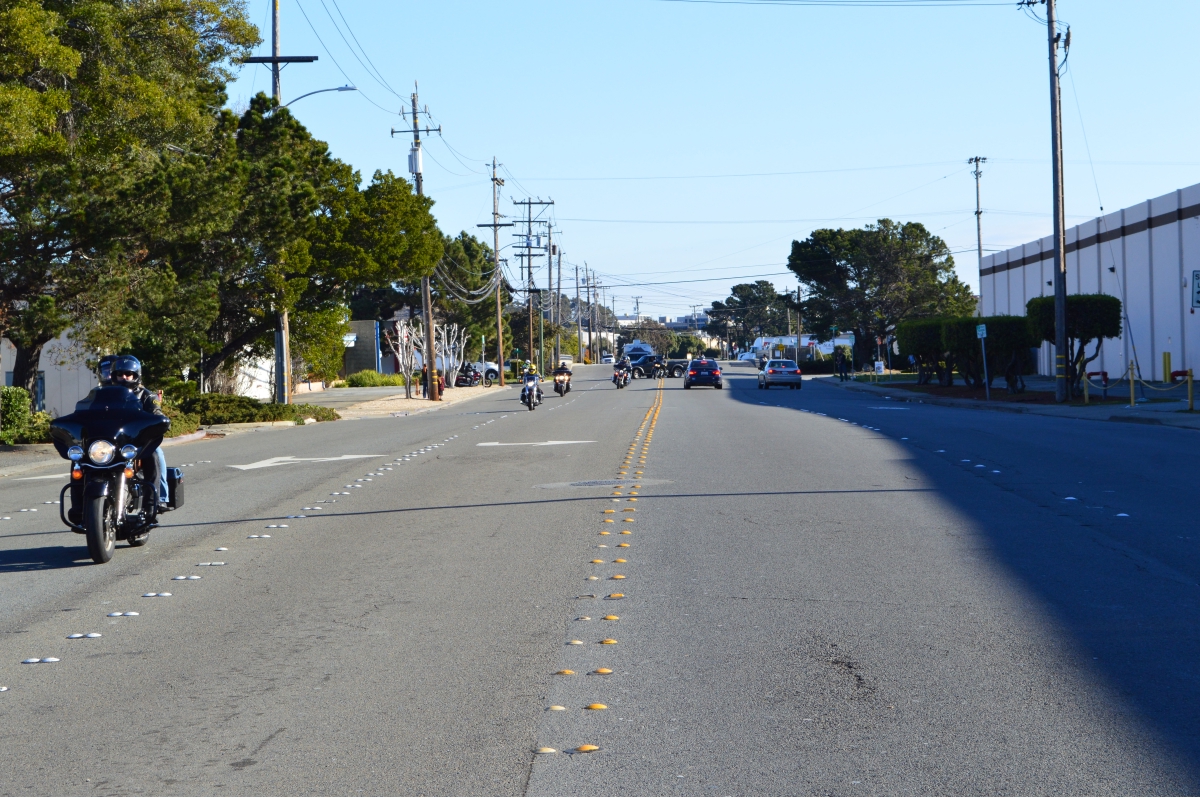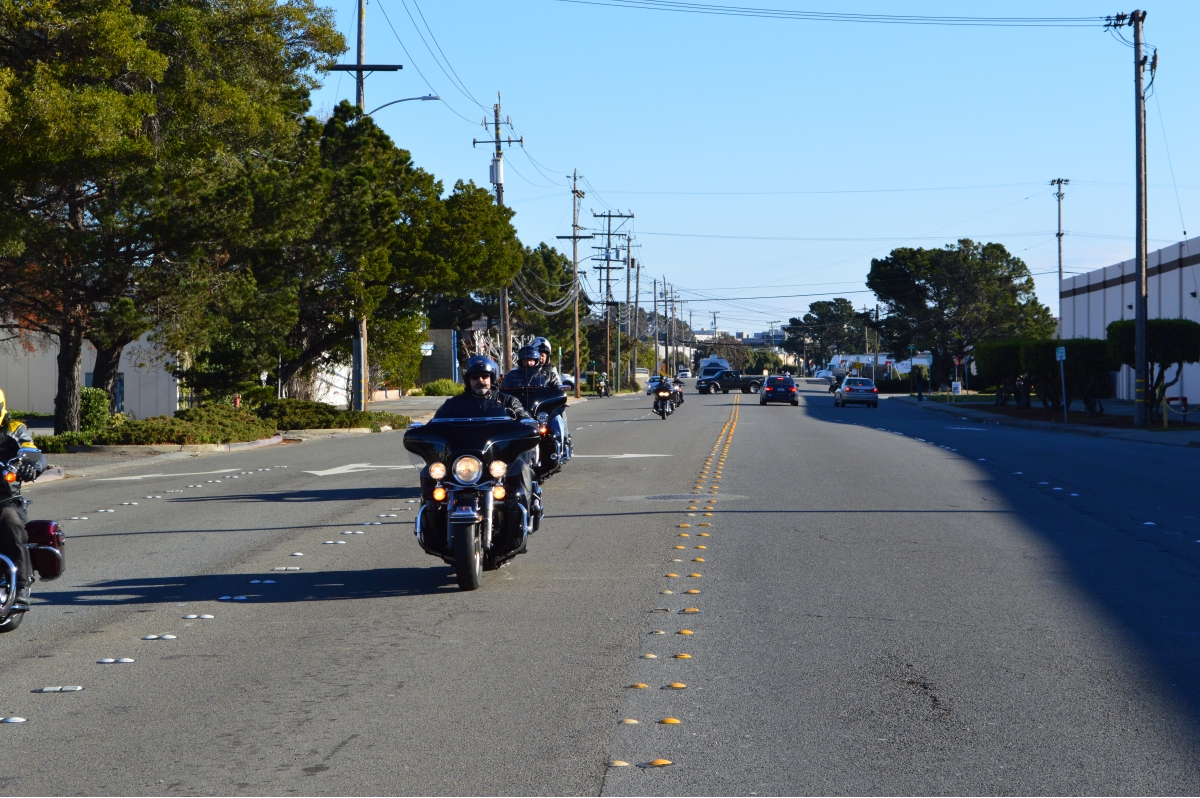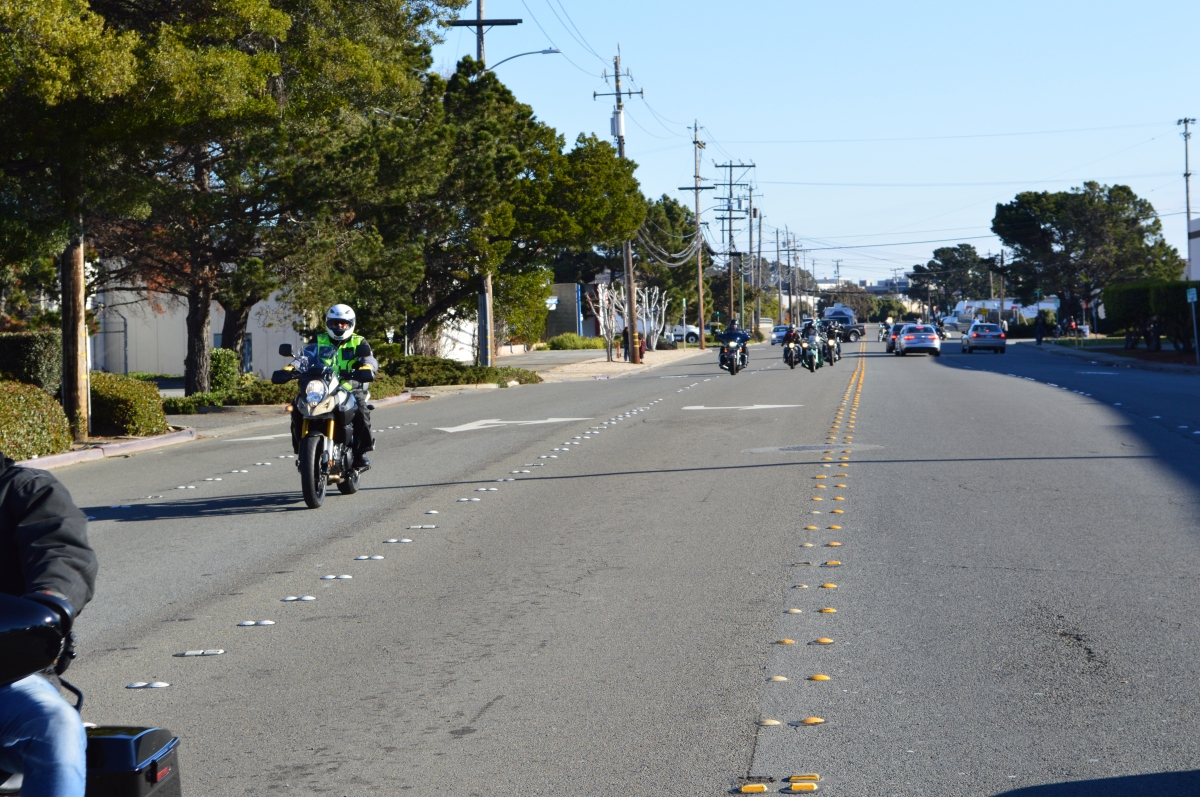 A good five minutes of riders rolled by the paitientnly waiting cages...
and several minutes of straglers continued to trickle onto South Airport Boulevard

meanwhile... I talked with late arrivals and got to bench race a Vindian!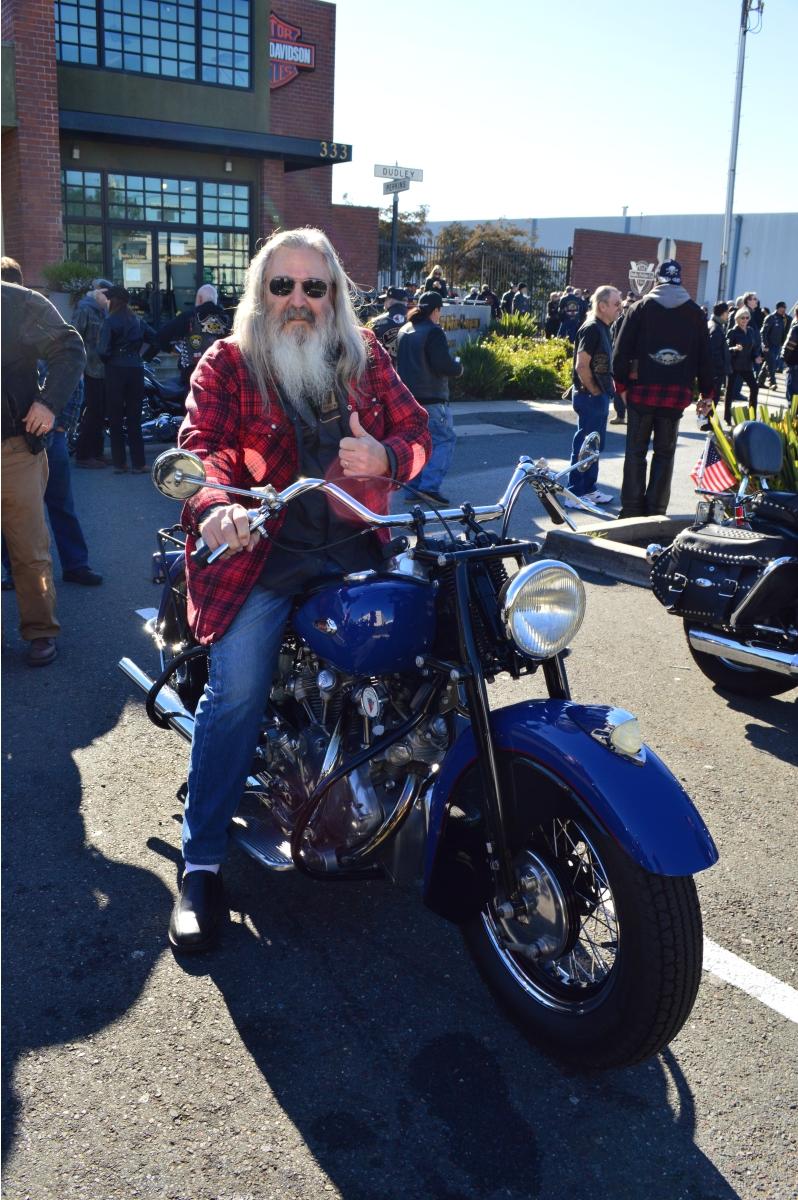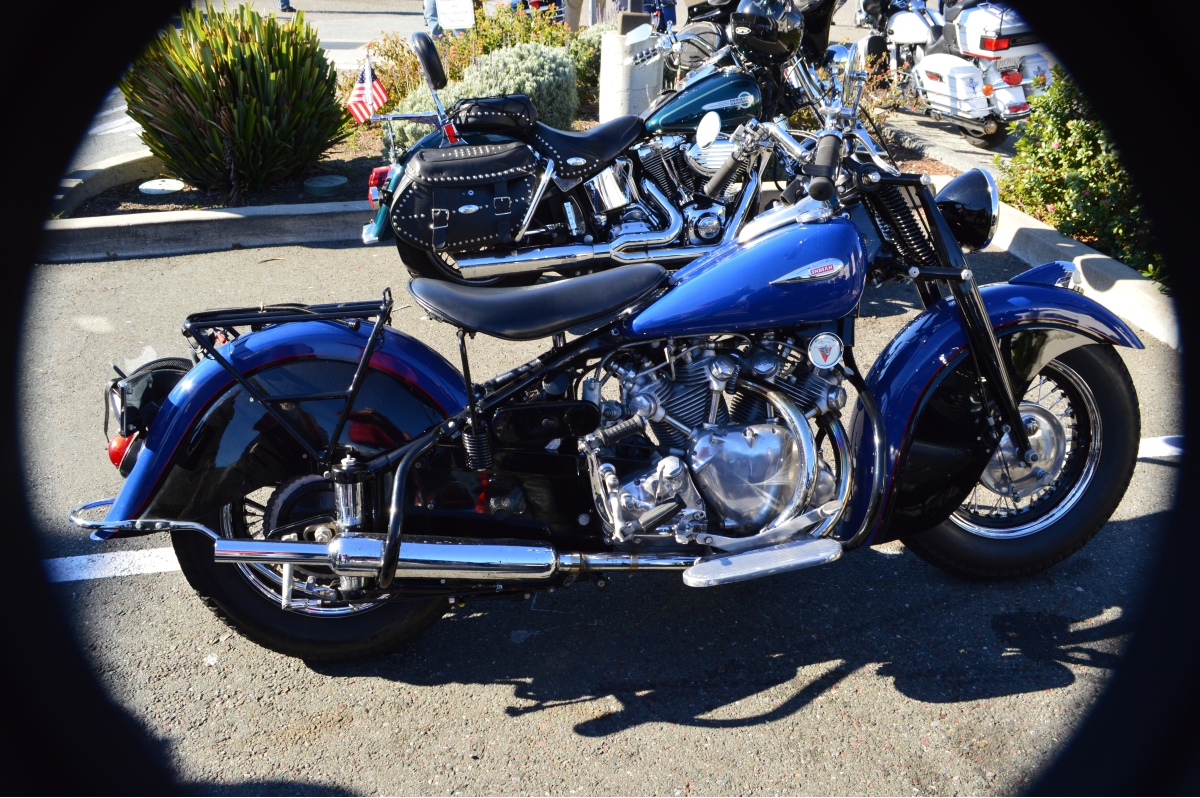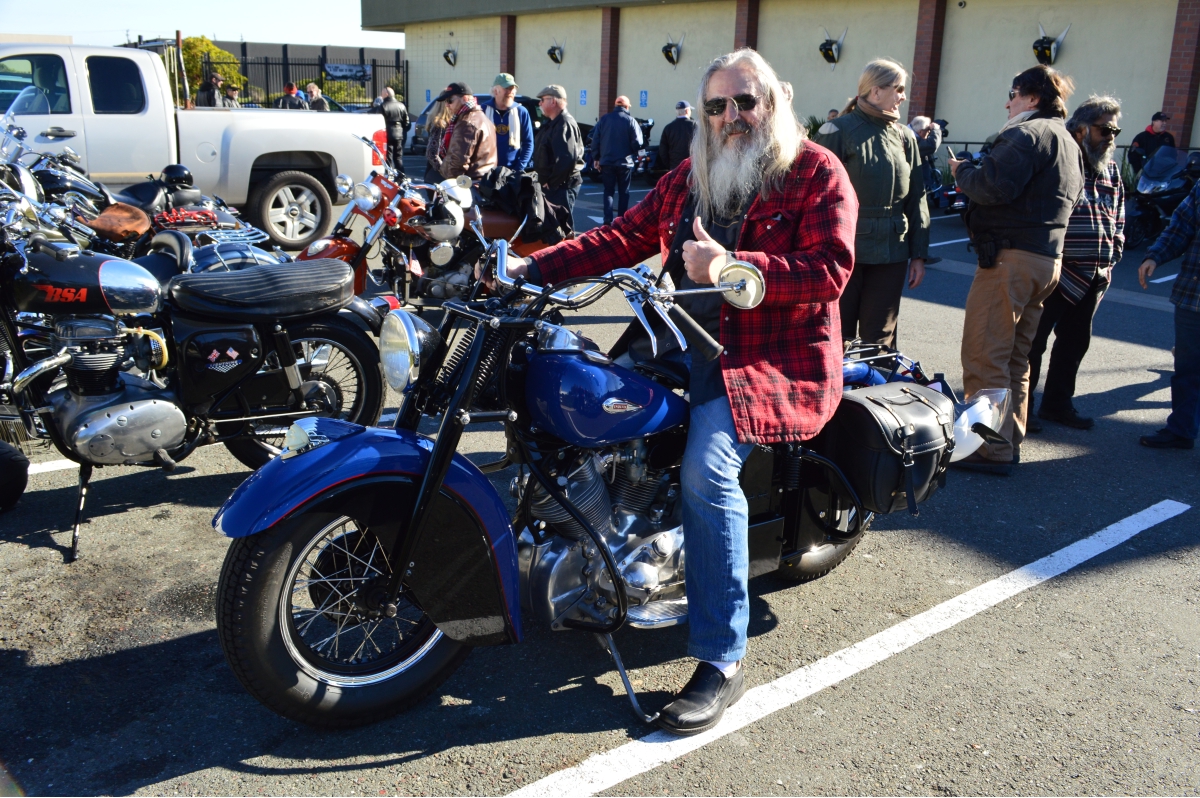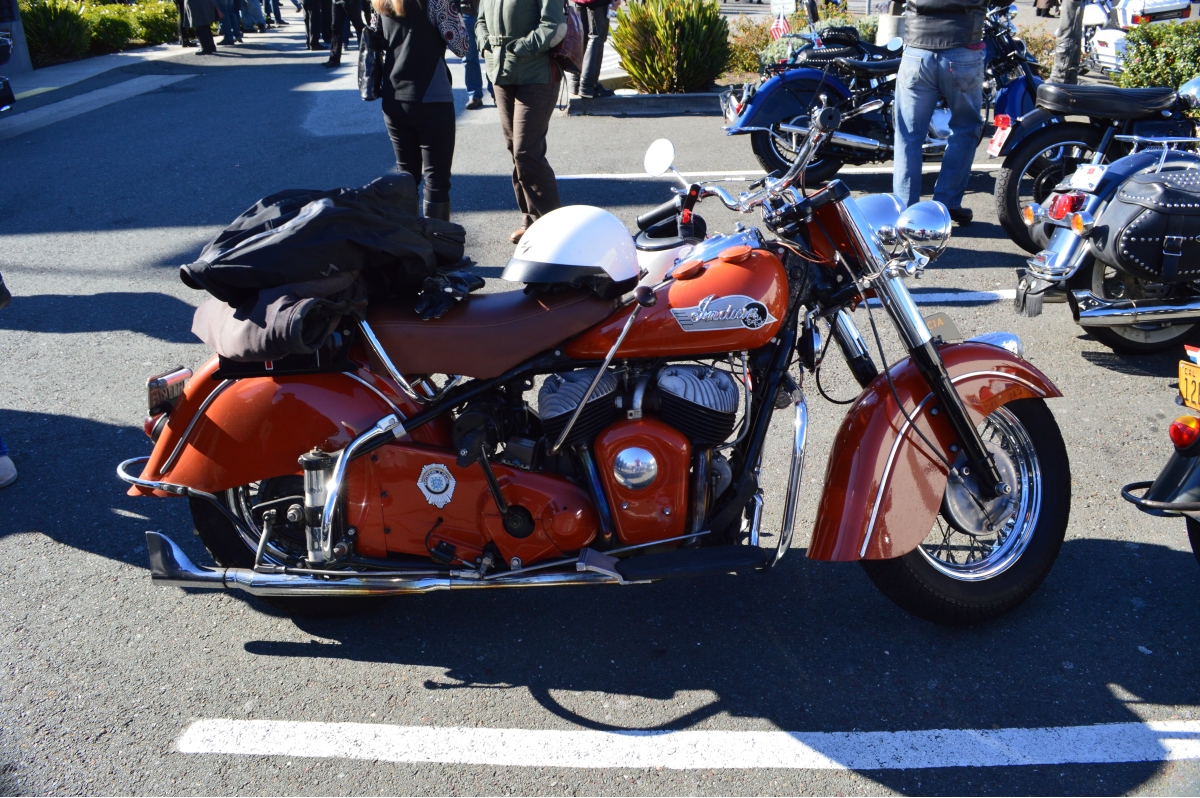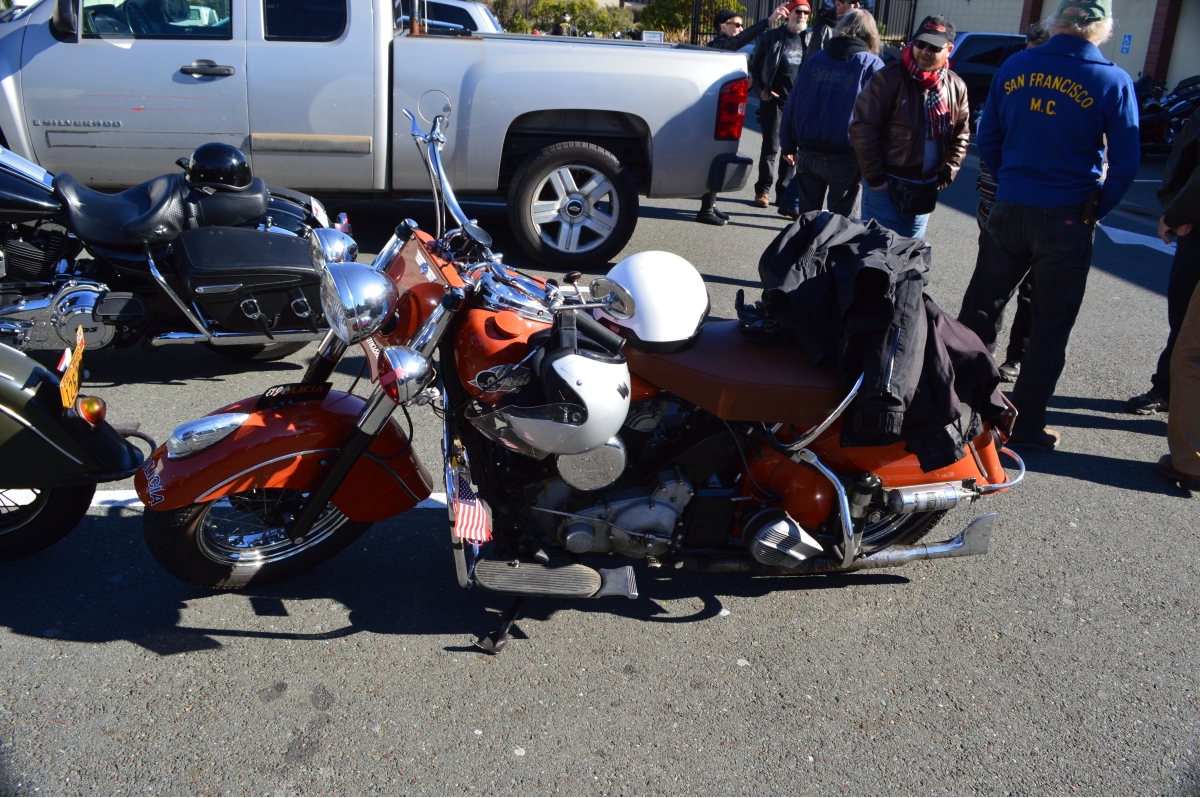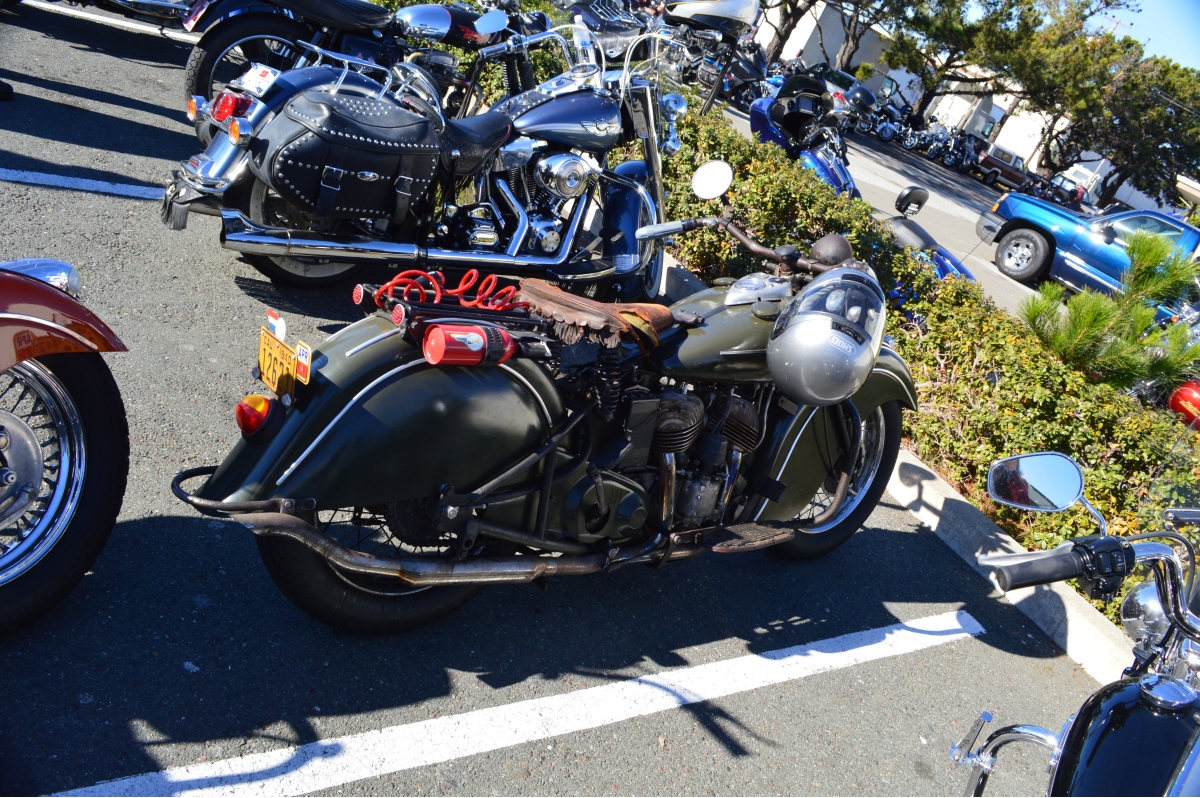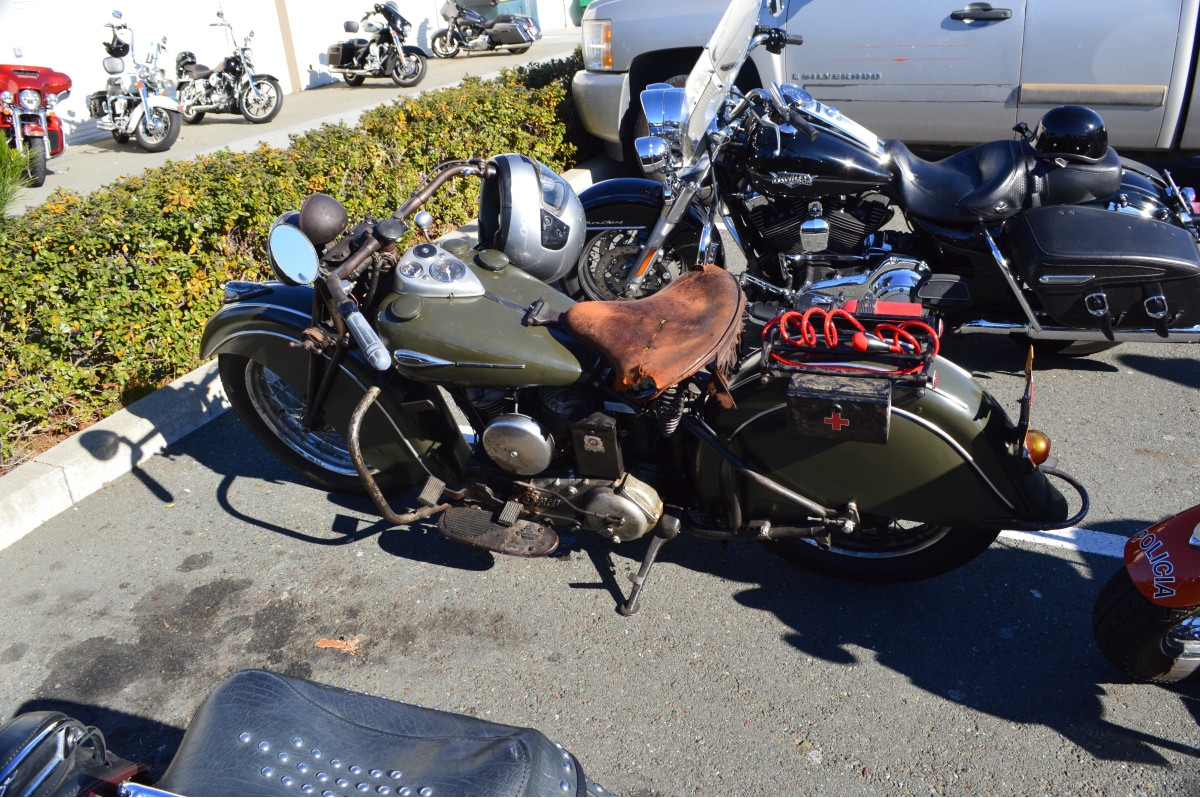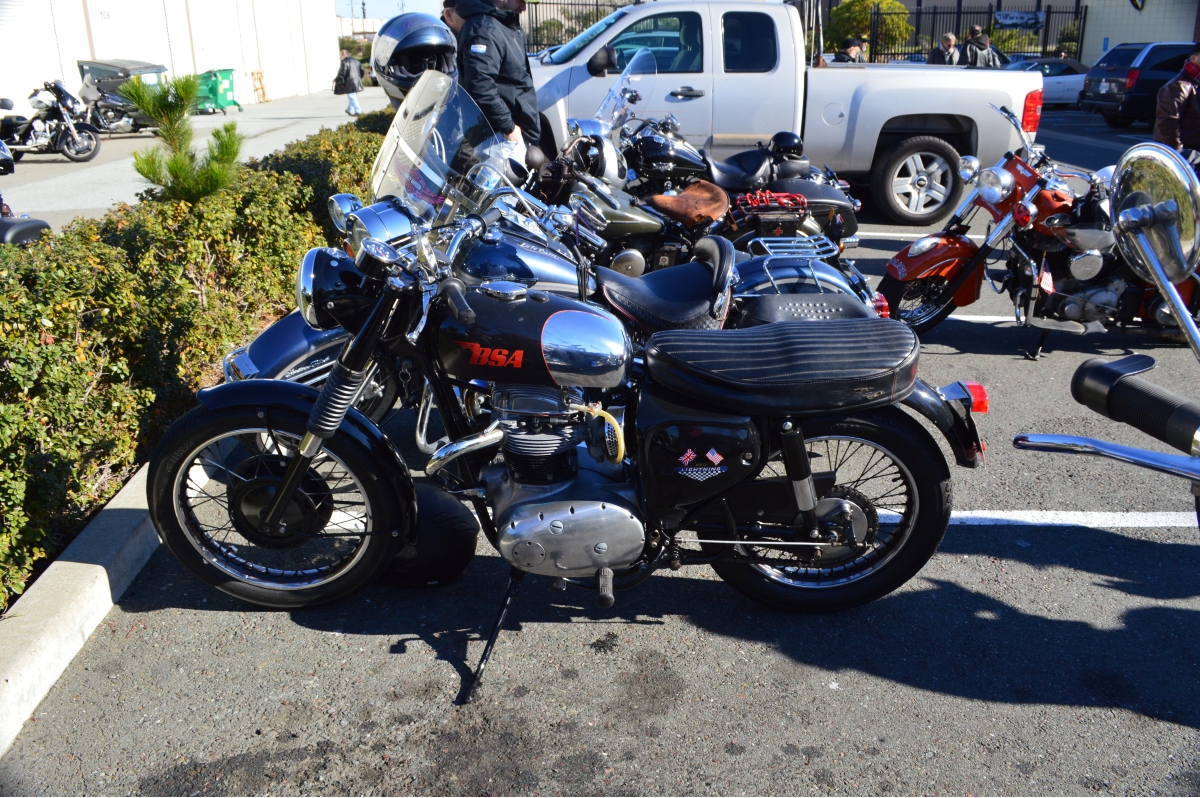 Standing room only for the memorial ceremony...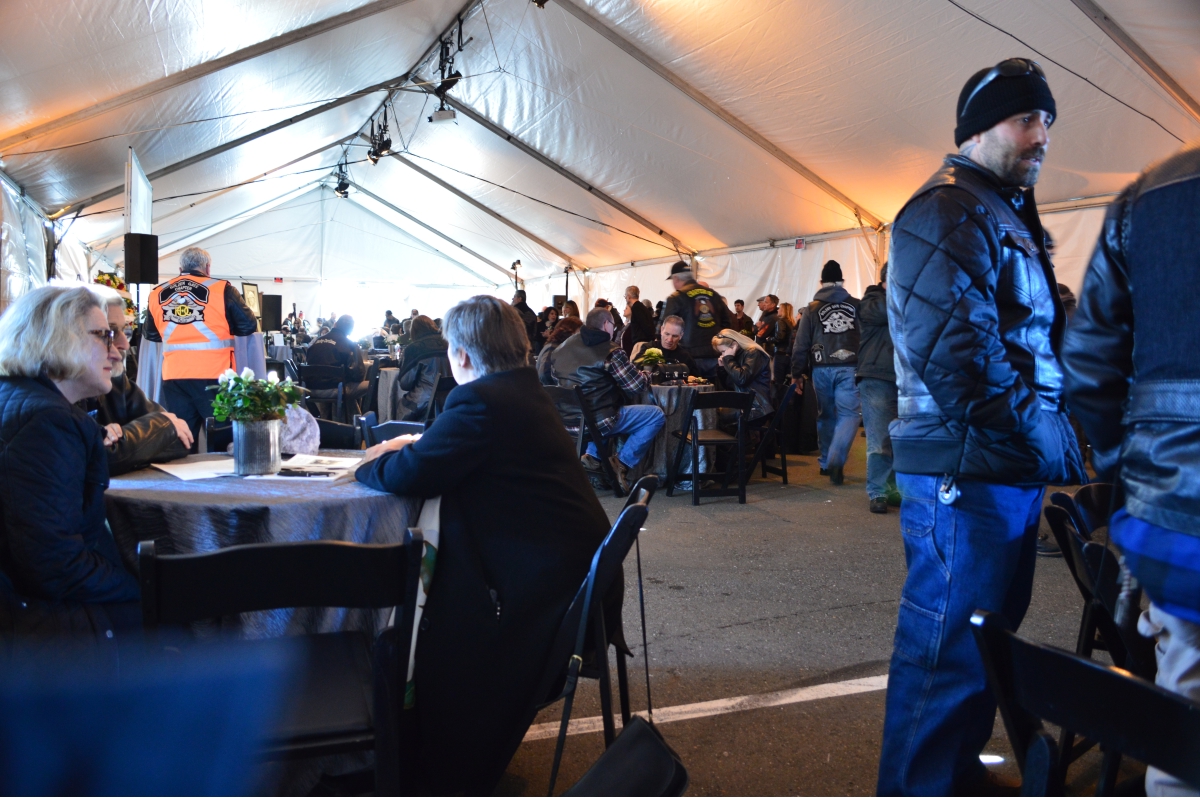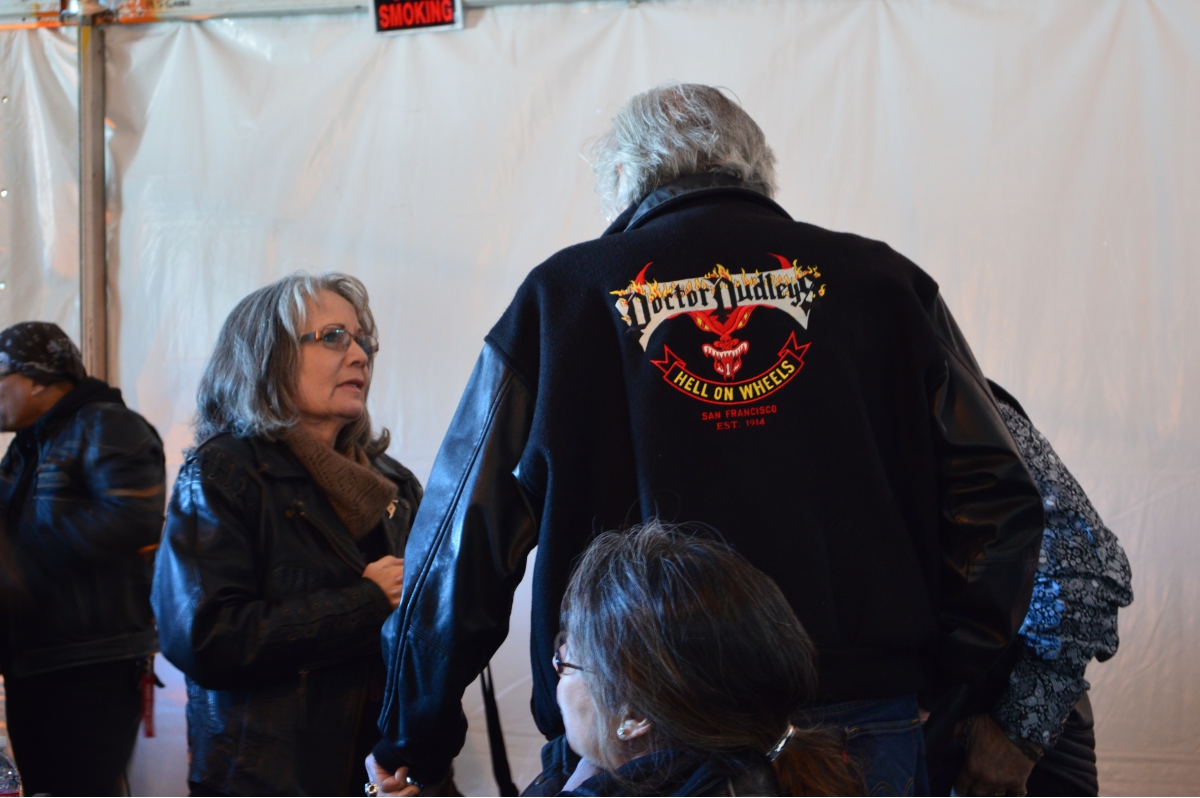 Some of TP's things the family shared with attendees...
a sheet of paper from his office notepad, business cards, stickers...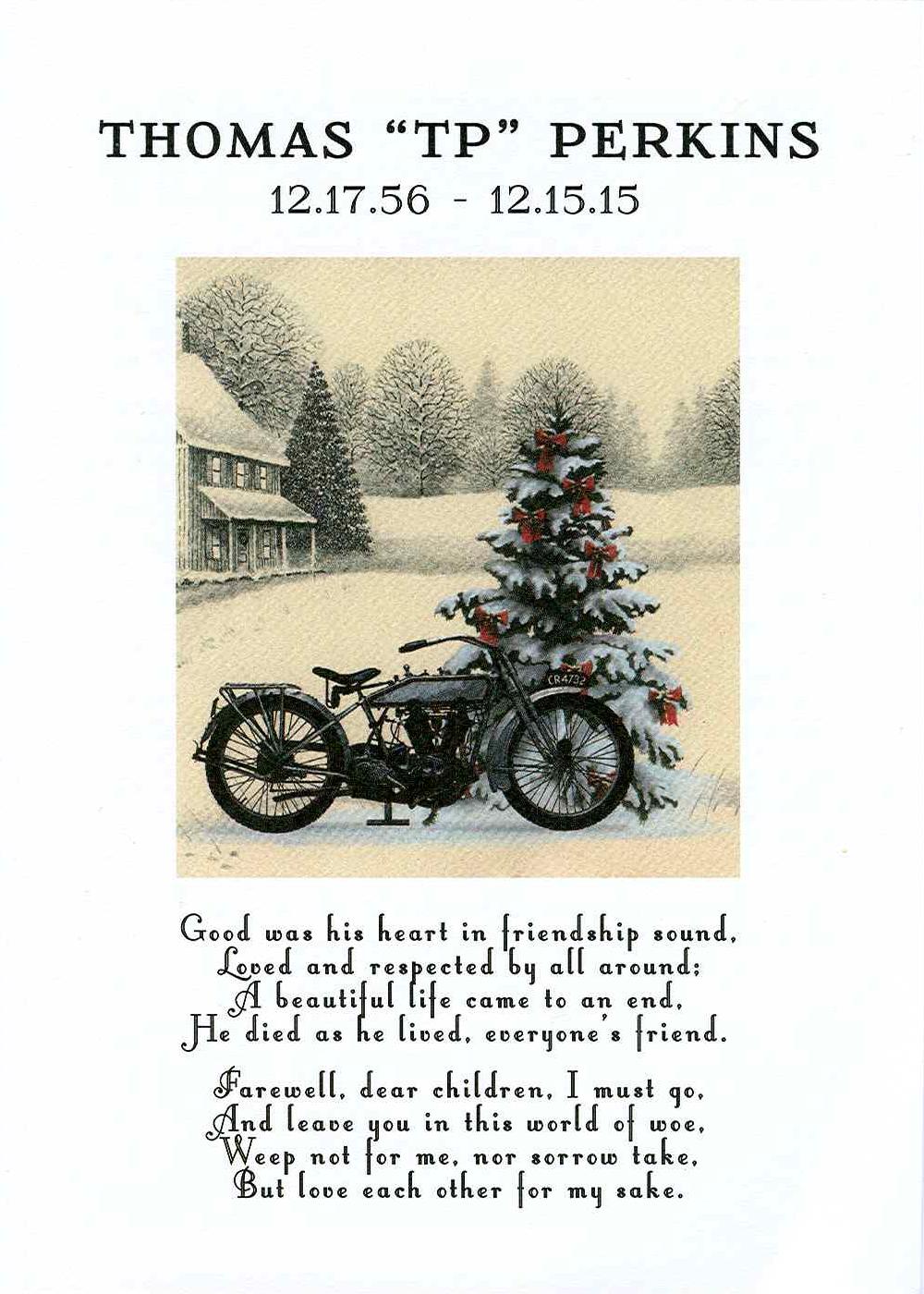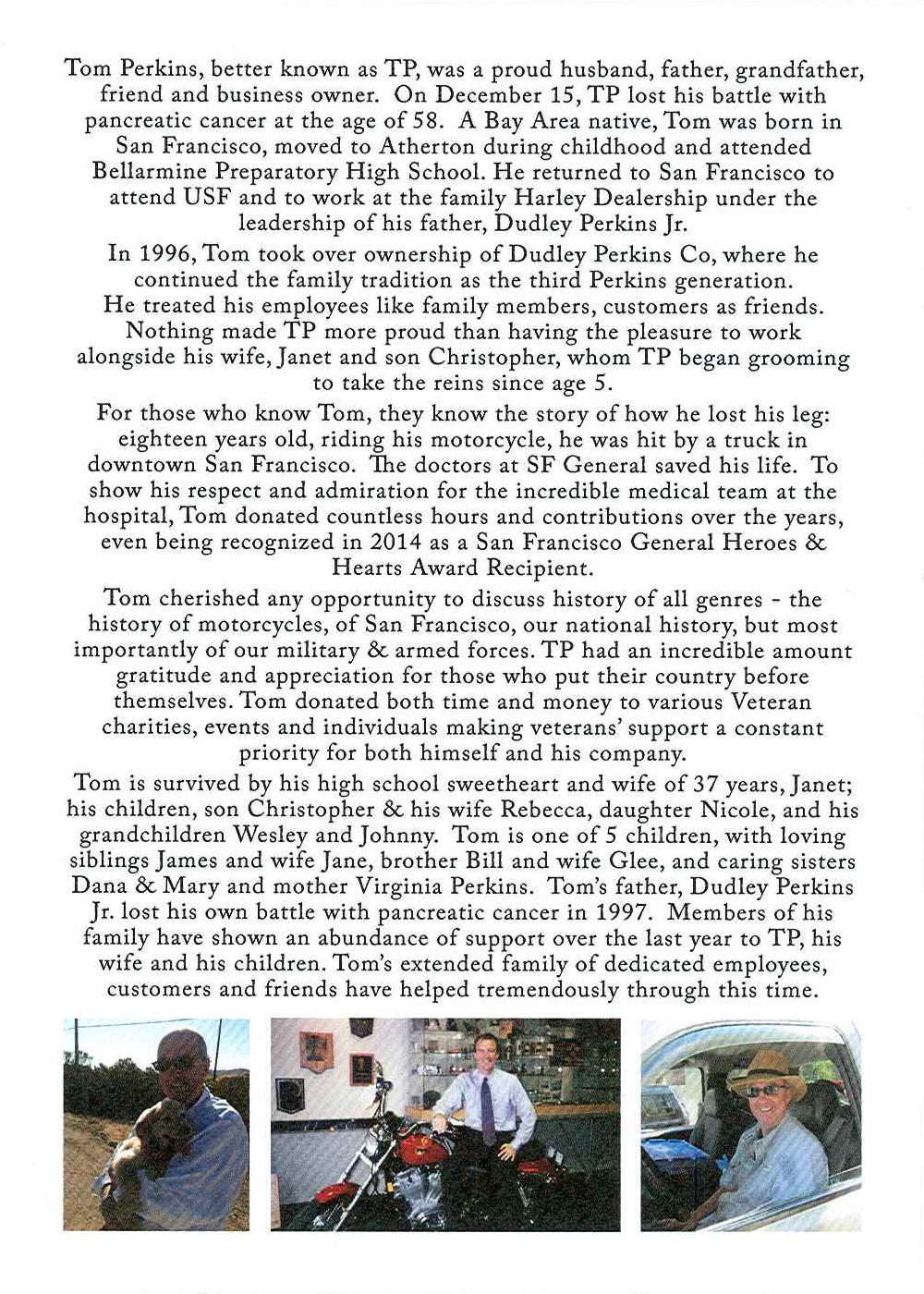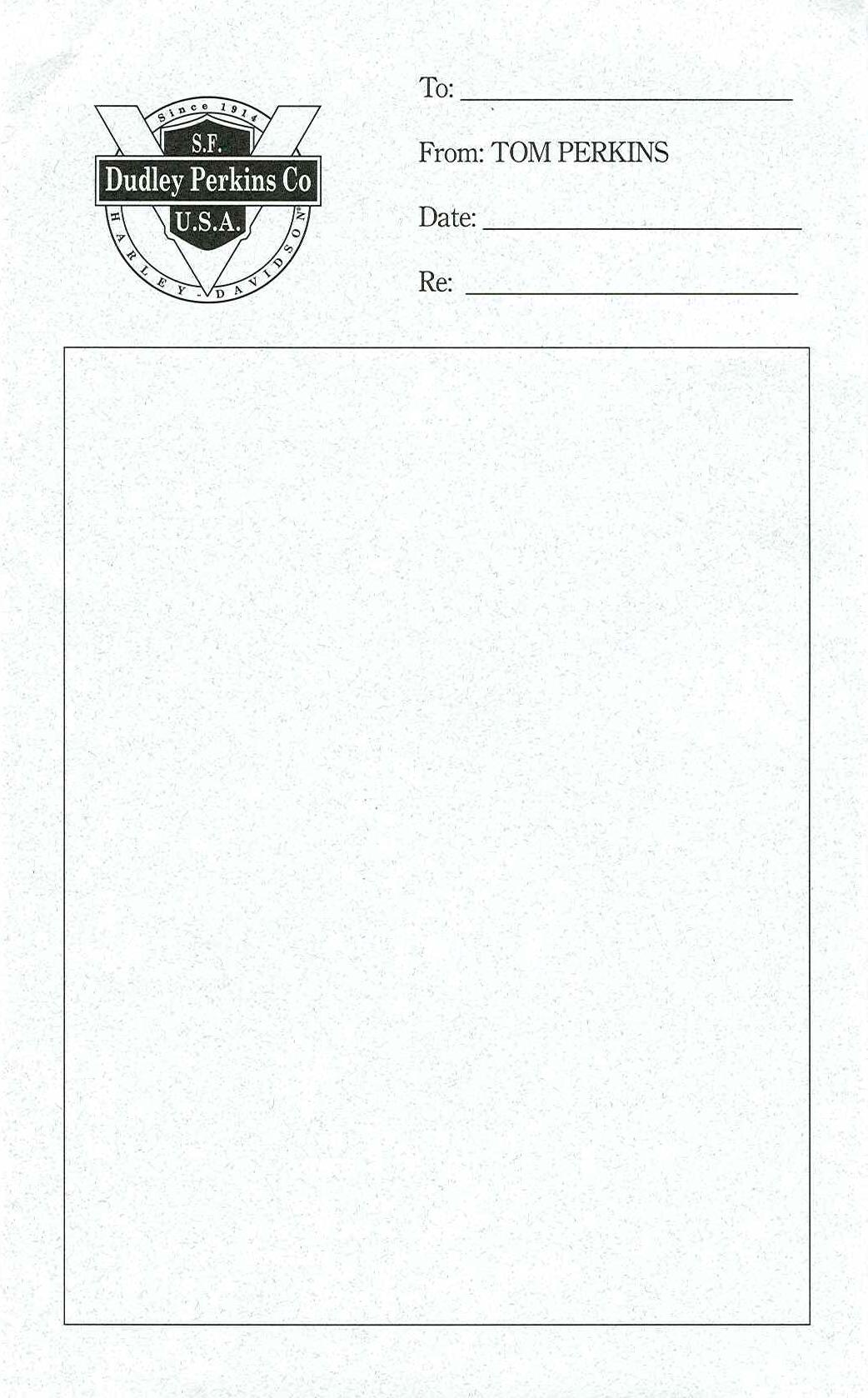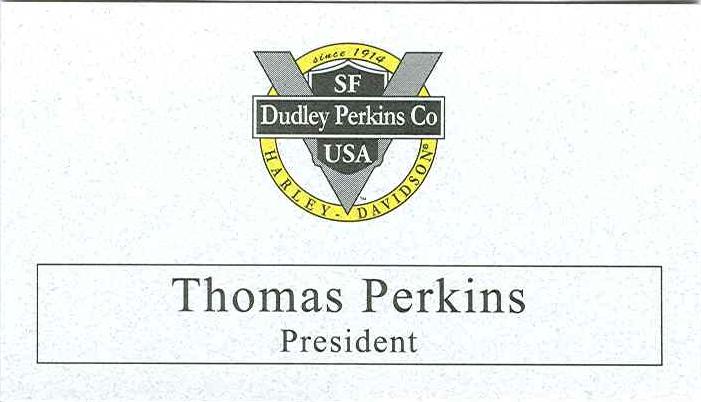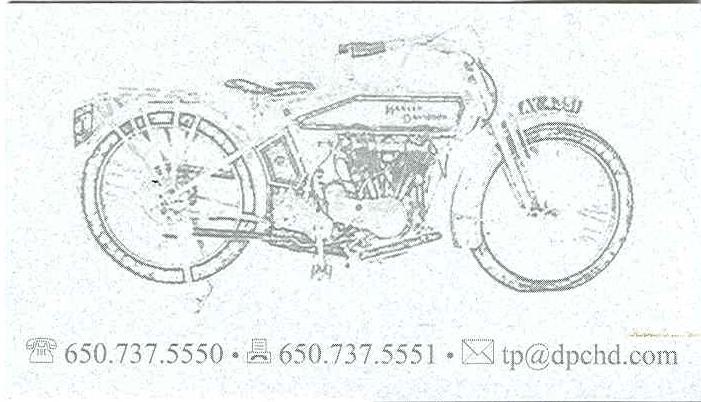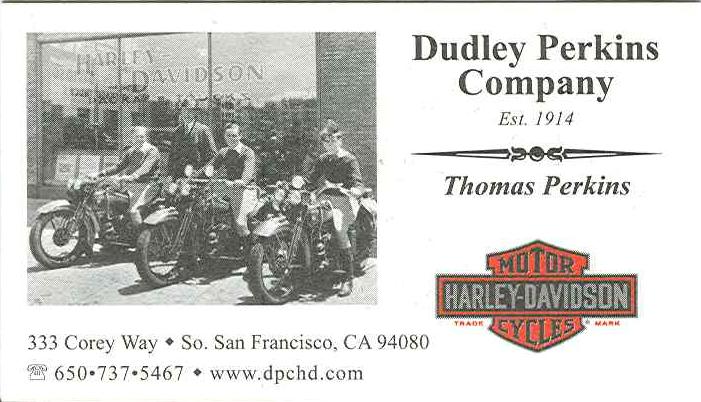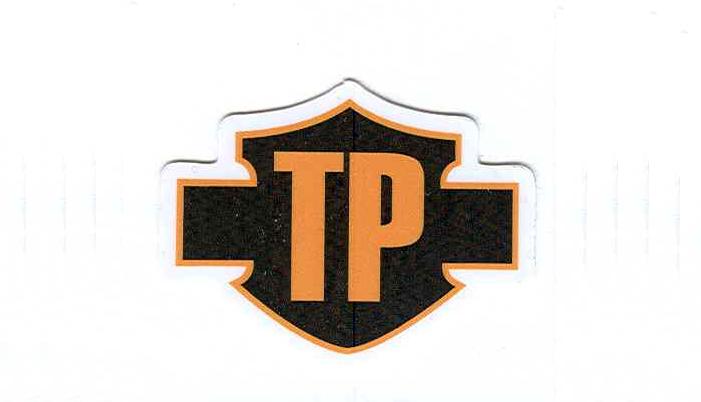 The DPCHD advertisement from the Thunder Roads Magazine NorCal June 2011 issue...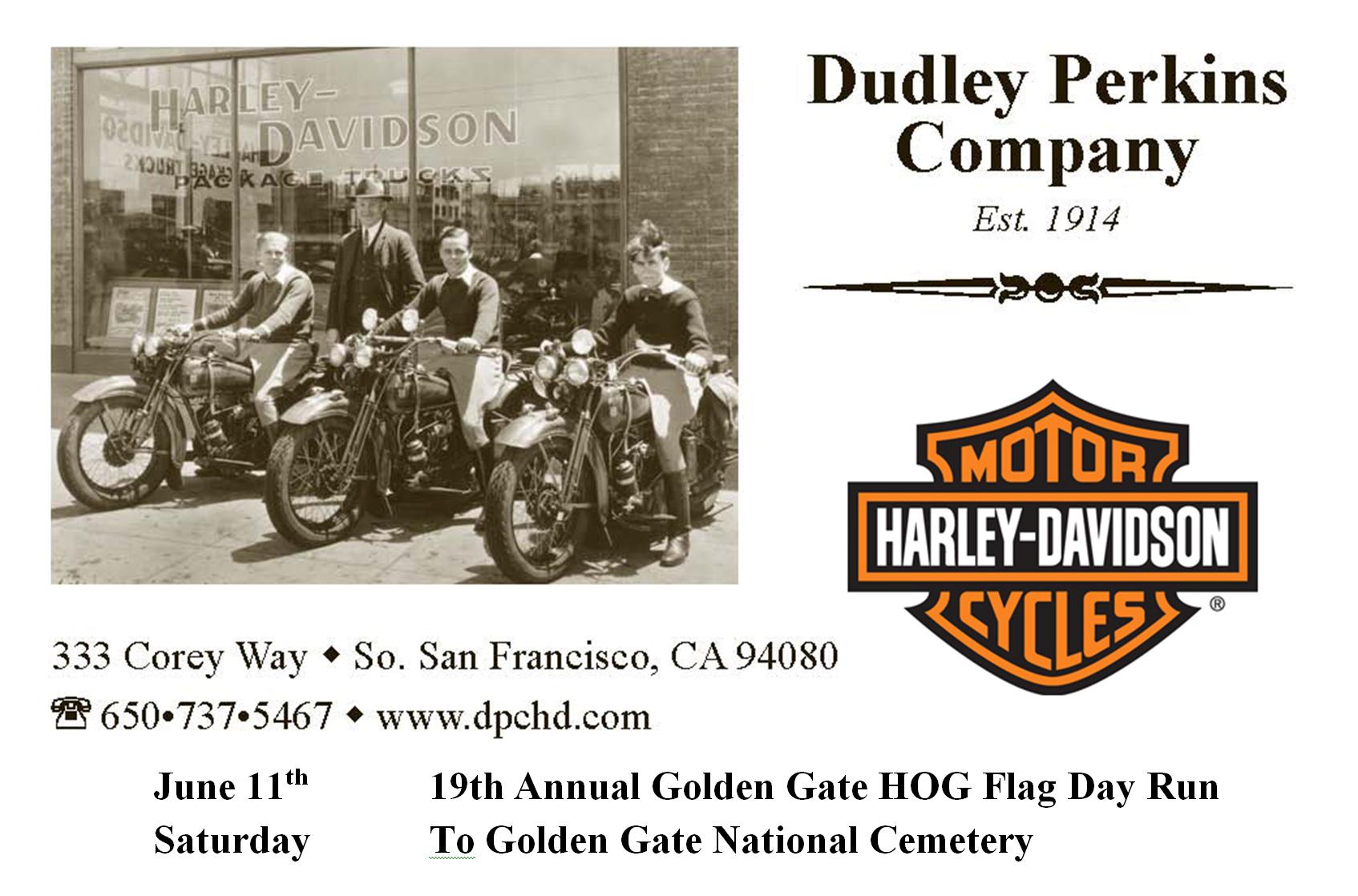 And, as TP would say about the Annual New Years Day Run...


"IT'S THE BEST RIDE OF THE YEAR!"