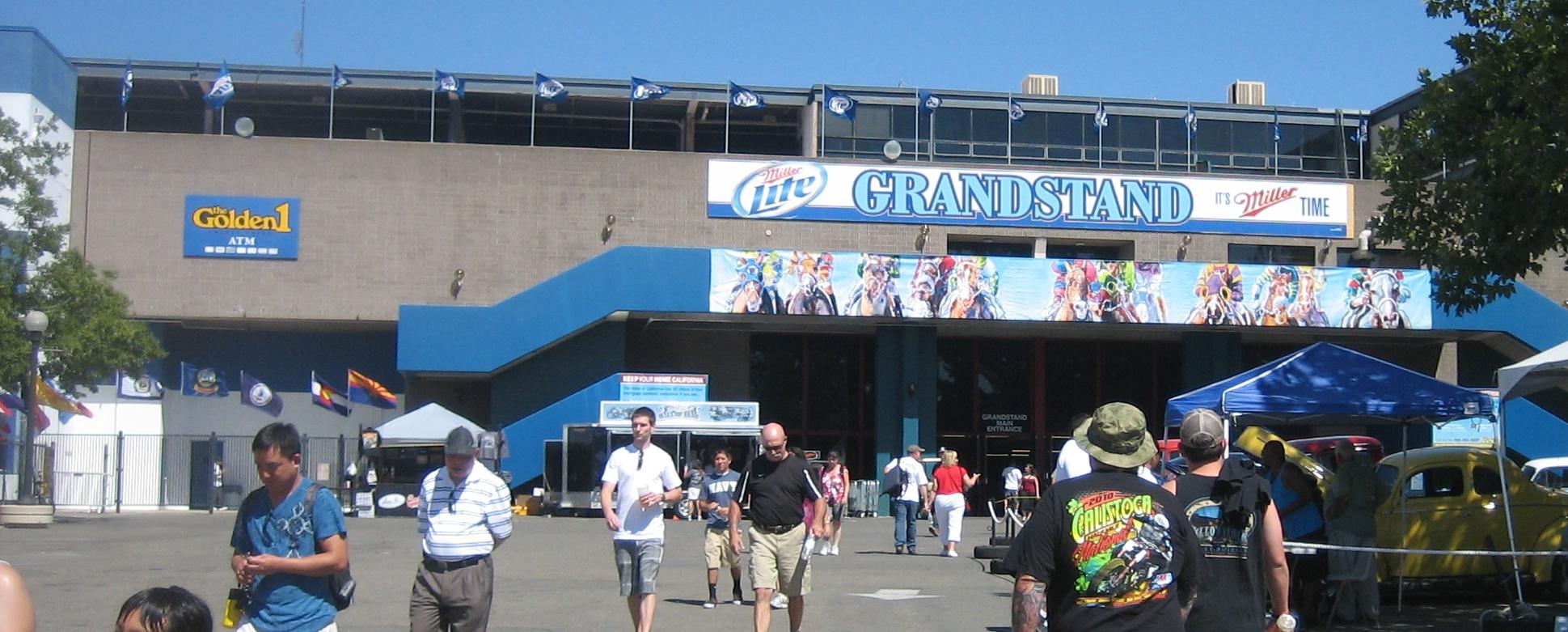 Thunder Roads Magazine NorCal coverage of the Sacramento Mile this year was assigned to "the Raz" - COOL!!! My Babydoll, Sharon, and I arrived at CalExpo at 10am and began by walking the pits checking out the bikes and the riders.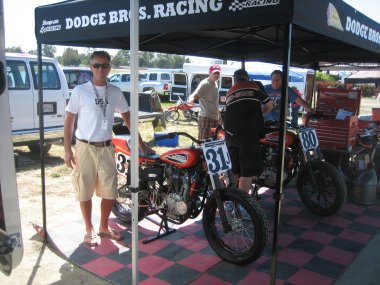 Dan Ingram, 31J, from Clermont Indiana, a suburb of Indianapolis, retired 19 years ago because of injuries and today at 47 years old he is and back riding a Dodge Brothers XR750, and he as not, from what I saw, forgotten anything about riding, Dan placed 14th in the GNC Expert Twins Main Event Race.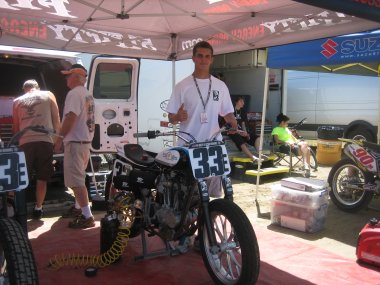 Mikey Avila, 33E, from Salinis/Monterey has been riding for 14 years, since he was 4 years old, that's right, he's 18 years old, riding an XR750 for Bisha Racing in the expert class WFO with no fear. Joe Bisha, Harley-Davidson tuner of the glory years still tuning with that ol' Michigan know how (dude on the left in tan sleveless T-shirt) prepares Mike's bike; when I asked a question about Mike's "Sportster" Joe made it very clear that "these bikes are Harley-Davidson XR-750's, NOT to be confused with Sportsters - when you order one of these from the motor company the engine comes as a bunch of parts in a wooden crate which must be assembled the way you want to build it." Mike placed 16th in the GNC Expert Twins Main Event Race.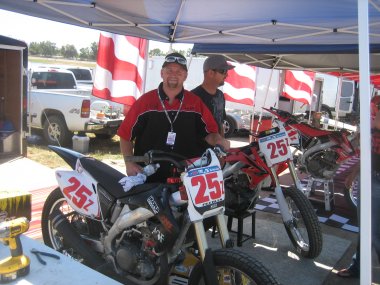 Curtis Peebles, 25Z, rides out of Salinas on a pair of Honda CRF450Rs for PMS Motorsports. Curtis does a lot of the maintenance on these bikes himself, gets as many races as he can before a minimum rebuild (pistons and rings), and, again, as many as possible before a rebuild with a new head, and, his favorite (the one on the left) is his 2003. Curtis 10th in the pro Singles Last Chance Qualifying Race (6 Laps, 1-4 to Main)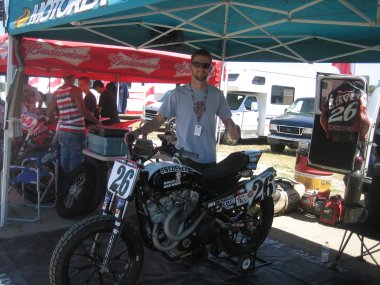 Brandan Bergen, 26, rides a XR750, and, although he is now living in his old home town of Fresno, he continues to race for Reimans Harley-Davidson of Kewanee, IL (about 150 miles west of Chicago). Brandan placed 4th in the GNC Expert Twins Semi Final Race (8 Laps, 1-3 to Main).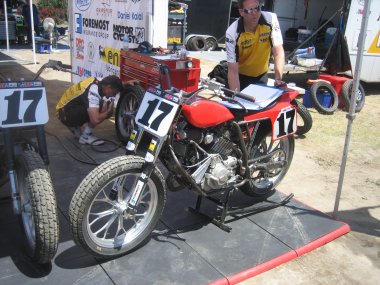 Henry Wiles, 17, from Winn, Michigan, about 150 miles north west of Detroit, rides a Ducati for Foremost Insurance; Henry placed 18th in the GNC Expert Twins Main Event Race.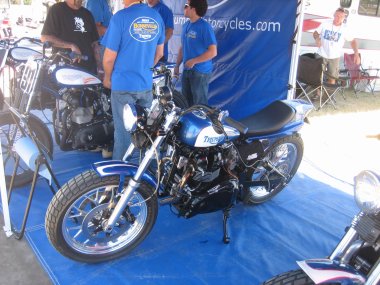 Michael Martin, 91, from Acampo, CA (near Lodi) rides a Triumph for Bonneville Performance; prefers the lower posture riding a "framer" as opposed to the "sitting on top of the bike" posture of the singles; notice that Bonneville Performance has another pair of Triumps there which, except for the head lights and tail lights, are barely distinguishable from the two with number plates. Michael placed 9th in the GNC Expert Twins Main Event Race.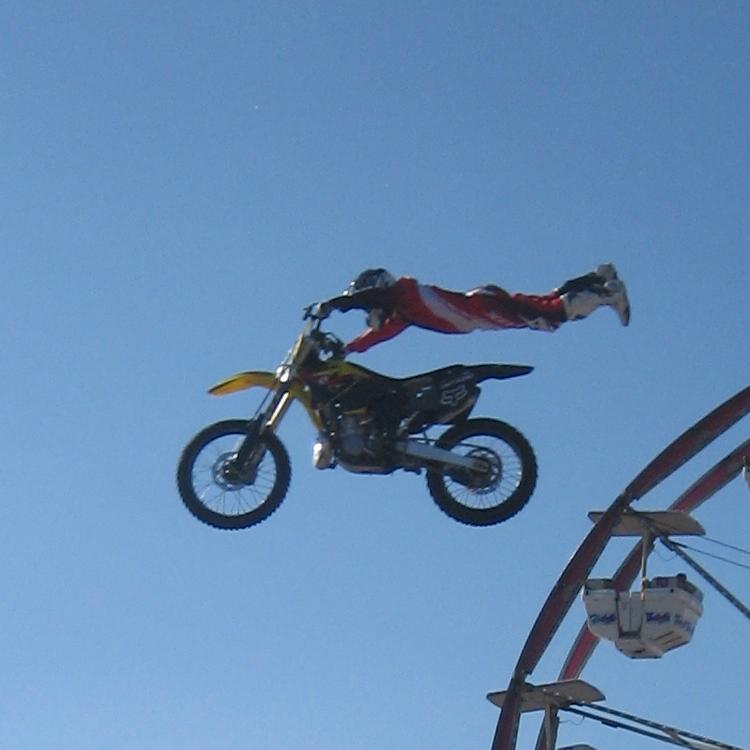 Have some time to kill at the California State Fair? Check out the Xtreme Zone at the other end of the fairgrounds featuring Lance Corey of Los Angeles who is 22 years old and has been riding for 17 years, Dustin Miller of Austin who is 29 years old and has been riding for 12 years, and Jesse Jolson of Wheatland who is 21 years old and has been riding for 8 years - all EXTREMELY proficient at executing stunts waaaaaay up in the air.

Immediately following the National Anthe the U.S. Marines performed a fly over with two Apache helicopters - thank you very much.

OK, time for the Pro and Expert time trials, heat races, Last Chance Qualification race, Dash for Cash race and the Expert Semi-finals, all of which I watched from turn 4 where the riders have the finish line in front of them... like...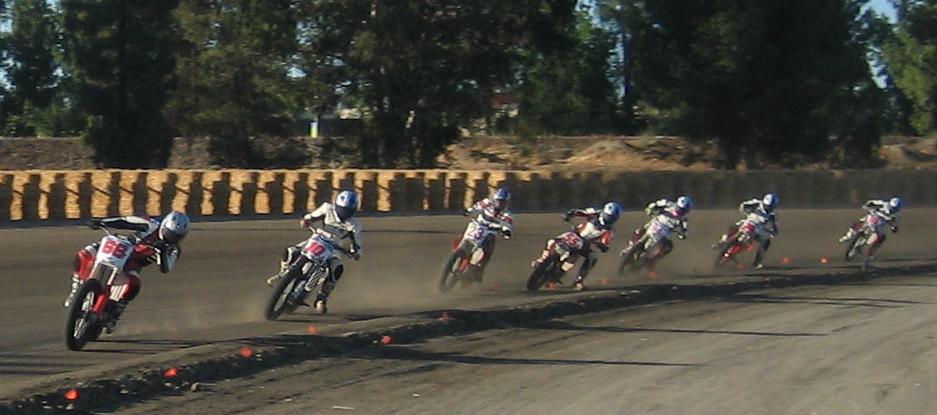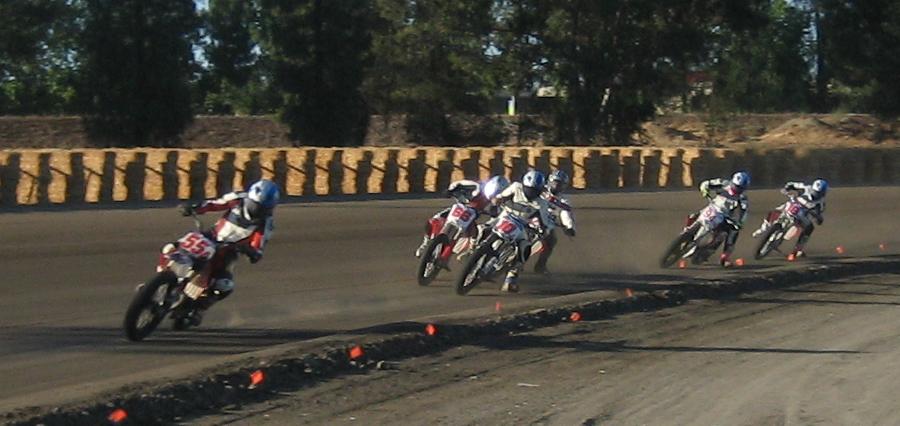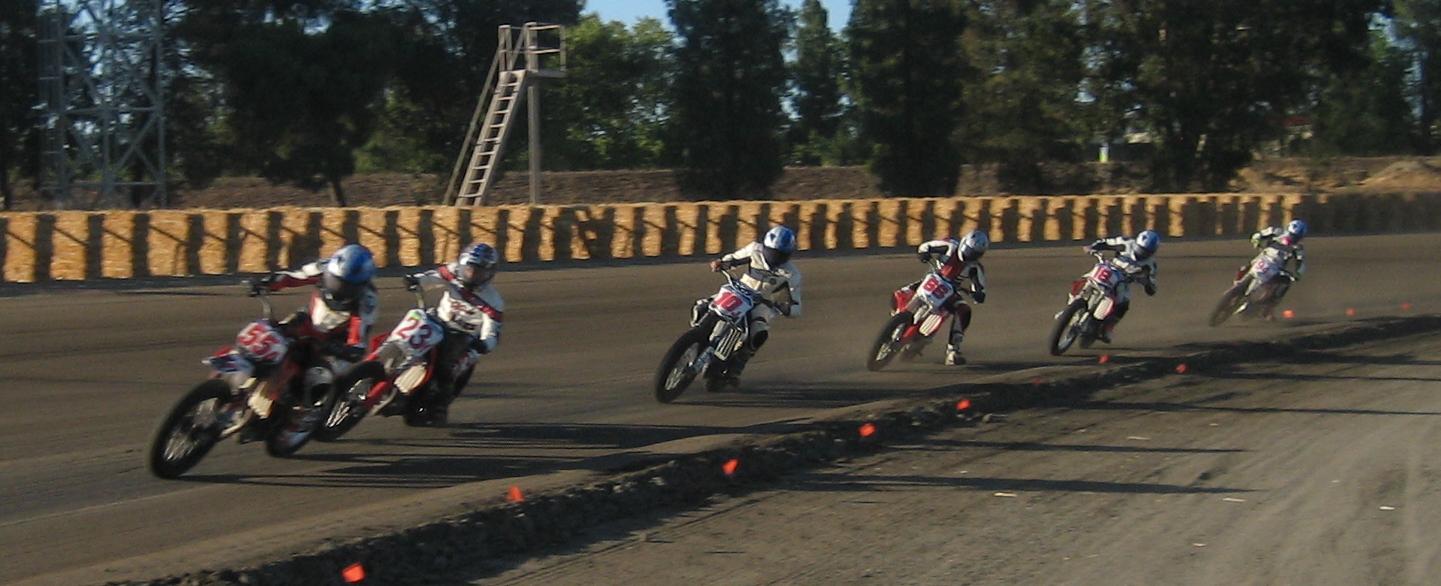 Shayna Texter coming out of turn #4...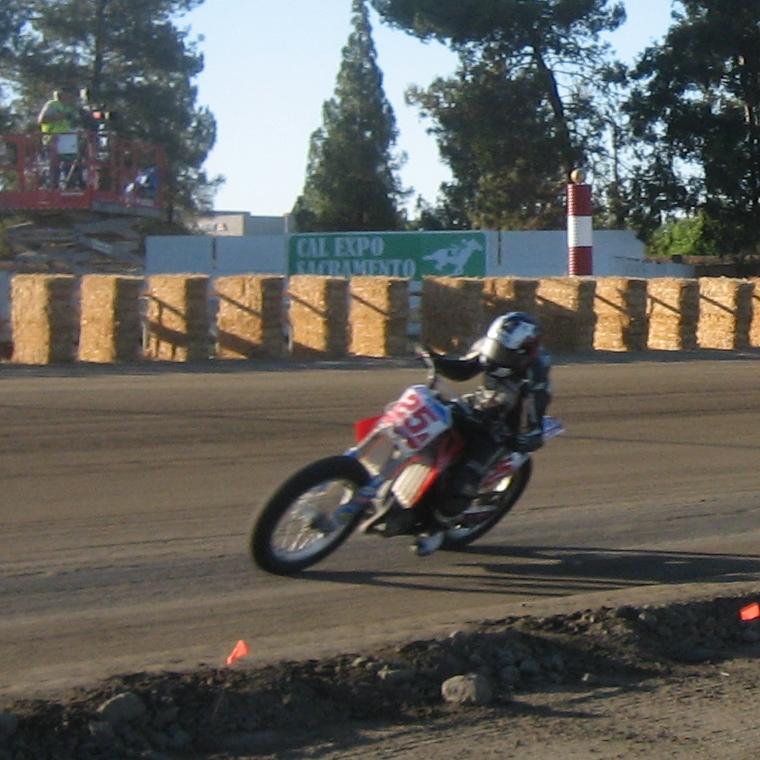 Jake Johnson coming out of turn #4...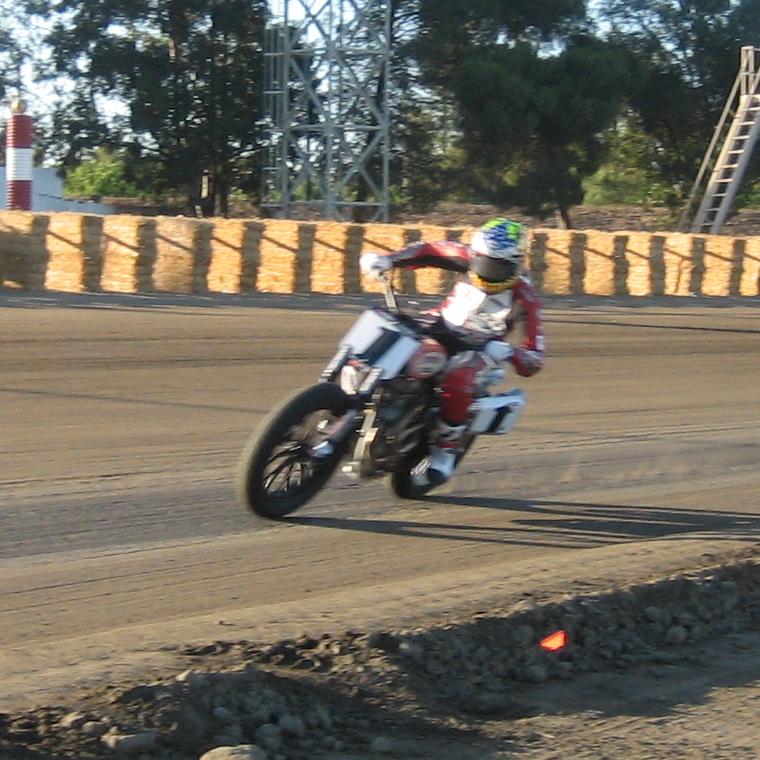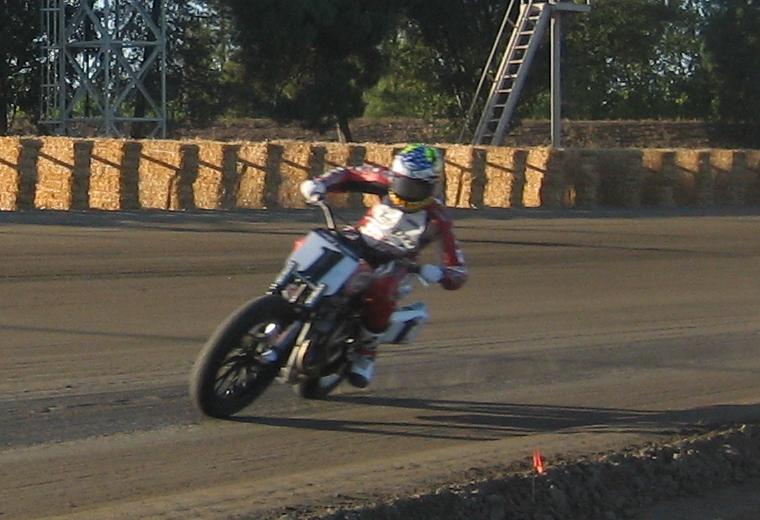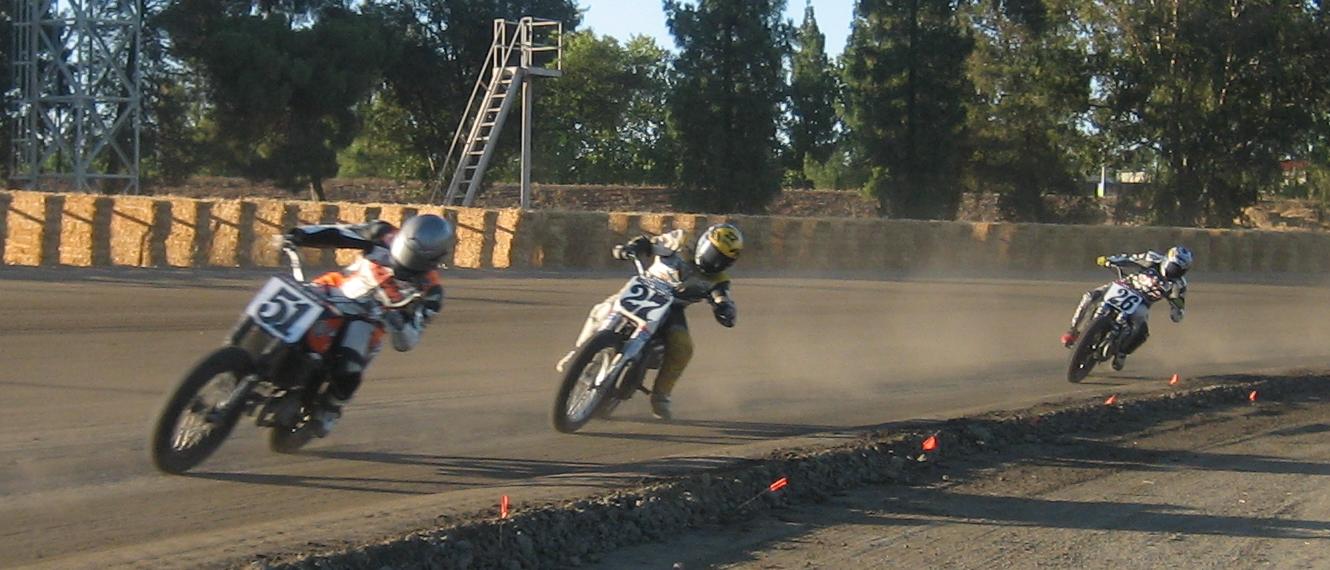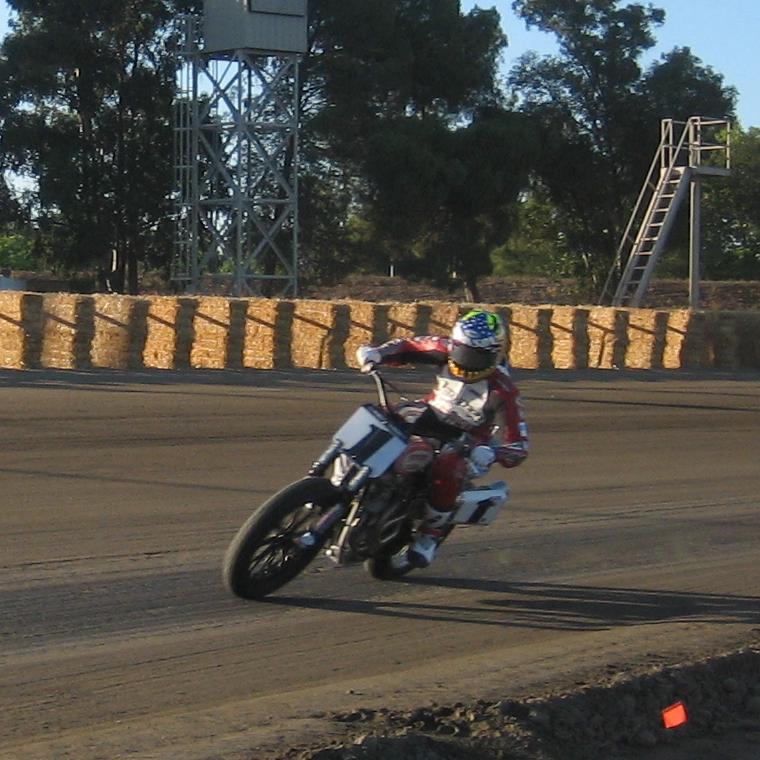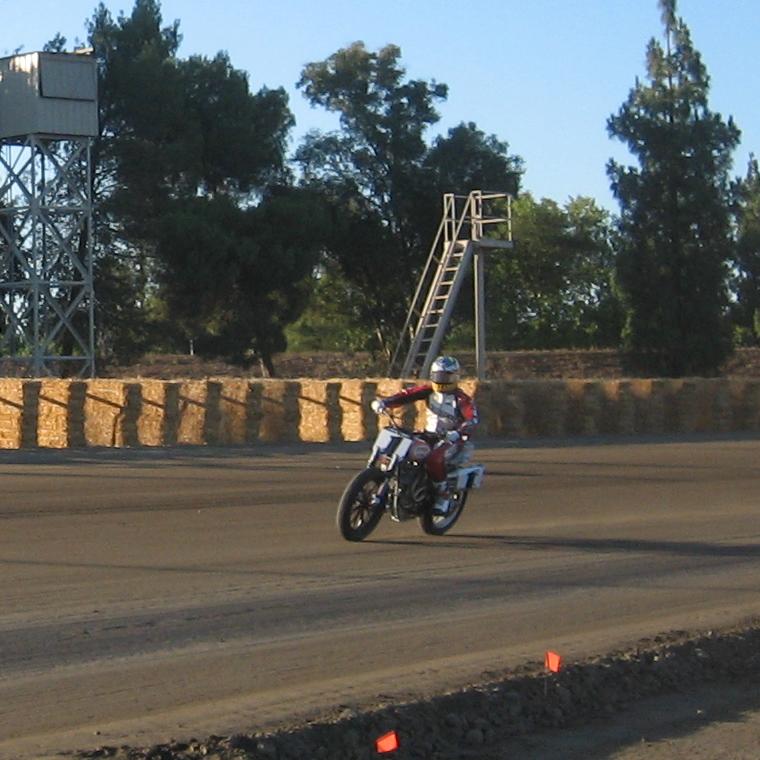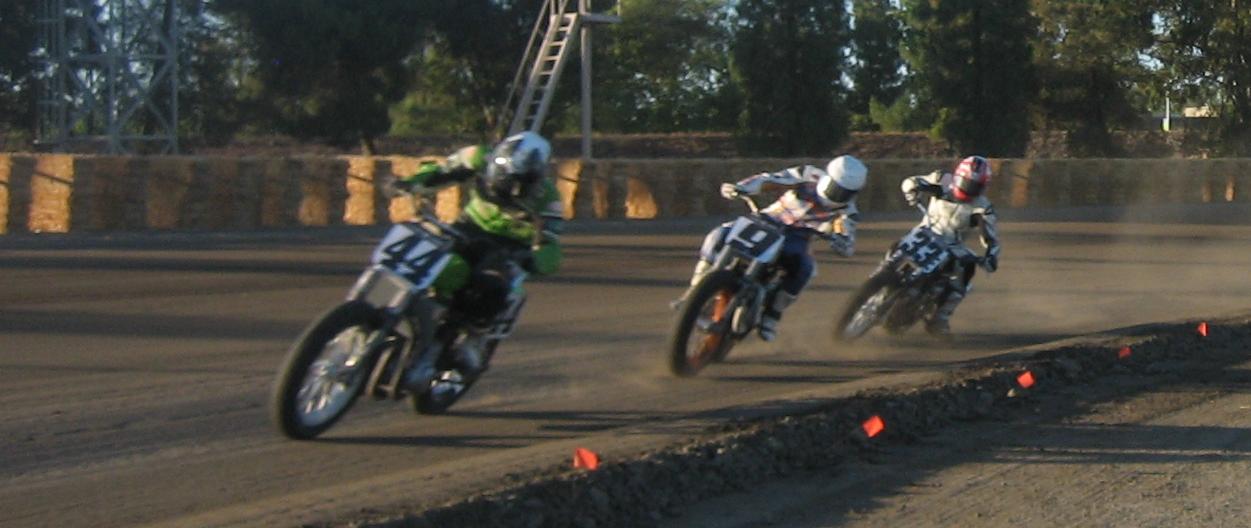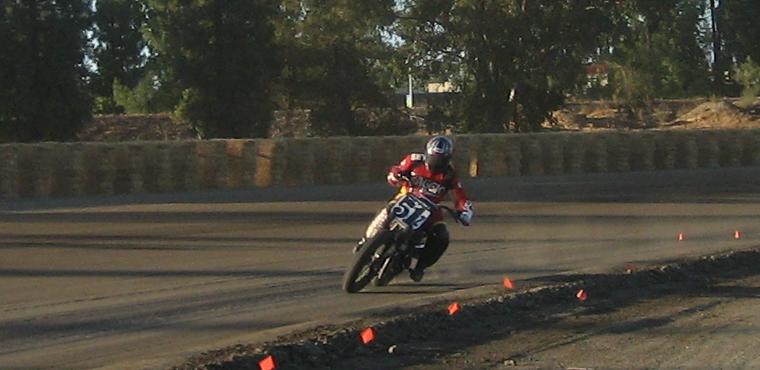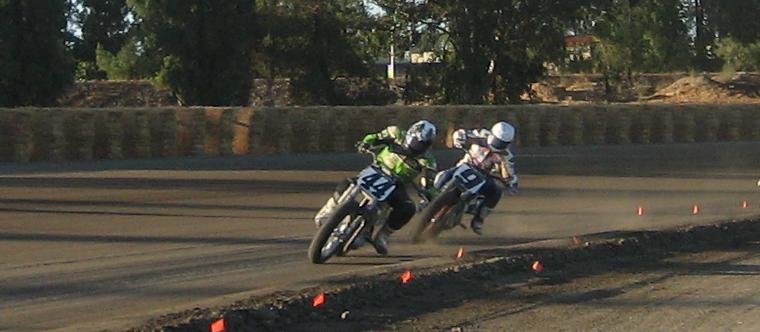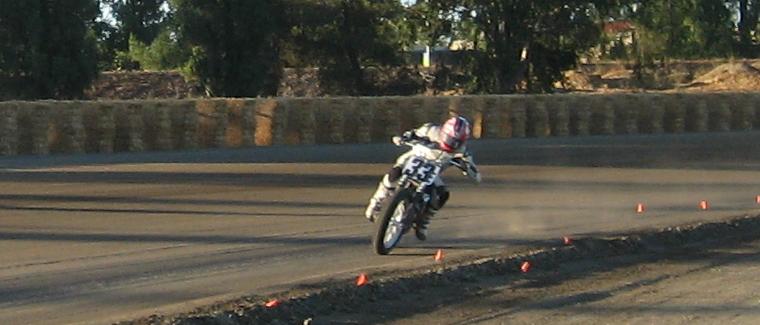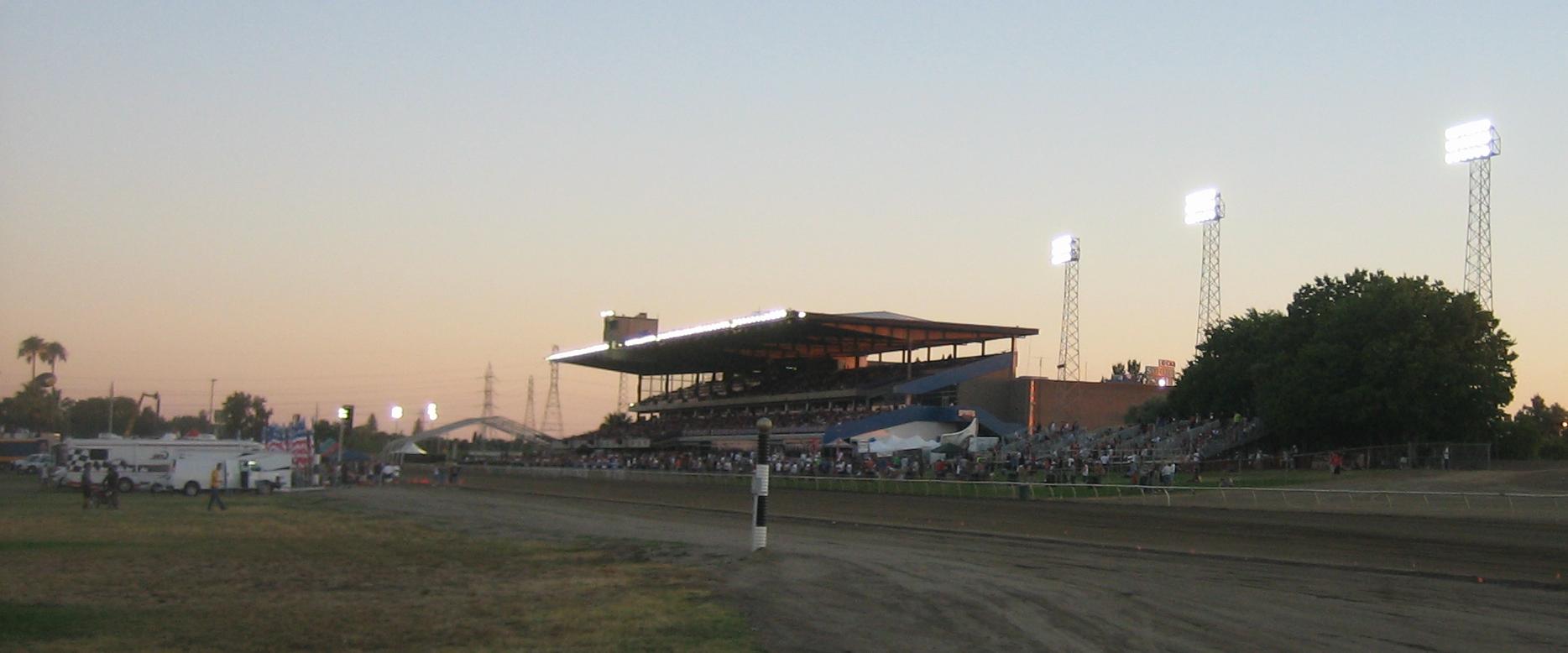 The PRO MAIN EVENT consisted of 18 riders for 12 laps... and they were off... and they were cruising 100+ in the turns and 120+ in the straight ways... by the time I could press the camera button to take a picture they were gone!!!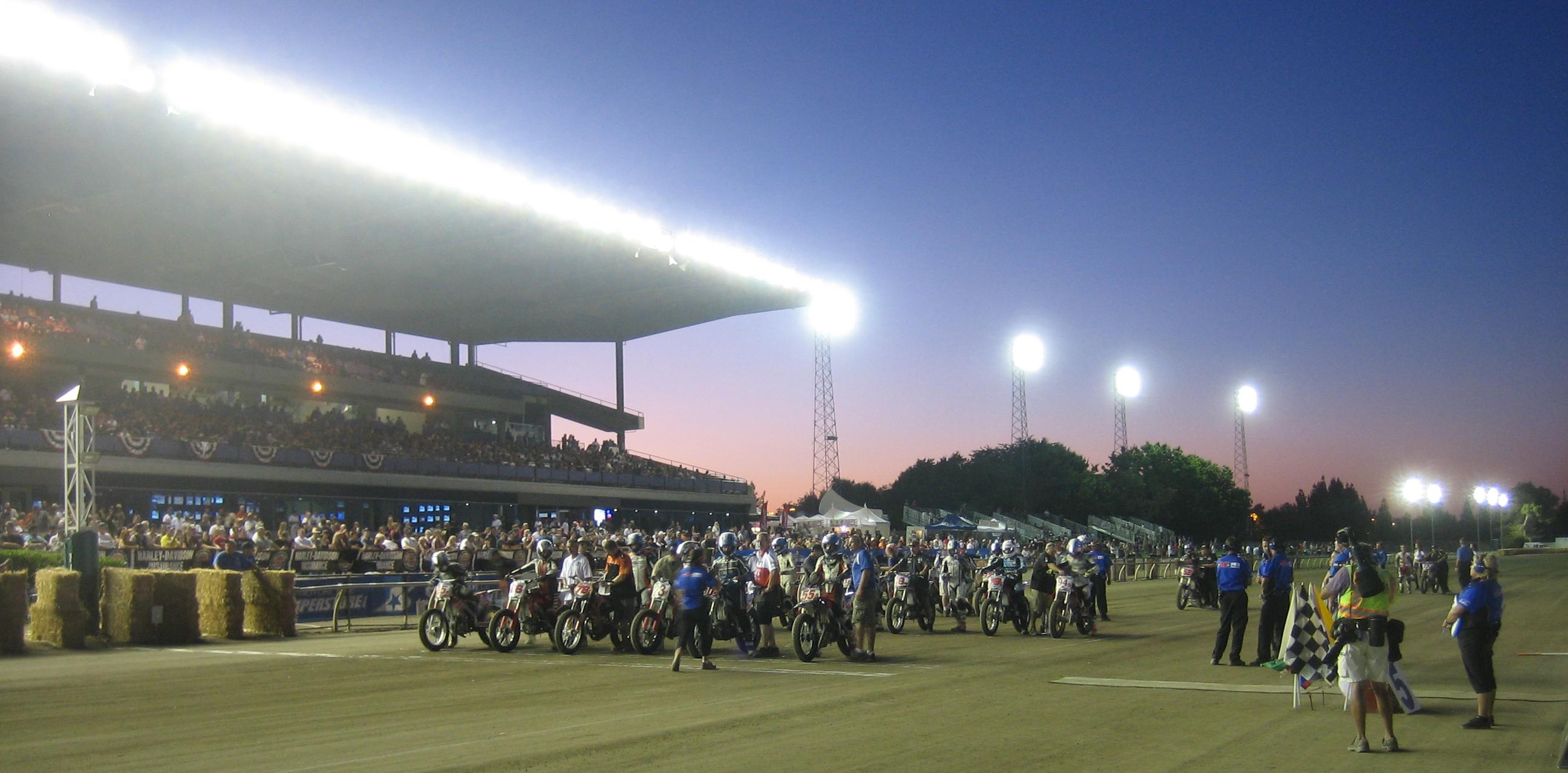 Tonight this HAPPY little girl beat all the boys!

Shayna Texter of Willow Street, Pennsylvania (about 75 miles west of Philadelphia in the middle of Amish country) turned 21 years old in March this year and is up to five feet tall (I think she was standing on her tippy toes when that measurement was taken) and weighs 95 pounds (I think she was wearing her riding gear when that measurement was taken), and, her height and weight surely works to her advantage, especially on a one mile track (look where the handle bars are on her when she is standing next to her bike).

Shayna began riding 450s when she was fifteen, began racing 2003, in 2011 was the first female to ever win a Pro Singles main event, and plans to get onto a twin in 2013.

Tonight Shayna won her heat race and started from the pole, got the lead and kept it for most of the race, loosing it in the last three laps. Shayna, Stephen Vanderkuur (2nd place) and Jake Shoemaker (3rd place) were in a three-wide scramble and crossed the finish line in the lead with an awesome photo-finish win to become the first female to ever win at a mile-long track!


1st place: 25A Shayna Texter - Honda CRF450R
2nd place: 10J Stephen Vanderkuur - Honda CRF450R
3rd place: 55A Jake Shoemaker - Honda CRF450R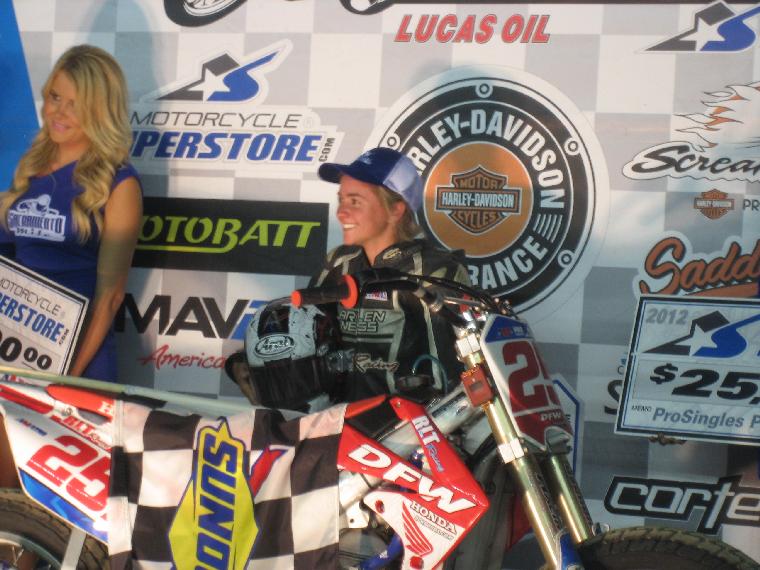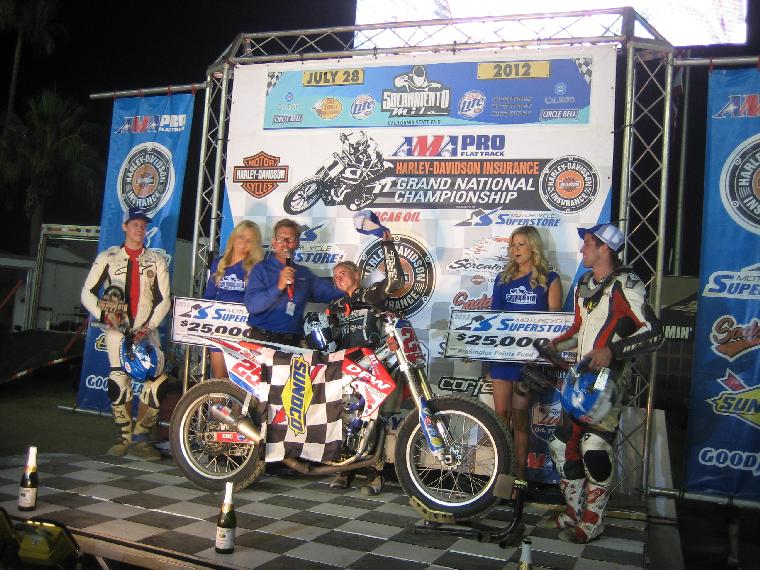 The U.S. Marines were on hand throughout the event. THANK YOU MEN!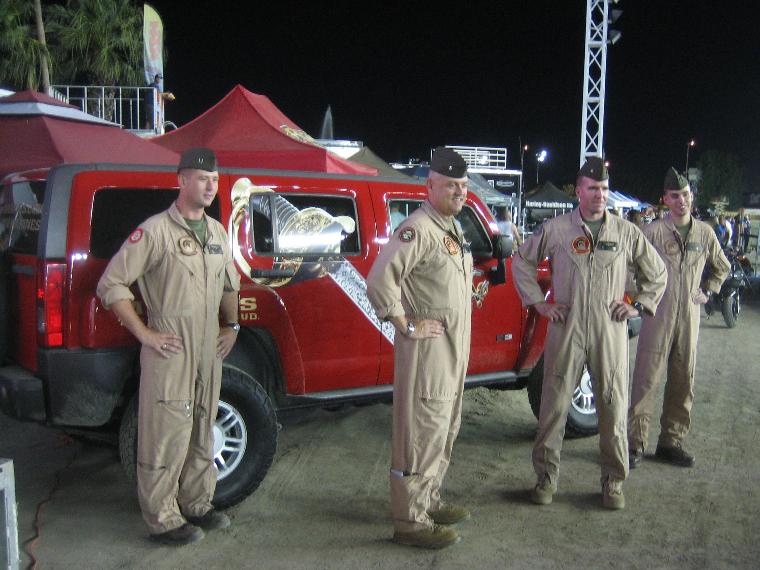 The EXPERT MAIN EVENT consisted of 18 riders for 25 laps... and they were off... and they were cruising 120+ in the turns and 140+ in the straight ways... and, as before, by the time I could press the camera button to take a picture they were gone!!!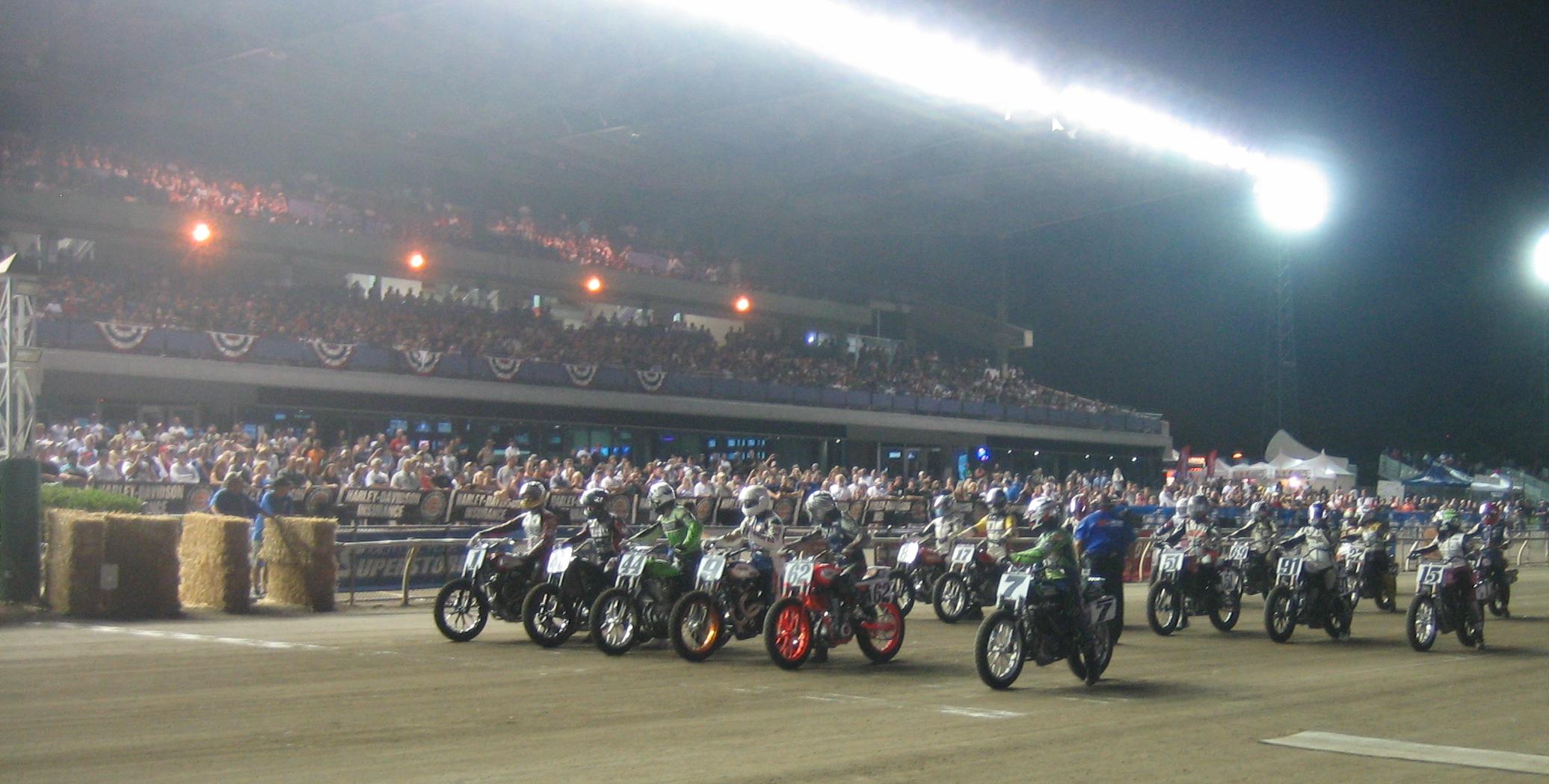 Tonight Technology WINS?!?!?
THIS is the bike!

Bryan Smith, 42, from Flushing, Michigan, about 75 miles northwest of Detroit, rides a Kawasaki for Crosley Radio / Howerton Motorsports and won this same race last year. Bryan began racing professionally 11 years ago and has been doing progressively better each year.

Bryan says he likes Kawasaki because of its "new technology." In the past, given a motor, a frame was built around it, whereas Bryan's whole bike was designed with a CAD program before any metal was cut.

Tonight Jake Johnson, #1, won his 8-lap heat race and the 4-lap "Dash for Cash" and started the 25-lap GNC Expert Twins Main Event Race from the pole and got the lead but lost it in lap 6 to Bryan. The race was a 140 mph strategy game between Bryan Smith, Jake Johnson, and Jared Mees. Jake regained the lead in the 22nd lap, and, lost it right back to Bryan. Bryan, Jake and Jared were all close on the last lap, but it was Bryan who won with Jake coming in at a close second and Jared in third.

1st place: 42 Bryan Smith - Kawasaki
2nd place: 1 Jake Johnson - Harley-Davidson
3rd place: 9 Jared Mees - Harley-Davidson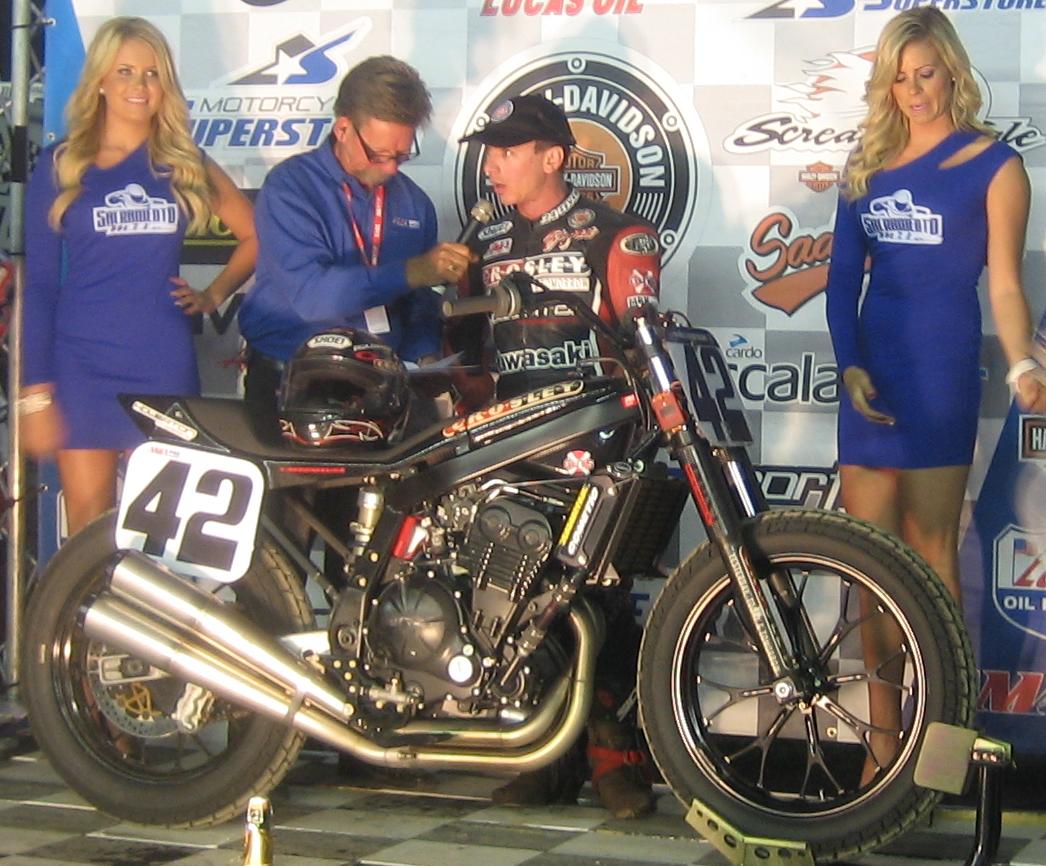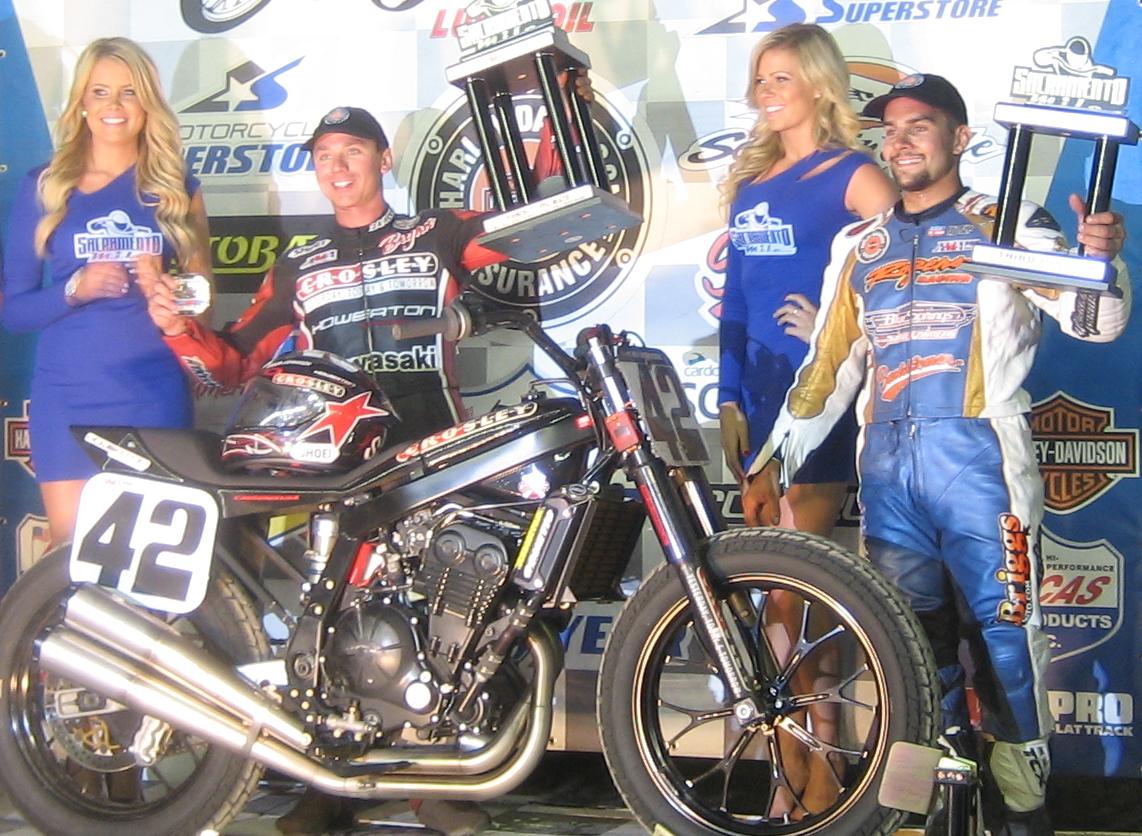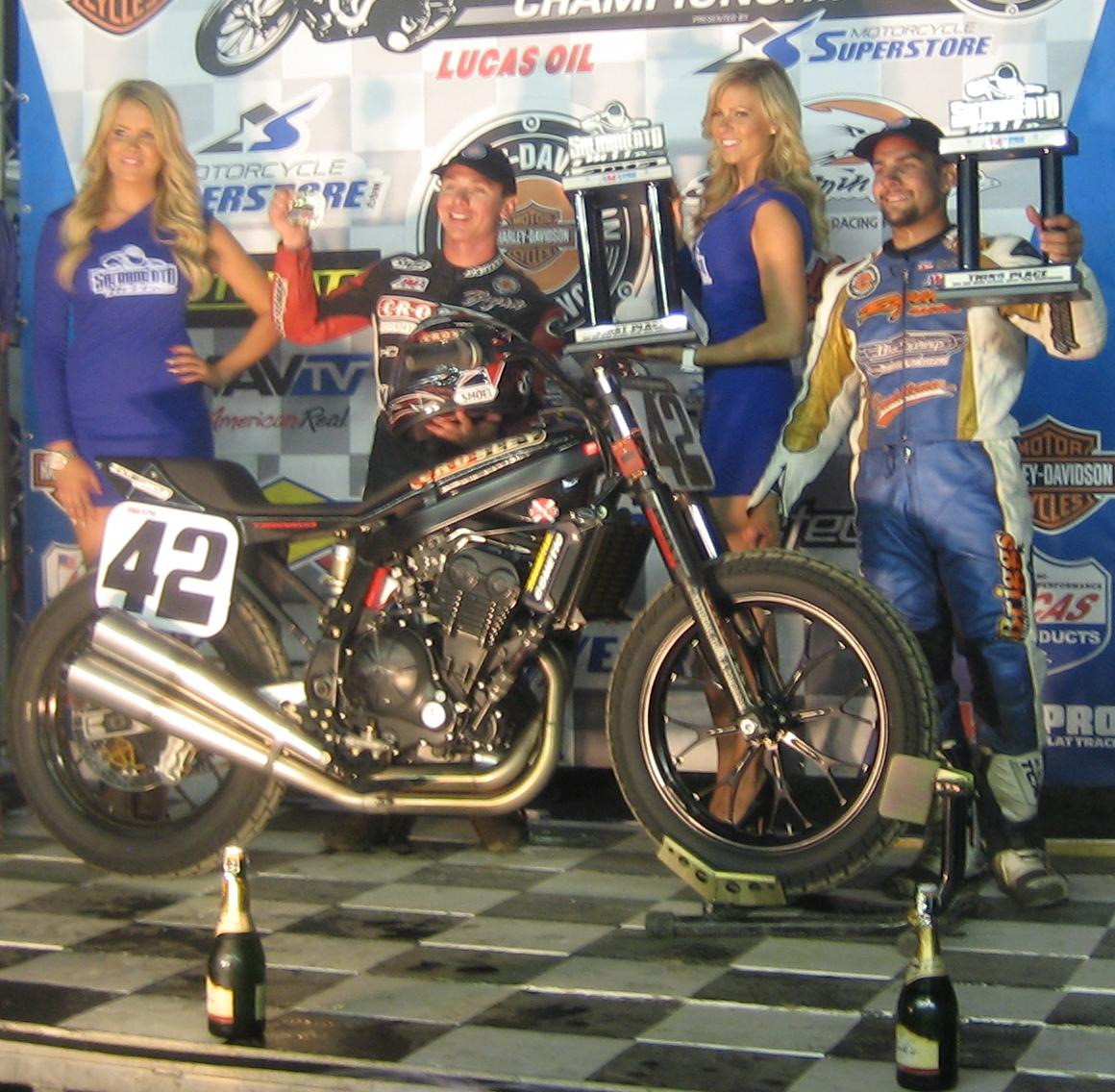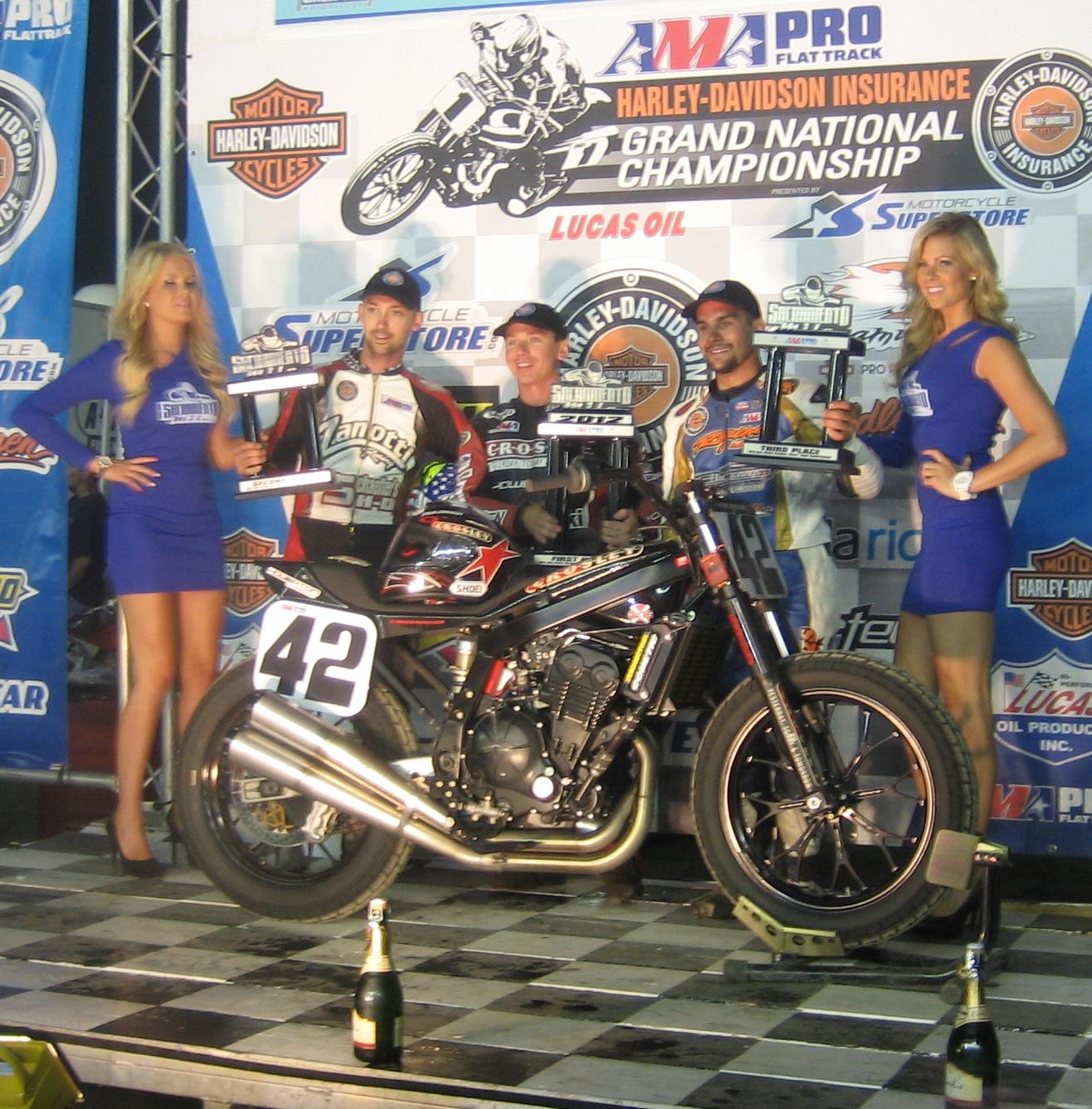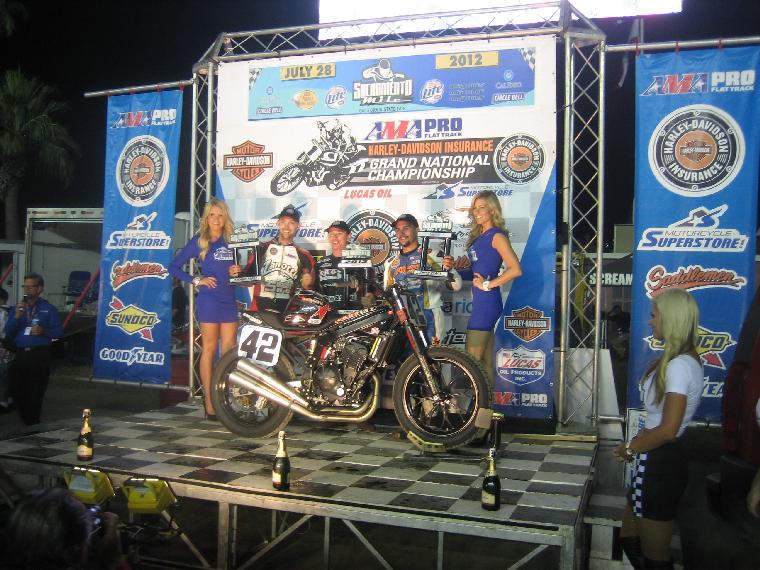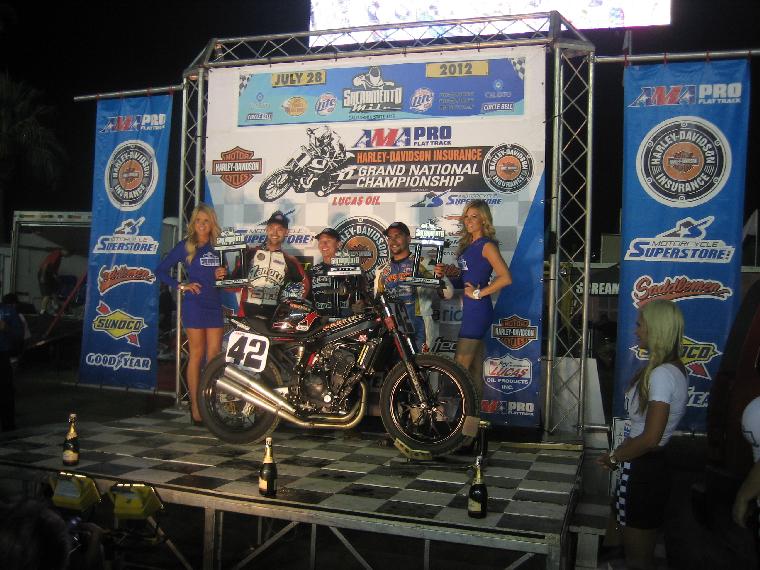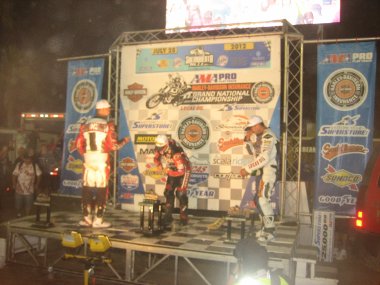 Jake and Jared have topped of Bryan's day by spraying him down with champagne and then the night at the races was topped off with fireworks.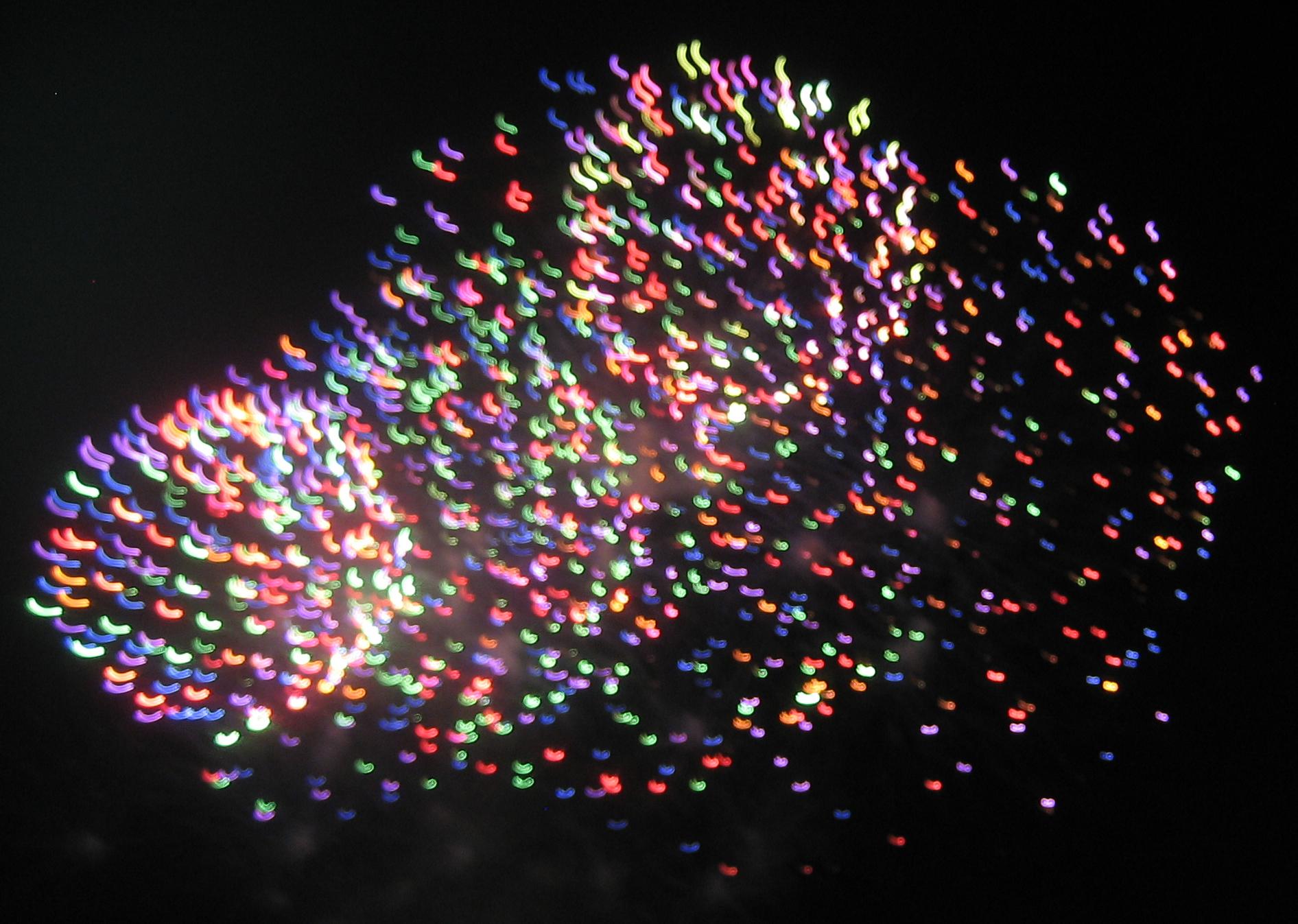 Everyone in the pits was enthusiastic and I was feeling like maybe, just maybe I am not too old to give dirt racing another spin... [sigh]... well... maybe I am, but, you sure want to get out there and have fun with everyone else!

Article and photos by Russell "Raz" Holder
KNUCKLEHEADS FOREVER!


---

Note: approximately 400 pictures were taken this day; only a few are included in this report created for submission to Thunder Roads Magazine NorCal for publication in the September 2012 issue.

Do you want to know more?

go to www.russellrazholder.com, click on "photos" and follow the links to many more photos of the Sacramento Mile and the photos of the California State Fair Xtreme Zone...

go to www.amaproracing.com/ft to read about AMA Flat Track events, riders, race results and much much more.