May 4: It's the first Friday of the month and you are wondering what to do this evening... well... how does free food and free music grab you? Interested? Mike and Cindy Sutton, proprietors of Irongate Motorcycle Apparel and Helmets along with their family, have been providing 'dinner' and sometimes a band for months now on 1st Fridays. Last month it was pizza, the month before it was hot dogs and the Liquornauts band.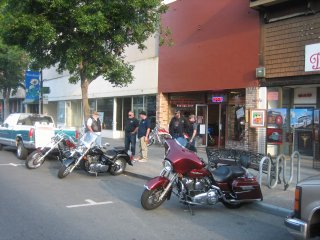 This month it was burgers with all the fixings and salad and chips, and, the awesome '12 Mile Blues' band (www.12mileblues.com) playing songs by Muddy Waters, Freddie King, Jimmy Rogers, T-Bone Walker, and others; check out their website for sample songs and their upcoming shows. Mike and his sons John and Jearid are stand up guys, knowledgeable and easy to talk to; they, along with Cindy, are always willing to do what it takes to get you what you need. The Suttons provide this party for their customers, but, it is also open to the public, and, if you show up... well... chances are you will find something there and become a customer and a friend, whether it's a leather item, an accessory, or a part - yes - he also will get parts for your ride, American or metric! Check out Irongate Motorcycle Apparel (www.irongatemcapparel.com) for products, upcoming events, event photos, etc. They ask that you call (530-666-4766) or send an email (irongateapparel@att.net) so they have an idea how much grub to have on hand (food ain't cheap).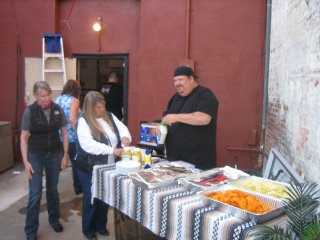 Irongate Motorcycle Apparel is located at 512 Main Street in Woodland between 1st Street and Cottage Street and parking has not been a problem - you can park out front or drive around back and park right outside the iron gate. Enter the shop, check out all the stuff and follow your nose and ears out the back door to a gated patio where you will find the bar-b-q and the band.


If you missed the Burgers & Blues last Friday then mark your calendar NOW so you will remember to check the Irongate website for what is happening on the first Friday of the month. Who knows what might be next...

Article and Photos contributed by Russell 'Raz' Holder
KNUCKLEHEADS FOREVER!


Would you like to know more?...
check out all the event photos: click here



6 riders on 4 motors for 48.9 miles, 293.4 total miles





Place cursor over picture, click to enlarge,
then click-and-drag to move, use arrow keys for previous/next

back to event picture gallery . . .